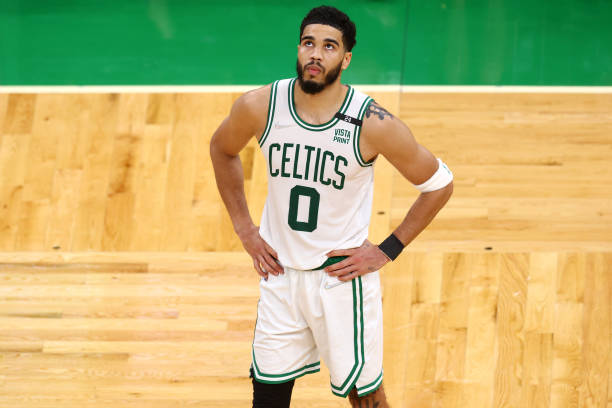 Knives were out rather quickly as Jayson Tatum and the Boston Celtics fell in a winnable six-game series against the Golden State Warriors in last season's NBA Finals. After the star forward revealed to B/R at the weekend he quietly played through a non-displaced left wrist fracture for three months, will that change the criticism or narrative weighted on his shoulders?

Tatum details misery, playing through injury during interview
"Regardless of what people said about me, how I played – good or bad – I could've done more, feeling like I let my team down at the biggest moment, that hurts more than anything anyone can say.

I was miserable those 3-4 days afterwards, didn't have an appetite, didn't wanna talk to nobody, was in my house and didn't want to do anything."

Tatum was in reflective mood, about a six-game series he'll never forget
As good as he is, you simply cannot win an NBA championship if Jaylen Brown is your best player, or so goes the well-documented claim that has floated around this offseason. Otherwise why are they willing to package him as part of their reported Kevin Durant trade pursuit?
His ball-handling deficiencies against elite defensive schemes were frequently highlighted and exploited, especially as Boston's pursuit of success went deeper.
Jayson Tatum's game-changing brilliance was frustratingly fleeting. He averaged 29.5 points, 7.3 assists and 41.9% from three in an entertaining four-game sweep against Brooklyn in R1.
The 2021 defending champion Milwaukee Bucks – hamstrung without the presence of their injured All-Star forward Khris Middleton – took them to the brink and could've easily snatched it.
There, he was more inconsistent: a 46-point game helped them avoid elimination in G6, though shot poorly in G1 and G3 particularly (31 pts, 10-of-37 shooting combined).
Miami Heat, unsurprisingly, also proved a slog and the stats reinforced that. Less points per game, lower shooting efficiency and assist numbers against Erik Spoelstra's determined core. In keeping with the theme, they were a Jimmy Butler three away from stealing that series late.
As for Golden State, he had more assists (13) than points (12) in G1 as they edged it, but his lack of assertiveness was clear in moments you would've expected him – anointed as their best player – to take over ala Stephen Curry and halt Warriors' ever-growing confidence. It didn't happen.
On the aftermath of last year's Finals and what image pops into his head, Tatum said:
"Us walking off the court at home, seeing them [Golden State] celebrate on our floor. That's an image, memory, feeling, I'll never forget. It doesn't help when I see somebody, they congratulate me on getting to the Finals, were rooting for me, just getting constantly reminded… that's the tough part of the offseason.

You've gotta start back over, rest and recovery, get ready for training camp, preseason, regular season, it's a process. You can't coast because it [the achievement] isn't promised."
Although the retort will be that everyone is nursing an undisclosed injury, and no player is fully 100% during the rigours of postseason basketball, now we have an answer.
During his interview with Bleacher Report's Taylor Rooks, he said only Celtics personnel knew about the injury, he regularly wore a brace but never around media, and didn't want to use said issue as an excuse because "if I'm going out there to play, nothing matters," but it really does.
Having managed to play through it for two months of the regular season and somewhat healing, it was – unsurprisingly – re-injured during a physical seven-game battle against Milwaukee.
Is this information going to stop the criticism that came his way after a devastating Finals loss?
Not quite, especially as Boston's immediate future remains unclear. At least, you can see the reason why he might've subconsciously felt hesitant in those bigger moments – managing it or not – when defensive attention would've focused on him whenever he had the ball in his hands.
"Everybody knows [I'm better than what I showed], which is why I don't take offence to what people were saying. If I wasn't that good, they wouldn't be talking about me.

What should I have done differently… taken a few more games off in the regular season, wish we could've closed this series in six rather than seven, had an extra day's rest and no travel, things like that.

I come across so laidback but people don't really understand how much I invest into this, I'm not the loudest. It was tough because I gave everything I had and y'know, to feel like I ran out, nothing left to give… we were so close.

I know how hard it is to get to that point, thinking about what we went through to get there, so not getting over that hump is the worst feeling."
Although his shot selection and three-point consistency (35.3%, lowest of pro career) rightly came under scrutiny, Tatum continued to justify his standing as one of the league's best players.
Having averaged career-highs in points (26.9), rebounds (8.0), assists (4.4) and 2P% (52.4) during the regular campaign, his postseason numbers were predictably a mixture of good and bad. It'll be interesting to see how he and co shape up ahead of Ime Udoka's second season in charge.
Picture source: Getty Images — quotes transcribed via hyperlinked B/R interview