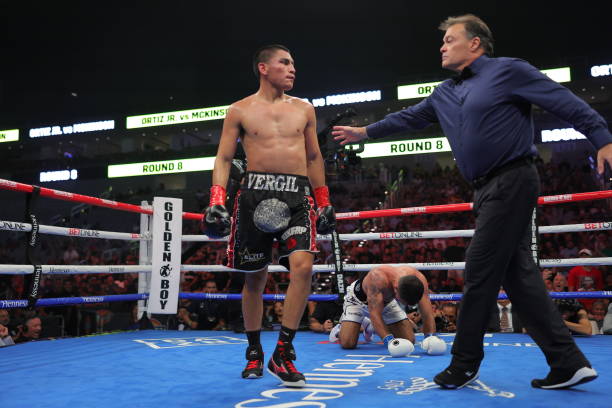 The dust has settled and with a rare weekend lacking big boxing or UFC fights, I reflect in detail on Vergil Ortiz Jr's R9 TKO win over crafty British southpaw Michael McKinson three weeks ago. Ortiz Jr ended his long-awaited return while maintaining his stoppage streak (19-0, 19 KOs), but what's next for him and McKinson – who feels this display shows he belongs at world level?
mckinson takes ortiz to r9 for first time in his career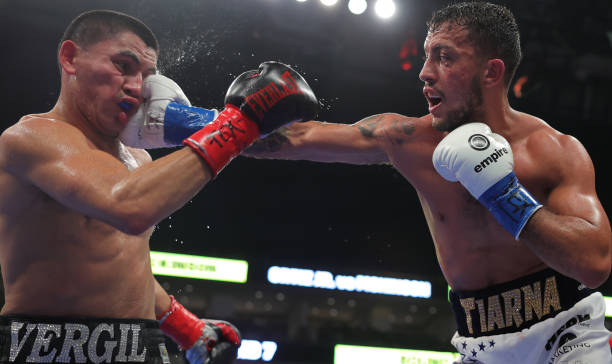 R9, 0:27 — Vergil Ortiz Jr (#1 WBA, WBC, WBO, #4 IBF) inflicts Michael McKinson's first career loss, wins WBA world title eliminator for one of Errol Spence Jr's three 147lb titles
McKinson began encouragingly here, countering Ortiz' attacks well with his jab from the outside and stung the unbeaten favourite with a series of looping left hands in the first few rounds.
After they traded in close and Ortiz swatted the 28-year-old's mouthpiece out, landing a vicious left of his own, the fight gradually started to go downhill for the bullish Brit on enemy territory.
Had he been more defensively responsible, who knows what might've happened? It's easier said than done though, Ortiz's record really speaks for itself. It was something he alluded to – as well as admitting he strayed away from the gameplan – during the post-fight press conference.
"It was a hell of a pace early on, he slowed down a little and changed his tactics, was a lot more patient and that's where it usually goes into my hands.

A hell of a shot [he caught him with], this is boxing, it is what it is – hope he goes to win world titles in multiple weight classes but my pride's a little hurt.

My dad told me off in the corner [for fighting in the pocket], plan was to stay long [at range], take it to the later rounds, get to him mentally but still took him longest of anyone, fighting a guy tipped for superstardom, I'm proud.

This is big, not many people are queuing up to fight him… really thought I could pull it off but he's something else, the hype is there for a reason."
Ortiz repeatedly popped his head back and was peppering him with increased punch output to the head and body in R4, as McKinson's distance management strategy had deserted him.
His corner berated him about that very fact in-between rounds, as he's not a big puncher and certainly didn't command the 24-year-old's respect when landing shots of his own.
"Body shots are coming because you're being lazy, staying still, keep working on the outside! He's the puncher, don't do it, use your boxing skills, don't stand and trade with him!"
By contrast, an interested spectator ringside in WBO welterweight champion Terence Crawford gave his verdict through 12 minutes.
"Vergil's trying too hard, rushing his shots and loading up. Use the jab, go to the body and you can get him outta there. [How can McKinson turn the tide?] We know he's not a puncher, gotta use feet, angles, box like he was in the first few rounds, he landed shots but they're just not hard."
R5 saw McKinson absorb more damage as his pace started to slow, evidenced by his not-so-subtle attempts to clinch.
Ortiz was becoming more methodical with his output and overall shot selection in the sixth, though that approach gave McKinson renewed confidence as he began landing some good punches of his own again.
R7 saw a better start from the Brit, though he was also staying put too long after throwing punches and found himself a hittable target whenever exiting an exchange.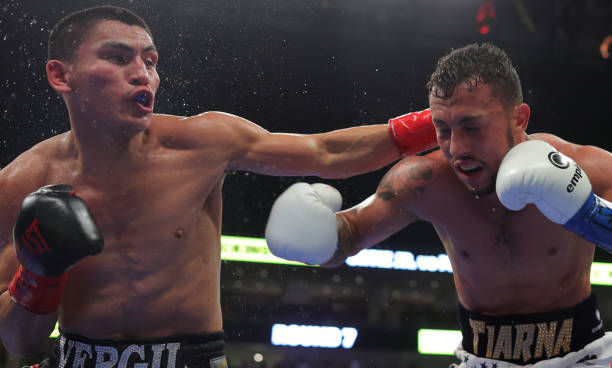 McKinson's telegraphed jabs allowed Ortiz the chance to catch him on the way in and R8 saw the Portsmouth-born southpaw dropped for the first time in his eight-year pro career.
Ortiz swung with dangerous intent, trying to back McKinson up into a corner.
A left hook and body shot combination proved the beginning of the end, as he survived the round but not much more than that – quietly whispering to his corner that he hurt his hip between rounds, as they passionately urged him forward into the ninth.
There, a bizarre sequence saw him go down a second time without appearing to have absorbed another punch – the corner eventually throwing the towel in.
Replays showed it was another body shot, one the TV cameras didn't pick up in real-time, as Ortiz found his target and concluded business convincingly to win a tricky war of attrition.
Despite taking a few rounds to fully understand McKinson's style on-the-fly, taking heed from his corner to control his aggression in spurts and cut off the ring effectively, this was a welcome sight for Vergil – who was hit more and went longer than expected, but still got the job done.
His body shots, a sneakily effective investment early, paid dividends. The machismo seen early on – like after referee Laurence Cole sternly warned both not to wrestle – has its drawbacks, but you have to let him figure things out and learn accordingly.
Last year, I wrote this piece about how his confidence should be championed and while it's likely Crawford-Spence will be finalised for this fall, the opposition quality will continue ticking upwards for Ortiz as he sets his sights on championship bouts in the not-too-distant future.
That means potential fights against the likes of WBA interim titlist Eimantas Stanionis, Cody Crowley and David Avanesyan. It'll be interesting to see who Golden Boy and his team look to target next, having had negotiations break down with the latter for this comeback bout.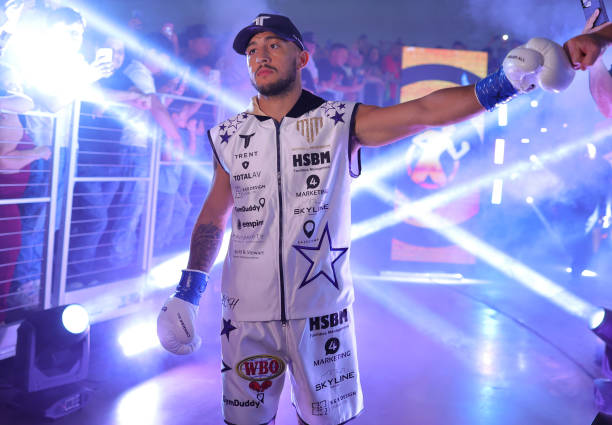 As for McKinson, this was one of the rare times in a career where your stock can rise with a stoppage defeat. He showed heart, toughness and boxed smartly early on, which will stand you in good stead when bridging the gap between European and world level opposition.
"Although I lost, hope people can see I belong at this level – don't want to go back to domestic level, it's too easy for me. 100%, I've proven I don't mind going to someone's backyard and being booed, it was hostile coming but people cheered me on the way back, so I must've done okay."
Golden Boy's rep also gave a glowing assessment afterwards, reaffirming their desire to have him return on their shows in the future – namechecking Alexis Rocha (20-1, 13 KOs) and Blair Cobbs (16-1-1, 10 KOs) as two good fights he's personally called for. We'll have to wait and see.
Picture source: Getty Images