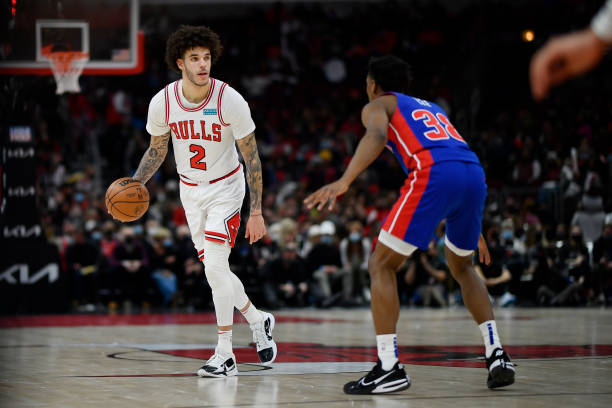 With training camp ahead of the new campaign fast approaching, here's a look at a few recent injury updates that are set to impact multiple title-contending teams across both conferences as they look for a formidable return to action this month – including Celtics' offseason acquisition Danilo Gallinari and Lonzo Ball, whose knee issues after surgery in January remain.
boston: Gallinari tears ACL, no timetable for return
Eastern Conference champions Boston Celtics are expected to apply for a disabled player exception as they come to terms with the news one of their offseason additions, sharpshooting veteran forward Danilo Gallinari, is expected to be out for most of the season with an ACL tear.
Gallinari, who turned 34 last month, agreed a two-year, $13.2m contract with Boston as a free agent in July and per reports will almost certainly opt into the final year (player option) now.
The sharpshooting forward, who averaged 11.7 points and shot 38.1% from three-point range for the Atlanta Hawks last term, was one of their two offseason acquisitions.
Indiana point-guard Malcolm Brogdon was the other in a trade, to bolster Celtics' depth after losing their way creatively during a six-game NBA Finals defeat by the Golden State Warriors.
Boston's DPE would be around $3.2m – half of Gallinari's 22-23 salary – with which they can use to sign a free agent, claim a player off waivers or acquire someone new through trade.
Carmelo Anthony, DeMarcus Cousins, Jeremy Lamb, Dwight Howard and LaMarcus Aldridge are all veterans being linked by Gary Washburn as they remain available on the free agent market.
---
chicago: Ball to miss start of season with ongoing knee issue
Lingering pain and discomfort felt over the summer months after meniscus surgery on his left knee in January means Chicago Bulls point guard Lonzo Ball is expected to miss training camp and subsequently doubtful to begin the regular season, per a report in ESPN this weekend.
Having spent his offseason rehabbing in Los Angeles, Ball's pain remained while "attempting basketball activities," unwelcome news as he returns to Chicago for further team evaluations.
Chicago were flying out East with a 27-13 record when Ball featured in his last game mid-January before surgery, with an initial six-to-eight week recovery timeline proving optimistic at best.
He didn't return at all for the rest of the campaign, finishing the season with a career-low 35 games played, with Bulls VP Arturas Karnisovas revealing he's "getting better, probably not at the speed that we would like," during a broadcast for one of their summer league games in July.
---
Murray, Porter Jr set for long-awaited returns in Denver
Denver's starting point guard Jamal Murray, who averaged career-highs in points (21.2), steals (1.3), FG% (47.7) and 3P% (40.8) during the 2020-21 season, missed the entire 21-22 campaign as he recovered from an ACL tear suffered in the build-up to the postseason last April.
In the middle of August, the 25-year-old said he's planning to make his return during their first preseason clash against Oklahoma City Thunder on October 3.
Meanwhile, his highly-rated teammate – small forward Michael Porter Jr (back) is expected to be healthy for the start of the new campaign after Denver GM Calvin Booth echoed that belief.
The 24-year-old, who begins the first of a five-year, $150m contract extension this coming year, only featured in nine regular season games last term before undergoing lumbar spine surgery.
---
Tim Hardaway Jr (foot) set for new role with Dallas
Uncertainty surrounds Tim Hardaway Jr, as the Dallas Mavericks have made changes to better deal with his absence and he's reportedly set for a new – reduced – role this coming season.
The Athletic's Tim Cato reported that nine-year veteran shooting guard Hardaway is expected to come off the bench for the Mavericks, at least to start the new campaign, as they look to find their best creative lineups with purposeful additions making themselves known after his injury.
Spencer Dinwiddie's mid-season arrival in a trade from Washington shook up the team's quality and ceiling alongside franchise cornerstone Luka Doncic, as they overachieved expectations and ultimately lost in the Western Conference Finals to eventual champion Golden State Warriors.
Hardaway has three years, $53.6m on his existing deal – only Doncic has more, but his regular season averages were down last year – FG%, 3P%, eFG% and points all lower than previously. He must up his efficiency and quickly, to crack Jason Kidd's starting five this coming term.
---
memphis' talent jaren Jackson Jr has had yet more surgery
Memphis' big Jaren Jackson Jr underwent surgery to repair a stress fracture in his foot and could be sidelined until December, depending on how he reacts to recovery and rehab.
After a season where he experienced some lows (FG%, eFG%), memorable highs (career-high 5.8 rebounds, league-leading 2.3 blocks per game) as well as his first deep playoff run, Grizzlies' big man Jaren Jackson Jr will be on the sidelines – once again – for the immediate future.
He was among the notable absences from the Most Improved Player shortlist, while getting Defensive Player of the Year consideration too from a lot of voters – finishing fifth – the youngest on last season's top-11 list, featuring Giannis Antetokounmpo and Draymond Green below him.
Memphis, whose collective strength helped them overcome the Minnesota Timberwolves, fell to the Warriors in their second-round playoff clash – but will return with renewed optimism, even without their second-most important player in the rotation for the first few weeks at least.
---
bucks' Khris Middleton hopes to be 100% by opening tip-off
Bucks' All-Star forward Khris Middleton – injured during the playoffs – underwent wrist surgery in July for a torn ligament – and should be ready to return near the start of the new campaign.
Milwaukee, whose title defence fizzled out without their second-best player against the Boston Celtics, will believe they can lead the way out East once more when they're fully healthy.
The injury timeline being reported suggests three-time All-Star small forward and Olympic champion Khris Middleton is almost certain to miss the start of the new campaign, with a completely different injury to the one icing him from contention during their postseason run.
It'll be interesting to see if head coach Mike Budenholzer sticks with the starting five who finished their postseason against Boston: a combination of Jrue Holiday, Wesley Matthews and Grayson Allen alongside Giannis and Brook Lopez – or perhaps Pat Connaughton or Bobby Portis starts.
Picture source: Getty Images