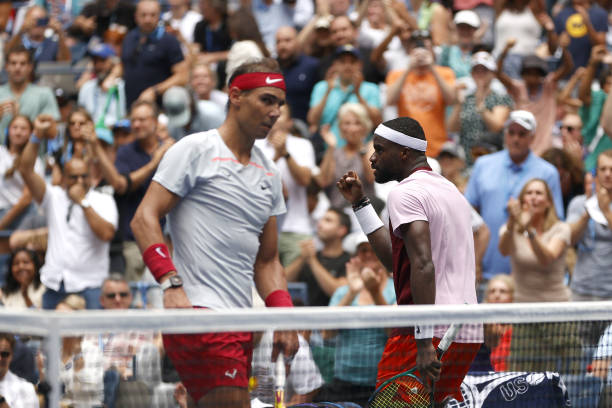 Wimbledon runner-up Nick Kyrgios produced some blistering tennis en route to a four-set win over defending champion Daniil Medvedev, before Frances Tiafoe did the same to earn his career-best result – extinguishing Rafael Nadal's 22-match Slam winning streak to seal a quarter-final berth: the youngest American in the last-eight since Andy Roddick in 2004.

Kyrgios creates history with latest Medvedev scalp
Kyrgios [23] bt. Medvedev [1] 7-6 (13-11), 3-6, 6-3, 6-2
"Still trying to figure it out, work hard everyday, make every practice session count, getting to sleep, great girlfriend and team – it's all them – really happy and hope I can keep it going.

Definitely don't wanna let them [his team] down, been on the road for four months, this is the last trip before I go home to Australia, wanna go all the way, hopefully it's possible.

Just glad I'm finally able to show New York my talent, haven't played great tennis, really glad the work and dedication [paying off], only took 27 years."
Beneath the layer of self-deprecation, as well as the tendencies to overanalyse minute details from his demeanour and body language to where he's channelling his frustration, Nick Kyrgios is almost unstoppable when he plays tennis like this. The problem? His unpredictability.
This ridiculous moment – having done well to get himself in-front on Daniil Medvedev's serve – could've cost him much more than a break point opportunity, had he not been playing so well:
Last year's champion and the now-former world no. 1 didn't hesitate to attest as much during his post-match press conference saying:
"Yeah, it was a high-level match. Played Novak, Rafa, they all play amazing. Nick played kind of their level, in my opinion.

He has a little bit different game because he's not a grinder, but at the same time can rally, he's tough to play, an amazing serve, plays well, has every shot, a really high-level match from him.

If he plays like this until the end of the tournament, he has all the chances to win it, but he's going to get tough opponents."
The pair recorded 43 aces, Kyrgios landed four more total winners (53-49) and double the Russian's unforced error count (38-19), yet mentally reset after relinquishing set two easily and stormed ahead with some consistently excellent shot-making to stifle him behind the baseline.
---
Khachanov, Berrettini, Ruud all win in contrasting fashion
It'll be interesting to see how he fares against Karen Khachanov, who was taken to a deciding set by Spain's Pablo Carreno Busta but held firm against another player who appeared to be physically struggling – with a maiden US Open semi-final hanging in the balance for the victor.
Speaking of Spaniards, 2021 Wimbledon runner-up Matteo Berrettini was similarly taken to his limits by an electric, spirited Alejandro Davidovich Fokina effort – recovering from 3-6, 2-3 down to outlast the 23-year-old 3-6, 7-6, 6-3, 4-6, 6-2 in just over three hours 45 minutes.
ADF had the Louis Armstrong Stadium crowd on his side, doing well not to dwell on mistakes and take their encounter to a decider, but quickly found himself 3-1 down and was physically outgunned by a bullish Berrettini: 18 aces, 49 winners and the same unforced errors (47 apiece).
Berrettini will play another Grand Slam runner-up in Casper Ruud on Tuesday evening (BST), after he raced to a two-set and 4-2 third set lead over French lucky loser Corentin Moutet but had to fend off resistance from the 23-year-old, eventually finishing it in four sets (6-1, 6-2, 6-7, 6-2).
---
Tiafoe-Rublev, Sinner-Alcaraz awaits as Nadal & Cilic ousted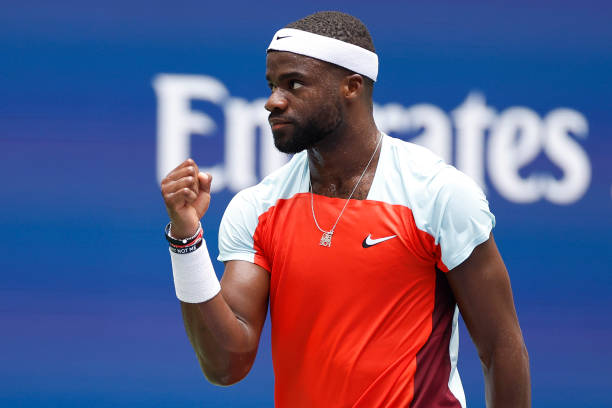 Tiafoe [22] bt. Nadal [2] 6-4, 4-6, 6-4, 6-3
Defeats for Nadal and Cilic guarantee a maiden Major champion – third consecutive year when a man will claim their first Grand Slam title
Tiafoe becomes first American to reach QFs since John Isner four years ago, first African-American since James Blake in 2006, youngest since Andy Roddick (2004)
Nadal was vying for a record-extending 23rd Major singles title, his four-set loss marks the first time since 2017 Australian Open that top two seeds were KO'd before last-eight
"I don't know what to say right now, beyond happy, almost in tears, I can't believe it! One of the greatest of all-time, I played unbelievable tennis today but don't know what happened.

When I first came on the scene, I felt like a lot of people had expectations and I wasn't ready for it: mentally, wasn't mature enough for those moments.

These last few years when the attention hasn't been on me, I've been able to develop with a great team behind me, happy where I am with life in general, do me my way and enjoy the game I love."

Tiafoe's emotional post-match interview on the Arthur Ashe court
Nadal was undercooked, had struggled his way through the first few rounds here and perhaps physically limited too – but some not-so-subtle gamesmanship and an ill-advised closing of the roof threatened to derail Frances Tiafoe's ferocious world-class play.
Crucially he kept his head down, weathered the storm and fired his way into a historic result against a legend on a mission for more history at a tournament he last won three years ago.
"4-3 and 40-love, my legs were like cement, I couldn't move but was lucky to get out the game and not give Rafa respect," he said during an honest post-match interview and truthfully, there were nervy moments aplenty as the lovable American battled his way beyond Nadal here.
After all, the 24-year-old has an unwanted tendency to tighten when big wins are on his racquet.
David Goffin at Wimbledon, Kyrgios in Washington, Taylor Fritz four days later in Montreal all come to mind in the last three months alone, and there's others besides in the seasons gone by.
There was to be no repeat on this occasion, headlined by beautiful shots like these:
He was more concerned about having his favourite basketball player Washington Wizards' star guard Bradley Beal in his player box than answering the prospect of his next opponent.
He'll play a familiar foe in Andrey Rublev – who he beat in R3 here twelve months ago – after the Russian admitted he was given a let-off by a tired Cameron Norrie showing in their R4 match.
"Two-and-a-half hours was not quick, tough especially [because] we know each other a long time, last time he beat me, knew I had to give my best and play really well, played good.

Cam was a bit tired, some moments he helped me… this is the US Open, everyone is nervous, tight and wants to win – super happy to win in three sets."
Meanwhile in the early hours on Thursday morning (BST)… it'll be Jannik Sinner vs. Carlos Alcaraz III – their third H2H meeting in 67 days – after the young talents successfully navigated through tense five-set matches against Ilya Ivashka and 2014 champion Marin Cilic respectively.
Sinner tallied a nervy 14 double faults and twice found himself in pole position, only to cough up the advantage, before outlasting the Belarusian 6-1, 5-7, 6-2, 4-6, 6-3 in three hours 48 minutes.
Alcaraz, who like Ruud has a chance to be world no. 1 come Monday, needed eight more minutes to eventually overcome Cilic's fightback (6-4, 3-6, 6-4, 4-6, 6-3) where the Croatian's wild unforced error count (66-41) and funky service routine – marginal gains – came back to bite him.
---
Jabeur-Tomljanovic, Sabalenka-Pliskova set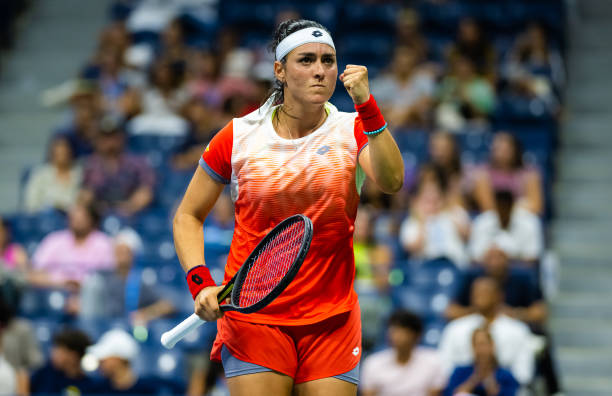 Wimbledon finalist Ons Jabeur [5] is quietly through to her first US Open quarter-final, having previously never beaten Veronika Kudermetova [18] before after a 7-6, 6-4 win over the Russian.
"It was a very difficult match, 5-2 [down] and it's very tough to play her…

I had to accept it in the beginning, wasn't playing bad but everything clicked, glad to close it up in the end – my coach told me to calm down, hopefully I'll continue playing this way against Ajla."
This result means she's the first female African to reach the last-eight since South Africa's Amanda Coetzer did so in 1998 and she had a message for budding players from her continent:
"I hope they're watching me, one of my favourites growing up was the African Championships, I know how many want to be here… believe in yourself, work hard, my dream is to see more African players, they'll be here one day."
As well as that, she was quizzed about the irony behind facing Serena Williams' conqueror Ajla Tomljanovic next, given the pair trained together and played doubles on grass this summer.
Tomljanovic looked relieved and rightly so at the conclusion of her last-16 clash, having saved a whopping seven set points – eight overall – during an exhausting 20-minute game to eventually outlast an in-form Luidmila Samsonova 7-6, 6-1.
"I felt pretty flat, the last 48 hours have been a lot but something in me was saying this isn't where I stop, if I'm going down it's with a fight, so the fact I won… pretty speechless!

Friday, I've never experienced something like that, understandably it [the crowd] was going to [be for] Serena but I have love for you guys, so thanks."
She spoke about the importance of staying in the moment, refusing to panic when things weren't going her way, and maintaining that mindset will be important as she looks to build on this latest win against a determined opponent similarly in new heights at this tournament.
Aryna Sabalenka withstood Danielle Collins' sparkling start and a partisan crowd in her favour, winning 3-6, 6-3, 6-2 despite a medical timeout for a left adductor injury post-match, as the hard-hitting Belarusian eventually wore on Collins' fighting spirit the longer their encounter went.
"That game on 3-3 was key, tried my best to serve well, make her move, stay in the game as much as I could and did it well but she played unbelievable tennis.

It was a crazy level today and super happy with the win, she's super tough to play against."
Having been down 6-2, 5-1 at one stage during her second-round win over Kaia Kanepi, last year's semi-finalist spoke about what a confidence boost that was for her too.
"When you're in that position and win, nothing can hurt you – know you'll fight no matter what and I'm really enjoying every second on court.

That gave me more confidence so maybe that's why today I pushed, was fighting and yeah. The racquet was super loose, if it works, it works!"

Sabalenka reflecting on her latest comeback win, the thinking behind an impromptu decision to change racquet on second serve during a big point
She'll play a resurgent Karolina Pliskova next after she usurped 2020 runner-up Victoria Azarenka 7-5, 6-7, 6-2 and spoke about relishing the big fight that awaits her.
This year's US Open tournament is into the second week now… As always, I'll be producing daily round-ups with the latest results, game reports, and news from Flushing Meadows, so be sure to stay tuned to moandsports.com for the latest coverage — you don't want to miss it!
Picture source: Getty Images