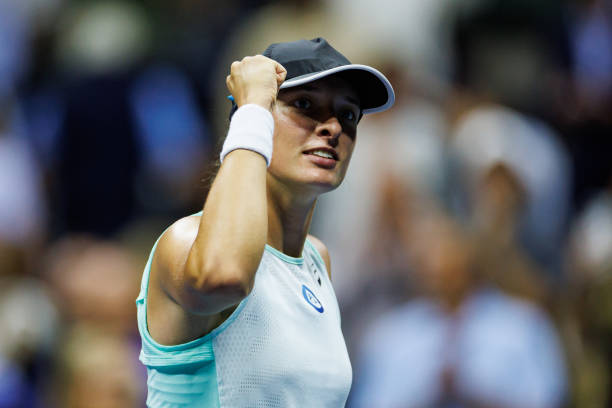 Aryna Sabalenka will play Iga Swiatek, keen to erase her 0-3 H2H record this season in Thursday's US Open semi-final after the pair earned contrasting straight-set wins over Karolina Pliskova and Jessica Pegula. Meanwhile, Frances Tiafoe will look to make more history after taking down Rafael Nadal and Andrey Rublev: he plays Jannik Sinner's conqueror Carlos Alcaraz on Friday, having watched a 5-hour epic unfold into the early hours between the pair.

Serene Sabalenka, Swiatek winning ugly
Sabalenka [6] bt. Pliskova 6-2, 7-6 — Swiatek [1] bt. Pegula [8] 6-3, 7-6
Aryna Sabalenka is into her second successive US Open semi-final, after some powerful hitting helped produce a blistering start before she held firm as Karolina Pliskova's level predictably increased early in set two to eventually win 6-2, 7-6 (7-4) in their quarter-final matchup.
Clutch serving – something rarely used to describe the Belarusian – was on display as she fired six aces in set two, including one on a second serve at 2-2 in the tiebreak.
Never facing a break point, she was only taken to deuce twice and didn't crack under pressure, which has been a stick to beat her with in the past. The bulk of her semi-final showing against Leylah Fernandez twelve months ago, having led 3-0 in set one, particularly comes to mind.
However, after an underwhelming year by her high standards and an inability to play Wimbledon this summer, the 24-year-old is making up for lost time.
The sixth seed spoke about her happiness at the atmosphere New York presents, having sealed a five-match winning streak for the first time since charging into the last-four here in 2021.
She plays reigning Roland Garros champion and world no. 1 Iga Swiatek in Thursday evening's second of two semi-finals, after the Pole withstood Jessica Pegula's pressure to win 6-3, 7-6 during a topsy-turvy start to the evening session with momentum switches aplenty.
After a shaky start, Pegula's level dwindled rather abruptly without warning and she handed the 21-year-old a break with unforced errors aplenty after initially taking a 3-2 lead.
For someone as consistent as her, this suddenly wayward ball-striking took everyone by surprise – especially having shown great shot defence beforehand to get herself narrowly ahead.
Commentators were fishing for reasons as to why, suggesting her black compression leggings hinted that she felt some physical discomfort prematch as a reason for what in truth was an off-colour display, though she'd eventually pick it up as Swiatek's inconsistent hitting persisted.
In press afterwards, she attributed that drop-off to a failure to adjust as Swiatek switched racquets and string tension, saying:
"She switched racquets at 0-30, I missed that swing volley, it helped her a little bit as her ball wasn't flying as much.

I was used to her missing errors, thrown off by the rhythm and I missed everything for literally the rest of the set – a huge momentum change – good move by her, I made a few stupid errors, she played a little better, games flew by quickly and next thing I knew, lost the set 6-3!

She moves so well so you know you have to move in, dictate the point but you don't wanna make easy unforced errors that she forces, finding when to go for your shots and pull back… I felt like I was winning the longer rallies, don't know when I'll figure it out but hopefully I'll win next time."

Pegula in reflective mood during her post-match press conference
There were four consecutive breaks of serve to start the second, then four more midway through as an untimely Pegula double-fault handed Swiatek a 6-5 advantage — just minutes after a net cord forehand winner gave the top seed a chance to serve for a maiden semi-final place.
Despite winning the first point, a trio of forehand errors gave Pegula a chance to level the scores with an incoming tiebreak awaiting them. There was more errors (6) than total winners (4) in the breaker, though they traded down-the-line winners to keep the breaker close.
Swiatek earned two match points after wrongfooting Pegula with a deep forehand, from which the American swung a backhand long to finish their latest encounter in just under two hours.
"I wasn't expecting that [deep run], pretty happy I'm working hard and keeping expectations low, tough and tight match so happy I handled it, she's a great player, tried to push her back but she's good at putting pressure on me.

I wanted to change the racquet as soon as I felt the ball going too high, kinda fighting with it the whole tournament but realised [this was] no place to make mistakes.

Super proud of myself, goal is to be consistent, playing the top players in the world… I remember being an underdog and it was surreal, now it feels like a routine but I have motivation, anyone can win any tournament. 

It's gonna be tough, even though I won the last couple [matches] against her, I know she's in good shape, some fast serves and heavy hitting, feel like I experienced that today and flat balls, so I'm gonna be ready."

Swiatek on her mindset, the racquet tension problem and Sabalenka next
---
semis here we come: Tiafoe into uncharted territory
Frances Tiafoe is the first American man in the US Open semi-final since Andy Roddick did so 16 years ago, after playing the bigger points with poise and precision to befuddle an increasingly emotional Andrey Rublev 7-6, 7-6, 6-4 – another straight-sets win for the 24-year-old to boot.
The 22nd seed quickly got the crowd on side and had a break point opportunity deep into set one, having saved two midway through the opener. He raced to a 6-2 tiebreak lead and from there, Rublev became increasingly rattled as the deficit bloated and Tiafoe's confidence surged.
Neither dropped their serve in the second set either, though Tiafoe's drop shots and net approach play proved the difference as he stormed to a 7-0 tiebreak.
He's naturally going to get tight with a historic result in sight, the commentators mused. Instead he put Rublev under early pressure, forcing his agemate to save two break points to go 2-1 up.
Two service games later, he had another chance that wouldn't go amiss: an errant forehand and importantly being aware to leave a return, winning a 15-shot rally which drew the crowd to their feet as he soaked up the acclaim. The finish line was just eight points away and he didn't waver.
"This is wild, crazy, to back it up [the Nadal win] shows growth, now in the semis. I feel so at home on courts like this, this [Arthur Ashe] court is unbelievable, you get so far behind me, I wanna play and give my best, always find a way somehow to play great tennis.

We've got two more guys, two more. I'll watch them battle all night hopefully with my feet kicked back, gonna be tough come Friday but I'm here for either."

Tiafoe on the crowd's energy, facing the Alcaraz-Sinner winner on Friday
---
Alcaraz saves match point, outlasts sinner in five-hour epic
Alcaraz [3] bt. Sinner [11] 6-3, 6-7, 6-7, 7-5, 6-3 in 5h15, second-longest US Open match in tournament history and keeps his US Open title bid – as well as race for world no. 1 alive
Tiafoe got precisely what he wanted, a five-hour epic between two prodigious talents with a rivalry brewing in Carlos Alcaraz and Jannik Sinner. The latter's serving struggles and an unconvincing net approach game proved costly in set one, as Alcaraz took charge early on.
The 19-year-old saw five set points – including one in a back-and-forth tiebreak – come and go during a 75-minute second set, yet found himself losing it with this shot:
Sinner's steely resolve was tested throughout in various moments, including producing a big 124mph ace – his first of the set – to stomp the fifth and final set point in its tracks. But the pendulum kept swinging one way then the next, with no warning as to what was coming next.
Electrifying shot-making during tensely-contested points like these ensured the Arthur Ashe crowd were firmly behind the teenager, if they weren't already:
His fearsome forehand groundstrokes, one clocking at 107mph, gave him three break points at 2-2 in set three. He eventually got the break, at the fourth time of asking. Having been broken back three games later, a line-kissing backhand winner presented the chance to serve for the set.
Yet once more, a tiebreak was needed to separate them and Sinner replicated Tiafoe with a 7-0 scoreline to go two sets to one up.
Into the fourth they went, Sinner 2-0 up early before they exchanged breaks at 4-3.
The Italian served for the match three games later, starting with aplomb: an overhead smash and ace, sandwiched between another unwanted double-fault.
Another ace, break point down, forced deuce before another of his forays forward was rewarded with the evening's first match point. He skewed a return long, before a double-fault and missed volley at the net handed Alcaraz the initiative and momentum swung once more.
Exchanging breaks of serve as they had done in the previous set, Alcaraz held firm as his clutch shot-making during their longer rallies left Sinner sprawling across different angles scrambling to return. 5-3 up and serving for the match, this time there would be no second chances.
His fifth ace of the night – third of the set – into the body went unreturned and helped secure a famous win as neither man will sleep easy tonight, albeit for vastly different reasons.
Semifinals are set
Thursday
Caroline Garcia [17] vs. Ons Jabeur [5]
Iga Swiatek [1] vs. Aryna Sabalenka
Friday
Karen Khachanov [27] vs. Casper Ruud [5]
Carlos Alcaraz [3] vs. Frances Tiafoe [22]
This year's US Open tournament is gradually coming to a close now… As usual, I'll continue my daily round-ups with the latest results, game reports, and news from Flushing Meadows, so be sure to stay tuned to moandsports.com for the latest coverage — you don't want to miss it!
Picture source: Getty Images — quotes via usopen.org, Amazon Prime Video