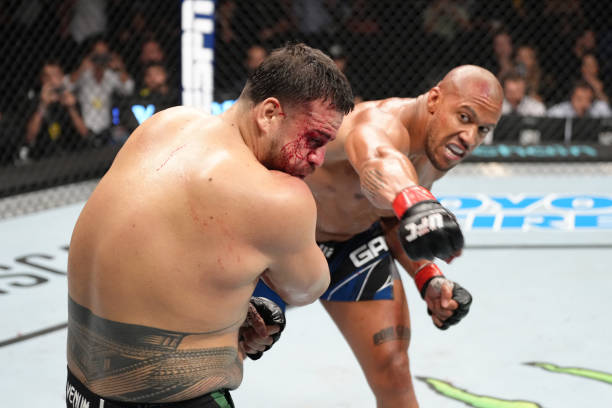 Former interim heavyweight champion Ciryl Gane stayed composed and rallied from the first knockdown of his UFC career en route to a third-round TKO finish against Tai Tuivasa during a fun headliner, capping an electric Fight Night card in Paris leaving many talking points – including Robert Whittaker's future after a masterful decision win over Marvin Vettori and Nassourdine Imavov now riding a three-fight win streak, what's his next move at 185lbs?
#1 Gane succeeds in gutcheck; Tuivasa should be proud
R3, 4:23 – Ciryl Gane def. Tai Tuivasa via KO (punches)
Ciryl Gane's hard jab, heavy kicking game and body shots proved key en route to a well-earned TKO win to snap Tai Tuivasa's momentum in its tracks in-front of a raucous Parisian crowd.
The result means he has the promotion's most wins at heavyweight since 2019 (9) and his counter right hook worked wonders as evidenced by the final sequence.
"No words, just listen to that [crowd noise], nobody on the planet expected this from France … maybe you have London but also Paris! He knocked my lights out but I'm a warrior, I want the belt – that's all – I don't care who."

Gane's post-fight interview Octagonside, enjoying the atmosphere
Tuivasa, said to have done his latest training camp in Dubai, is taking his work more seriously as the 29-year-old continues to make waves among the heavyweight's elite names.
Now among them, he's no longer just the fun knockout hunter but as shown during his rousing second-round comeback against former title challenger Derrick Lewis, there's more nuance to his arsenal too. He'll have more chances to prove he still belongs at this world-class level.
Gane underwent surgery to repair a fracture in his right hand, detailing a three-month recovery period – meaning he won't return until December or early 2023.
Jon Jones' long-awaited heavyweight debut has been mooted for UFC 282 on December 10, the year's final PPV, and while former champ Stipe Miocic remains a frontrunner to be his first dance partner at a new weight, Bon Gamin naturally wants to be involved if he's physically able.
UFC president Dana White described the boisterous atmosphere as incredible, and naturally a return to France is expected before long as their European adventures are likely to continue.
Ngannou's head coach Eric Nicksick was among the interested viewers, while the reigning champion himself said praise for Gane can only go so far given their title fight back in January.
Gane described Tuivasa as the hardest-hitting fighter he'd faced to date, and while the lovable Australian's five-fight winning streak ended at the weekend, he'll take heart from the fact he was more competitive than any of Ciryl's previous challenges – besides the champion – to date.
"Ngannou never touched me during the fight, so it's impossible to compare but Tai touched me – Ngannou can very well, that's not a question – but [Tuivasa] was the first guy to put me on my ass."
---
#2 lhw next? wise whittaker wins latest showcase
Robert Whittaker def. Martin Vettori via UD (30-27, 30-27, 29-28)
Whittaker created some intrigue with his pre-fight comments, hinting he'd move to 205lbs and stay there before his career was over, but it'll be interesting to see what happens in the months to follow Adesanya's latest title defence vs. Pereira in November before deciding what's next.
"Respect to Vettori, he did not go away and I was hurting him. Including the champion, I'm the most dangerous man in the division. I make people hate fighting, always gunning for that top spot, going to be lurking there waiting."
He has wins over multiple contenders, including #2 (Cannonier), #3 (Vettori), #5 (Brunson) and injury-prone #9 in Darren Till. Pereira [4] has been fast-tracked, Strickland [7] not ready for that acid test, Paulo Costa [6] unconvincing since losing his unbeaten streak to Adesanya last year.
Whittaker's striking output and accuracy improved as time wore on (74 significant strikes, 44% success) and only four opponents – all of those he knocked out – landed less significant strikes landed than Vettori's 33 of 116 (28%).  Light-heavyweight, a division in flux right now, can wait.
---
#3 Imavov absorbs Buckley's burst to win again
Nassourdine Imavov def. Joaquin Buckley via UD (29-28, 29-28, 30-27)
Buckley had his Rocky moment as the 28-year-old's coaches fired him up, stressing the need for a knockout. He was down two rounds against a slick operator and urgency was necessary.
A stoppage didn't come despite his best efforts, New Mansa rightly throwing caution to the wind and appearing to rock Imavov a few times in the final round with some looping punches, 56.5% of his significant strikes (30 of 55 total) came during that frantic five-minute sequence.
Crucially though, Imavov was more accurate throughout and held his nerve under pressure to stifle him with almost four minutes' control time across the contest.
One three-fight win streak snapped, another one is born and Imavov – who blitzed Edmen Shahbazyan last year – is part of a section within the top-15 at 185lbs that could easily fluctuate.
The aforementioned Till is slated to face South Africa's Dricus de Plessis [13] on his return as he defends his ranking, while Jack Hermansson vs. Derek Brunson is on tap for December too.
Perhaps a matchup against Contender Series Brazil graduate Andre Muniz [10] suits next, given the 32-year-old's best win is *that* armbar submission over Jacare Souza at UFC 262 last May.
There's plenty of possibilities going forward though, as the 26-year-old continues to make noise in a weight class lacking true contenders or much in the way of long-term depth either. Could he establish himself as one under Fernand Lopez at MMA Factory? We'll have to wait and see.
---
#4 Nathaniel Wood at home at featherweight
Nathaniel Wood def. Charles Jourdain via UD (30-27, 30-27, 29-28)
It's always good to see fighters competing closer to their natural weight class where possible and while Nathaniel Wood has plenty of work to do if he's to justify his featherweight jump, the 29-year-old Brit – nicknamed The Prospect – looks really good right now.
Previously the Cage Warriors bantamweight champion (2017-18), he's now 6-2 in the promotion after beginning his UFC stint with three straight submission victories.
It's no shame to lose to a tough contender like Casey Kenney, who flirted at the bottom half of the top-15 at 135lbs before subsequent defeats by Dominick Cruz and Song Yadong last year.
The worry? Being unable to physically compete with the size disparity against the very best, ala a motivated Sodiq Yusuff or surging Ilia Topuria who both feature between 10-15 at 145lbs.
We'll have to wait and see, but outstriking someone of Charles Jourdain's ability while adding five takedowns to boot will only stand him in good stead for the tougher challenges that await.
---
#5 Elite, yet not good enough? Vettori's predicament
Vettori, who turns 29 on Sept. 20, has now lost two of his last three fights – beaten twice by champion Adesanya – and former titlist Whittaker showed him levels here
While there are plenty of fresh matchups left to make for him at 185lbs, any suggestion of a renewed championship charge needs a few dominoes to fall first
Besides a tense opening stanza, which he predominantly won, Robert Whittaker was largely untroubled against a disappointing Vettori showing at the weekend. The former champ has retained no. 1 status below Adesanya since losing the strap three years ago next month.
Compared to the rest of the division, it feels as though Bobby Knuckles should be in a category of his own and masterclass performances like this one only reinforce that belief – while reflecting poorly on Vettori, whose gameplan always comes unstuck against this level of opposition.
His chin, grit and forward-thinking approach didn't help make this any more competitive than it was, with Whittaker hailing the Italian's durability to withstand such punishment repeatedly.
That's never a good sign, especially not for someone who works as tirelessly as he does during those training camps. Time to rebuild, rethink and do some detailed film study, because this wasn't just a one-off. It continues happening whenever he dares to challenge himself.
---
Other results, looking ahead and a word on pfl-bound santos
Rest of main card
Middleweight: Roman Kopylov def. Alessio Di Chirico via R3 KO (punches)
Featherweight: William Gomis def. Jarno Errens via majority decision (29-28, 29-28, 28-29)
Prelims
Middleweight: Abus Magomed def. Dustin Stoltzfus via R1 TKO (front kick, punches)
Lightweight: Fares Ziam def. Michal Figlak via unanimous decision (30-27, 30-27, 29-28)
Lightweight: Benoit Saint-Denis def. Gabriel Miranda via R2 TKO (punches)
Bantamweight: Cristian Quinonez def. Khalid Taha via R1 TKO (punches)
Women's Featherweight: Stephanie Egger def. Ailín Perez via R2 submission (rear-naked choke)
News broken yesterday by ESPN has confirmed former UFC light-heavyweight title challenger Thiago Santos, ranked no. 9 at 205lbs, is the latest to sign an exclusive deal with the PFL.
The 38-year-old Brazilian will make his debut in the new year, looking to win the promotion's season format at LHW with a tournament championship purse of $1m.
Their president, Ray Sefo, was understandably excited about the announcement and said:
"We are very excited to bring in Thiago Santos to the PFL light heavyweight division, known throughout the MMA world as a guy who delivers exciting fights, and I'm looking forward to seeing his elite knockout power up close."
Meanwhile, Marreta's manager Alex Davis described the deal as an "amicable separation" with the UFC, grateful for the opportunities provided to him – and what awaits him in 2023 with PFL, a golden chance to maximise his earning potential in the back nine of a 12-year pro career.
After lightweight Shane Burgos caused a stir making the same move last month and Welsh talent Mason Jones announced he'd be testing free agency, this scenario will be more regular.
This will happen to those who are good but not great, or find themselves stifled as far as their title aspirations are concerned with the promotion. Santos' efforts have been admirable, though he hasn't been the same since almost beating Jon Jones in their title fight three summers ago.
Despite losing five of his last six encounters, Santos remained a frequent main event fighter and involved in a back-and-forth Fight of the Night encounter against Jamahal Hill just last month.
Wins over Anthony Smith, Jack Hermansson, Kevin Holland and former 205lb champion Jan Blachowicz among others will continue to age nicely, though we'll never know what might've been for the rest of his prime had he not sustained such serious injuries and that's a shame.
Up next: UFC 279 tomorrow night, headlined by a welterweight reshuffle: legendary veterans Nate Diaz and Tony Ferguson do battle, while Khamzat Chimaev – who caused a stir with a remarkable weight miss – instead faces Kevin Holland in a five-round catchweight bout…
Picture source: Getty Images, quotes via mmajunkie unless stated