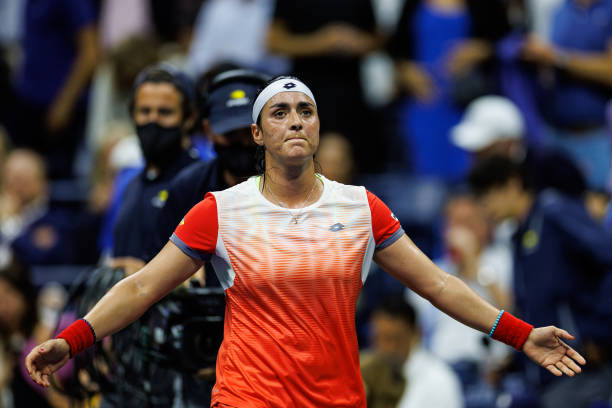 Saturday will see the world's top two female players going head-to-head with a maiden US Open title in store for the victor, after Wimbledon runner-up Ons Jabeur and reigning French Open champion Iga Swiatek recorded contrasting semi-final wins against an in-form Caroline Garcia and the unpredictable hard-hitting Aryna Sabalenka respectively on Thursday evening.
Jabeur joyful after sealing consecutive Major final appearances
Jabeur [5] bt. Garcia [17] 6-1, 6-3
Jabeur is 6th woman in 30 years to make two Slam finals in successive Majors (Martina Hingis '97, Jennifer Capriati '01, Vera Zvonareva '10, Li Na '11, Naomi Osaka '19)
"After Wimbledon, there was a lot of pressure on me and I'm really relieved I can back up my results… the hard court season started bad but I'm happy to have made the Finals here. Hopefully they [Swiatek-Sabalenka] play for five hours," she says post-match
A cocktail of nerves, undone by sneaky slices and six aces saw Caroline Garcia 5-1 down after just 19 minutes, during a tense semifinal defeat against Wimbledon runner-up Ons Jabeur.
The Frenchwoman led 30-0 on serve to start the match, yet quickly lost seven straight points – including an easy overhead miss and three forehand errors – as the Tunisian's confidence soared on the opposite side of the court with another opponent failing to match her intensity.
Even the net cords went Jabeur's way, as Garcia tried keeping pace with her to start set two.
Net approach play and a timely first ace helped her safely out of her first service game, while some gutsy second serves helped Ons navigate beyond rare scoreboard pressure at 30-30.
After hitting a makeable forehand into the net earlier in the game, Jabeur conjured up a line-kissing strike to present another break point for a 3-1 lead. Garcia's slow serve effectively gift-wrapped it for her, and she drew another error to seize it.
Garcia's forays forward were proving troublesome though, coming back from 15-40 down to force three deuces in the next game – but despite her shot defence, was delaying the inevitable.
She held serve from 0-30 down, before applying pressure in the following game as Jabeur's first serve virtually disappeared. They went to deuce again, but a timely 103mph serve and forehand error meant the world no. 2 was just four points from a maiden US Open final.
Garcia's soft hands at the net prolonged their encounter, asking Jabeur the serve it out question as the clock ticked over the hour mark. She continued hitting harder, nothing to lose now, as a 94mph forehand winner up the line levelled the scores at 30-apiece once more.
That parity wasn't going to last very long: a deep serve finished with a chipped winner and Garcia's 23rd unforced error pulled the curtain over a display she'd love to forget rather quickly.
---
Swiatek seals third set comeback, winning four straight games
Swiatek [1] bt. Sabalenka [6] 3-6, 6-1, 6-4
21-year-old becomes the first Polish woman to reach US Open final, Saturday marks her third Major singles showpiece event (2-0, beat Kenin and Gauff two years apart at RG)
Swiatek admits during post-match interview that she lacked sufficient energy to push Sabalenka back in the first set, used bathroom break to problem-solve and "just had hope" that she'd be able to mount a deciding set comeback despite being broken early
Sabalenka, who stormed ahead at the start of the match and led 4-2 in the deciding set, lost 17 of the final 22 points contested in another semi-final loss – twelve months after her collapse against Leylah Fernandez at Flushing Meadows, it's happened again
Iga Swiatek started sluggishly, undone by some power hitting, yet survived and won four straight games from 2-4 down in the deciding set to overcome Aryna Sabalenka, inflicting another painful semi-final defeat that will surely leave more scar tissue for the 24-year-old Belarusian.
Jabeur joked during her post-match interview she wanted the pair to clash for five hours, much like the Alcaraz-Sinner classic on the very same court less than 24 hours earlier.
Swiatek knew fairly early on if she wanted a place in Saturday's final, she'd need to go the distance – much like a tetchy display against Jule Niemeier in R4. Both had teething problems with their first serve early, but Sabalenka consistently had the final say in their longer rallies.
They exchanged breaks midway through set one, Sabalenka crushing the ball with her forehand and while her backhand was less convincing, Swiatek couldn't effectively weather the storm.
Sabalenka's ability isn't the question, having the mental fortitude to deal with pressure and expectation remains a pressing concern. That was clear to start set two, as Swiatek reset with a bathroom break and immediately broke the Belarusian's serve while she fumed to her box.
After a good hold and a rare ace for the Pole, Sabalenka was under duress again to hold serve.
She did at 2-1, but a quick hold down the other end shifted the responsibility back into her hands. It got dicey. A 102mph second serve and 104mph to follow suggested she did enough to hold, before Swiatek slammed a return ace from a 106mph serve to present another break point.
The 21-year-old was well-positioned to defend a 111mph serve flying her way, which appeared to startle Sabalenka as she fired wide with her return. 4-1 down, Swiatek's forehand now firing and her shot defence had improved, it wasn't long before a decider was needed.
Into a third set they went and Sabalenka quickly had three break points of her own. Swiatek saved two but a backhand into the net saw the third seized, while Sabalenka consolidated the break with more of the same powerful hitting that saw her race to an encouraging early lead.
For all of the Aga Radwanska comparisons, Iga couldn't consistently generate power from her haunches and still be well-positioned to return Sabalenka's wicked groundstrokes.
She held serve then applied pressure on the world no. 7's serve once more, as a two-handed backhand passing winner – on the stretch – gave her a 0-30 lead and half-chance to break.
108 and 117mph serves helped Sabalenka get her nose back in-front, but it wasn't for long as more unforced errors saw the score level at 2-2.
Two break points out of nowhere in the subsequent game, much like to start set three, saw Sabalenka break back. Untimely mistakes spilled from the Pole's racquet, while Sabalenka composed herself with big serving – break point down – to take a morale-boosting 4-2 advantage.
Surely now then, she'd got over the hump being just eight points from a maiden Slam final?
Swiatek had a quick service hold and nodded to her box, almost knowingly, at the changeover as if to say, okay, this is where the match truly begins.
0-30 ahead again, another Sabalenka forehand error presented three break points, from which she levelled once more with a deft crosscourt winner.
Sabalenka won a 12-shot rally which drew a standing ovation from the Arthur Ashe crowd in the very next game, but successive errors during rallies – while Swiatek was scrambling defensively at the baseline – proved costly as the world no. 1 produced a gutsy service hold and prevailed.
Serving to stay in the tournament, a forced error, seventh double-fault and volley at the net presented three match points. Her 44th unforced error, a forehand into the net, sealed the deal.
---
this weekend, what's Still to come?
Friday: Men's Semifinals
Karen Khachanov [27] vs. Casper Ruud [5]
Carlos Alcaraz [3] vs. Frances Tiafoe [22]
Saturday
Iga Swiatek [1] vs. Ons Jabeur [5]
This year's US Open tournament is gradually coming to a close now… As usual, I'll continue my daily round-ups with the latest results, game reports, and news from Flushing Meadows, so be sure to stay tuned to moandsports.com for the latest coverage — you don't want to miss it!
Picture source: Getty Images — quotes via Amazon Prime video broadcast