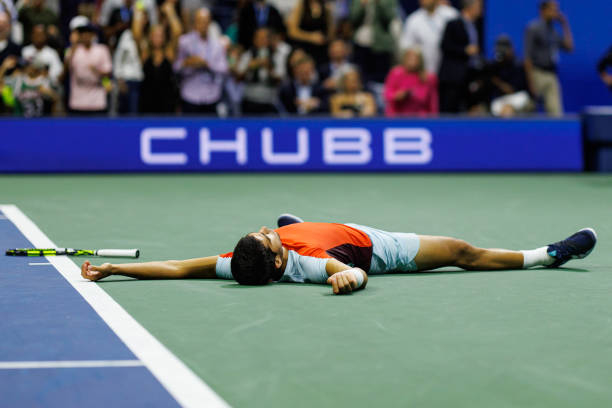 Casper Ruud and Carlos Alcaraz will go head-to-head once more with a maiden Grand Slam title up for grabs, as well as the world no. 1 ranking on Sunday evening, after they earned contrasting wins over Karen Khachanov and Frances Tiafoe in Friday's semi-final double-header. Ruud was largely excellent against the Russian despite a third set blip late, while Alcaraz rallied from a set down and again came out on top during another deciding set battle.
Humble but hungry Ruud rolls into second Major of the year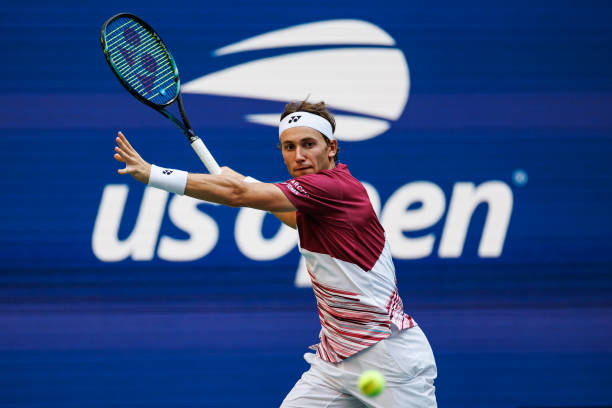 Ruud [5] bt. Khachanov [27] 7-6, 6-2, 5-7, 6-2
This result means Ruud can become first Norwegian world no. 1, first Scandinavian man to hold top spot since Stefan Edberg in 1992 with victory in Sunday's final
23-year-old won 29 consecutive points behind his serve up until early in set three, as Khachanov worked tirelessly to keep semi-final competitive
"After Roland Garros I was humble enough to know that could be my only Slam final because it doesn't come easy but here I am back again, it feels beyond words to describe. Tennis is psychological as much as it is physical," he says in on-court interview
French Open runner-up Casper Ruud is into his second Major finale in four months and did so playing the same brand of excellent tennis shattering persistent naysayers questioning his rise.
53 winners, among them a deft finish in the first set tiebreaker and a backhand winner to secure a double break early in set two. Having had the last laugh during a 55-shot rally to go ahead on his third set point, it seemed like there was only one winner from that point forward.
He aluded to both suffering from early nerves post-match, hence the topsy-turvy start, but once in full flow, Ruud's ball-striking – much like against Matteo Berrettini and lucky loser Corentin Moutet before him – was on another level entirely.
You could sense things starting to turn early in the third, despite an ominous-looking first point of that set, as Khachanov – who wasn't hitting the ball as hard or with much top spin by comparison – still worked tirelessly to engage in longer rallies. Easier said than done, mind.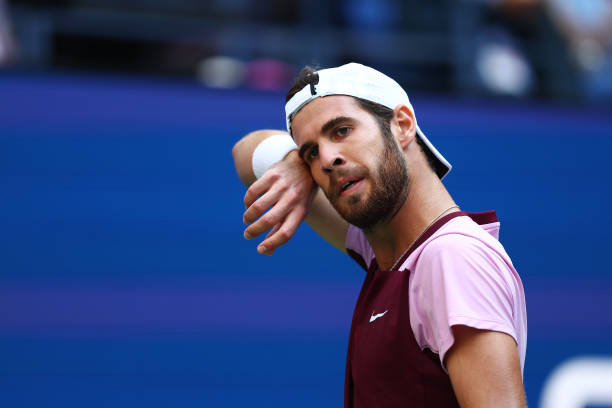 Ruud defended one break point during the same game his 29-point streak was broken, though both were fairly assertive behind their serve in the games that followed.
The scoreboard pressure got to Casper as he served to force another tiebreak, double-faulting then two unforced forehand errors gave Khachanov faint hope as he roared off court for a bathroom break, having cut the deficit to 2-1.
It proved a mere blip though, as Ruud immediately put him under pressure to start the fourth – four winners in the opening service game – and continued ruthlessly firing off forehands – as Khachanov found himself under the knife once more.
His emotions under control, scoreboard back in his favour and prevailing in the bigger points, Ruud raced away to finish strongly in three hours.
---
Alcaraz overwhelms courageous Tiafoe in deciding set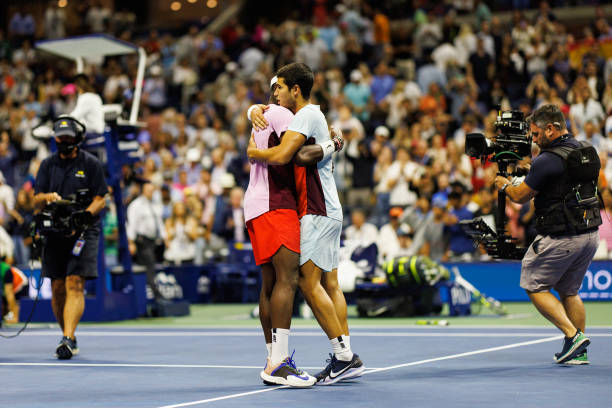 Alcaraz [3] bt. Tiafoe [22] 6-7, 6-3, 6-1, 6-7, 6-3 in four hours 19 minutes
Alcaraz: youngest Major finalist since Rafael Nadal (2005, French Open), youngest US Open finalist since Pete Sampras (1990), first male player born in the 2000s to reach a Major final, can become youngest world no. 1 in ATP rankings history with Final win
"I gave everything I had these last two weeks, too good from Carlos tonight, feel like I let you guys down and it really hurts. He's gonna win a lot of Slams, hell of a player and person. I'll be back and win this thing one day, sorry guys," Tiafoe's interview
"We have to give everything, fight until the last ball. Frances gave everything on court, [played] amazing. My first time in a Slam final, one more to go but against a player who plays unbelievable… I'm gonna give everything, enjoy the moment and let's see what happens," Alcaraz reflects after magical fortnight reaches conclusion this weekend
It'll be a repeat of April's Miami Open final on Sunday, with plenty at stake for both, after Carlos Alcaraz recovered from a set down to overwhelm Frances Tiafoe and needed five sets for the third consecutive match after another memorable tussle between two maiden semi-finalists.
Alcaraz praised the crowd for the energy they gave him after the instant classic against Jannik Sinner midweek and for sustained periods here, it felt like he was the home player as the crowd fell in love – all over again – with his shot-making, relentless foot speed and court coverage.
---
What did he say?
"The crowd is amazing, I would say the best in the world. The energy I receive in this court at 3am, was unbelievable. Probably in other tournaments, other places, everybody would have gone to their house to rest – but they keep supporting me, unbelievable.
It's going to be really, really tough, everyone knows Frances' level, playing unbelievable right now, high in confidence, loves the crowd and this court. I'm going to have to play my best."
---
Tiafoe hit less than 50% of his first serves in (76/163, 47%) and during a match of such fine margins, that inconsistency was an alarming weakness which Alcaraz repeatedly exploited to break the American's momentum at different stages of their five-set encounter.
The first instance suggesting this would be troublesome came at 3-3 in the opening set, Tiafoe saving two break points and surviving his next service game despite a severe lack of first serves.
Using spin, slice and kicker second serves — purposely slow and attackable – to deceive Alcaraz would only last so long.
Alcaraz continued clipping the outside edge of lines with a handful of his winners, leaving Tiafoe increasingly dumbfounded as the teenager won the lion share of their longer rallies, whether at the baseline or the net.
Tiafoe was two points from seizing the opening set in successive return games and you couldn't help but wonder, had he taken one of those break opportunities early, this might've been a completely different match.
Instead the Spaniard produced 122, 128 and 125mph serves – saving one set point in the process – while winning a frantic rally exchange at the net to force a tiebreak.
Alcaraz saved three more in the ensuing breaker, having trailed 6-3 down at one stage but Tiafoe won the set's longest rally with a two-handed backhand and eventually snatched it on the fifth attempt as the Spaniard served two double-faults to gift-wrap him an early lead. It wouldn't last.
Keeping in theme with break points saved, Carlos held his nerve to go 2-1 up as the pair played their part in a few jaw-dropping rallies. There were 17 consecutive service holds, up until 3-2 in set two where Tiafoe's all-too-predictable dip in performance level returned.
Not even a 136mph serve could save an unenviable predicament, as Alcaraz led the comeback charge from that point forward.
A few questionable shot choices, overthinking in spots and unforced errors all combined to wear the American down with Alcaraz producing all sorts to demoralise him: a two-handed Djokovician sliding winner, more deadly grounstrokes and soon the teenager was unplayable.
Alcaraz won 15 of 16 points to start set three, consolidating a double break at 4-0. Tiafoe sure was sluggish and errors continued spilling from his racquet, as the promising lead he worked so hard to build was by now a distant memory.
Being wrongfooted and often overpowered, at the net and in their longer rally exchanges, saw Alcaraz lead 2-0 to start set four. Then, with the finish line increasingly in view, the tide turned.
Tiafoe produced a brilliant return ace on a 126mph serve to force another break point and finally, at the fifth time of asking, his rally-finishing forehand winner put him back on serve.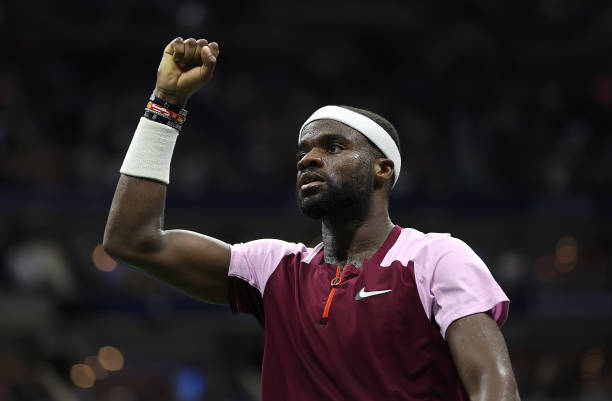 They exchanged breaks once more in successive games after that, while Tiafoe had a rare love-hold at 4-4 which emphasised the importance of getting those first serves in.
He certainly couldn't have picked a more apt moment to produce his second drop shot winner of the evening, than match point down to finish a 19-shot rally, but on they went into a breaker.
Tiafoe's unblemished tournament record continued (8-0 in tiebreaks), as his forward forays to the net were gradually working with more success.
Just like Alcaraz in midweek, he saved match point during a juncture where he was largely second best. That ultimately told in the deciding set, as Tiafoe's dip returned and he leaked 14 unforced errors – more than any other set – with Alcaraz gladly capitalising.
Although he had almost triple Carlos' ace count (15-6), he continued struggling with his first serve throughout and the pressure told.
He secured a break back at 2-2, yet gave it away again in the subsequent game, and Alcaraz's shot defence blossomed with two devastating lobs to virtually put the result beyond doubt.
---
What's still to come this weekend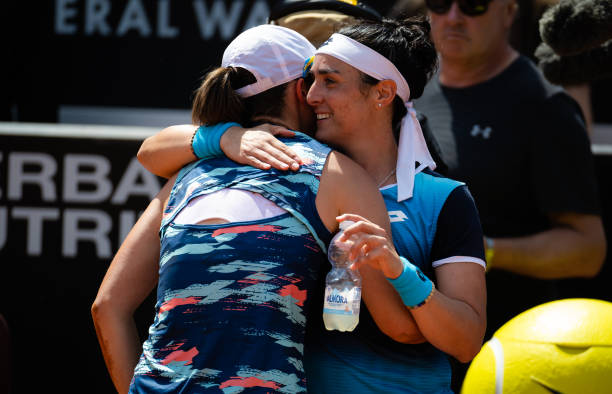 Saturday
Iga Swiatek [1] vs. Ons Jabeur [5]
Sunday
Casper Ruud [5] vs. Carlos Alcaraz [3]
This year's US Open tournament has been an unforgettable one and there's still two days of action left to go… I'll have a detailed report from both singles finals this weekend, so be sure to stay tuned to moandsports.com for the latest coverage — you don't want to miss it!
Picture source: Getty Images — quotes via Amazon Prime Video unless hyperlinked otherwise