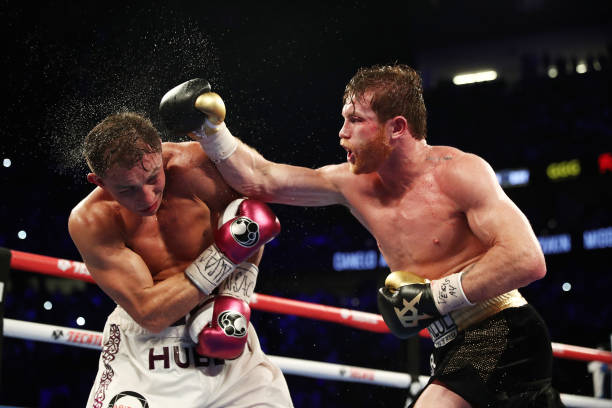 As the legendary pair finish their preparations before doing battle in their long-awaited trilogy clash for Canelo Álvarez's undisputed super-middleweight titles on Saturday night, I take a look back at their rematch four years ago this month (Sept. 15th) – with controversy aplenty about the decision for the second time in twelve months… How will things be different a third time?
Golovkin felt aggrieved at eventual result, for a second time
Canelo Álvarez vs. Gennadiy Golovkin – Canelo's WBA, WBC, IBF, WBO SMW (168lbs) world titles
Ringwalks expected at 4am Sunday BST
How the second fight was scored
Glenn Feldman: 114-114 draw
Dave Moretti and Steve Weisfield: 115-113 Canelo
If like me, you feel inclined to watch their most recent meeting back – whetting the appetite for Saturday's third showdown – do so while muting commentary and crowd noise if you can.
Having not seen this particular bout for a while, it'll help lessen the chance of unconscious bias from said analysts seeping into your round-by-round scoring, or overall opinion on a competitive tussle between two world-class championship boxers with one who had to lose.
On my scorecard, the 12th and final round decided it – Golovkin would've clawed a draw, but found himself second best and absorbed the cleaner shots as they traded furiously. Two of the three judges also gave Álvarez that round, which proved decisive in determining the result.
"We had a great fight, the one we expected first time around. I had it close going into the 12th, had good judges who saw it from different angles – I can't complain about the decision, but it's close enough to warrant a third fight."
---
What Canelo has done since their rematch
Competed in eight fights, recording seven championship victories – including five stoppages – as he made history by claiming undisputed status at super-middleweight last November but most recently fell short against WBA light-heavyweight champion Dmitry Bivol in May.
As for Golovkin…
Four-fight win streak – all at middleweight – three stoppages, including a hard-fought rescheduled battle against Japan's Ryota Murata in April to become three-belt titlist at 160lbs

---
Canelo peppered multiple left hands, landing the heavier and more impactful punches through the first four rounds as it quickly became clear Golovkin couldn't consistently walk him down, was being countered quickly whenever he threw some attacks himself.
However given their close exchanges, you could argue it was 2-2 through 12 minutes.
Golovkin landed a big right uppercut midway through R4 and though many observers suggested that big punch connecting reinforced the fact he was beginning to find his range and rhythm better, he then proceeded to get outworked during the latter part of said round.
He threw more in R5 but wasn't exactly more accurate with the output, while Canelo made him miss continuously and kept up the pressure during the next round – spiteful punches landing, while visibly roughing the Kazakh up in the seventh.
Rounds eight through ten were back-and-forth in the pocket, as both were physically showing the scars of battle and exchanging more big blows.
Crucially though, Golovkin displayed more of a physical reaction when hit, whether demonstratively shaking his head or recoiling backwards like he'd been bitten, while Canelo was quite literally taking them on the chin and proceeding to walk into the proverbial fire.
R11 saw a sloppy firefight ensue but Golovkin unloaded punishment aplenty, as if he knew – from an impassioned conrer – he needed to, as Canelo winged power shots wildly back his way.
He responded with a strong 12th round and while both celebrated, only one could be the victor.
See the full punch stats from their rematch, here
---
GGG expecting a different Canelo, who is focused on legacy
The first time around, Golovkin retained his belts via split draw but this time around, lost them with a majority decision. Four years on, the 40-year-old appears at peace with the fact retirement is inevitably on the horizon before long and he'll be itching to change the story this weekend.
"I'm totally looking at the third fight as brand new from scratch, I don't draw any motivation from previous fights. He's going to change a lot of things because this is taking place in a different weight division, his attitude will definitely change, so there will be a lot of surprises during this fight."

Golovkin is expecting a much different Canelo the third time around
As for Canelo, the 32-year-old's quest to continue building his legacy cannot be understated as he returns to familiar surroundings at 168lbs once more.
Having tested himself among light-heavyweight for a second time – three years after his R11 KO of Sergey Kovalev won him the WBO strap – he remains steadfast in pursuit for more greatness and won't let the comprehensive defeat by Bivol ruin his plans. Instead, a rematch is mooted.
First though, he has unfinished business against a familiar foe who has helped build his star as the pound-for-pound king in boxing.
"I love boxing and want to accomplish all I can. The best things – fight the best, all the champions, different weight classes. For me, my legacy is important.

Everything comes because of the people around me, you never know what is going to happen but work hard, keep in the gym, stay disciplined, things come.

We never knew this was going to happen and we were going to do this, but it's all come together."
Most feel like the trilogy, while long overdue, is a foregone conclusion given Golovkin's age and diminished defensive skills. Then again, plenty were confident Canelo would produce another boxing lesson to snatch Bivol's WBA strap and add another undefeated record on his resume.
While Canelo has benefited from being considerably more active during what are his prime years, Golovkin's strength of schedule isn't exactly comparable.
Since the rematch the pair have fought in differing weight classes and while it's easy to pit their historical strengths and weaknesses against one another, some things can't be ignored. There's a sense of inevitability about how this weekend will go, but stranger things have happened.
Picture source: Getty Images — quotes via BoxingScene unless stated