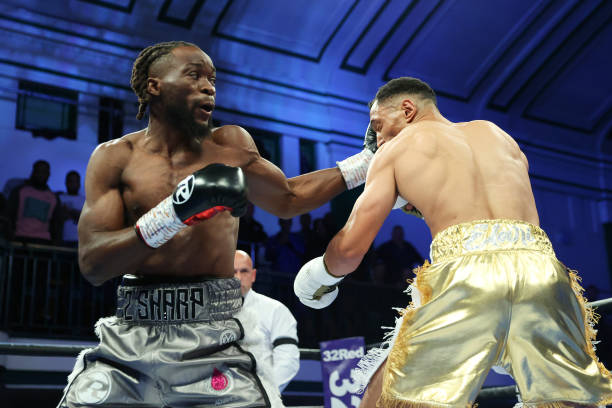 Denzel Bentley retained his British middleweight title with a fourth-round TKO win over Marcus Morrison to cap Frank Warren's latest Queensberry card, one featuring multiple finishes. Super-featherweight prospect Royston Barney Smith was among them, after Brayan Mairena inflicted Frank Arnold's first career defeat. Dec Spelman put unbeaten cruiserweight Ellis Zorro through a firefight, while there was an aftershow update on the state of play atop light-heavyweight.

Bentley overwhelms Morrison, secures r4 tko win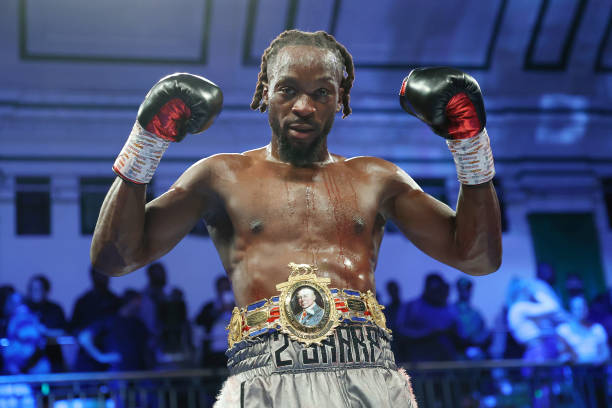 R4, 2:00 – Denzel Bentley bt. Marcus Morrison to retain Brtish middleweight title
It wasn't perfect, he looked vulnerable at times but Bentley's punch volume and pressure eventually told the story en route to a TKO win over Morrison for his British middleweight strap.
Right hooks in the first and third rounds threatened to change the complexity of their contest, with Bentley – at least briefly – appearing to fall into the same traps which left the 27-year-old's head exposed all too easily during his one career defeat against Felix Cash last April.
There were moments of indecision from both after a closely-fought first round, having felt the other's power and naturally wanting to steer clear. Bentley's body language wasn't encouraging as he found himself backed up against the ropes after Morrison landed a series of looping shots.
That said, Bentley's punches were harder and the Mancunian's nose – bloodied and increasingly damaged – was clear evidence of that. Guilty of overswinging a tad too much in the second round, the champion's hands were too low and he was again caught in vulnerable positions.
The crowd bayed for him to throw the jab with frequency and feint his way into favourable spots, but the pair were firmly content exchanging whenever close.
Bentley finished the third strong, masking a frustrating lull where he failed to set up any attacks and let Morrison off the hook after having him hurt.
However, it was during these spots where either one could've pushed the pace and forced the other into uncomfortable positions defensively. Bentley did so intermittently, while Morrison often found himself counterpunching his way off the ropes.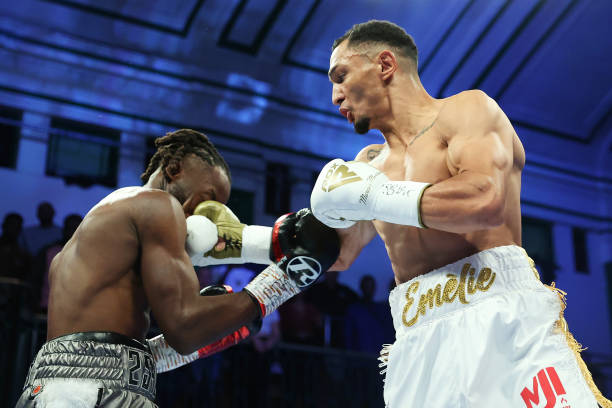 But as the forward pressure intensified and more punches landed through the Mancunian's high guard, it wasn't long before the end was near.
Shouts of "save him Joe!" came a few yards away in the media section and after seeing him absorb another unanswered punch combination and with the referee keeping a close eye, head trainer Joe Gallagher stepped into the ring to save his charge anymore unnecessary damage.
---
Barney-Smith wastes no time; Zorro has chin and will tested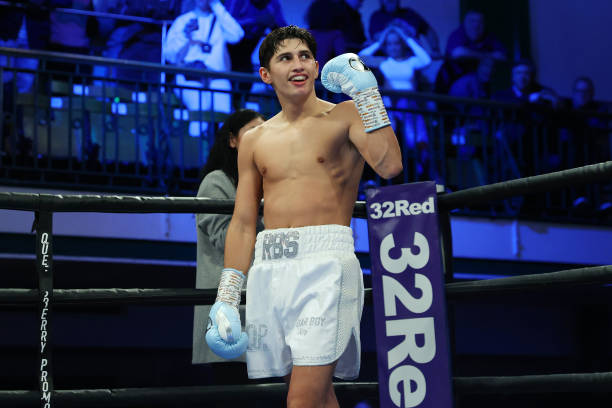 At super-featherweight, Royston Barney-Smith improved to 3-0 and wasted no time in securing the first stoppage win of his young career.
He immediately began with a one-two combo which wobbled Paul Holt, before going in for the kill: scoring a blistering knockdown with the referee's count virtually useless as Holt could barely walk in a straight line once back on his feet. R1 KO — a first finish and what a combo to stop him.
That four-round matchup followed a cruiserweight contest which quickly proved its pre-fight hype as the fight of the night, exceeding expectations even following a slow opening round by contrast. Ellis Zorro said he wanted a step-up, and Dec Spelman certainly provided one here.
Tense and tactical from both, Zorro landed some good body shots and stung Spelman to the head as Dec already appeared to be sporting a cut above his right eye after three minutes.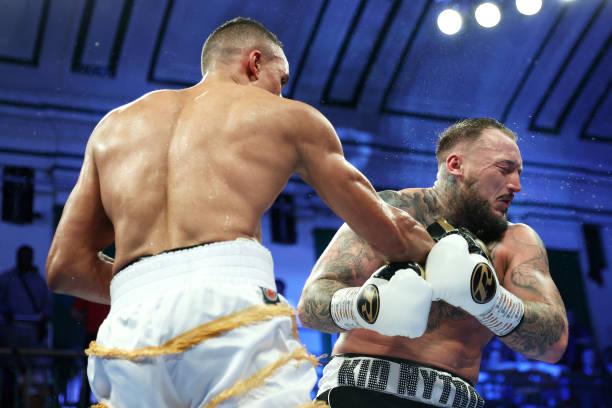 Spelman landed point-scoring combos, but was absorbing power early. His jab was clean and caught Zorro often in R3, though it was encouraging to see how he manoevured well off the back foot. Having achieved early success with them, Zorro rained down more body shots in the fourth.
Spelman's negative body language upon absorbing them proved a precursor to a knockdown, and that's where the real fight started. He winced in pain but beat the referee's ten-count, returned to his feet and waded into the fire as Zorro searched for the fight-ending sequence.
It didn't come, but Zorro's gas tank looked to be running on empty after expending energy aplenty without the all-important knockout reward he probed for.
Spelman sensed this and continued walking forward, wearing on the unbeaten Boxxer tournament winner, landing furious flurries and backing him up against the ropes.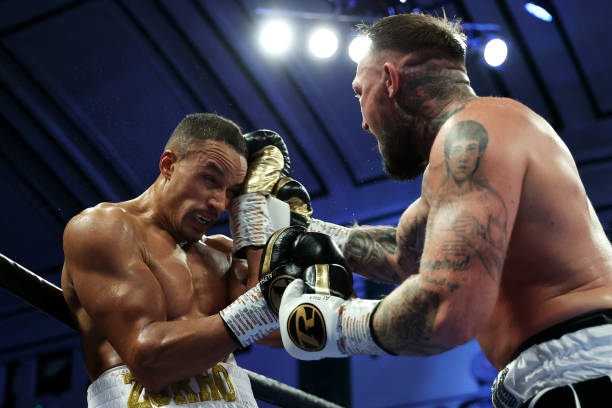 Zorro withstood the pressure, but was certainly feeling the pace of their contest as it went long. Both were buzzed in R7 and a steady diet of left hooks appeared to dent Zorro's face as he was bloodied during a chaotic back-and-forth round leaving the York Hall building shaking.
R8 featured more of the same, Spelman unbothered by being hit – connecting where possible, while Zorro narrowly did enough to stay upright. A few rounds earlier, that looked unlikely.
77-74 the final score and both received a rousing standing ovation after an exhausting physical battle – one Zorro really needed as far as his lofty cruiserweight ambitions are concerned.
---
Aftershow light-heavyweight update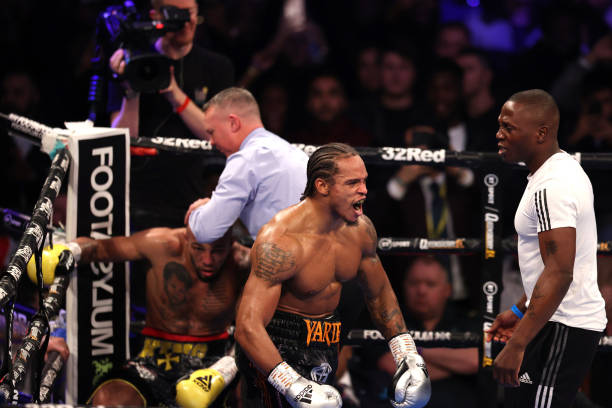 I spoke to Anthony Yarde and his promoter Frank Warren for an update on the former's current situation, after it was revealed last month three-belt world champion Artur Beterbiev sustained a minor injury ruling him out of contention for the proposed Oct. 29 mandatory title defence.
Yarde hasn't fought since avenging his defeat to Lyndon Arthur last December. Coincidentally, Arthur makes his in-ring return on Channel 5 tonight against Argentina's Walter Gabriel Sequeira (25-9, 17 KOs) – a 35-year-old opponent Yarde himself stopped inside four rounds four years ago.
Yarde wants a stay-busy bout while Beterbiev recovers back to full strength and cited November as a target for his in-ring return. When asked whether that would be facilitated, Warren said:
"He will have a warm-up fight, hopefully come through that and Beterbiev will be ready to go in January, so we're told."
Marc Ramsay, Beterbiev's trainer, said the 36-year-old underwent a minor knee operation shortly after needing just two rounds to blitz beyond now-former WBO champ Joe Smith Jr in June.
"It wasn't even arthroscopic surgery, it was just to clean out the interior (of his knee), some of the tissue deteriorated over time, really a minor thing. He took two weeks off and has already returned to training.

I saw what had been written in the American media, they seemed to have exaggerated a bit… he can easily fight in November or December."
Ramsay said he hopes they can still arrange the fight for November-December, but it's very unlikely now as bigger shows and events need to be reserved at venues months in advance.
As an example, it was made public news in late August that the 02 Arena was reserved for WBA regular heavyweight champion Daniel Dubois' UK homecoming for November 26 – almost a full three months in advance. That date has been mooted on social media as Yarde's return.
You'd assume the level of competition isn't arduous with a world title shot still in the offing, though it's interesting to see former WBA (Regular) super-middleweight champion Rocky Fielding actively putting himself in contention. For more from Yarde, watch this interview:
Beterbiev quotes via BoxingScene
---
Mairena inflicts vicious KO defeat, ending Arnold's unbeaten run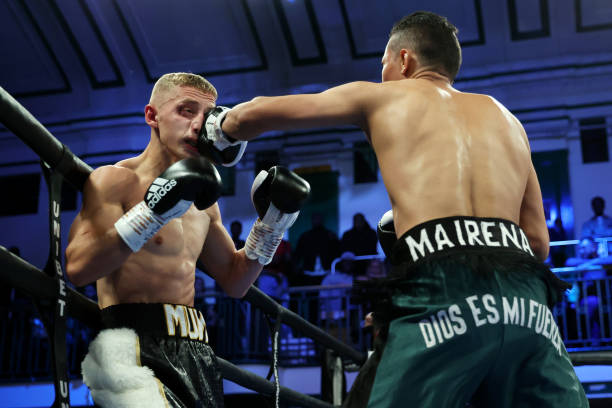 Bryan Mairena, who had four times' as much in-ring experience (42 fights) as Frank Arnold (10), soaked up the atmosphere and immediately got to work in their super-featherweight clash.
His furious punch flurries quickly kept the crowd hushed into a startled silence and it would soon get even worse. Arnold, to his credit, acquitted himself better in the second but was still uncomfortably hittable, something proving decisive in R3.
After absorbing a punch sequence which sent his gumshield flying out the ring, he appeared distracted and Mairena's active hands scored a third-round knockdown.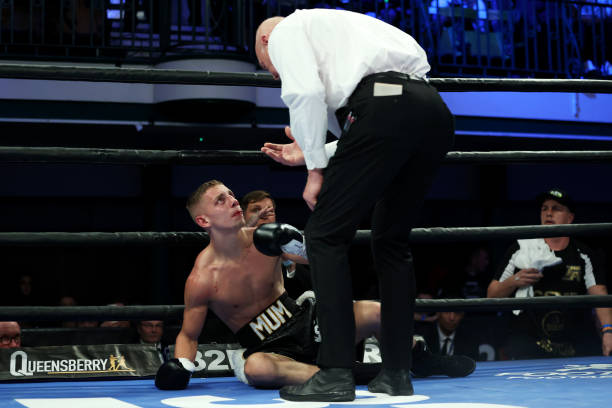 The 23-year-old's corner should've seen the writing on the wall and stopped it afterwards between rounds, but instead came a thunderous finish late in R4. Ringside paramedics were whipped into a frenzy after Mairena landed a vicious right-hand, knocking Arnold out cold.
The stretcher came out but thankfully wasn't needed as after a lengthy pause, Frank could walk gingerly out of the ring with medical assistance alongside him.
He was transported to hospital for scans – predominantly his head – but paramedics reassured me afterwards he's alright and was talking to his team in the back, which is always good to hear.
---
other results, including tko wins for mohamed and abdulah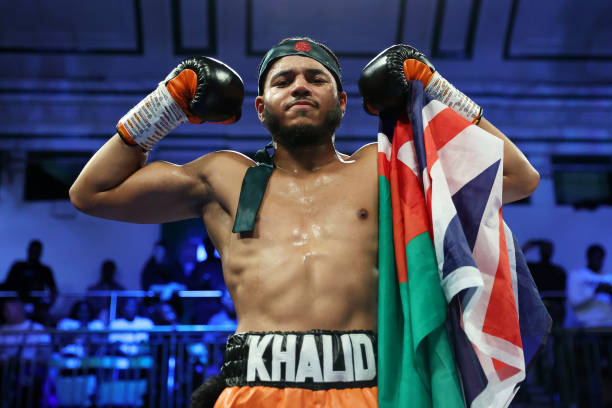 21-year-old welterweight prospect Khalid Ali improved to 4-0 after earning a wide decision win (60-54) against Dario Borosa, but was visibly disappointed he couldn't secure the finish. When he rewatches the footage back, the youngster will know which areas he can improve in future.
It was a case of survive and recover after R1 for Borosa, who was immediately under pressure from welterweight prospect Ali – much to the crowd's delight.
The home favourite let his hands go early and often, landing combos to the head and body unchallenged as Borosa didn't offer much back as his body became increasingly cherry red.
R2 came and went with more of the same, albeit at a slower, more methodical pace as Ali began picking his punches better – knowing that just swarming attacks wouldn't do the job.
Looping lefts and more body work accompanied Ali in the third, jabs and infrequent combos in R4, but he needed to cut off the ring to get a KO. Borosa did a good job evading whenever hurt by punches, but Ali clearly followed and didn't close off angles when his hardest shots landed.
"Let your hands go," bellowed an increasingly agitated crowd in R6 as they felt underwhelmed before an anti-climactic ending to Ali's latest appearance.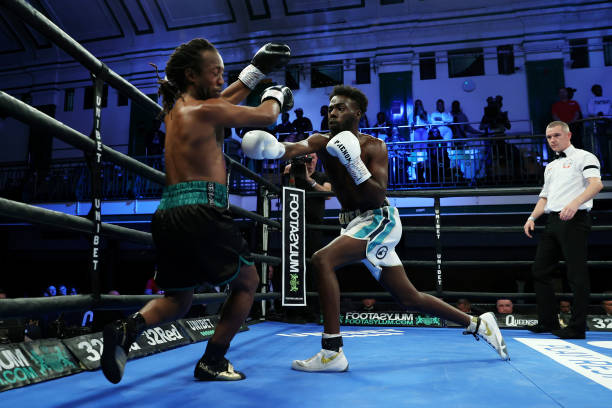 At super-bantamweight, Adan Mohamed improved to 7-0 after earning the second stoppage of his career against Reiss Taylor. It was scruffy in parts given their stark difference in physicality, as Mohamed swung haymakers and rushed his work hunting for the knockout punch.
He roughed the Birmingham boxer up with limited visible reward through three rounds, though Taylor took deep breaths, looked winded and got a point deduction for holding too by referee Sean McAvoy. The constant pressure was key, as the ref compassionately stopped it in the fifth.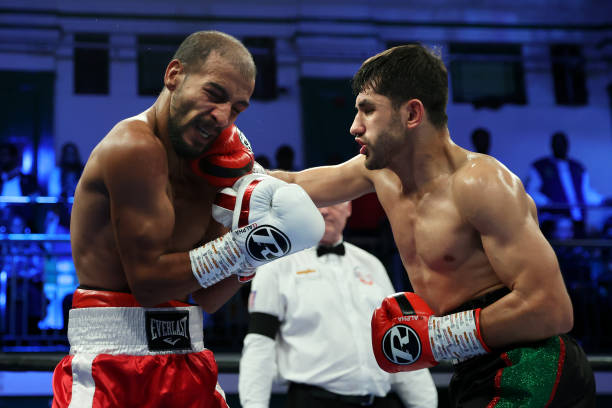 Speaking of unbeaten prospects… super-featherweight Masood Abdulah is now 6-0 after overwhelming Stefan Nicolae en route to a fourth-round TKO. He began well early, though Nicolae responded with some resistance of his own in R2 after they exchanged in the pocket.
Abdulah stepped up his output in the third, and while the end looked ominous against an increasingly wary Nicolae, it came in the subsequent round as the referee had seen enough with the Romanian bundled up and not defending punishment intelligently against the ropes.
In the cruiserweight division, Arnold Obodai is now 2-0 after earning a clean sweep (40-36) against Poland's Pawel Strykowski. The 25-year-old threw his right-hand intently early on, looking threatening as he flicked out his jab too and asserted physicality with ease.
A one-two combo stumbled the Pole and you could sense the crowd getting excited as they felt a highlight reel KO was coming. Instead, that proved a false dawn as the long-limbed Obodai struggled to find range with any consistency and inadvertently gave Strykowski confidence.
While hurt upon occasion, an unmistake lull in the action reinforced how important logged these rounds against competitive opposition are for young boxers. Obodai tried to mask his increasing frustration, jabbing but also playing with his food as Strykowski rarely offered much back.
He eventually hurt him again, this time with an overhand right, though Strykowski's furious flurry to finish in R4 rather emphasised the point again. More rounds would've been beneficial.
Joel Kodua experienced a memorable middleweight debut, en route to a 40-36 win over the gamely Joe Hardy in the show's opener before the televised portion of the night's action.
It was a frenetic affair early, though Kodua's punch combos and energy wore on Hardy late on as the Ghanaian was buoyed on by a partisan crowd with friends and family in attendance.
Picture source: Getty Images