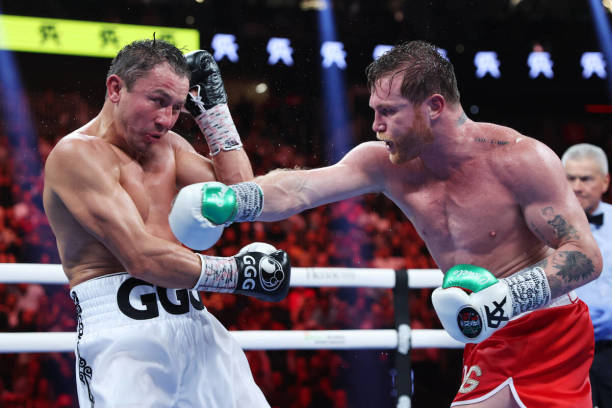 Roy Jones Jr didn't bother watching. Shawn Porter declared Canelo's stock has now fallen. Oscar de la Hoya, whose Golden Boy Promotions firm was responsible for the first two instalments, used much stronger language altogether. ESPN said GGG's legacy was secured – despite another chastening defeat – while Bleacher Report called the undisputed 168lb champion the sport's king once again. So after Saturday night, which is closest to the truth?
Alvarez secures winning return, but flatters to deceive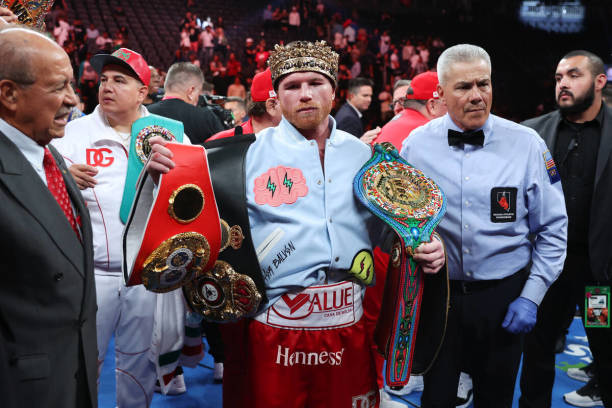 116-112, 115-113, 115-113: Cánelo Alvarez bt. Gennadiy Golovkin via unanimous decision, retains his undisputed super-middleweight titles
"I can't hold a glass, it's really bad… but I'm a warrior," Canelo's team physician confirms he has torn cartilage in his left wrist which could require surgery, needing 6-12 weeks of rehab – dating back to his TKO11 win over Caleb Plant last November
"Of course, we'll see what happens in that fight [Bivol-Ramirez]. I need rest, to get strength back in my hand and body so I can come back stronger than ever," the undisputed super-middleweight champion still has 2023 Bivol rematch in his sights
"Absolutely. Remember, I still have two belts at 160, I'm still champion guys!" Golovkin refutes retirement speculation, says he'll return to natural weight and continue
Canelo Alvarez said pre-fight his goal was to win this before the 12th round, securing a definitive knockout to end their trilogy. Afterwards, he admitted it became clear during R1 alone that simply wouldn't be the case, against a fierce adversary never before dropped in his career.
As expected, all the historical bad blood between them was squashed and prolonged pleasantries were exchanged in the aftermath. Yet there was a lingering sense of what might've been, for a 32-year-old boxing star whose search for legacy-building achievements will continue.
That includes a rematch against WBA light-heavyweight champion Dmitry Bivol sometime next year, assuming the unbeaten Russian (20-0, 11 KOs) successfully defends his title for the fifth time against upcoming mandatory challenger Gilberto Ramirez on November 5 in Abu Dhabi.
Remember this? Brilliant Bivol breaks down Canelo en route to UD win — back on May 7
---
The fight itself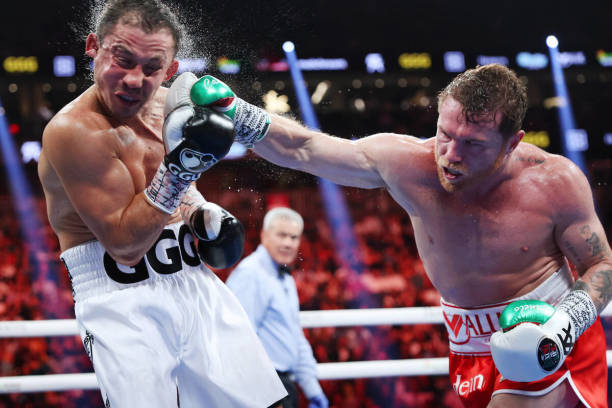 Canelo's forward pressure began early and often, working the body and holding centre ring as Golovkin wasn't doing enough to truly worry him during a cagey start.
The 32-year-old's power punches continued to land, while backing up the Kazakh with clean left hands and hooks through three rounds, showcasing the difference in their hand speed.
As the fourth began and Golovkin returned from his corner, you could see bruising and cuts, having absorbed damage aplenty from the back foot. It would only worsen as time wore on.
Before the fifth, you saw the Kazakh's head trainer Johnathon Banks urged him to believe in himself, throwing the jab more often and being able to better counter Canelo's attack that way.
The DAZN commentators were surprised as to how slow Golovkin looked, but it wasn't like he'd have got quicker up a weight class against a better opponent after a hard-fought R9 TKO win over now-former IBF middleweight champion Ryota Murata in April.
Briefly stumbling backwards after taking a right body shot in R5, then absorbing a right overhand, Banks felt compelled to call for a change of tactic in the sixth.
While the intent was there, that quickly proved easier said than done because whenever he walked forward, he wouldn't throw enough punches to maintain that favourable position.
"Go to work, short shots, it's time to go fuck him up," Banks barked.
Instead, the onus felt on Canelo to go and close the show – having repeatedly landed stinging counters, hooks and uppercuts – but not stringing them together in overwhelming combos.
R8 was better for Golovkin, but whenever he landed clean, they seemed like point-scoring punches, not the spiteful shots hurting Canelo enough to see him surrender centre ring.
R9 saw more success as the crowd roared him on, hoping he'd finally cracked the Canelo code and managed to roll back the years in contributing to another furious back-and-forth finish.
That, after all, is what everyone wanted to see. They left disappointed and predictably so, given how the pair have evolved three years since their heavily-disputed rematch.
Canelo's output had noticeably slowed but he responded well in the tenth, after being criticised for letting Golovkin back into it – a triple jab among the highlights – while referee Russell Mora warned them both after the challenger landed an accidental headbutt just before the bell.
It was clear the Mexican coasted in the final two rounds as his intensity much like the punch output slowed, content to engage with scrappy exchanges late while the T-Mobile crowd made their discontent clear with loud boos – though the undisputed champ played it smart to finish.
---
What's next for both? Is GGG's legacy really solidified?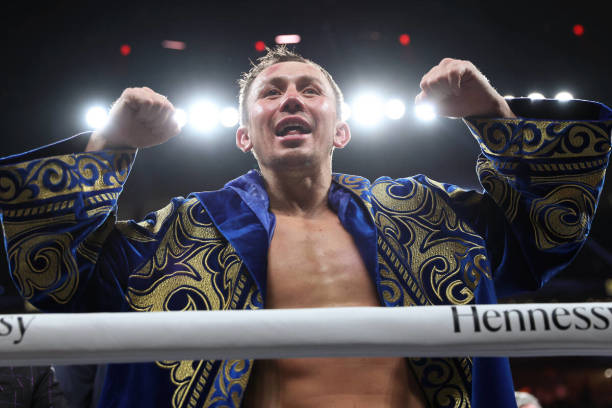 As far as Canelo is concerned, rest and injury recovery represents paramount importance for a fighter entering into the back end of his prime years – considering he turned pro at just 15-years-old – and has miles aplenty on the clock too, with 62 professional fights (58-2-2, 39 KOs).
Critics have highlighted questions over his 12-round conditioning in consecutive fights now and while he believes he can beat Bivol, it's hard to see that on the balance of this latest showing.
The Russian will adjust – assuming he gets beyond Gilberto 'Zurdo' Ramirez in six weeks' time – and while judges' scorecards for their first meeting were worryingly closer than what transpired, most will favour him to replicate that display whether Alvarez is injury-free next time or not.
As for Golovkin, he's ultimately paid the price for limited activity since their rematch. He didn't storm out of the ring in anger this time and initially seemed at peace with the result, but perhaps a desire to save face saw him comment afterwards that he honestly believed he didn't lose.
"I don't feel that I lost the fight, it was a great fight and very clean as you noticed, we did not allow any mistakes – the fight was very competitive.

Especially in the second half, I felt I was better. I don't want to belittle his victory, but at the same time, I did not feel he was any faster or stronger.

The shots that [landed] were not strong enough, he even lost speed and power [in the second-half]. Even in the beginning, we did not fight much, both of us."

Golovkin's puzzling but predictable post-fight comments on the trilogy loss
Golovkin since MD defeat by Canelo in September 2018…
Four-fight win streak – all at middleweight – three stoppages, including a hard-fought rescheduled battle against Murata in April to become three-belt (IBO, IBF, WBA) titlist at 160lbs
There's still multiple challenges awaiting him at 160lbs, including bouts against WBC champion Jermall Charlo (32-0, 22 KOs), WBO titlist Janibek Alimkhanuly (12-0, 8 KOs), Jaime Munguia (40-0, 32 KOs) and his WBA mandatory in regular champion Erislandy Lara (29-3-5, 19 KOs).
But while it's natural for him to seek the biggest payday, it'd also be disingenuous to ignore such an approach when discussing his legacy and prospective Hall of Fame credentials.
Recency bias often clouds critics' judgment in situations like these, where an ageing great fighter teeters towards the cusp of retirement and most feel obliged to parade his presence. They are often times overcompensating, like Golovkin's staggered start to boxing stardom in America.
Sports Illustrated's Chris Mannix made a good point on his podcast in the week, echoing this sentiment, but just take a brief read from what ESPN's Ben Baby wrote in the aftermath of Golovkin's weekend decision defeat to better understand where I'm coming from with this:
"Golovkin was on the verge of being stripped of one of the most endearing parts of his legacy: While Canelo Alvarez was in his prime, nobody fought him tougher than Golovkin, his chief rival. 

Then in the ninth round on Saturday night, Golovkin no longer looked like a 40-year-old. He threw punches without reservation, stinging Alvarez and bringing the crowd inside T-Mobile Arena to decibels that drowned out the clapper ringside.

Even when the moment eventually subsided, it sparked memories of what made the first two fights so special. 

The third fight between the bitter rivals lacked the action and suspense of their predecessors. But even in a UD loss, Golovkin was able to salvage a key part of how he will be remembered in the sport.

Along with all the championships and an Olympic medal, one of the memorable feats Golovkin accomplished throughout his career was to help establish an iconic rivalry that will go down as one of the best in boxing's storied history." 
While there's elements of truth in that excerpt and it's fine to appreciate him, saying he no longer looked like his age feels charitable. He doesn't need it. Still durable, hungry for more and keen to deliver a world tour on his way out, GGG really doesn't benefit from hyperbolic coverage like this.
Picture source: Getty Images