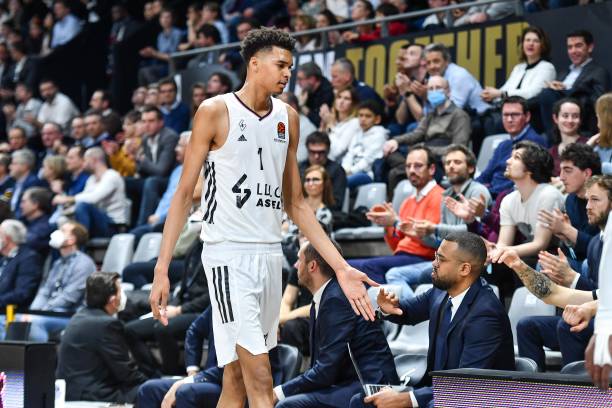 As the domestic campaign gets underway this weekend in France, projected 2023 top draft pick and teenage center Victor Wembanyama spoke with understandable caution about preferring team fit as well as a favourable environment rather than just being the No. 1 selection. Zion Williamson's strength-and-conditioning coach provided an encouraging endorsement, Robert Williams III (knee) will miss the start of the season and more besides. Read the round-up here.
Zion progressing in the offseason
With the 2022-23 campaign fast approaching, Zion Williamson's strength and conditioning coach Jasper Bibbs told The Athletic's William Guillory that the All-Star forward is in fantastic shape.
"He's been committed to putting in the work day in and day out.

I'm really proud of what he's been able to accomplish – a better athlete now than he's ever been. [His body composition] has improved at an extremely high level, that's all I'll say."
Having missed the entire 2021-22 season after failing to successfully recover from a broken foot, his weight and health have been concerns throughout a short pro career to date.
Selected first in the 2019 draft, social media had all kinds of takes this summer upon hearing a clause in his five-year, $193m maximum rookie extension stating he must keep the sum of his weight and body fat percentage below 295, otherwise guaranteed money in said deal decreases.
Given the Pelicans made it to the postseason proper, losing in six games against the top-seeded Suns without their best player, they'll hope he can remain fit and they can continue to improve alongside Brandon Ingram and CJ McCollum during his first full season in New Orleans.
---
Robert Williams' knee procedure sees Howard, Aldridge linked
Boston Celtics center Robert Williams III is set to undergo an arthroscopic procedure on his left knee tomorrow, with a four-to-six week recovery timeline per ESPN reporting overnight.
Described as a cleanup, it comes six months after surgery on that knee to repair a torn meniscus – surprisingly returning earlier than expected, but was clearly still not 100% in the postseason.
Williams, who celebrates his 25th birthday next month, returned to court 25 days post-surgery with limited conditioning while playing through discomfort and missing seven playoff games as Boston were careful in easing the big man's return despite his importance to their success.
Averaging 10 points, 9.6 rebounds and 2.2 blocks per game, he led by example for a team who – despite some early teething problems under Ime Udoka – led the league in defensive efficiency.
On an individual level, he held opponents to 38.2% shooting as the closest defender, the lowest percentage among players to defend 500 shots per ESPN. He was second in BPG behind Memphis' Jaren Jackson Jr – who had DPOY nominations – while shooting 73.6% last term.
It makes sense to assume the Celtics adopt a more cautious response with his return this time around, given it's at a much different phase of the calendar and unsurprisingly, two veteran unsigned free agents have been linked after this news: Dwight Howard and LaMarcus Aldridge.
Howard last played with the Lakers last term in a reserve role: averaging 6.2 points, 5.9 rebounds and 61.2 FG% in just 16.2 minutes per game. Aldridge averaged higher MPG (22.3), averaging 12.9 points, 5.5 rebounds and a block per game – while tallying his highest ever FG% (55) last term.
---
Mavericks, Nets linked with Eric Bledsoe
Having been traded to, then waived by the Portland Trail Blazers, experienced point guard Eric Bledsoe is another in the list of unsigned veteran free agents with training camp about to start.
The 32-year-old was regularly in street clothes for games and involved in shootarounds beforehand, but the team announced he'd miss the rest of the season with an Achilles injury.
Portland have stretched his salary over the next three seasons, so he'll earn $3.9m in instalments. Dallas and Brooklyn while sneakily deep, could use another creative-minded frontcourt player in a reduced role and both are linked with the former All-Defensive guard.
While shooting efficiency has declined in recent years, he averaged 9.9 points, 4.2 rebounds, 1.3 assists and 42.1 FG% in 54 games (29 starts) for the injury-ravaged Los Angeles Clippers last term.
---
projected top 2023 draft pick Wembanyama wants the right team
Projected to be the top pick in next summer's NBA draft, Metropolitans 92′ teenage center Victor Wembanyama is rightly more concerned about joining the right team rather than the lure and financial package that comes with being taken first overall, per Eurohoops' Antonis Stroggylakis.
Predictably, there are questions about his durability given such a remarkable frame – 7ft 4in at 18 while already suffering some muscle and undisclosed injuries – the center discussed his long-term future during Media Day ahead of the new Pro A season, which begins on Friday evening.
"Sports-wise, the most interesting thing is always to find an organization that will take care of the project and player.

So it's better to be second, third, or 20th in the Draft if you have a better career afterward but I don't know if it's pride, I have a part in me that says there must be no-one [drafted] in-front of me.

What matters to me this season is to consolidate a place as a possible No. 1 pick, that's my goal rather than trying to put on 15 kilos and take risks. I want to strengthen myself, but move towards a favourable situation for the NBA."
---
Spain secure EuroBasket title, first gold medal since 2015
After almost three weeks of action, a dominant Spain side – finishing with an 8-1 record – led almost the whole match en route to a 88-76 win over France in Sunday's final.
Powered by the Hernangomez brothers, they secured their fourth European championship all-time and have won two of the last three editions of the competition too.
All four titles have come since the late 2000s, where another pair of siblings – the Gasol brothers – made their mark internationally.
Toronto Raptors big man Juancho Hernangomez recorded 27 points, five rebounds, two steals and one assist – while older brother Willy had 14 points and eight rebounds as the Pelicans center earned MVP honours averaging 17.2 points and 6.9 rebounds per game.
Although they ultimately fell short, France (6-3) had a 23-point outing from New York Knicks shooting guard Evan Fournier while new Minnesota Timberwolves center Rudy Gobert was one of four NBA players to make it into the All-Tournament team despite a disappointing finale.
MVP Willy Hernangomez, two-time NBA MVP Giannis Antetokounmpo and Dennis Schroder – who signed a one-year deal to rejoin the Lakers this month – were the other three.
32-year-old Spanish guard Lorenzo Brown, who played 107 NBA games between 2013-14 and 2018-19, was also named. He signed a two-year deal with Israeli club Maccabi Tel-Aviv in June.
HoopsHype's Michael Scotto said in a podcast Finland's Lauri Markkanen, part of the Donovan Mitchell summer trade, showed why he's poised for a breakout campaign with the Utah Jazz.
The 25-year-old forward's consistent scoring efforts saw him average top-five categories in both points (27.9 PPG, 2nd behind Giannis) and efficiency (30.4, 4th overall) at the tournament.
26-year-old Italian small forward Simone Fontecchio signed a two-year deal with Utah two months ago having averaged career-highs in PPG (11.9), 3P% (42.6), rebounds (4.4), assists (2.2) and steals (1.2) with Liga ACB side Baskonia – Scotto echoed that sentiment for him too.
Picture source: Getty Images