Shakur Stevenson flashed brilliance and petulance before getting the job done, but pressingly posed more questions about how he'll fare at lightweight after easing to a unanimous decision win over Olympic gold medallist Robson Conceicao as a record-breaking 10,107 watched at the Prudential Center in the two-division champion's homecoming from Newark, New Jersey.
Shakur stifles durable conceicao on newark homecoming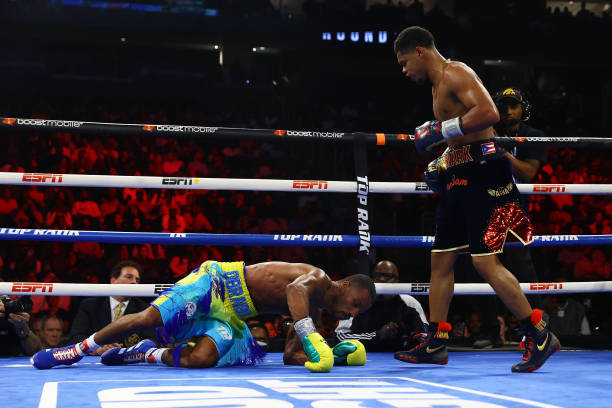 117-109, 118-108, 117-109: Stevenson bt. Conceicao, remains unbeaten at 19-0
"Everyone at 135 gotta get it, anybody. We gotta fight the champ. Me and Devin, can lock it in after he fights Kambosos [Oct. 15 rematch]. I'll fight Lomachenko too," Shakur on his future lightweight plans after final matchup in super-featherweight division
"He did a lot of holding when I got on the inside, real awkward and tough so knows how to survive. I wanted to fight, stand there and beat him up, he was grabbing and didn't really want to fight," on his inability to stop Conceicao after repeatedly hurting him

2021 opponent and former world titlist Jamel Herring, Hall of Famer boxer Andre Ward among those who question his predictability, having headhunted too much after R4 knockdown despite eventually earning second consecutive comprehensive decision win
Increasingly agitated by Robson Conceicao's tactics, Shakur Stevenson's super-featherweight titles up for grabs here will remain vacant after the 25-year-old missed weight yesterday.
Having invited 100 children from his elementary school to attend a homecoming fight three years in the making, he didn't get the stoppage he craved – despite threatening to find the definitive punch on multiple occasions against a wily veteran ready to withstand his pressure.
Conceicao went to the body early and often from the opening bell, peppering the overhand right and unafraid to exchange up close – eating a powerful left hand for his troubles. Despite that, he applied more pressure and kept Stevenson honest in R1 as both went about finding their range.
On ESPN's broadcast Andre Ward questioned the Brazilian's decision to box with Stevenson, known for his defensive prowess, as the 33-year-old's attack became increasingly predictable with each passing minute but as the pace picked up, back-and-forth they went at close-range.
Referee David Fields repeatedly warned Shakur for landing low blows below the belt line, though the now-former 130lb champion continued probing Conceicao's defence with the harder shots: an uppercut and series of left-hands getting the crowd increasingly hyped through three rounds.
R4 saw more of the same from Stevenson, who appeared to find his groove and had a vicious look in his eye as he won their physical clinching exchanges, repeatedly backed him up with a flurry of punches and Conceicao twice had to pick himself from the canvas in that stanza.
The first was ruled a slip, the second just before the bell deemed a knockdown as he absorbed a deft left hook to the body before displaying a delayed reaction to said punch.
Conceicao started the fifth with a series of his own body shots, was all too happy mauling up close and attempting to wear on Stevenson, only to anger his opponent further as looping lefts and uppercuts continued connecting.
The sixth round proved Stevenson's best yet, connecting on multiple left hands which Conceicao failed to defend – clearly more worried about the persistent body work landing flush instead.
He had to survive the last 30 seconds of said round and did so, but absorbed far too much damage to suggest this was going to last much longer.
In the seventh, the Brazilian jabbed and countered his way to some success but it wouldn't last long as his negative body language only served to encourage Stevenson further. Down he went once more, another slip, after which his high guard was effectively being picked apart at will.
The ringside physician asked Conceicao if he was feeling dizzy before R8, while his corner stressed engaging in more activity if he wanted to be a world champion. He responded well, throwing and the right-hands caught Stevenson clean on the chin with his back to the ropes.
Causing some havoc and the rough-housing tactics starting to frustrate the heavy favourite, he audibly complained to the official and another warning was issued – falling on deaf ears though.
Ward called for a change in cadence early in the ninth if Stevenson was going to secure a stoppage he'd clearly been looking for but moments later, he got a point deduction and could have no complaints for a hip toss after they clinched one too many times for his liking.
"He needs to pick up his rhythm, change it up and the big shot will come… show some different looks and don't let it [punch selection] be predictable," Ward in R9
He threw him on the floor again in R10 and chuntered to the referee, who lectured him again about being overly physical there  – but didn't take another point off – as it was clear by this stage Conceicao had taken Shakur's best punches and began reeling off some of his own too.
Stevenson had Conceicao hurt again in R11, but still the Brazilian battled through the pain and weathered the storm during moments when he was clearly off-balance.
R12, coincidence or not, ended with Stevenson slipping to the canvas himself and Conceicao landing a few one-two combos as they again clinched up against the ropes. An underwhelming end to the hometown hero's homecoming sure, but it was very much self-inflicted here.
"He took his foot off the gas, he had him in those first 4-5 rounds but after a while, he was sitting back, countering and winning rounds," Herring after the final bell
Immediately post-fight, Stevenson was complaining about Conceicao's elbows, headbutts and perceived stall tactics while claiming the referee was against him – but wasn't exactly blameless in that area either. Agitated after everything that's gone on this week, it's understandable.
Having said that, this represents Shakur's second straight fight which ended with a whimper, having initially promised plenty. Whether he tries deflecting criticism for that onto outside factors or not, it's not exactly helping his case as far as his ever-growing star is concerned.
Picture source: Getty Images — fighter/analyst quotes via ESPN, Sky Sports Boxing broadcasts