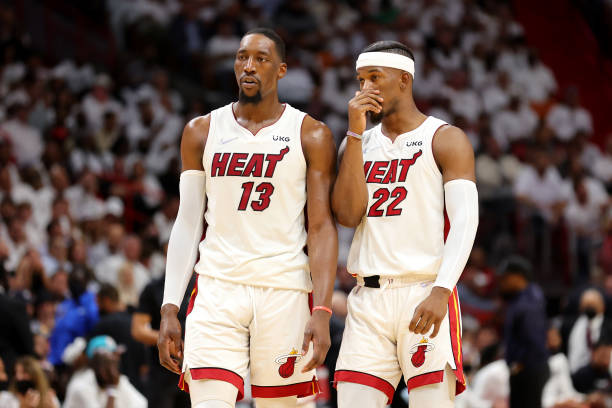 After finishing the top seed in last season's Eastern Conference and finding themselves a missed three-pointer away from a second NBA Finals trip in three years – losing a seven-game series against the Boston Celtics – Jimmy Butler, Bam Adebayo and co are raring to go ahead of the new campaign, one which poses many questions as far as their long-term future is concerned.
Heat media day: ambitious, pj tucker's departure and more
Heat head coach Erik Spoelstra was absent from Miami's media day today, taking a leave of absence after he and his wife Nikki welcomed their third child – Ruby Grace – into the world.
As far as running it back though, Spo will have the bulk of last season's roster again at his disposal come pre-season early next month. PJ Tucker, who signed a three-year $33m deal to join their Eastern Conference rivals in the Philadelphia 76ers, is a notable absence.
Butler spoke of his excitement at what's to come after poking fun at Tucker's decision:
"PJ's a traitor. I tell him every single day, but I love that guy. We're back at square one, you know. New season, new year, I'm excited and know the guys are. We look around this locker room as we keep in touch over the summer, and we'll find a way to get done what we want to get done."
He also spoke about the importance of 42-year-old veteran forward Udonis Haslem, who agreed another one-year deal – this is 20th and supposedly final season – to remain with the Heat.
"The No. 1 thing he brings is legit, like real leadership and what it means to really be Miami in every single way."
Tucker's replacement in the starting power forward slot could foreseeably go to Phoenix's wantaway veteran Jae Crowder – who Tucker replaced there previously – though 26-year-old Caleb Martin enters camp as the unofficial frontrunner for starter minutes in that position.
One-time All-Star center Bam Adebayo, who had a busy offseason, spoke about their need to adapt now that they'll be without Tucker's presence now — no excuses, the "Miami Heat way," which always sounds cliche but the players clearly buy-in to adopting that tenacious approach.
Tyler Herro, who won the league's Sixth Man of the Year honours last term, is hoping he can elevate his play and be a starter – undoubtedly keen on bouncing back from a shaky playoff campaign where his defensive deficiencies were exposed and his skillset under harsh scrutiny.
His long-term future remains unclear as Miami haven't yet agreed an extension with the 22-year-old, though the shooting guard refused to pay attention to that potential storyline brewing as the team now enters training camp. "Whatever they want me to do, I'll do," he instead reaffirmed.
Editor's note: The week after publishing this story, Herro and the Heat agreed a four-year, $130m contract extension on Oct. 2 — $120m guaranteed, another $10m in incentives — so the lingering question about his future has effectively been silenced at least for the time being. 
Simulating the rigorous routine that will become commonplace in the regular season is useful, and Miami will replicate this early next month.
---
Heat's preseason schedule is as follows:
All times are Eastern (-5 BST) and 7.30pm unless stated
Oct 4: Minnesota Timberwolves
Oct 6: Brooklyn Nets
Oct 7: Memphis Grizzlies, 8pm
Oct 10: Houston Rockets
Oct 12: New Orleans Pelicans
---
Two back-to-back games in five days will help them acclimatise to the physical demands of regular play much quicker, though sustaining niggling injuries are a short-term consideration.
Pictures via Getty, quotes via Associated Press