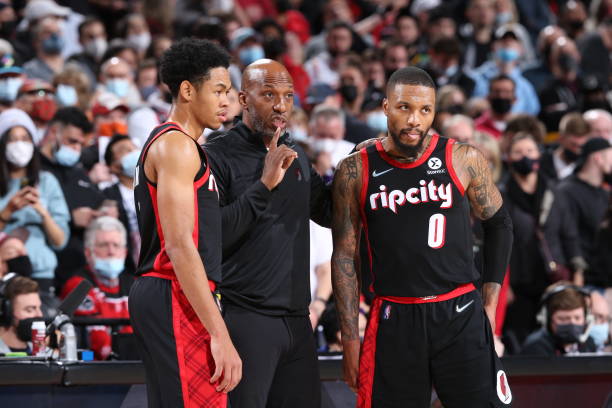 Armed with a new starting backcourt duo, offseason trade acquisition Jerami Grant, a promising first-round draft selection in Shaedon Sharpe among others from an eventful summer, the Portland Trail Blazers will be quietly hopeful they can settle quickly and vastly improve upon a dismal 27-55 record last season – their worst finish since 2005-06. Will they?

lillard must readjust to new cast with bullish blazers
Now that CJ McCollum is settling into life in New Orleans, Damian Lillard must get accustomed to a new normal: no longer having the highly-rated guard by his side in the backcourt. The 32-year-old point guard, a six-time All-Star, missed six games before the turn of the year last season.
More niggling issues meant a need for him to undergo abdominal surgery in January which ultimately shut him down for the rest of an underwhelming campaign – one where McCollum was traded to a Western Conference rival after 621 games over nine-and-a-half seasons.
"It was definitely a little bit weird last season once the trade happened and him not being around.

I was so used to him being around, his locker right across from mine, talking to him after games, at practice. I was just used to it, that was pretty much my whole career."
Together they shared 515 regular season games and 56 playoff battles, one trip to the Conference Finals in 2018-19 – swept in a four-game series against the Golden State Warriors – despite leading comfortably at one stage in all of their humbling defeats that year.
After that sobering result it felt like they were destined to part ways at some stage, though it was naturally surprising to see things play out the way they did. Now, the pair find themselves in similar situations in an ever-competitive Western Conference.
McCollum has a motivated Zion Williamson and Brandon Ingram alongside him, while Lillard gets to run with Anfernee Simons – whose progress he's guided for multiple years now – while friend and two-way power forward Jerami Grant reunites after Olympic success last summer.
On Monday, the Blazers' franchise star spoke about growing the belief between he and Simons as he enters into Year 11.
"I believe in him, he in me, now it's just time to continue to grow that – we've got to share the floor. And one thing me and CJ always did was made sure we had each other's best interests."
Simons averaged 23.4 points and 5.8 assists as a starter, while making history with a 43-point game early January vs. Atlanta, becoming the youngest Trail Blazer to have a 40-point outing.
The 23-year-old's aggressiveness from deep was also an encouraging sign of what might be to come, though he also missed the tail end of the season with left knee patella tendinopathy.
"I think both of us have been in constant communication about how we want to play, what we want to do, so I think it's going to be a pretty easy adjustment.

Obviously most of the time last year I was the primary ball handler, I always had the ball in my hands. Now with Dame, he's the guy, so playing off each other is going to be a little adjustment."
Grant, Sharpe (#7 in this summer's draft) and reigning NBA champion Gary Payton II – an important cog for Golden State – are among the additions to Chauncey Billups' roster.
Jusuf Nurkic averaged career-highs in FG% (53.5) and rebounds (11.1) last year, while recording 15 points per game in 56 regular season games. Rewarded with a four-year, $70m extension this offseason, the 28-year-old big man will be expected to continue in that same vein.
Simons (four years, $100m) and Lillard also agreed extended terms with the ball club (two years, $121m) this summer so the Blazers core group are contractually settled in the short-term.
---
READ: Masterful or misguided? Beal and Lillard's latest contract extensions raise questions
---
Having recorded their worst regular season finish for more than a decade, it's understandable the former Detroit Pistons star-turned-coach is keen for relationships to build before the new season gets underway and distractions become more prevalent.
"The NBA is just so tough now to practice, and bond, connect once the season gets going. I've always thought that the best way for a team to connect is go on the road and being away, because you've got to lean on each other," the 46-year-old was quoted as saying.
They're away in Santa Barbara before their preseason gets underway on October 3 against familiar faces – the LA Clippers – where he was an assistant coach during the 2020-21 season.
Will this be a season where they exceed expectations and return to the playoffs – not just to make the numbers – or underperform as has been the uncomfortable truth in recent years?
Picture source: Getty Images — quotes via Associated Press