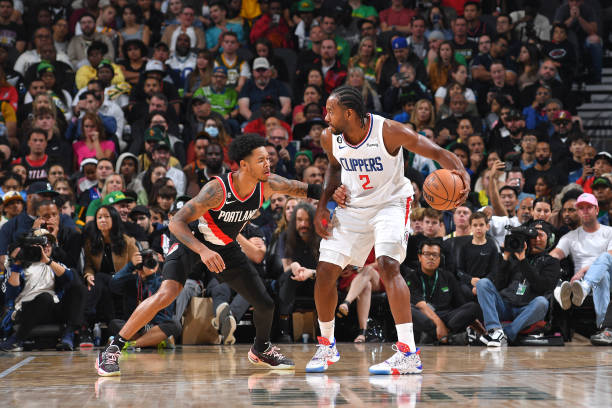 Despite being fully cleared to return, five-time All-Star forward Kawhi Leonard's understandable caution surrounding his health after sustaining a partially torn ACL injury more than a year ago now remains one significant question mark continuing to impact the LA Clippers as they prepare for a campaign hopeful their key players will finally remain injury-free.

Kawhi to see his progression in training camp
Leonard (11 pts, four rebounds, two assists and steals) and new PG acquisition John Wall were among those with minutes restrictions in 102-97 preseason win over Blazers
It was great, just putting all that hard work that I did throughout the 14-16 months, put it to the test and playing against NBA talent, it was good. Just being out there with the guys and talking, I missed it – a great experience for me," he said afterwards
Kawhi Leonard is testing out his surgically repaired knee, Paul George's niggling elbow injury is no more and Norman Powell's fractured foot is a thing of the past. The trio's health will play a seismic role in deciding whether this is another underwhelming season for the LA ball club.
Simply put, the Clippers know their championship window is closing.
They've only got one or two further seasons with the roster as deep and strong as currently constructed, before big decisions have to be made about the franchise's future – having acquired Leonard after his lone championship-clinching campaign in Toronto three years ago.
As quoted by AP, the 31-year-old had this to say during their media day late last month:
"I'll be participating in training camp and from there just seeing how my progressing is, how I feel, what I'm not feeling, is it moving correctly, and just keep going from there and gradually building up. I feel good and right now the plan is to start camp and play."
Head coach Tyronn Lue meanwhile, reaffirmed that sentiment:
"The great news is he feels great, we'll get a better gauge of how he feels when going through different scenarios, situations on the floor, and then we'll just kind of gauge it day-by-day."
It's easy to forget, amid a forgettable play-in tournament defeat to finish the previous campaign, Kawhi single-handedly propelled them into the Western Conference Finals the previous year.
Leonard admitted he would've featured had the Clippers made it to last year's Finals. But given their injury woes weren't just centred around him, that was wishful thinking to say the least.
It'll be interesting to see how they stack up against their rivals this coming season, though the Denver Nuggets and New Orleans Pelicans – who beat them in the aforementioned play-in – represent just two examples of opposition teams boosted by respective injury recoveries too.
George is said to have taken charge of keeping the team in touch during the summer months, organising team-building exercises and gym runs in Los Angeles.
It's understandable, given their new offseason additions – including friend John Wall after experiencing an arduous time in Houston where a rebuilding Rockets team purposely sat him out despite being injury-free for the first time in a while, two years after *that* Wizards trade.
"I put in a lot of work, everything I've been through the last two-three years, I don't think a lot of people could have got through that," the five-time All-Star guard said.
It's also the first full season under contract for Powell and Robert Covington, while 25-year-old shooting guard Amir Coffey agreed a three-year, $11m contract extension in June. They have a handful of handy two-way veterans besides Covington, like Nicolas Batum and Marcus Morris.
Reggie Jackson, Luke Kennard, Terance Mann and Ivica Zubac will all be fighting for a starting spot — or the most minutes possible – not including Wall, likely a spark plug from the bench.
"Guys sacrifice minutes, games, touches, shots, so if we want to be successful, we want to win, those are things we have to do," Lue said in response to that impending conundrum. Whether they'll manage to string things together and make a true championship charge, time will tell.
Picture source: Getty Images