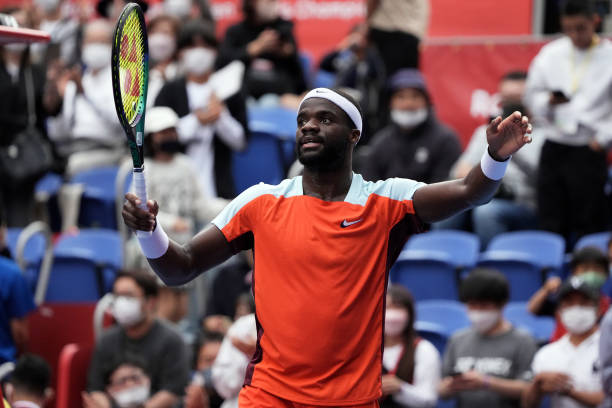 Frances Tiafoe will contest his second ATP final of 2022 after enduring a rollercoaster ride to eventually overcome Soonwoo Kwon 6-2, 0-6, 6-4 in their Japan Open semi-final. He'll play Taylor Fritz in Sunday's showpiece event, after his compatriot and friend similarly did things the hard way to extinguish Denis Shapovalov's hopes of securing consecutive tour-level finals.
Tiafoe withstands second set scare to earn Final berth
Tiafoe [4] bt. Kwon 6-2, 0-6, 6-4
Frances Tiafoe's formidable hitting and expert shot-making helped him race into a 4-1 lead against Soonwoo Kwon, as this encounter felt eerily similar to yesterday's impressive quarter-final triumph – albeit with more unforced errors being drawn early from the South Korean.
Coupled with deft touch at the net and well-timed drop shots, it was no wonder his agemate made more mistakes in set one after going down an early break. The good thing about predicaments like this is, once one set is over and the scoreboard resets, you can go again.
Kwon certainly did and upped his level: a two-handed backhand winner helping assert himself in Tiafoe's opening service game, having established an early hold in the previous game. A mishit forehand gave Kwon his first break point opportunity and you could see the tide starting to turn.
Whereas against Kecmanovic, Tiafoe probably would've saved it with a 125mph first serve ace – a 77mph second serve set the table for another forgettable point played by the American as another backhand error handed Kwon the initiative to swiftly seize his forward momentum.
2-0 soon became 3-0, before a pair of winners – a backhand crosscourt and forehand up-the-line – gave Kwon two more break points. Successive aces stopped the bleeding momentarily, but the 2021 Astana champion took charge of their rally exchanges and the lead ballooned further.
Kwon, who rallied from three scoreboard deficits to win his first ATP tour-level tournament last September, found himself back outside the world's top 100 after failing to defend those points.
He moves back up to world no. 86 after his semi-final run here and while the rankings volatility can effectively hurt morale during times like this, he showed enough to be encouraged by here.
A double-fault gave him set point, before a miscued forehand secured the bagel in a 22-minute set that flew by. Tiafoe's level had clearly dipped, though Kwon increased his intensity and was duly rewarded. The deciding set was, predictably, the most competitive and narrow of the trio.
Both had to fend off break points in their early service games, Tiafoe importantly looking re-engaged again as big serving by the pair helped avoiding unnecessary scoreboard pressure.
His renewed ability to make the South Korean play an extra rally ball, elongating their rally exchanges, also paid dividends.
Tiafoe got the first break to lead 3-2, having shown great court coverage to eventually clinch a remarkable rally before forcing a volley miss at the net – Kwon couldn't believe it – as they battled again during the very next point.
He got away with two slow second serves – 80 and 85mph – sandwiched between a wrongfoot winner to lead 4-2 as Kwon's chances of forcing another recovery were dwindling by the minute.
The kill shot came at 30-40 in the next game, Kwon bringing him sprinting forward to the net with another deft drop shot.
Tiafoe should've lost the point, but a two-handed backhand winner on the turn was purposely left when an opportunity to volley back his way was available – and Kwon could only watch it catch the back of the baseline, now down 5-2.
A pair of aces and simple smash would've secured Tiafoe's first match point, but Kwon successfully challenged the latter and suddenly had a break point opportunity of his own.
A body serve saved the first, a counterpunching forehand caused doubt to creep back in with the second – now Kwon was serving to prolong the match further at 5-3. That sequence rather typifies why Tiafoe hasn't yet consistently gotten over the hump against top opposition.
Concentration lapses are often costly with such fine margins, especially in best-of-three set tennis and most of the world's best will gladly take the reigns without relinquishing it – whether an opponent improves or not – with a commanding scoreline lead like the one he had.
Instead he was flat-footed, outgunned and played carelessly. He can't afford to be so casual against Denis Shapovalov's conqueror Taylor Fritz on Sunday, otherwise he'll leave second best.
Fritz initially led a set and 3-2 against Seoul finalist Denis Shapovalov. The talented Canadian responded well to adversity, with delightful backhand strokes and brilliant point construction helping him force a tiebreak – and subsequently pushing their encounter into a deciding set too.
The 23-year-old, a Wimbledon semi-finalist last year, led 3-1 in the decider before their roles reversed once more and Fritz's awesome shot-making helped him win five consecutive games to set up an all-American final against a friend who laughed upon seeing him earlier this week.
Fritz spent seven days in South Korean quarantine after feeling sick, but the Indian Wells champion is now known for his powers of recovery from precarious situations. This one is no exception, and despite dropping a set in all three matches, he'll be a top-10 player on Monday.
"It's always one of those goals you have as a kid, a massive milestone. I want more, to go higher but it's one you always dream of.

Frances laughed at me on Wednesday, said you're crazy and gonna play… he knows me and I said I wasn't just gonna play, I was gonna win.

I have that kind of belief and confidence, we've played each other plenty of times – this is the biggest and most important we've played – friends forever and rivals for a long time so it'll be a fun match."
Fritz leads their historical H2H record 4-1, but will be playing against an in-form Tiafoe breaking new ground and full of ever-growing confidence over the past few months.
It could make for a compelling clash, or a blowout either way given contrasting routes to the final – Nick Kyrgios' late withdrawal from yesterday's quarter-final meaning Fritz is theoretically fresher and has the ATP Finals race to look towards, so should win on paper. We'll wait and see.
---
Other tour-level semi-finals taking place today…
ATP – Astana
Andrey Rublev [5] vs. Stefanos Tsitsipas [3]
Novak Djokovic [4] vs. Daniil Medvedev [2]
WTA – Ostrava
Iga Swiatek [1] vs. Ekaterina Alexandrova
Barbora Krejcikova vs. Elena Rybakina
Monastir
Claire Liu vs. Elise Mertens [5]
Alize Cornet [3] vs. Veronika Kudermetova [2]
Picture source: Getty Images, player quotes and match stat graphics via Prime Video