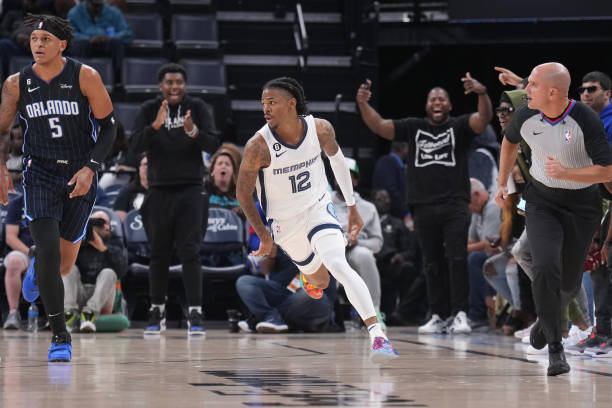 All-Star guard Ja Morant will be tasked with proving last year was no fluke and this time around, staying injury-free year round to ensure there's no hypothetical questions should his Memphis teammates find themselves embroiled in another testy Western Conference semi-final encounter – something they experienced against the eventual champions just five months ago.

Grizzlies gearing up for another tall order this term
Fab five – 2021-22 regular season statistical averages
Ja Morant: 27.4 points, 6.7 assists, 5.7 rebounds, 49.3 FG%
Dillon Brooks: 18.4 pts, 3.2 rebs, 2.8 ast, 1.1 steals per game
Desmond Bane: 18.2 pts, 4.4 rebs, 2.7 ast, 1.2 stl
Jaren Jackson Jr: 16.3 pts, 5.8 rebs, 2.3 blk
Brandon Clarke: 10.4 pts, 5.3 rebs, 1.1 blk and 64.4 FG%
Exceeding expectations and wowing neutrals with their play, Morant and co quickly earned the tag as must-see TV last year – whether the All-Star guard played or not in some cases.
As a consequence, they've been rewarded with more national TV coverage this year – as well as a marquee matchup on Christmas Day against the defending champion Golden State Warriors.
---
Addressing that series in question, next steps
Morant averaged 38.3 points, 8.3 assists, 6.7 rebounds, 50.6 FG% and 43.3% from deep in a trio of Western Conference semi-final playoff games against the Warriors at the start of May.
They lost the first game by one point, avenged that narrow defeat in Game 2 before suffering a 30-point Game 3 blowout. With all of that in mind though, the series was widely considered over after Morant's knee injury before G4 – a controversial one inflicted on him by Jordan Poole.
While it's natural to question scenarios and outcomes, we'll never know what might've happened had Morant been healthy. Instead, he was a cheerleader on the sidelines. However, instead of dwelling on the things he can't change, he offered this revealing quote last month:
"Being available. Every season in my three years, I had an injury which took me away for a while, obviously late in the playoffs it took me out the series.

I felt we were the favourites and it was pretty much our year but that injury… you have to change lineups, guys playing without me, that's the most frustrating thing for me: being out there, not competing with my teammates.

Working on my body, getting strong, being way more consistent shooting the ball so I don't have to get to the rack and absorb all that contact… hit the floor every time. As long as I'm locked into that, it'll help us as a team." 

Morant's encouraging answer when challenged about how he's personally going to take the next step in his career and how it helps his teammates
---
Morant, who won the league's Most Improved Player last season, took pride in how his team have individually improved over the offseason. The ball club's general manager, Zach Kleiman, kept their core group of players together while reaffirming the desire to build through the draft.
Kyle Anderson and De'Anthony Melton departed, though the additions of veteran shooting guard Danny Green – currently injured – and multiple draft picks have given them renewed vigour.
Nine-year valuable veteran center Steven Adams agreed a two-year, $25.2m contract extension last week and the Kiwi knows starts aren't guaranteed. He's part of a roster constantly getting younger and one they hope won't be decimated by injuries this coming season.
Santi Aldama, Jake LaRavia and summer league standout Kenneth Lofton Jr are among those who'll be vying for regular minutes in Taylor Jenkins' rotation, sooner rather than later.
Although they don't appear as strong as many Western Conference rivals by comparison, Morant is far from a disgruntled star. During a podcast appearance last month, he spoke with pride at signing a five-year, $193m supermax deal and again conveyed his thirst for further greatness.
The extension, which begins in the 2023-24 campaign, could rise as high as $231m with All-NBA and other performance-related bonuses – something the 23-year-old guard will challenge himself to achieve, after reaching some remarkable heights and featuring in MVP voting last year.
As I covered in an injury update last month, big man and Defensive Player of the Year candidate Jaren Jackson Jr (foot) won't feature on opening night against the New York Knicks as he continues rehabbing from surgery. He'll be expected back by December or early January.
Timeline: If Jackson returns at the beginning of November, he'd miss seven regular season games. A return by Dec. 2 would cause him to miss 21 games, and a January comeback would mean missing at least 35 games in the 82-game regular season. (H/T: commercialappeal.com)
This isn't the first time he's been sidelined with a long-term injury diagnosis, but the 23-year-old – an All-Defensive selection last year – will hope this latest setback is his last for a while given the Grizzlies' gutsy championship ambitions have only intensified further after their recent heights.
Morant will play a defining role in determining that level of success, but so too will agemate and friend Jackson Jr in the frontcourt against ever-competitive Western Conference opposition.
Picture source: Getty Images, quotes via Associated Press