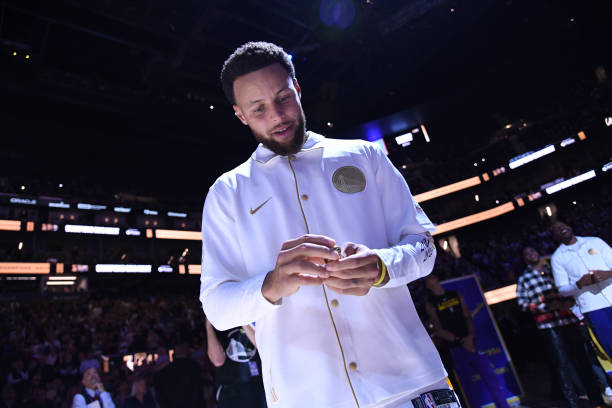 Jayson Tatum and Jaylen Brown both scored 35 points as the Eastern Conference champion Boston Celtics got off to a winning start at home to the Philadelphia 76ers, before reigning Finals MVP Stephen Curry crowned ring night for the Golden State Warriors with a 33-point outing – alongside seven assists, six rebounds and four steals – to beat the troubling LA Lakers.

Celtics sink 76ers in home opener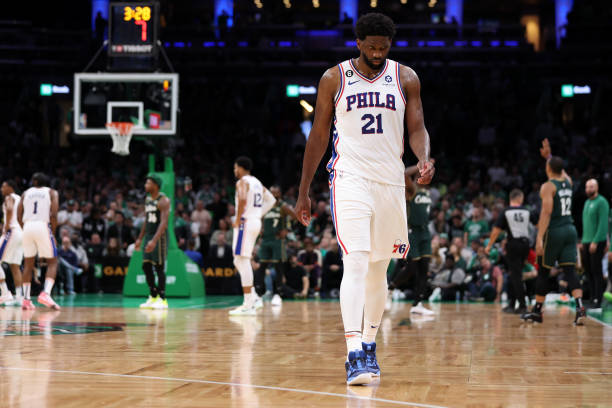 The NBA is well and truly back.
Even though off-court drama threatened to rock the Boston boat, interim head coach Joe Mazzulla was lovingly doused with water after clinching victory in his debut at the helm.
They started purposefully, weathered the predictable storm – predicated on less fouling and cheap turnovers being cut out – before showcasing their strength in depth to eventually overwhelm the 76ers 126-117 in a season-opener that, predictably, had plenty of moments.
Malcolm Brogdon posted 16 points on his Celtics debut, while Grant Williams chipped in with 15 on a perfect shooting night off the bench, just hours after it emerged he wouldn't be signing a contract extension at the deadline – making him an restricted free agent next summer.
Long story short, Boston look like themselves. Philadelphia by contrast, have more work to do – starting with conceding cheap buckets, being outscored 24-2 in fast-break points.
They were outrebounded, largely outworked and let the TD Garden feed off a handful of roof-raising sequences that could've been prevented had their defence been more determined.
Boston begin a three-game road trip on Friday in Miami, while the 76ers have a day less rest against another determined rival making their season debut Thursday, in the Milwaukee Bucks.
---
Meanwhile, curry and co back where they left off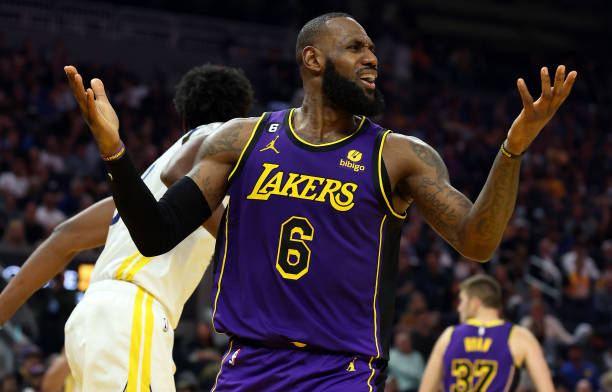 As for the Western Conference matchup, Golden State were in a celebratory mood beforehand and importantly had the last laugh post-game too.
Stephen Curry had 33 points, seven assists, six rebounds and a game-tying four steals as the defending champions ultimately ran away with a double-digit victory over LeBron James and the Los Angeles Lakers.
123-109 the final score, having received their championshp rings in a pregame ceremony at home. Steve Kerr said he was thrilled with the win, especially given it was ring night and the natural nerves that come with navigating past the first game of a new league season.
He and his coaching staff have had a difficult fortnight, navigating past an unforgettable incident as Draymond Green punched Jordan Poole at practice earlier this month.
Green took a brief leave of absence to work on his emotions, while social media was set ablaze after TMZ acquired footage of said punch – one many feel leaves the ball club in a difficult spot.
Poole struggled with his shooting (4-of-15, 2-of-9 from three) but finished with 12 points, seven assists and a pair of steals in 28 minutes off the bench.
James Wiseman made his long-awaited return from injury, while summer recruits JaMychal Green and Donte DiVincenzo were among those producing impactful displays too.
Kerr limited Green and Klay Thompson's minutes as a precautionary measure, the former a matter of conditioning and the latter given his injury history.
James had 31 points, 14 rebounds and eight assists, Anthony Davis posted 27 points and four steals while the much-maligned Russell Westbrook recorded 19 points and 11 rebounds on his return from a minor hamstring injury.
Their overall contribution wasn't enough though, especially given how wasteful the Lakers were in possession – 22 turnovers leading to 27 Warrior points.
"Whether you make a shot or miss, you turn the ball over, whatever, you've got to have a short memory and get onto the next play immediately. That has to be something that's in our fabric, not just against Golden State but the entire league," first-year coach Darvin Ham said post-game.
Up next, the Lakers entertain local rival Clippers on Thursday night. Golden State host Denver on Friday night in a rematch of last season's first playoff round.
Picture source: Getty Images, quotes via AP