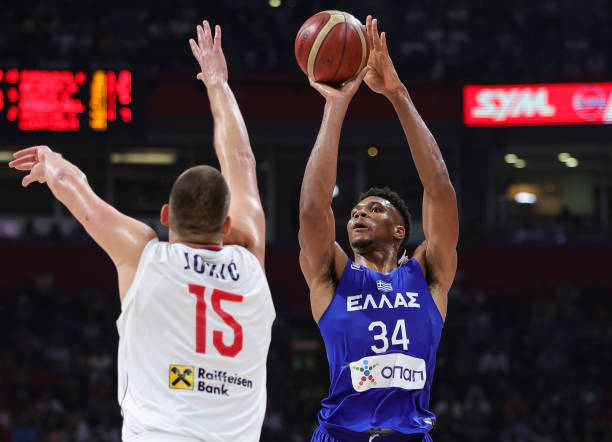 If you've seen this Q&A style before, you know the drill. If not, where have you been? With a new NBA season already kicking off Tuesday night, I spoke to LA Clippers fan and NBA expert Jack Brown about many topics including: 2022-23 award predictions, more compelling offseason storylines, the newly-formed duos and why he fancies the bullish New Orleans Pelicans – armed with a motivated, injury-free Zion Williamson – as a serious dark horse out West this year.
At the time of writing, 16 regular season games are already done. Golden State's ring celebration night is old news, everyone's playing with something to prove – making for some compelling basketball in the early months. Pressure is already overflowing for some teams.
How long this frantic sequence will last, with trade talk and probing questions aplenty being posed, remains to be seen. But the clamour for teams to quickly prove their title credentials, in an environment where six – at most – have a decent chance, is always fun to dissect.
Jack is an unintentionally funny guy. Oftentimes, you have to get him in the right mood – otherwise prepare to be ignored. So when cautiously approaching him for this Q&A piece, his response was telling: "Sure, I'm ready to jinx some more teams," and with that, we're off.
All player stats mentioned in this piece are correct to October 19th, unless stated otherwise. As this is a Q&A, Mosope (MO) and Jack (JB) are denoted in the conversation throughout.
---
This particular take aged nicely…
Mosope: So last time we did this, you spoke confidently about Embiid winning MVP. In fact, your exact words were: "He's been the biggest different maker, everyone else you could have an argument about besides Jokic.
Leads the league in scoring (29.7 PPG) and has the most 30-point games this year (29) too. With Harden alongside him, those stats will be even better. They'll win more games, probably shoot more efficiently, even if there's an argument he'll detract from Embiid's greatness."
It's been seven months since then, a lot of that has aged poorly – injuries notwithstanding – so why, despite Harden taking a pay cut, is their championship window closing?
Jack: Well, for me – and now a lot others are realising – they have a head coach in Doc Rivers who time and time again has shown an incapacity to maximise his teams.
Lacking adjustments and baffling rotations, add to this ineptitude. Joel has to take more of a leadership role in terms of responsibility, leading by example.
His teams always seem to be a little soft and easy to beat. Perhaps, you could ask if he's even good enough to lead as a number one option, for now the answer is yes but I need to see an improvement in that area while taking games by the scruff of the neck, forcing his teams to win.
My other problem with the 76ers is Harden: a bad history of lacklustre playoff performances and leadership. He was alarmingly passive in the elimination game against Miami, that's something you can't live with.
MO: We also spoke about the Pels, Zion has since re-upped on a max rookie-scale extension and things are looking promising again. However, I can't help shake the feeling one of CJ McCollum or Brandon Ingram will decline as a result of his return, but what's their ceiling now?
Has it improved beyond winning a first-round series with the roster constructed as it is?
JB: I am huge on the Pelicans, think they could definitely reach the Western Conference Finals if they get everything right – like a Dallas from last year.
They have defence in Herb Jones and offensive talent all over the court. BI, CJ can both run the offense, playmaking for others to make things easier for everyone involved.
Zion will be a beneficiary of both being guarded closely and if, by contrast, they over-help on Zion assignments, it then frees the others up. Exceedingly dangerous. Health concerns are naturally a factor but I think we're looking at a top-five seed and a second-round team, for sure.
MO: Luka Doncic and the Mavericks overachieved in the playoffs, I think that's fair to say. With Jalen Brunson no longer there and more expected from Spencer Dinwiddie and offseason acquisition Christian Wood, how will those moves impact their chances of winning?
JB: I have Dallas as my disappointing team. Luka's incredible and a top-five player more or less, but the offseason has been awful. Losing Brunson isn't too bad as it just means Luka handles it more, but to then get Christian Wood – a poor defender – doesn't make sense. They have made very lateral moves which won't make them worse or better, so sixth seed is their ceiling.
I don't think they'll even get that. Play-in tournament team for me.
MO: You don't think Christian Wood's offensive game can make up for his defensive deficiencies then? I've said, since maybe the start of Doncic's second year, they'd struggle to get the necessary pieces around him to win a championship.
Think last year was their surprise (and best) shot for a while yet, until they do a soft rebuild.
JB: No, I don't. Brunson isn't as big a loss as some think, but Wood isn't going to start and Brunson is better. Luka needs an All-Star wing to play alongside, a big could work but not Wood.
MO: The age-old question I always ask… this league is always waiting for the next disgruntled star to become available… so who's next?
JB: I have two picks, one is a dark horse choice and the other is a little less so but still arguably a shock. Luka's my dark choice – a bad off-season combined with last season's overachieving, anything but the WCFs will seem awful in comparison and a lack of help might take a toll on him.
The safer pick though, is Devin Booker.
The whole team looks to be falling apart, Deandre Ayton wanting to leave, Jae Crowder sitting at home waiting to be traded, the chemistry has disappeared yet my biggest scare is Chris Paul and his age. I think, when you combine everything, there could be drama he tries to escape from.
MO: Best player with the biggest point to prove? Who do you think will go under-the-radar this season? Any surprise first-time all-stars?
JB: Anthony Davis. He's under-fire from Laker fans for his health and por shooting, a lot of people believe he's not even a top-10 player and he said himself he's got a chip on his shoulder.
Josh Giddey is my under-the-radar pick, with OKC likely to be poor, his second-year improvement and stats will go unnoticed. My surprise first-time All-Star is Brunson! He will have the green light in attack with his new ball club, the Knicks are desperate for a point guard.
MO: Projected award winners this year and why?
ECF: Nets vs Bucks – I love what I see from Simmons with Kyrie and KD, especially with the new and improved role players, as well as Joe Harris' return. Giannis wants revenge and with a healthy Khris Middleton, I think they are the team to beat in the East.
WCF: Clippers vs. Nuggets – Clippers look incredible on paper. Depth, two-way players everywhere, elite coaching and two Hall of Fame wings in Kawhi Leonard and Paul George.
Jokic with help is a serious problem, Kentavious Caldwell-Pope is underrated too.
NBA champions: Clippers – Everything I said above applies, highly motivated to bring the first title home, overwhelmingly deep and Kawhi is capable of being the best player in any game.
MVP: Kevin Durant – I'll go out on a limb a little here with this pick, but I think if Brooklyn are as good as advertised, a top-three seed and he clinches the scoring title, he's right there.
DPOTY: Ben Simmons – If he plays enough games, he'll be top three at minimum. He can guard all positions, he racks up a lot of steals and is a hyperactive defender.
ROTY: Paolo Banchero – If Chet Holmgren didn't get injured, he'd have been my pick. Paolo's explosive, got very good size and sees the floor well. A good comp is a better Julius Randle.
COTY: Willie Green – He would have won this award last year if he had the team he does now, he'll bring this team to a top-five seed like I said earlier, finally get his props. A great motivator.
MIP: Anthony Edwards – If he takes a push and makes the All-Star team, that's a huge jump all things considered and that'll be enough to help him capture that honour like Ja did last year. If he can produce with more consistency, like he plans to, then it's definitely on.
6MOTY: Norman Powell – He might start but I don't think he will, giving the Clippers 15-18 points off the bench is a huge boost and he's also got very solid defence to boot.
MO: Should we be worried about LaMelo Ball and the Charlotte Hornets? What can the Lakers do to get back to relevancy?
JB: I think the Hornets should be beyond worried. They are awful, no defence, LaMelo is over-rated and losing Miles Bridges leaves a significant hole to fill.
---
Also read:
After James Borrego firing, Hornets can't afford to waste potential with his successor
---
As for the Lakers, the number one thing is trading Russell Westbrook – a terrible fit. They need to get a better bench while adding shooters, something they've seemingly ignored doing.
The front office needs a change, these rosters being constructed constantly have so many holes. AD needs to up his level and play 65+ regular season games without injuries, they need more rim protection and defensive wings to help guard other All-Stars they'll frequently come up against.
MO: Phoenix, Boston, Golden State and Miami. Talk to me about their chances of being in the championship mix this year.
JB: The Suns have huge chemistry issues and haven't improved their roster, so with CP3 ageing out the window has sadly gone. I think Boston still will be a contender, improved with Brogdon and the confidence of making last year's Finals will carry over into the new season.
If Brogdon stays fit, it's very possible Boston get better. Take into account a possible revenge-type mentality for losing in the Finals, they could play with an edge.
Golden State will be there, always have and will. Experience aplenty with top coaching and an all-time great in Stephen Curry. Never lost a playoff series when fully healthy, so I can't write them off. Jordan Poole can take a jump, plus James Wiseman's return makes them tougher too.
Miami will be very good, historically very strong in the regular season and it's easy to forget they were one shot away from making the Finals a few months back.
They've arguably got worse over the offseason after P.J. Tucker left, I think Herro deserves his extension but all things considered they'll always be a competitive team under Erik Spoelstra.
MO: The same Jimmy Butler you said can't shoot yeah?
JB: He can't, but was still a shot away from the Finals. Miami will be there, they're super well-run.
MO: They need Bam to take a leap offensively then, his uncomfortable demeanour and passivity become more pronounced come playoff time when teams pounce on him, needs to be selfish.
JB: If he [Butler] could shoot better, he'd be a champion by now. I was going to mention they need Bam to take a jump but forgot.
He's not aggressive enough, looks to pass – but to be fair, he's a good passer and yep, you're right about being selfish. He'd actually get more assists if he was, because teams would guard him to score and then it opens up lanes for him to drop dimes.
MO: How good are Toronto? Are Memphis legit? What about the Victor Wembanyama hype?
JB: Toronto will be a playoff team, I think Scottie Barnes' natural progression will help in that regard – a strong regular season team but lacking a true no. 1 to progress much further.
---
READ: Ambitious Siakam and reigning ROY Barnes poised to charge for tenacious Toronto
---
Memphis are legit but also one player short, that being a high level wing. They are a little small and don't have the players to withstand a Kawhi/PG when it matters most.
Wembanyama is one of, if not the, most scary draft prospect in league history.
He has GOAT potential, a literal unicorn. He'll change any team he joins into an instant must-watch, incredibly talented and literally – 7ft2in – impossible to guard. He's only 18, which is frightening. The biggest prospect since LeBron James, all the way back in 2003!
MO: The after-effects of *that* Draymond punch, thoughts on the Jazz rebuild and who will do better in their new homes, Donny or Rudy? What's up with the Bulls?
JB: I believe the punch won't bring the team down, if anything bring them closer, once the games start being played it will be forgotten about. Those players are four-time champions, they'll deal with this.
I feel Rudy will make more of an impact as his addition was more necessary. Minnesota needed size and rim protection, whereas the Cavaliers are already good with strong guard play.
Chicago are exactly like Toronto, good but lacking a true no. 1 – defensively they have issues and terrible luck with injuries too. If the season goes badly, we could see big changes to the roster and coaching staff. Lonzo's presence would help a lot, he's actually what they're missing.
MO: This is the Associated Press' projected top ten teams in each conference. Are they right, and if not why?
West: LAC, GSW, PHX, DEN, MEM, MIN, MAV, LAL, SAC, NOP
East: MIL, BOS, PHI, MIA, CHI, CLE, BRK, TOR, ATL, NYK
JB: I agree with most of the West, but I'd move up NOP and downgrade PHX. As for the East, move up BRK and ATL while moving CHI down – the Nets are my dark horse team, while Atlanta have a dangerous backcourt pairing now.
MO: What two teams – one in each conference – should a new fan really pay attention to and watch, early in the season?
JB: East – Atlanta Hawks.
Did I mention already that they have an incredibly exciting, young backcourt both capable of scoring and racking up assists? I can only imagine the nightmares they will cause.
Trae Young is a showtime star always doing something worthy of the night's best play, while Dejounte Murray is a fantastic defensive player who can create transition opportunities for the team, and with the take-foul rule implemented, we could see some highlight plays now too.
West – New Orleans Pelicans.
Another team I've already said I'm high on. Zion is a walking highlight reel, this team has every type of player you could imagine: BI from midrange, Zion dunks, CJ's handles, Jose Alvarado's crafty steals and Herb Jones' big blocks. They're an easy-to-root-for, young upcoming team.
---
Quick-fire round
MO: Is LeBron gonna get back to the finals or no? Lack of pressure on Jokic, a good or bad thing?
JB: LeBron will. I'm gonna say it's good: Denver play well when underestimated (I'd know).
MO: Which coach is under the most pressure heading into the new season?
JB: Steve Nash. Already has doubters, if another season with KD and Kyrie goes badly, he's done.
MO: What's the Sabonis-Fox ceiling in Sacramento? Can the man they bafflingly traded, Tyrese Haliburton, become a star in Indiana?
JB: Play-in team. I do! He's a versatile, unselfish skilful guard with good length and height – low-key better than Fox.
MO: How do Toronto compensate for their lack of true star power? How good is Anfernee Simons?
JB: Good coaching from Nick Nurse alongside a huge emphasis on playing defence, running everything through Fred VanVleet and Pascal Siakam.
I think Simons is very good, too good to be off-the-bench. Simons, who started just five games in his first three NBA seasons, started 30 last year and will have a bigger role alongside Dame.
---
READ MORE: Adjustments, maintaining belief and new additions: Lillard-Simons headline POR
---
MO: Is Khris Middleton's health a concern?
JB: I think the whole team is a little injury-prone, especially him. They are one addition awaay from being my Eastern Conference favourites. Guard play, I could maybe point to outside of Jrue.
MO: Name one player you want to see traded in 2022-23, and to where?
JB: I'd like to see Damian Lillard take on a new challenge and see him battle some of the top-tier contenders elsewhere. I'm gonna say the Timberwolves – if they could somehow upgrade their PG position to that level, they'd be a must-watch team!
It's probably not feasible but I think it's a good fit. They'd have to give up D'Angelo Russell, Kyle Anderson, Austin Rivers, Bryn Forbes and draft picks if they have any left from the Gobert deal.
A tame haul, admittedly. But I'm imagining how good Dame would be, running screen actions with KAT and Gobert. He's never really had a strong big besides LaMarcus Aldridge when he was in Portland, I think it'd be great and then you add Edwards into the mix? Too good to be true.
MO: Which team made the best single offseason move?
JB: I'll go with, surprise surprise, Murray joining Young in Atlanta. It's still early days and there will be teething problems, but they could do really well if everything clicks.
MO: How does Gregg Popovich handle rebuilding at this stage of his career? Is Jamal Murray gonna get any better?
JB: If I'm being completely honest, just tank so hard that they hopefully get Wembanyama and/or leave them with a plethora of picks.
I think Jamal could yeah, there's no reason to say he can't. ACL injuries aren't as bad to recover from anymore and he's playing alongside a two-time MVP now.
MO: What now for Utah? Did the Knicks really miss out Mitchell or was it a blessing in disguise?
JB: Oh, the Knicks are a disgrace. They definitely missed on Spida. He would easily be there best player and a ticket seller. Just another example of Knicks' poor management.
MO: Should neutrals be excited about Detroit and Orlando?
JB: For Detroit, I'd say more specifically Cade Cunningham. He's a future All-Star, they need to convey to him they have a place where he can win.
Orlando are exciting, I think they won't win much but they have so many different players to watch across all positions – resembling OKC in the way they hoard young talent.
MO: Who's your top 10 players heading into the season? 10-1, ESPN has: Booker, Morant, KD, Tatum, Bron, Curry, Embiid, Doncic, Jokic, Giannis
JB: 10-1 – Morant, Trae, Tatum, Curry, Kawhi, KD, LeBron, Jokic, Doncic, Giannis
MO: Poor Steph, he got downgraded even further on your list!
JB: That's tough. The only thing I know, for sure is that Booker isn't there.
MO: True or false? Hornets will trade Gordon Hayward and/or Terry Rozier and… Indiana Pacers will trade Myles Turner and/or Buddy Hield.
JB: Both true. Hornets are going to be awful and I think might just go full tank mode before January. Pacers should, but only for good players in return – not just for Victor.
MO: Is there a Westbrook trade that can turn the Lakers into title contenders?
JB: No, his contract is too large to find something specific enough for their needs. They need more. 7-8 of their players are not good enough. Even with a Russ trade, still too many holes.
MO: You always harp on about how coaching *really* matters. So should any neutral buy stock about how Mazzulla does in Udoka's absence?
JB: I was literally just talking about that with my brother. I personally believe a lot of the things Ime coached will stick around the team and this interim coach will have his own ideas to add to the mix. I don't feel it will change the team overly so, if anything could be better.
---
Addressing contract extensions
MO: There was a lot of talk about the 2019 class who agreed long-term extensions, but what about those who didn't get deals – Cam Johnson, Grant Williams, PJ Washington, Matisse Thybulle, Rui Hachimura et al. Was that the right choice not to extend them right now and why?
JB: Thybulle is pretty meh if not horrible, no offense and his defence isn't always a guarantee. I think Cam is a case of giving him motivation, something to work for as he's not proven enough yet to show he's worth a big number on a long-term deal.
Rui, I'm surprised they didn't, he's good – maybe the motivation aspect again. Williams is the biggest surprise, must be a matter of waiting it out for a bigger contract right? Really solid, fits the team down to a T. Like the Draymond or Pat Bev of Boston.
MO: Williams said: "Everyone makes the claim for life-changing money and it's a good claim to have, but it's one of those things that you never want to take a bad deal for (anyone) around you.
When you look across the league, when you look at the role that I play (as a vice president) in the players' association, the idea is that you understand where the league is going in the future and you understand where the league is currently at. So for me it wasn't a matter of life-changing money, it was a matter of value not only for this year but the years to come."
Screenshots via The Athletic's comment section on Williams' interview this week:
JB: Those comments are exactly why he said what he did. He's one of those players where, on a bad team, you don't notice him but on a good one? Very useful.
---
Clippers corner
The initial answer to my best single offseason move question was, predictably, a Clipper player.
So I decided to dedicate a (small) section to Jack's beloved ball club since – bias aside – they are one of the clear title favourites this year and understandly so.
Five-time All-Star guard John Wall was his pick, saying: we haven't had a point guard as good as him since Chris Paul. Surrounded by PG, Kawhi and loads of shooting, he could be deadly.
He also waxed lyrical about Ty Lue (again):
Watch his genius and how he uses our overwhelming amount of players accordingly to each game. Luke Kennard is slept on, led the league in three-point percentage and might not even play some nights. A really good player, not just a shooter.
MO: Is the Clippers' campaign all down to Kawhi?
JB: In terms of his health, yes. If Kawhi is the player of old, the Clippers are championship favourites. Even just with PG and all the depth, Clippers can go further than they managed last season so add him into the mix… to answer your question, yes for a championship it is.
MO: How long is the Clippers' championship window? 2 years? If they don't win anything, do you deem the last half-decade a failure?
JB: If I was being a pessimist I'd say one but two is fair, it's definitely not much more than that with this core but with how well this team is run, they could rebuild quickly.
If I had to say yes or no, no because the Clippers – a franchise without one WCF appearance in their entire history – managed to acquire Kawhi Leonard in free agency. That's a huge deal, and this team is a yearly contender, a massive turnaround given the team's history before then.
Getting a new arena, partnering with elite staff, the Clippers have become a mainstream franchise. That's something which was little more than a pipe dream even 10 years ago!
All pictures via Getty
---
As always, a big thanks to Jack (@CFCJack2712) for his time with this piece! If you've managed to read this far down, wow. 4,000 words, countless hours of editing and I think it was worth it.
I'm always looking to do more Q&A-type featured pieces with other experts too. If you liked this and want to contribute in future, don't hesitate to contact me – email or on Twitter.
It's not the first time Jack has featured here and won't be the last, as we're likely to discuss some new topics once again around the All-Star break – even with his tendency to jinx said bold predictions. With that in mind, stay tuned for more coverage from me as the new season unfolds!