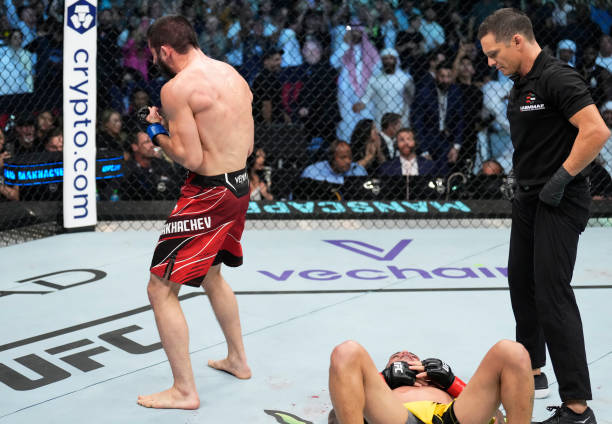 Islam Makhachev did what he said he would, winning lightweight gold with a second-round submission win over Charles Oliveira before dedicating it to Khabib and his close friend's father, late coach Abdulmanap Nurmagomedov. Prior, Aljamain Sterling definitively defended his bantamweight title against TJ Dillashaw – a fight that should never have been cleared – after Sean O'Malley stunned critics to earn a split decision victory over former champion Petr Yan.
Makhachev mania's going to Australia
R2, 3:16 – Makhachev bt. Oliveira [1] via arm-triangle choke, is new lightweight champion
"I trained so hard for this moment, all my life when I was a kid, preparing. I don't believe it, this is for my coach – for Abdulmanap, many years ago he told me train and you'll be champion, he [Khabib] and his father made me," Islam paying tribute post-fight
"You know as a fighter, sometimes it's not your day. He was just better than me, I'll get it [the title] back. Dana, Hunter, I've never hidden away from a fight – just give me a chance," Oliveira vows to return after 11-fight winning streak ends rather abruptly
"He's the best fighter, I said no. 1 pound-for-pound. What's interesting is Charles is #2, he finishes him and now we'll fly to Australia and beat the no. 1 in his backyard," Volkanovski was the back-up fighter here — UFC 284 in Australia is on Feb. 12, 2023
Oooof, he audibly exhaled as he gathered his thoughts in the immediate aftermath.
Now, at least for a little while, Islam Makhachev can sleep well – knowing he's achieved his dream of becoming a world champion.
Years in the making, questions were asked and the Khabib shine lingered – but the 31-year-old did exactly what he said he would, dragging an in-form Charles Oliveira into deep waters and drowning him after showcasing some improved stand-up skills as he scored a R2 knockdown.
From that moment, he threatened an arm-triangle choke and the Brazilian tapped shortly afterwards. Having already relinquished a round's worth of control time (5:05) and being bloodied in the first round, Oliveira had no answers for what was coming. This was a clinic.
Although he's not exactly known for his boxing skills, Makhachev can strike. Having stunned the former champion early with a straight left in R1, they soon went to the ground.
Charles threw a few submission manoevures off his back, before they stood up to clinch and Makhachev scored a beautiful step-through takedown.
Pinning Oliveira's head up against the fence, Do Bronx wasn't just uncomfortable and bloodied, he was eating multiple ground-and-pound strikes too before the horn sounded.
Things would only worsen.
They exchanged strikes in the centre to start R2, Oliveira cautiously seeking a takedown as they grappled against the fence again, landing a knee to the body on the break.
Makhachev was landing the more punishing blows though – a one-two combo and head kick to rattle his high guard – before countering Oliveira's high kick with a right-hand sitting him down.
From there, the evening was cut short in double quick time and as Volkanovski said in the post-fight presser afterwards, it was surprising how things escalated.
"I was leaning [towards] Islam, he landed on the feet which surprised me a little bit but Charles is exciting because he can get hit and still win, Islam followed it up – usually people don't – and got it done, props to him.

It [facing Makhachev in Australia] makes sense, put a lot on the line and now I get to reap the benefits – even the guy holding the belt wants it!

I'm a totally different fighter, Charles was doing okay but it makes me more confident because I'm very hard to hold down. These little short legs are hard to keep down, he's not gonna land on me like that.

I've got good footwork, different looks, very unpredictable, while they try to adjust… I'm making them pay."

Volkanovski on Makhachev-Oliveira, how he fares against the new champ
---
Sterling beats dillashaw – who had no business being there
R2, 3:44 – Sterling [c] bt. Dillashaw [2] via TKO (punches), retains his bantamweight title
"I had no idea [about TJ's injury], was just in the zone. TJ's resume speaks for itself but I'll stick by what I said, don't think he did any of that clean — still one of the greatest BWs so for me to get a guy like that outta there, shows my skillset," Sterling post-fight
"I gotta apologise to the weight class, probably dislocated it [his shoulder] 20 times in training camp. It was the toughest emotionally because I didn't wanna wrestle, unfortunately couldn't push up off it. It's a stacked weight class, I [couldn't] afford to wait another year for a title shot," Dillashaw reveals injury woe in post-fight interview
Sterling is now tied for most wins in UFC bantamweight history (13) alongside Dillashaw, calls out former two-division champion Henry Cejudo, a surging contender in Marlon Vera while saying move to featherweight could happen soon with tough weight cuts
Disaster struck early on for TJ Dillashaw, after defending a takedown saw him sustain a recurrence of a pre-existing shoulder injury immediately thrusting him into deep waters, with the champion all over his back threatening chokes and unloading ground-and-pound too.
Referee Marc Goddard confirmed the issue and checked on it during the break between rounds, after Dillashaw did remarkably to absorb Sterling's swarming attacks without surrendering.
Sterling visibly showed some restraint midway through R2 as the challenger's shoulder appeared to pop back out again, before you could audibly hear Ray Longo in his corner shout no mercy.
That proved the spark he needed to finish things ruthlessly on the ground, switching between more hammer fists and submission attempts as he seized back control up against the fence.
Lapping up the cringe as he was booed walking out and not exactly cheered after the fight ended with a whimper – albeit through no fault of his own – Sterling's latest title defence was one that will quickly be forgotten by many, though the 33-year-old saw the bright side afterwards.
"First thing for him to go there… shows his personality, for a guy who needs to do PEDs. You gonna make it seem like your shoulder just came out by itself? I had something to do with that.

Volk's a thick guy, I'd give him a run. I don't wanna put on muscle but could get a little stronger and fill out a bit more at 145, I'd like to take the challenge."

Sterling on Dillashaw's excuses, and a potential future Volkanovski clash
---
O'Malley edges razor-thin split decision vs. Yan in FOTN
29-28, 28-29, 29-28: Sean O'Malley [11] bt. Petr Yan [1] via split decision
This was a pulsating, back-and-forth encounter. Not the squash match many were predicting, it instead left you wanting championship rounds and who knows what the future holds for both?
Perhaps they'll collide in a main event rematch later down the line, but there's an overwhelming sense of injustice as this event is filed away in the history books with Sean O'Malley heralded as the winner – upset of the year territory – during a fight many believed he didn't do enough to win.
Don't just take my word for it, more than 25 media members and outlets all scored this fight in the Russian's favour one way or another – 29-28 or 30-27. Upon first viewing, I had it 29-28 for the former champion and will probably rewatch it again (without commentary) in the coming days.
It's the second consecutive fight that Yan has been on the losing end of a split decision – much like the Sterling rematch – and this one will probably feel worse, considering he logged more than five minutes' control time and secured six of his 13 takedown attempts.
He outstruck O'Malley 97-91 in total over 15 minutes, landed 60% of his significant strikes and seemingly did enough to win all three rounds with constant pressure and power. The second wasn't a question, though the first and third appear to be notes of contention for many.
O'Malley knew the size of the task at hand and showed a different side here, one where he absorbed damage and kept going all the same – producing the dogged durability many felt he lacked as far as championship pedigree is concerned.
Sugar Sean was less accurate – despite producing more output – and found himself takedown slammed in a closely-fought first round, but their tactical tussle soon continued. He stunned Yan early in R2 with a left, though the Russian replied with a left-handed haymaker of his own.
O'Malley rocked him with a flying knee in R3, having upped his urgency and as evidenced by the stats: landing one more strike in the final stanza (46) than the first two combined (45). Although it's easy to bemoan the subjectivity of the scoring criteria, was the damage he did really enough?
"He was as good as I thought he was, #1 in the world, top 15 pound-for-pound, a killer. It's inevitable, I turn 28 tomorrow, gonna be in the sport a long time and people want me to be champ – I'll be there sooner or later.

I'm sure there are still people out there [doubting his ability], they said kick his legs and take him down… he did both and I still won. More questions.

I had to dig deep, went somewhere mentally and physically I've never been before, that's what happens when you fight the best in the world.

We'll see, it could be [his McGregor-Aldo moment], probably gonna renegotiate my contract after this. What really gets me excited is people like Petr, Aljo is straight but mostly a grappler, that's an interesting fight."

O'Malley in the post-fight press conference on Yan, his title aspirations, criticism of his weaknesses and more after a career-best outing
---
Elsewhere on the main card…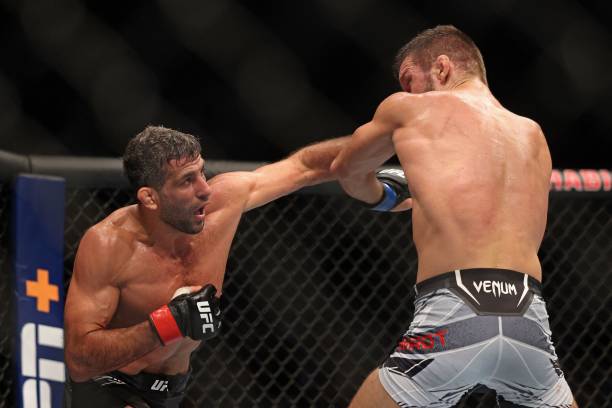 Beneil Dariush recovered from a slow start to halt Mateusz Gamrot's run, winning via UD (30-27, 30-27, 29-28) against the up-and-coming Polish lightweight – crowning his effort with a R3 knockdown and landing almost double the 31-year-old's total strikes (67-38) over 15 minutes.
Dariush, originally slated to face Makhachev back in February, had only just recovered after breaking his fibula and injuring his ankle during a training session earlier this past year.
He doubled down on his stance regarding a title shot post-fight, saying he'll just keep doing what he can — an eight-fight win streak, since a R1 KO defeat by Alexander Hernandez in March 2018.
French flyweight contender Manon Fiorot remains perfect in the UFC at 5-0 after logging her third consecutive UD victory to kick off the main card, albeit one that was gritty and eventually proved unspectacular against former title challenger Katlyn Chookagian (29-28, 29-28, 29-28).
The stats show neither was very accurate with their striking output, though the Frenchwoman's volume helped her overwhelm a fighter who prided herself on being atop the rung below dominant champion Valentina Shevchenko at 125lbs. That's likely to change now.
Fiorot outstruck her in R1 and R2 (29-25, 43-23) and narrowly got outworked in the final five minutes (28-27), though they combined for more than 500 strikes thrown without much fanfare.
During the night's featured prelim, Belal Muhammad produced a startling showing with stand-up to blast Sean Brady into submission – defending his top-five ranking at welterweight in style.
---
ALSO READ: After a productive 2021, Belal seizing his chance in flimsy 170lb division
---
Given all the criticism he receives for being a risk-averse, wrestle-heavy fighter, this was a welcome shift from that style and the perennial contender made sure to pay homage to his newfound brotherhood in Khabib and co afterwards – having trained with them for this camp.
---
Other prelim results
Middleweight: Caio Borralho bt. Makmud Muradov via UD (30-27, 30-27, 29-28)
Light-heavyweight: Nikita Krylov [10] bt. Volkan Oezdemir [8] via UD (30-27, 29-28 x 2)
Welterweight: Abubakar Nurmagomedov bt. Gazhi Omargadzhiev via UD (29-28 x 2, 30-27)
Middleweight: Armen Petrosyan bt. A.J. Dobson via UD (30-27 x 3)
Flyweight: Muhammad Mokaev bt. Malcolm Gordon via R3 submission (armbar)
Women's bantamweight: Karol Rosa [9] bt. Lina Lansberg [12] via majority dec (29-27 x 2, 28-28)
Up next: UFC Vegas 63 on October 29 — headlined by featherweight contenders Calvin Kattar (#5) and Arnold Allen (#8), a compelling matchup which may have title implications for 2023…

Picture source: Getty Images, all post-fight quotes via UFC broadcast