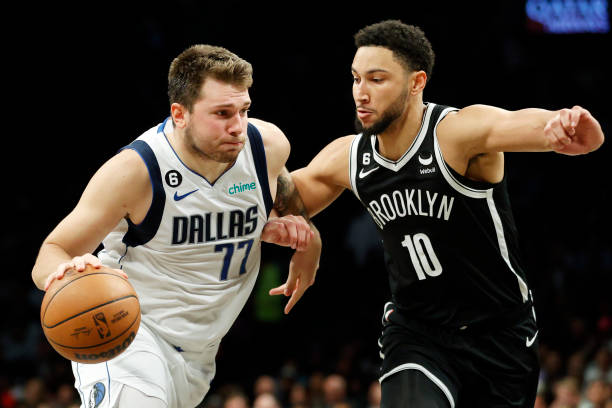 Luka Doncic produced a 41-point triple-double and only got stronger after a few sequences didn't go his way in the final minutes of the fourth quarter – turning creator with successive behind-the-back assists for Tim Hardaway Jr and Maxi Kleber as the Dallas Mavericks raced away in overtime, leaving the Brooklyn Nets with a 1-4 record to start the regular season.
Luka magic the buzzword for Mavericks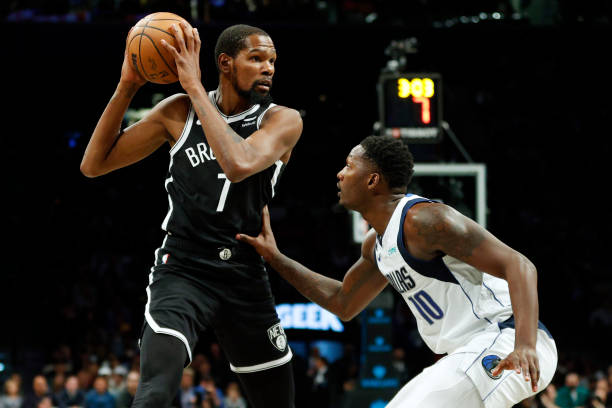 Their blowout win against Memphis aside, Dallas (2-2) have been made to battle for results already this term and they're only four games in.
Two-point defeats by the Phoenix Suns in their season-opener and the New Orleans Pelicans on Wednesday night would've hurt, but there's no better response than a gritty road victory against a star-studded Brooklyn team whose ceiling and floor still appear up for debate this year around.
Luka Doncic has led by example as expected, but many questioned whether the superstar point guard would manage to find reliable partners after Jalen Brunson's offseason move to New York.
Spencer Dinwiddie and offseason acquisition Christian Wood have been tasked as the leading men to do that with consistency, though the latter found himself in foul trouble and Dinwiddie – who played 274 games for Brooklyn – had 11 points and five assists against his former ball club.
Those are modest numbers, by his high standards. So, up came a collection of players to mask another rough shooting night for starting wings Reggie Bullock and Dorian Finney-Smith.
Maxi Kleber had 15 points – draining a trio of three-pointers – while Tim Hardaway Jr posted 18 alongside a team-high two blocks as the bench unit certainly did their part.
Josh Green had 10 points and four rebounds, Wood recorded 11 points and six rebounds in limited minutes, and yet they were still a defensive stop or two from defeat on this occasion.
In the last 2:40 of the fourth quarter, Brooklyn's star duo – Kevin Durant and Kyrie Irving – missed five shots between them. Irving had a turnover but made amends with his pressure on Doncic, which saw Ben Simmons steal possession before teeing up Durant for a thunderous dunk.
---
"I felt like we did some good things tonight but it just wasn't good enough," Irving said after a 39-point game. Durant had 37 but they were again bested on a week where they've been second best against some of the league's best players — Ja Morant and the Memphis Grizzlies, Giannis Antetokounmpo in Milwaukee and now Doncic at home. Pressure continues to mount.
---
Dallas appeared to lead by four with less than a minute left when Durant was wrongly called for goaltending on a Doncic drive, a decision overturned on replay review. The game was tied after Simmons' sneaky steal on Doncic, as everything threatened to unravel for the visitors.
For all the criticism and social media memes surrounding Ben Simmons' return, it's easy to forget these are his first competitive steps back since that fateful playoff series in June last year.
He finished with seven points, eight rebounds and four assists, though the three-time All-Star will be hoping for a sharp upturn in all three categories sooner rather than later. They need him to.
Even then, Brooklyn looked a step slow defensively and were fortunate to take this game into overtime. Doncic's smart pass to Reggie Bullock in the corner, with a second left in regulation, rattled in and out. He drew a wry smile, as if to say there were more where that came from.
It did. He continued to playmake, drawing traffic and attention onto himself, before deftly diverting it with successive behind-the-back passes out to open shooters behind him.
Kleber's three-point percentage was surprisingly low at 32.5% last term, down from 41% the year before, but the experienced German looked in the mood to spoil Brooklyn's evening.
Tim Hardaway Jr, whose red-hot shooting has proven a key cog behind their postseason success in recent seasons, knew the assignment too. Bullock opened up the advantage even further, after Doncic's jumper saw them take a 114-112 lead they wouldn't relinquish again.
"We're just trying to do the best we can to make his job a lot easier out there on the floor when he gives the ball up, the only way is knock down shots, take them with confidence and make a play," Hardaway Jr said post-game. Kleber co-signed that sentiment.
"Obviously, Luka is probably the best guy to make tough shots and make shots when they count, but he also knows when to make the right basketball plays.

Especially into OT, they were really aggressive with him and he made the right play, three or four times in a row. We just got hot and made all those shots."
Dallas have a five-game home stint, ending with a second matchup vs. Brooklyn on November 7. As for Brooklyn, shooting guard Seth Curry (ankle) practiced with their G League team on Thursday and Steve Nash said he's close to returning after recovering from left ankle surgery.
Up next for the Mavericks, they entertain the Oklahoma City Thunder on Saturday. Nash's Brooklyn side meanwhile, face Indiana in the first of a two-game series this weekend.
Picture source: Getty Images, player quotes via Associated Press