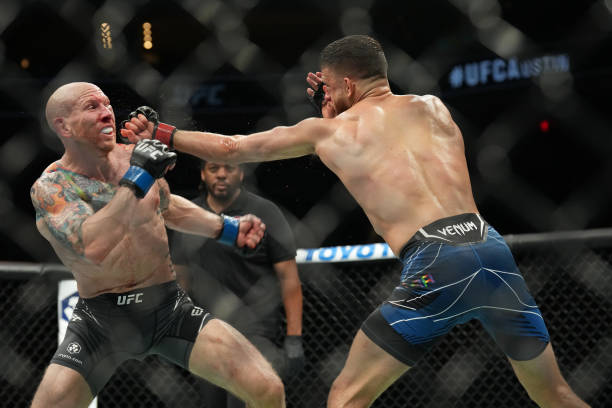 Calvin Kattar looks to defend his top-five ranking against a surging contender in Britain's Arnold Allen later tonight, a matchup serving as an unofficial 145lb title eliminator. Before their Fight Night main event clash from the UFC's Apex, here's a look back at a contentious split decision Kattar suffered vs. Josh Emmett five months ago – before his fifth straight headliner.
allen senses now is his time – can he do what chikadze couldn't?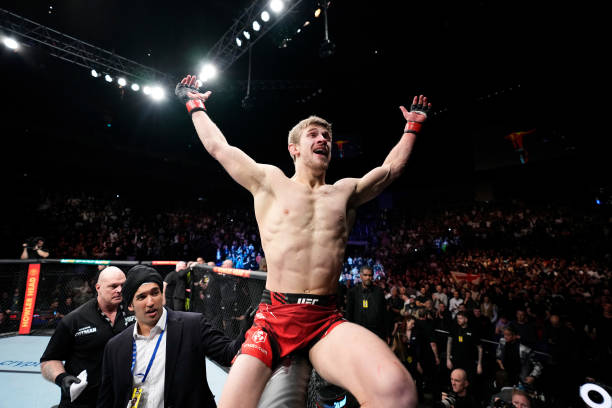 There's a post-PPV feel in the air this weekend, as even though three-weight boxing world champion Vasiliy Lomachenko makes his return, combat sport has been treated to a whole host of big matchups over the past few weeks and there's naturally going to be a lull afterwards.
Devin Haney expertly defended his undisputed status at lightweight in boxing, while everyone was swiftly reminded of Deontay Wilder's devastating knockout power that same evening.
Women's boxing exceeded expectations in London – more on that to come – before Islam Makhachev crushed Charles Oliveira to become the UFC's new lightweight champion last week.
Lull or no lull, my point is that there's still some good fights on this weekend. As such, like I did in the bantamweight division in August, I felt it was time to rewind back over to the summer months as Kattar and Josh Emmett were involved in a Fight of the Night clash in mid-June.
As I rewatch, even before the opening horn sounds, the first thing to note is the differences from their tale of the tape – their physical discrepancies and how it'd play a big part in their fighting styles. Emmett, 5ft6.5in, gave up 4.5inches and had a two-inch reach disadvantage to boot.
After a tentative start with plenty of feinting by both, Emmett was the R1 aggressor and needed to be – landing a series of looping right-hands, landing big late and using his movement well to stifle Kattar before shooting for a takedown late.
He was bloodied up by a few counter jabs in response, and Calvin's corner urged him to commit to his attacks in-between rounds.
Kattar controlling the range was key, and he started to do that midway through the second as Emmett allowed him to show off his boxing range, popping him with repeated jabs and visibly flowing much better.
Emmett again tried to finish the round strong with a six-punch flurry, this time Kattar waded through danger well and responded in kind with successive knees – one to stumble him against the fence, a second to follow-up as the crowd were eagerly stirring. This fight was heating up.
Emmett's power came to the fore early in R3, landing combinations and visibly backing Kattar up whenever connecting after loading up his shots. Elbows and uppercuts were Calvin's choice of response, but Emmett's output and heavy-handed nature started to take over.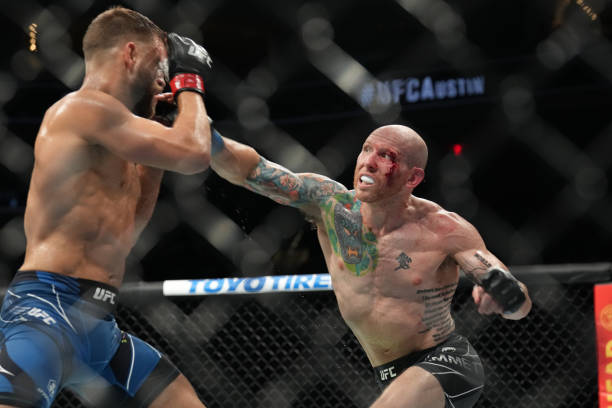 "We need to wake up, you're waiting too much. What are you seeing, what's the issue? Let's go first. You're going backwards so he's landing two or three shots."
Kattar's coaches weren't happy and urged him to stop being so defensively, telling him to go and while easier said than done, it was the right call heading into the fourth. That was his best round.
Daniel Cormier on commentary lamented Kattar's reticence to kick given his physical advantages, while Dominick Cruz suggested the threat of Emmett's wrestling proved an effective deterrent in this case – judging by his preference to keep the fight standing, testing his boxing.
They briefly clinched, but Kattar took control down the stretch of R4 with a mixture of unorthodox attacks and more of his stand-up skills.
A right knee into a spinning elbow opened up the cut above Emmett's left eye, while he continued to paw the jab and connecting on right-hands – the latter wobbling him momentarily.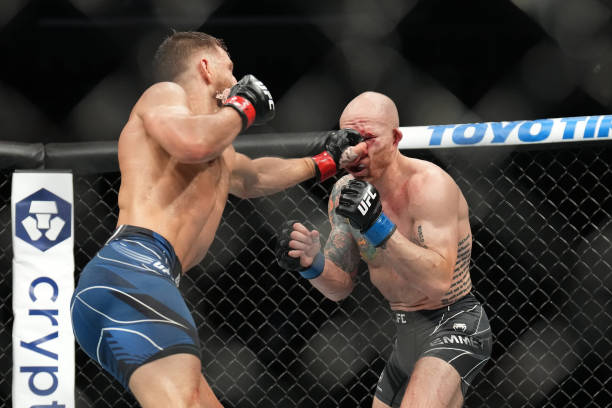 That was enough to send alarm bells ringing, as Emmett again blitzed in the final few seconds but clearly didn't do enough to win that round. Potentially 2-2 heading into the final stanza, both had work to do. Who would adjust better and have their hand raised?
Understandably, the fifth was closely-contested – much like the first – Kattar maintaining distance well, limiting Emmett's effective explosions and often being first with his own attacks.
The striking numbers reinforce that belief (Kattar landed 34 of 86 R5 strikes, 39% — 22 of 67, 32% for Emmett) though his big reactions to being punched appeared to go against him.
Emmett emptied the tank in the final minute, swinging aggressively and making Calvin stay defensively cautious. Although it was a competitive finish and split opinion among respected media members, I personally scored it the same as judge Douglas Crosby: 48-47 for Kattar.
Rounds 1 and 3: Emmett
Rounds 2, 4 and 5: Kattar
As far as the fine margins go, it's remarkable anyone can watch that fourth and decide Emmett won it. Chris Lee did though, and that's why the split decision went his way.
Unsurprisingly, Emmett spoke about the need for new blood atop the division and called for a title shot – a stance met with indifference by the decision-makers after such a divisive result.
---
Looking ahead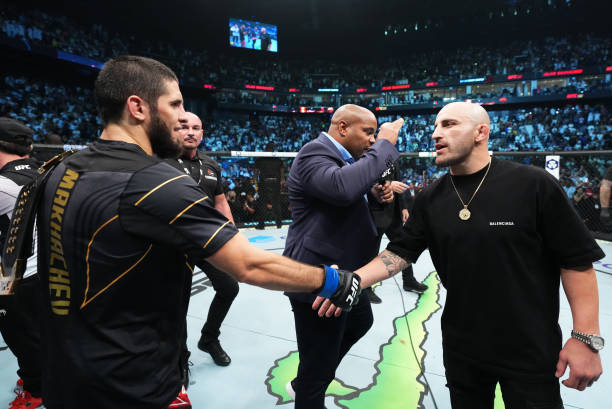 Volkanovski spoke at the press conference after UFC 280, about multiple topics – among them how he earned the right to move up and attempt to become a two-division world champion.
He insists he wouldn't hold up the division, preferring to stay active across both weight classes, and as far as featherweight is concerned, no true #1 contender has emerged.
To shout robbery is perhaps harsh, but Kattar should've won his last fight. Allen is unbeaten since 2014, riding a 11-fight win streak – nine in the UFC – and represents one of the new guard Emmett was inadvertently discussing, not himself, during the post-fight interview in June.
"The thing we want to stress, is accountability for the judges. We have a bad day in the office, we pay for it, mistakes happen, it's part of the game for everyone, there's human error involved in everything.

We just want to see something in place with the commissions to hold some accountability to judges who might have got it the wrong way. It's important for the sport to move forward.

This sport is very humbling. It's always, 'on to the next, win or lose. We understand we've got a tough competitor ahead of us, to not give him my full focus would be a mistake – all hands on deck for this one."
Alongside Bryce Mitchell (15-0, #9) and Movsar Evloev (16-0, #10) among others, Allen is one of the young guns breaking through into relevancy at 145lbs. The old guard are being surpassed.
A big win here could catapult him into a #1 contender fight, as both Emmett and Yair Rodriguez haven't done enough to fully convince those that matter they deserve the next title shot in 2023.
---
READ – Did Yair's anticlimactic Ortega win set the wheels in motion for Volk going to 155lbs?
---
Kattar will be fully aware of the stakes again, having been in this position before, and knocked some humility into Giga Chikadze (14-3, #8) after their January 15 main event. He faces another surging contender and this time, he can't afford any doubt should it go the full 25 minutes.
Allen knows he's up against a durable opponent with experience aplenty, but naturally believes that could go in his favour as the pair find themselves at different stages of their careers.
"I look at it as a positive, he's got miles on the clock, had those five-round wars and even the fight's he's won, taken a lot of damage. I look at it as mileage.

I always believed it was going to happen, even when not competing if I've got a broken hand or whatever, I'm in the gym training, practicing a jab or throwing kicks if I have no hands to throw. Always getting better.

I'm watching the division, seeing what's going on. He's dangerous in every fight, no quit in him, as tough as they come.

I believe in my power, if I can connect I can hurt anyone in the division but I'm prepared to do five rounds and it'd be kinda good to do it."

Allen fancies his chances and rightly so, but knows it'll be tough
---
UFC vegas 63 FIGHT CARD, IS AS FOLLOWS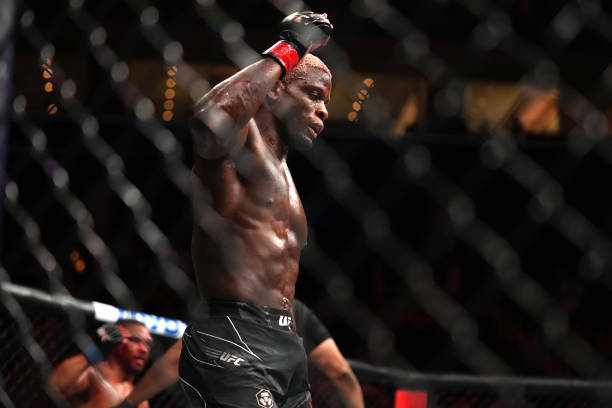 Main card, Sunday at midnight BST
Featherweight main event: Calvin Kattar [5] vs. Arnold Allen [6]
Welterweight: Max Griffin vs. Tim Means
Heavyweight: Jared Vanderaa vs. Waldo Cortes-Acosta
Middleweight: Josh Fremd vs. Tresean Gore
Light-heavyweight: Dustin Jacoby vs. Khalil Rountree Jr.
Prelims, tonight at 9pm BST
Middleweight: Phil Hawes vs. Roman Dolidze
Heavyweight: Andrei Arlovski vs. Marcos Rogerio de Lima
Middleweight: Park Jun-yong vs. Joseph Holmes
Lightweight: Mark Madsen vs. Grant Dawson
Featherweight: Chase Hooper vs. Steve Garcia
Flyweight: Carlos Mota vs. Cody Durden
Bantamweight: Christian Rodriguez vs. Joshua Weems
Picture source: Getty Images, quotes via UFC broadcast unless hyperlinked