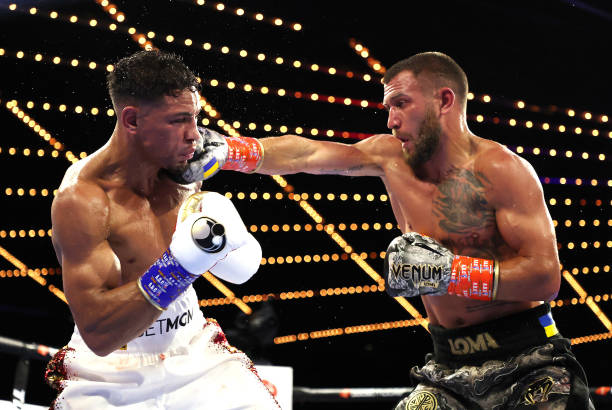 He warned many about Jamaine Ortiz's abilities pre-fight – having spent five weeks sparring with him last year – but seeing the 26-year-old American actually step up only added spice to Vasiliy Lomachenko's rousing response in the championship rounds. He marked his return with a hard-fought victory, as undisputed lightweight champion Devin Haney watched ringside.

haney vs. lomachenko all but secure for early 2023
115-113, 116-112, 117-111: Lomachenko bt. Ortiz via UD, wins NABF lightweight title
"I said before he [Ortiz] is a tough fighter, understands boxing. He always does this [fights the way he did], so it's not a surprise. You know what motivated me," Lomachenko praising a worthy adversary, while again hinting at a Haney matchup
Haney, who again convincingly beat George Kambosos Jr in their rematch earlier this month, entered the ring afterwards and said that while it "wasn't the best performance, I know if we fought, a better version would be on that night. Hope we can get it on."
Per the CompuBox punch numbers, Ortiz – who started well and led the first-half – was more active with his overall output but landed just three fewer than Lomachenko (125-122) over 12 rounds, in his first fight going the full distance as a professional
In a matchup of former sparring partners, Jamaine Ortiz got off to a promising start in the biggest fight of his young career.
He popped the jab and let combinations flow, being busy and successful early on as Vasiliy Lomachenko returned to the corner with a bruise already forming underneath his right eye.
Ortiz was rewarded for his aggression, throwing a lot – 82 punches through six minutes – while ESPN replays showed it was the abrasive tape on his gloves which caused the bruise, as he semi-landed a cuffing shot in the pocket.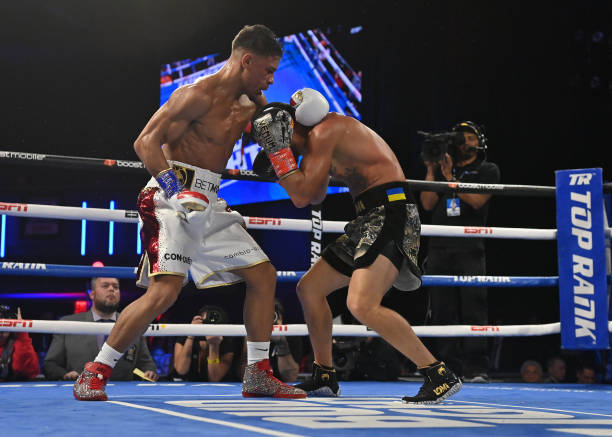 Andre Ward and Timothy Bradley debated whether he'd manage to sustain this level of energy and output for twelve rounds, having begun with a high-intensity pace.
---
ALSO READ: Loma is talk of the town at 135lbs, but has business to complete this weekend
---
R3 saw him absorb a big swivel right-hand jab, the first of many Lomachenko landed, as the Ukrainian forced him into the corner – banking his first round of the evening through three. Ortiz replied with short stinging uppercuts on the inside, while displaying good footwork in the fourth.
Lomachenko's well-timed short shots were still doing damage, though the younger man was enthused by the ten-second clapper and finished that round strong by unloading fast punch flurries. Not to be outdone, Lomachenko responded with his best round yet in the fifth.
He connected on 12 power punches and was willingly wading into the proverbial fire by this stage, as you could sense the tide starting to turn. Although the bulk of his best work was coming from throwing single shots, Loma was landing the more hurtful punches.
Ortiz, feeling the pace by now, was standing there too long and getting caught more than previously – as evidenced by a frantic exchange up against the ropes midway through the round.
Despite finishing that round strong, it wasn't enough to sway the judges. I had it 3-3 through six rounds, and Ortiz perhaps got his second wind at the wrong time as he won the next two rounds.
He had success after switching stances, landed some good combos, kept Lomachenko honest with work on the inside while physically asserting himself whenever the three-weight world champion got a bit too close for comfort. So with that, maybe a surprise was on the cards.
Lomachenko was hit a lot more than most are used to seeing, but when you're the significantly older and smaller fighter – actively taking risks – it comes with the territory. He never looked fazed, perhaps a bit too welcoming of Ortiz's attacks, but there was still more to come.
He won each of the last four rounds and took over what, to that point, was a fairly even contest. Asserting himself early in all of them, he landed more stinging shots and the left-hand in particular was connecting too frequently for comfort from Ortiz's perspective.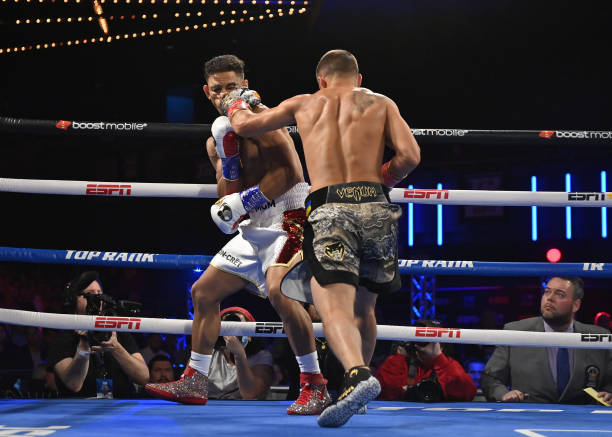 He countered upon occasion but it wasn't enough to mask the feeling this fight was slipping away from him, and there wasn't much he could do to stop it either.
Exhausted and taken to deep waters, it's one thing to swim further than before but another task entirely to set the pace at that stage.
"This is the moment you change your life," his corner was quoted as saying in-between rounds nine and ten. They knew, as well as most observers did, that he needed positive reinforcement.
Starting the round on the backfoot, up against the ropes, is hardly a good visual for the judges. Lomachenko landed well-placed body shots, a few combos and kept the pressure on.
If he was conserving energy for a final push, Ortiz needed to unload the tank in the final two rounds. R11 was quite tense to start, though again Lomachenko did the best work: an unanswered four-punch combo left Ortiz holding onto him, trying desperately to quickly recover.
Pressing the action and probing with more of the swivel jab, Ortiz's head movement by this stage wasn't helping him evade danger. Worn out and ground to an underwhelming lull late, it was a valiant effort but one where experience outsmarted athleticism and youthful exuberance.
Former three-weight world champion Jorge Linares, who fought both of them in a three-year span, watched the action ringside and said afterwards Lomachenko isn't the same fighter he once was. While that's natural with age and his miles on the clock, he's not alone in that view.
Whether it'll be the same against Haney, is another question entirely. On the basis of that display – ring rust or not – it'll boost confidence within the 23-year-old's team that their man has the tools to beat him, more convincingly than even Teofimo Lopez could manage two years ago.
Picture source: Getty Images, quotes via ESPN