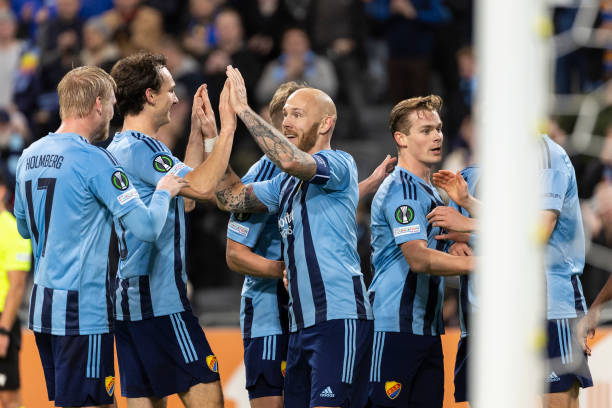 Magnus Eriksson's well-worked first-half finish saw Group F winners Djurgardens end their UEFA Europa Conference League group unbeaten after a 1-0 win over Shamrock Rovers at Tele2 Arena – a cagey affair their Irish visitors hope can prove the springboard to better displays in European competition next season and beyond after recording a paltry two points in six games.

Djurgardens threaten from the off, and soon get their reward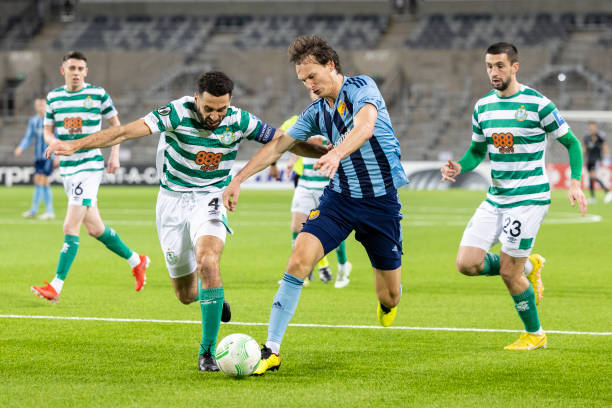 The visitors almost conceded after 40 seconds, but for a goal-saving challenge by Roberto Lopes to deny Joel Asoro in the box.
Gustav Wikheim caused havoc throughout on the flank and on a better day Asoro could've had a six-minute brace – instead Shamrock defenders scampered his shot to safety.
Jack Byrne produced a great inswinging delivery from a free-kick, but had no teammates latching onto his cross.
That lack of attacking aggression rather typified a frustrating display by the visitors. Multiple stoppages in play for niggling injuries and knocks didn't stop the hosts from fashioning a beautiful passage of play leading to the opener after 19 minutes.
Rasmus Schüller and Wikheim both played a key role in the build-up – the ball found Karl Holmberg in the box, who unselfishly teed up Eriksson to slot underneath Leon Pohls.
It almost went from bad to worse for the Hoops, who cheaply relinquished possession in midfield as their defensive-minded 5-2-3 formation was again being exploited.
Without players in space to allow them a reprieve, retaining the ball nor relieving pressure, they could've been three or four goals down at half-time.
Wikheim's slick control proved too sharp for Daniel Cleary, who was hooked at half-time after struggling to deal with the Norwegian. He wasn't the only one.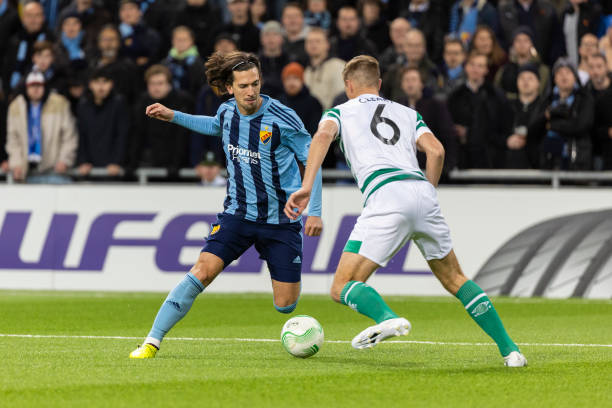 Neil Farrugia was the Hoops' biggest threat in the final third, cutting inside and advancing past multiple players on a handful of occasions without reward.
Richie Towell forced Jacob Zetterström into a save but was offside, before Rory Gaffney somehow missed a great opportunity to equalise with the first-half's final kick in stoppage-time.
Though the angles weren't in his favour as the loose ball fell to his feet, he blazed wide at the near post. That clear sight of goal without warning proved this encounter was far from over, but they needed a better second-half response and to keep their hosts pinned back in defence.
For a side who only scored once in five group games – the competition's lowest tally across all group stage teams – Stephen Bradley's men came out with intent to banish that unwanted statistic after the interval. Where was this creative impetus earlier, before they conceded?
Sean Hoare, Towell and Farrugia all threatened with opportunities as they managed to establish a foothold in the game, a far cry from a timid first-half showing.
It was clear though that their hosts were in third or fourth gear and while uncomfortable, weathered the storm well to maintain their slender advantage.
Pohls made a big stop to deny sub Emmanuel Banda in a one-on-one chance after watching his backline split open rather easily as the high line was dismantled by two probing passes.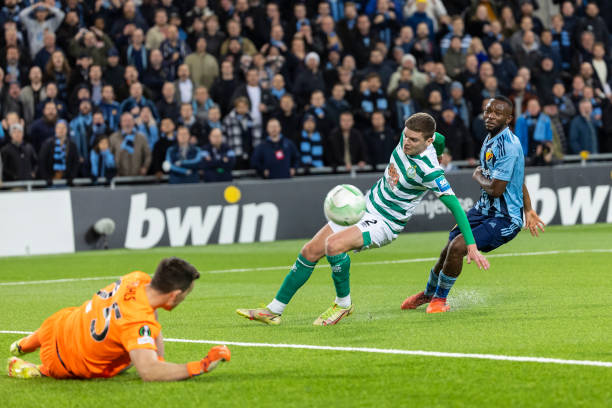 Then, the Zambian international glanced a header inches over the crossbar with the second-choice goalkeeper rooted to the spot.
Roberto Lopes – Shamrock's best player on the night, stopped the hosts doubling their lead in stoppage-time with a vital interception after Pohls rushed off his line to thwart a counter-attack.
Between him and Lee Grace, Rovers lost possession once more with their goalkeeper caught in no man's land. Lopes, tenacious in the tackle and everywhere defensively, made an important interception.
They had a corner up the other end in their final chance of the evening, but they couldn't send the travelling supporters home happy despite an improved showing as time wore on.
Given their domestic dominance, it'll be interesting to see how Bradley and his coaching staff debrief this underwhelming group stage campaign with a view to 2023.
They collectively need to defend better against stronger sides who can apply creative pressure on them, and the 5-3-2 formation has its flaws in that regard.
Picture source: Getty Images — coverage originally featured here