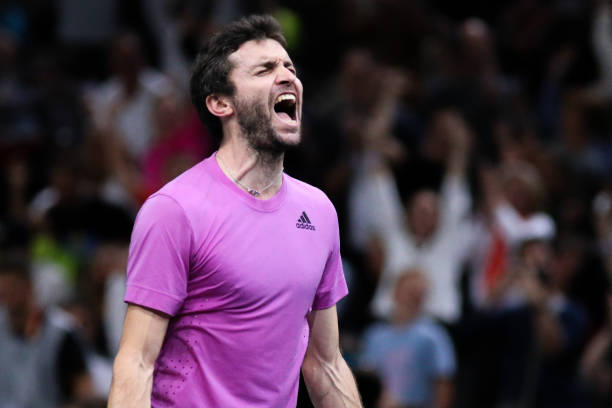 After battling from a perilous position against Andy Murray on Monday, the retiring Gilles Simon extended his retirement party with a rousing three-set win over Tokyo champion Taylor Fritz, hours before Maria Sakkari became the first woman to secure a WTA Finals' knockout stage berth after a 6-2, 6-4 win over Aryna Sabalenka – though the scoreline doesn't tell the full story.

weary and tired, but Simon refuses to lose three-hour battle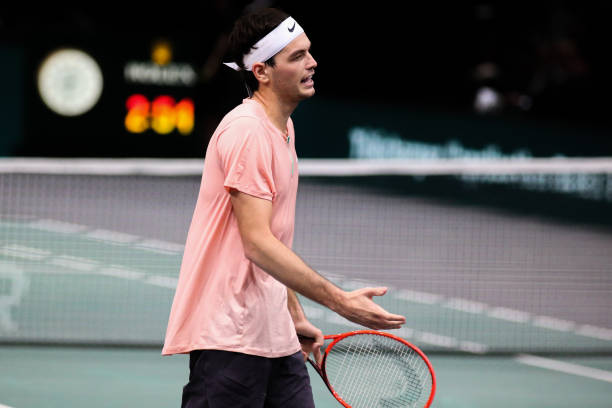 Simon [WC] bt. Fritz [11] 5-7, 7-5, 6-4
Former world no. 1 Andy Murray, notorious for being self-critical, said he needs to work harder and take responsibility for his endurance after a late collapse against Gilles Simon on Monday.
Simon, rallying from 6-4, 5-3 to eventually topple a cramping three-time Slam champion after two hours 50 minutes, experienced more adversity coming his way with Taylor Fritz in round two.
The 37-year-old was embroiled in a three-hour battle during the final tournament of his career, but delayed his retirement celebration another day – minimum – as the partisan crowd purred and roared him on, buoyed by his tireless efforts to increasingly frustrate and flounder Fritz.
Longer rallies and dogged determination to keep forcing Fritz into playing another shot, or three, during their tense exchanges upset the American's rhythm and soon enough they were level.
The French veteran still had a lot to do in the deciding set and things appeared ominous early but while clearly feeling the physical effects of another gruelling battle, so was Fritz. Lulling him into a false sense of security with shorter rally balls proved effective in drawing more errors.
Some excellent shot-making under pressure and an increase in unforced error count by the Tokyo champion combined to create a half-chance of a break point opportunity at 4-4.
Simon swatted a backhand crosscourt to finish a 23-shot rally, one Fritz couldn't return, and another shot into the net sealed it as the crowd erupted. Their man still had to finish the job on serve and despite losing the first point, did so to set up a clash with Felix Auger-Aliassime in R3.
Felix picked the right time to peak this season: winning singles titles in Florence, Antwerp and Basel across the last three weeks. So given his formidable form of late, plus the way Simon has had to grit his way through the competition, surely the fairytale stops tomorrow evening?
---
Sakkari survives Sabalenka fightback to reach semi-finals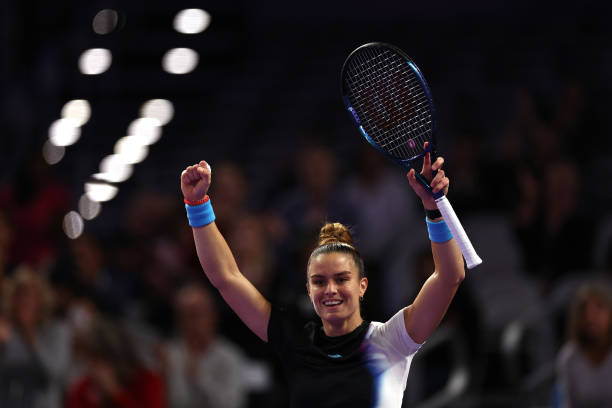 Sakkari [5] bt. Sabalenka [7] 6-2, 6-4
Maria Sakkari won six straight games, finding herself a set and double break up. Sabalenka's error-strewn display was gifting her multiple free points, much like during stages against Jabeur.
Yet the Greek – as she so often does – got tight in the latter stages as Sabalenka's aggression intensified. The spirited fightback was on, winning four straight games and threatening to take their enthralling encounter to a deciding set.
Sakkari, as she admitted post-match, got a little passive during rallies as her own error count crept up. However, she also spoke about a need to be very brave to keep up with a hard-hitting, fearsome prospect down the other end of the court.
The 26-year-old got a few strokes of luck at precisely the pivotal juncture at 4-4 in set two, with a pair of net cords and overruled first serve ace all going in her favour.
Sabalenka, who did brilliantly to come back and lead the set, unravelled quickly after that – despite having three more break points in the very next game. Truthfully, she was in a hole that proved too big to recover from as Sakkari reflected on an emotional rollercoaster post-match.
"I've saved so many break points – more than 200 times this season – so I can do it again, trust my serve, groundstrokes, feeling good and confident.

My mental strength [was key], was in a winning position [and things turned] but I did nothing wrong… maybe got a little passive but she started going for it, felt down and distracted me a little but I kept doing what I had to turn things around. I have to admit a little bit of luck, but I earned it."
---
meanwhile – Jabeur gets it done, the hard way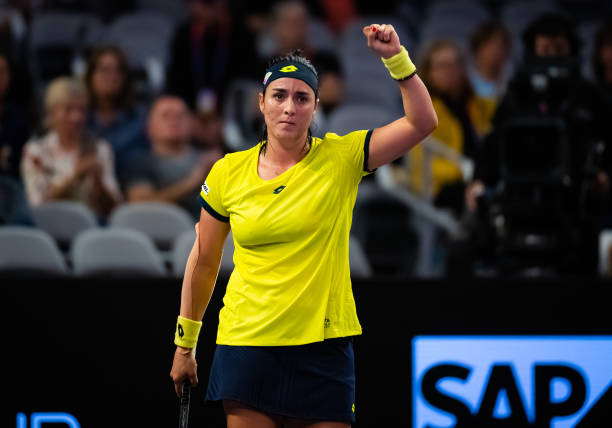 Earlier during the Nancy Richey group, Ons Jabeur endured a slow start before overcoming Guadalajara champion Jessica Pegula 1-6, 6-3, 6-3.
In an encounter between two 28-year-olds enjoying the best season of their respective careers, Jabeur showed grit to impose herself – in another three-set battle – and this was especially important on a personal level having come to terms with a tough opening match defeat.
She revealed post-match that she struggled sleeping following the Sabalenka loss, but there was to be no repeat this time around.
"After the first set, she was playing really well and super-fast from the beginning. It's never easy playing Jess – I know she likes playing like that, tough, very low balls… I just had to find that click to change up the rhythm."
Although this was another defeat against a top-five player for the American (0-7 in 2022), she remains in contention to reach the semi-finals after winning the first set.
Sakkari's win over Sabalenka also means all three other players involved in the group can still qualify with 1-2 records – the Greek plays Jabeur on Friday, so the two-time Major finalist will quietly fancy her chances to emerge as the second semi-finalist given the permutations.
"It was a few points, few opportunities that were missing and I feel like this whole tournament is about who's going to seize those points to win – you never know. I lost and now I'm back in the game, one more match left. It's tricky, everyone's trying to give 100%, so you really have to focus."
Picture source: Getty Images — Jabeur quotes via WTA