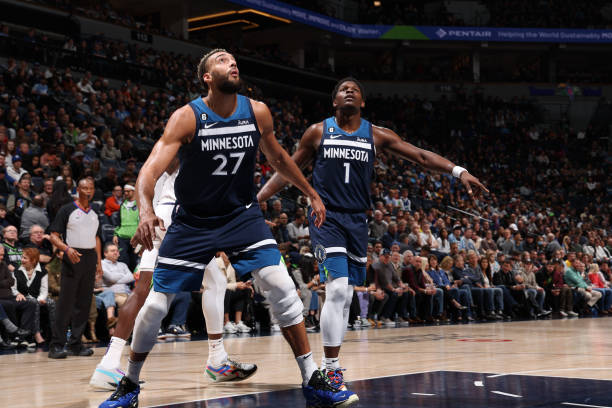 After recording an encouraging 4-2 start to the season, the newlook Minnesota Timberwolves have lost five of their last six games and face a tricky road schedule – starting in Memphis against Ja Morant and co on Friday night. So, are critics overreacting to their worrying tendencies, or will things worsen for a side in transition after a blockbuster offseason trade?

Finch: Lacking a little confidence and purpose – Wolves coach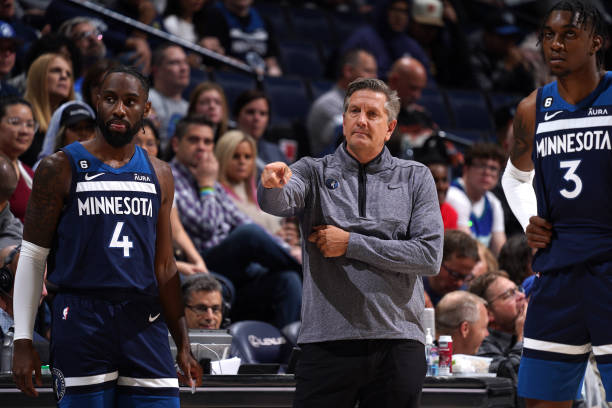 A viral moment has rather typified a rough run of late for Minnesota, who've now lost five of their last six games after a 129-117 defeat by the Phoenix Suns in the early hours on Thursday (GMT).
To add insult to injury, Monty Williams' men achieved a one-sided result without two key  starters in Chris Paul (right heel soreness) and forward Cameron Johnson (knee surgery).
D'Angelo Russell inadvertently set social media into a spin for his baffling lack of awareness – failing to check into the game during a Suns possession, one which saw them score a three.
Taurean Prince checked out of the game before a free throw, with Russell set to replace him.
He didn't emerge onto the court until said possession was almost over, by that time defensive assignments were missed and confusion spread among the four players on the floor.
When asked about their continued mental mistakes, head coach Chris Finch told reporters it's a sign of a team lacking confidence and purpose at the minute.
Having missed two games in the league's health and safety protocols, offseason acquisition Rudy Gobert led the team in scoring (25) and rebounds (11) alongside a game-high three blocks.
---
ALSO READ:
Gobert, Rivers and more: Offseason acquisitions galore as Timberwolves target big season
---
It wasn't enough to stop the Suns from earning a double-digit victory, especially as both Gobert and fellow big man Karl-Anthony Towns had to deal with early foul trouble.
Towns finished with a disappointing 11-point, eight-rebound stat line on seven shot attempts, but most concerning was their turnovers: a whopping 19, leading to 32 Phoenix points.
Finch spoke about first quarter urgency, as well as taking care of the basketball, as areas for improvement. It's not the first time in recent weeks that their struggles have spilled onto social media, after star shooting guard Anthony Edwards' blunt post-game observation this month:
ESPN ran a feature this week discussing three contrasting star tandems: Atlanta, Cleveland and Minnesota – all postseason contenders who looked to strengthen with bold offseason moves.
While the former two are enjoying success in different ways with their guard pairings, the same can't be said for the Timberwolves.
Gobert's presence has naturally impacted Towns' offensive role, but more than they anticipated after seeing the 26-year-old mesh well with 6ft 9in power forward Jarred Vanderbilt last season.
For what it's worth, Vanderbilt already looks at home in Utah and is averaging career-highs in points (8.7), assists (2.8), steals (1.5) and MPG (26.5) among other numbers through 11 games as part of a Jazz team (10-3) who've started the new year much better than everyone expected.
An excerpt from their piece reads as follows:
Entering Wednesday, in 206 minutes together, Towns had attempted just seven free throws while posting a .488 true shooting percentage. In 184 minutes with Gobert on the bench, those jumped to 43 free throw attempts and a sizzling .730 true shooting percentage.
Somehow, even his shots with Gobert on the bench haven't been as good as last season. That might reflect Minnesota missing the players sent to the Jazz in exchange for Gobert. In particular, Malik Beasley's team-high 240 3-pointers haven't been replaced.
The Timberwolves quietly led the NBA in 3-pointers made and attempted last season, ranking 12th in 3-point percentage. With Beasley gone and D'Angelo Russell mired at 31.5% beyond the arc, they've dropped to 16th in 3-pointers made per game and 27th in percentage.
Between it being a small sample size and a gradual improvement on their collective three-point shooting (32.5%, 27th in the league), Minnesota's record should settle in the coming weeks.
Finch and his staff need solutions to improve the offensive ceiling for their Gobert-Towns combo with both on the floor, but they knew that coming into the season. It's easier said than done.
---
Opposition teams Wolves will face between now and January 1, is as follows:
November: Memphis, Cleveland, Orlando, Philadelphia, Miami, Indiana, Charlotte, Golden State, Washington
December: Memphis, Oklahoma City, Indiana, Utah, Portland twice, Clippers, OKC, Chicago, Dallas back-to-back, Boston, Miami, New Orleans, Milwaukee
---
While it's easy to blow early season statistics out of proportion and recency bias is inevitable, we'll get a better idea of just how good – or troubling – they actually are around early January.
Picture source: Getty Images