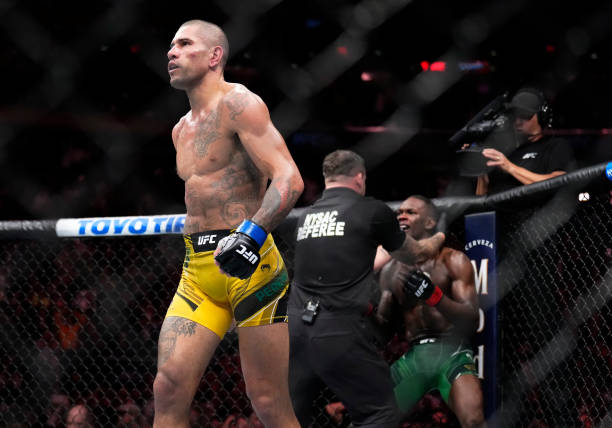 Alex Pereira and Zhang Weili reigned supreme as two new champions were crowned at UFC 281 during a memorable PPV card that exceeded expectations last weekend, with seven first-round finishes and surprise results galore – as well as a Fight of the Year contender at lightweight.

Pereira leaves it late, but makes it 3-0 against Adesanya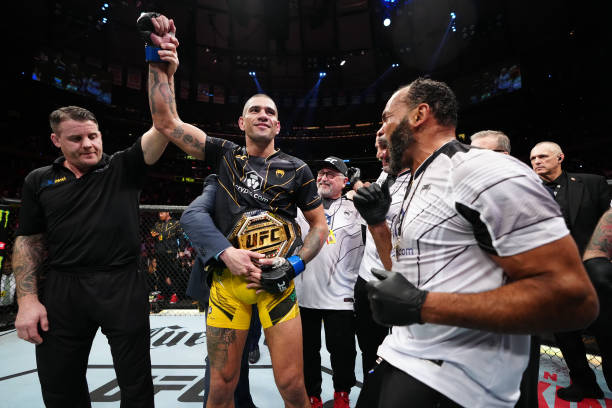 Israel Adesanya's middleweight title run, lasting just over three years, was emphatically ended by a former kickboxing rival fast tracked into championship contention in a new sport – and Alex Pereira endured a few dangerous moments before securing his memorable fifth-round finish.
The Brazilian's pedigree not withstanding, Adesanya was favoured pre-fight given the discrepancy in their MMA experience and so it proved early.
Understandably hesitant to exchange with the challenger up close, Adesanya maintained distance and picked him off at range – causing a stir as he wobbled the 35-year-old at the horn.
Pereira responded well in the second and finished it with a timely takedown, but they weren't exactly at level pegging for long before one man established a healthy lead on the scorecards.
Adesanya landed a higher number of significant strikes in R3 and R4, while logging more than five minutes' control time as he took their battle down to the ground. 3-1 he led, into the 5th.
However, stats don't exactly emphasise the fact Adesanya looked increasingly hesitant and found himself pinned up against the fence – inviting Pereira's forward pressure.
Statistic: With eleven finishes, this event tied Rockhold vs. Bisping and UFC 224 for most stoppage wins in a single UFC card while tying the record for most first-round finishes (7).
It was only a matter of time before he landed cleanly on Adesanya's chin and with urgency from his corner between championship rounds, there was a new champion on the map at 185lbs.
It'll be interesting to see which direction the promotion take things going forward into 2023, as you'd expect Adesanya has earned an immediate rematch – but post-fight hinted that he needs some time off. How long can they wait, with a new champion further ahead into his prime years?
---
Weili wastes no time blitzing Esparza, two-time champ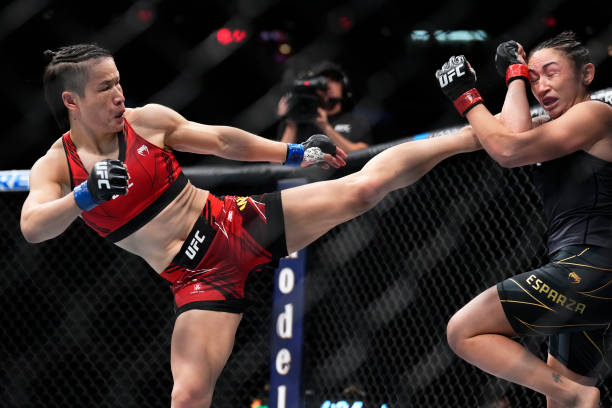 Unlike her heavily-disputed split decision defeat by Rose Namajunas twelve months prior, Zhang Weili was embraced by the US crowd this time around and thanked them after feeling their love against Carla Esparza – who found herself trending for the wrong reasons six months prior.
---
In case you needed a reminder
A forgettable championship fight went the way of Carla again during their rematch, but the fact the commentators struggled to digest this bafflingly slow-paced, minimal action, that said it all.
Although some fans voice their dislike for Joe Rogan's matter-of-fact style on the mic, Jon Anik and newly-confirmed Hall of Famer Daniel Cormier were swimming against the tide trying to justify what was unfolding before their eyes too. Why could these two champions not engage?
So when you consider both sides, as well as the weirdly-sounding positive reinforcement from the champion's corner in-between rounds, that's why it felt like she lost the belt here more than Esparza snatched it. The pair landed 68 of 270 strikes landed over 25 minutes, per UFC stats.
---
If Rose lost the belt back in May, then Weili certainly snatched it from Carla's grasp this time around – as truthfully expected – given her aggressive, yet methodical fighting style.
Explosive scrambles were the name of the game early, as she threw up multiple submission attempts and pressed the action against Esparza, who did well escaping a few precarious situations but found herself outmanoevured by a purposeful display from the challenger.
It felt inevitable after R1 that, should things continue in that manner, a finish was soon on its way and so it proved early in the second – Weili showing good ringcraft and timing to secure a rear-naked choke in no man's land – as Carla's second title reign ended without a single defence.
Complimentary in defeat, it'll be interesting to see how Carla responds. As for Weili, a Namajunas trilogy makes sense down the line – but does anyone want to see that right now?
In the battle of 35-year-old Brazilians on November 5, Amanda Lemos catapulted above Marina Rodriguez in the rankings with a R3 TKO win over her in-form compatriot this month – more on that in the weeks to come – but there's no overwhelming #1 contender at 115lbs right now.
---
Chandler charges courageously, before Poirier punishes him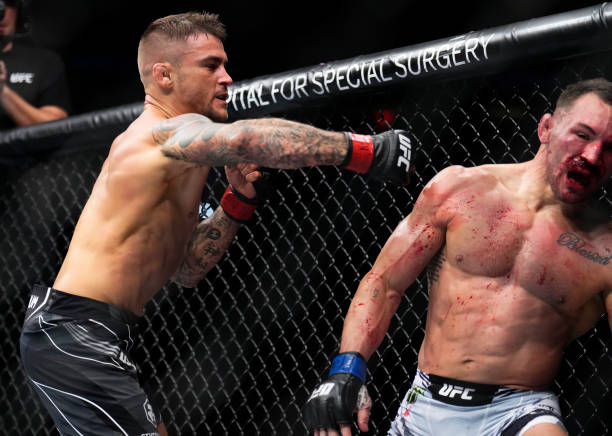 Michael Chandler was winning, up until he wasn't.
This was a pulsating firefight that almost ended at separate stages during a breathtaking R1 between two lightweight contenders whose title aspirations came to the fore against one another. Unsurprisingly, Dustin Poirier weathered the early storm and emerged victorious.
The streaking Beneil Dariush, ranked #4 at 155lbs, perhaps said it best pre-fight.
"If Chandler fights smart, he should be able to win. But I think Chandler right now is so focused on being exciting, entertaining for the fans, he puts himself in really bad situations.

If he goes out there, plays a very conservative striking game, alot of wrestling, he should pull this off. But in reality? Dustin is going to end up winning because Chandler is going to try to be more than he needs to be." 
When he had Poirier hurt up against the fence, absorbing damage aplenty, Chandler was winging power punches and didn't take his time to pick shots better or compose himself.
Poirier recovered well and almost finished him in the final seconds of the round as the roles soon reversed, before revealing post-fight that had Iron Mike opted to throw straight shots at him rather than looping ones in that dangerous sequence, the fight probably would've been all over.
Chandler produced a fantastic bounceback round with timely wrestling and leg kicks aplenty in R2, but won't be proud of how things ended in the third. Poirier reversed a high crotch takedown, secured his back and eventually submitted him with a rear-naked choke.
Urgency was stressed by his corner after relinquishing R2 and he duly obliged. His post-fight comments felt pointed, from criticism of Chandler's dirty fish hook tactics to Islam Makhachev's criticism of his jiu-jitsu, the 33-year-old knows some doors are opening for him again at 155lbs.
This sole win in isolation against a fun-yet-flawed contender like Chandler shouldn't be enough to suddenly get him back into the title picture after two failed attempts in three years, but if he swallows his ego and takes out a few more challengers, who knows what 2023 holds?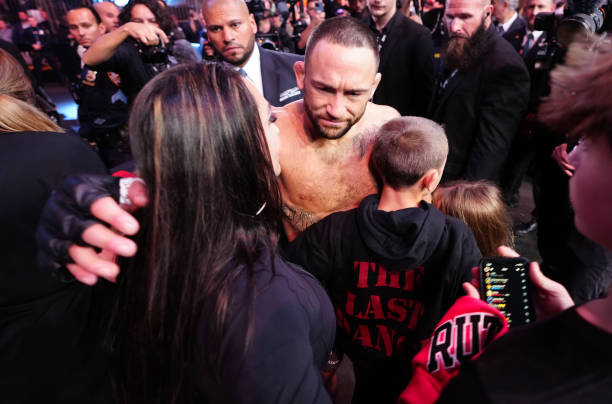 Frankie Edgar's sad-but-predictable ending to his Hall of Fame career came with family, friends and avid fans watching him succumb to another brutal knockout – the fourth in R1 since 2018 – and another nasty knee, much like Cory Sandhagen executed at his expense last February.
Gutierrez goes from strength-to-strength in a deep bantamweight division, this latest showing earning him a top-15 ranking after an eight-fight unbeaten streak – including seven victories and three finishes – as El Guapo continues to make noise at 135lbs. But someone had to lose.
It's just a shame Edgar's career ended with him again being blitzed off his feet in that manner, but his latest offerings do nothing to tarnish an illustrious MMA career, that's for sure.
Elsewhere, Dan Hooker logged a much-needed R2 TKO win over Claudio Puelles to defend his own top-15 lightweight ranking. Having looked vulnerable and alarming in recent appearances, it was similarly important for Hangman to produce a big performance here – he did just that.
Heading into this clash, he'd lost four of his last five – three by stoppage – with the Dustin Poirier war in 2020 doing more harm than good as far as his lofty career ambitions were concerned.
While there's no doubting he still belongs among the world's best at 155lbs, it'll be interesting to see how the promotion goes about matching him with opponents carefully going forward.
---
Other UFC 281 results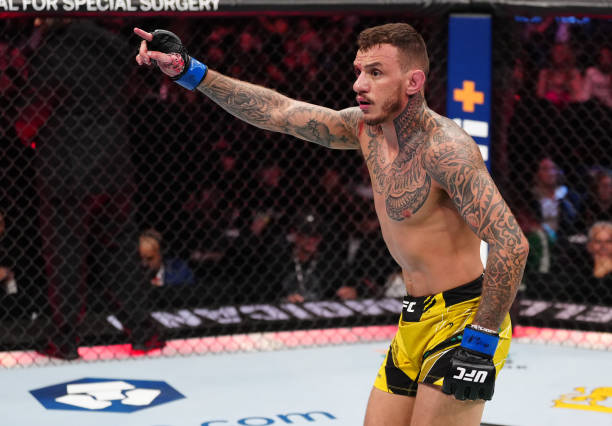 Prelims
Lightweight: Renato Moicano bt. Brad Riddell via R1 submission (rear-naked choke)
Light-heavyweight: Dominic Reyes (#7) vs. Ryan Spann (#12)
Women's Flyweight: Erin Blanchfield (#12) bt. Molly McCann (#15) via R1 sub (kimura)
Middleweight: Andre Petroski bt. Wellington Turman via UD (30-27 x 2, 29-28)
Early prelims
Lightweight: Matt Frevola bt. Ottman Azaitar via R1 KO (punch)
Women's strawweight: Karolina Kowalkiewicz bt. Silvana Gomez Juarez via UD (29-28 x 3)
Catchweight (147.6lbs): Michael Trizano bt. Choi Seung-woo via R1 KO (punches)
Bantamweight: Montel Jackson bt. Julio Arce via UD (30-27 x 2, 29-28)
Light-heavyweight: Carlos Ulberg bt. Nicolae Negumereanu via R1 KO (punches)
Picture source: Getty Images