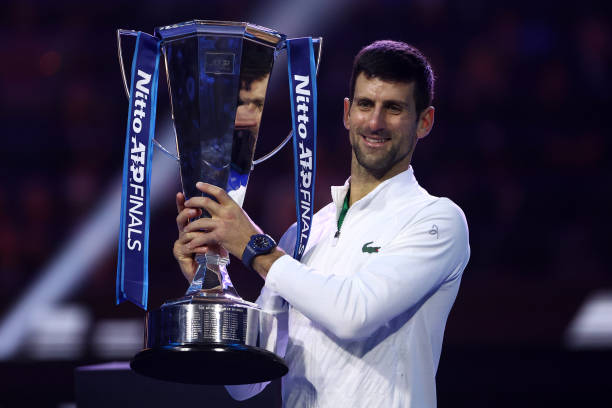 2022 started with the now-former world no. 1 being embarrassed in Australia, deported as he prepared to defend his Grand Slam title – an easy target for vilification worldwide given his vaccination stance. It ends with Novak Djokovic clinching a record-equalling sixth ATP Finals title despite Casper Ruud's best efforts, another result during an eventful week in Turin setting up the new season perfectly with plenty of compelling questions now bubbling to the surface.
Djokovic downs Ruud, finally secures a sixth ATP Finals title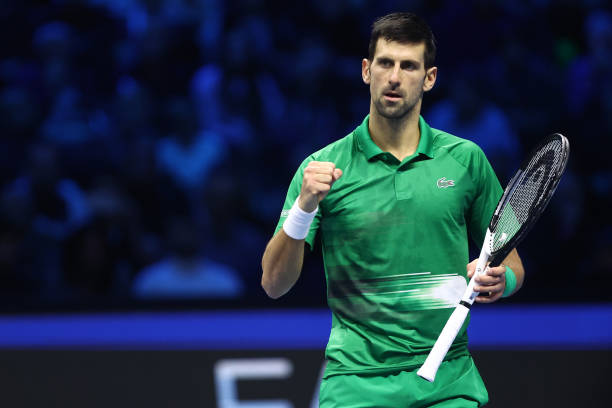 Djokovic bt. Ruud 7-5, 6-3
Djokovic, second-oldest finalist in 52-year tournament history, is oldest champion and moves clear of Ivan Lendl and Pete Sampras to level Federer on six ATP Finals titles
Ruud, who beat Rublev 6-2, 6-4 in the semis, again falls short at the final hurdle but will take encouragement from exceeding expectations and finishing the year world no. 3
US Open champion Carlos Alcaraz, rehabbing from an abdominal tear, became the youngest ever year-end ATP world no. 1 as a result of Rafael Nadal's recent struggles

When you consider Novak Djokovic was unable to compete in two Grand Slams and four Masters tournaments — offering 8,000 ranking points between them — it feels emblematic of the man that he still managed to finish a turbulent year as world no. 5 and appears primed for a big 2023.
Many felt the mental toil of the farcical Australian visa would wear on him. After a few surprise defeats in Dubai and Monte Carlo, he ultimately shook the rust off and has finished another year as the last man standing, even if his weeks at world no. 1 stalled for the foreseeable future.
"Seven years since winning this is a long time – makes it even sweeter. This is huge. It is a big relief and satisfaction to win, look forward to having a couple of weeks off.

I was on pins and needles the entire year whether it be for [playing in] tournaments or waiting for permission to go somewhere, so I am really glad I managed to end the year in a positive way."

Djokovic in reflective mood during his post-match interview
Last week, he was also granted a visa for next year's Australian Open and will travel to Melbourne as the clear favourite at a tournament he's won nine times in his illustrious career to date.
With all that in mind, Casper Ruud can be heartened. This season was the best of his young career and, as he turns 24 next month, there's no reason why he can't improve further in 2023.
Billed as a clay-court expert, he earned three runner-up finishes on hard court surfaces (Miami, US Open and ATP Finals) and a French Open final. That he's improving all the time will be music to the ears of neutrals, who feel he's overachieving without reward in the biggest tests.
World no. 3 and unstuck against the Djokovic-Nadal tandem is nothing to be ashamed of, albeit something he'll look to make amends for as time passes. He again didn't play poorly, but relinquished ground on the big points. Alcaraz appears the frontrunner as a possible future rival.
"In the future I guess the No.1 spot will be a little bit more open for players to get there maybe one time in their career, I hope I can be one of them.

I think we've seen it this year that Daniil and Carlos have got there – the odds aren't great – but I'll give it my best try."

Ruud on his ambition to become world no. 1, surely intensifying with time
---
Analysis as Djokovic does it again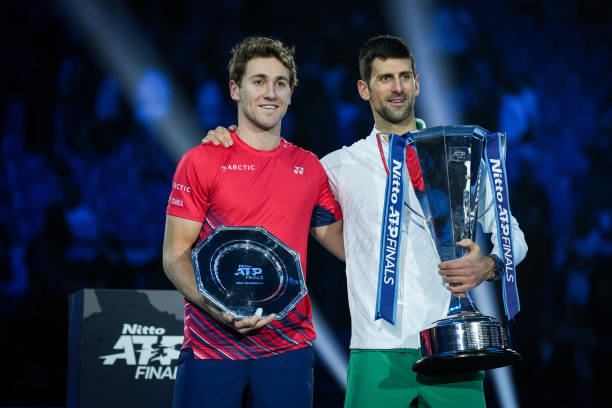 Recently, the season-ending championships have proven a source of relative underperformance – understandably so – as Djokovic has often been fatigued following a relentless period on tour.
That's why it shouldn't be particularly surprising to know he hasn't won the trophy since 2015.
Until now. This year has been an unforgettable one, for many reasons, not least the 21-time Grand Slam champion being punished and missing multiple tournaments after refusing to be vaccinated against COVID-19. That disrupted schedule meant he was fresher than usual here.
Having already qualified for the semis, he could coast through a dead rubber against Daniil Medvedev. Facing a rival that has pushed him hard of late though, you try telling him that.
After edging a exhausting three-hour tussle against the Russian, he emerged victorious without playing his best tennis against an in-form Taylor Fritz in a match decided by two tiebreaks.
"I like the fact I was able to win against Medvedev after a very long battle, then come back the next day after not too much recovery time and be able to win another tight match against Fritz in two sets.

That's something that has in a way defined my career over the years. I've had similar situations where I was able to bounce back and make some big wins."
He battled back from a dangerous second set situation against Fritz, who served for set two at 5-4 and looked poised to take it into a decider. A spectator distracted him by loudly shouting during a key point at 30-30, Djokovic broke back and sealed victory in the subsequent breaker.
It feels poetic something similar happened in the finale, a timely line challenge call giving him the breathing space he needed against Ruud, who found it difficult to recover after that point.
Serving to take their first set into a breaker, Ruud and the Turin crowd thought he'd hit an unreturnable 128mph serve to set up game point. Djokovic successfully challenged the call, Ruud hit a backhand slice into the net mid-rally and suddenly, it was set point to the Serbian.
The Norwegian skewed a backhand long to finish a 19-shot rally and judging by their contrasting demeanours, the 23-year-old didn't need telling an uphill battle awaited him in the second set.
He fought valiantly and while the result felt increasingly inevitable, that sliver of doubt still lingered – perhaps moreso after Holger Rune's recent comeback – until the final moments.
Djokovic's nerves were undeniable and Ruud played his part in a 36-shot rally – the match's longest – as the 35-year-old intensified his efforts to reach the finish line. A serve down the T on championship point sealed it, ending an eventful season both relieved and with aplomb.
---
What about the rest of the pack?
As for the man who started the season adding two more Grand Slam titles to his name in Melbourne and his favoured surface in Paris, Rafael Nadal's 2022 ended unceremoniously.
A run of four consecutive defeats ended with a 7-5, 7-5 win over Ruud on Thursday but after enduring his worst run of form since 2009, questions remain about his injuries and diminished longevity in a brutal sport where time waits for no man and fine margins are often decisive.
Since withdrawing before the Wimbledon semis with an abdominal injury, the legendary Spaniard noticeably hasn't been the same. But many were saying this twelve months ago too.
"I don't think I forgot how to play tennis, how to be strong enough mentally. I just need to recover all these positive feelings, all this confidence and this strong mentality that I need to be at the level that I want to be. I don't know if I'm going to reach that level again but don't doubt I'm going to die for it.

What I have to do now is come back, work hard, stay positive every single day, accept the challenge, going to need to suffer a little bit more. If I will be ready to go through all of this process, we'll know in a couple of months whether I have the determination going through that."
Carlos Alcaraz will find, much like Medvedev experienced and others before him, that there's a big target on his back. Stefanos Tsitsipas has earned another top-five ranking – and a fourth in the world's top-six – but critics are more enthused about the quality of other, younger rivals.
That includes Felix Auger-Aliassime, who finished the season in fantastic form and earned a career-high world no. 6 ranking. Medvedev will get better while time is too on Andrey Rublev's side. Olympic champion Alexander Zverev missed half the year and, still, only dropped to #12.
An inspired Fritz will have learned valuable lessons this year. Hubert Hurkacz can beat anyone on his day. Matteo Berrettini didn't get to this year's Australian Open semis by accident. Holger Rune, Jannik Sinner and Lorenzo Musetti will have something to say. There's more besides.
So with all of that in mind, and countless storylines to keep an eye on, enjoy the break while it lasts. The 2023 season, for many, has already quietly begun with training blocks and warm-weather camps. After all, the Australian Open starts on January 16. Djokovic will be ready.
Picture source: Getty Images, quotes via Prime Video and The Times