Sunday's BOXXER Breakthrough event at Alexandra Palace will feature multiple talents this weekend. They include Mikael Lawal looking to seize the British cruiserweight title, unbeaten super-middleweight Lerrone Richards defending his 16-0 record against a determined Zak Chelli while super-lightweight prospect Adam Azim prepares for the toughest test yet against Rylan Charlton. So, who said what at last week's media day at the Camden Boxing Club?

Rylan Charlton's manager: This fight is way too soon for Azim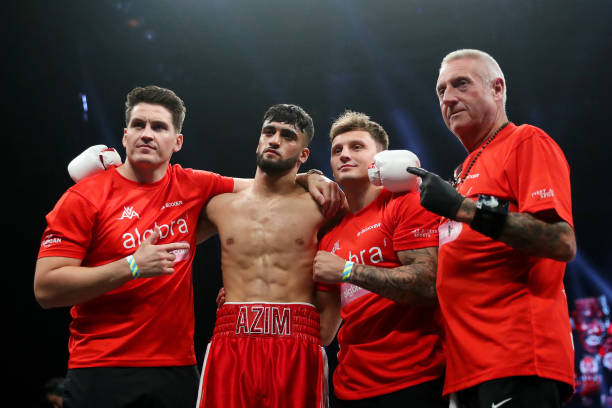 "This is man vs. boy. We have eight weeks and he's been training full-time beforehand, this fight is way too soon for Adam Azim.

Shane [McGuigan] is a great trainer, nice guy, Adam will clearly go far but he looks nervous, too much on his shoulders, don't think he's ready at 21-years-old. Charlton is so chilled, just had a kid, he's loving this – pressure on Adam.
Rylan Charlton (9-3-1, 4 KOs), nicknamed the Pint Size Powerhouse, entertains perhaps his biggest fight yet against Adam Azim this weekend. His manager, Dan Naylor, didn't exactly mince words as far as predictions for how he feels this bout will unfold on Sunday – a shock in store?
It may have something to do with the fact this matchup was initially mooted for the summer months but without warning, communication reportedly went dead from Azim's side.
"We turned down some big fights for good money, [thinking this would happen] maybe he had a bad spar or something.

Rylan's got bills to pay, a young child now, I don't know what happened last time but fans wanna see how good he [Adam] is.

Is he the real deal? If he's a multi-weight world champion, he should deal with Charlton but he won't: this is Rylan's lottery ticket.

First few rounds are gonna be tough but after that, he'll break him down. Adam hasn't been hit by anyone who can punch, Charlton will and has a chin too."
---
domestic titles: Gilley vs. Robinson, pauls eyeing denny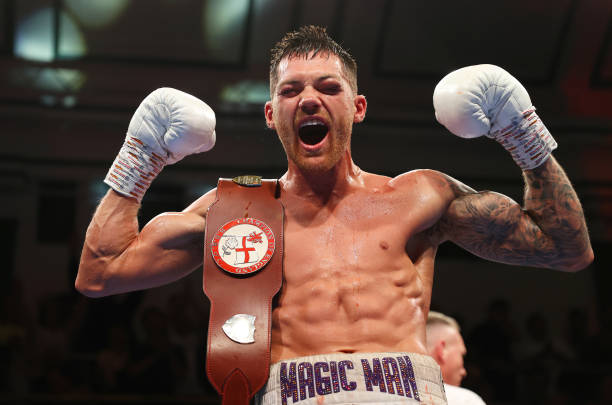 We'll have to wait and see what transpires. Elsewhere though, Sam Gilley (14-1, 7 KOs) fancies his chances in a real 50-50 battle against Sean Robinson for the English super-welterweight title.
The winner would be next in-line for the British strap, being contested next weekend on December 3 in Newcastle between defending champion Troy Williamson and Josh Kelly.
When asked about sparring, the 28-year-old spoke about doing rounds with the Azim brothers – heaping praise on Adam – as well as Olympic silver medallist Pat McCormack and Chris Kongo.
"The power the geeza's got in both hands, with Sky and BOXXER behind him… who knows?" — Sam Gilley, by contrast, discussing Azim's boundless potential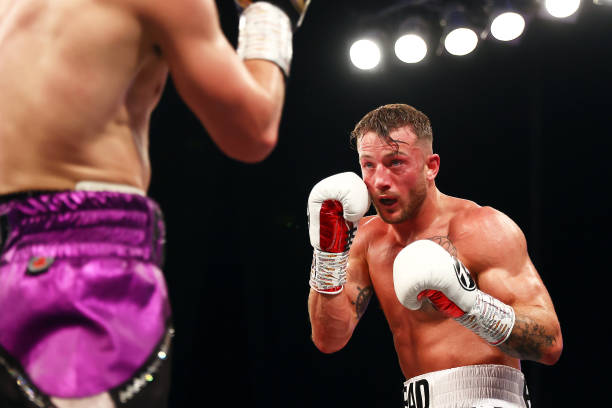 Speaking of domestic gold, Brad Pauls is the mandatory contender for Tyler Denny's English middleweight strap after outpointing Bradley Rea in Manchester on the Jonas-Dicaire card.
He spoke about how opportunities would open up with a win over the crafty 31-year-old southpaw from the West Midlands, who has already extinguished a series of unbeaten records.
"It will be a massive win for me when I beat him. Massive production Sky have, loads to gain with a win.

I think it's also the final eliminator for the British title, so much to gain – two fights and you can be English, then British champion. Busy but exciting times."
As far as assessing his level among the country's best, he said he's sparred Felix Cash (15-0, 10 KOs) and readily admits he's not at the level yet to beat the man who memorably stopped Bentley in four rounds last April. With more experience though, that could change in future.
---
risky for Lerrone? Chelli confident before Richards matchup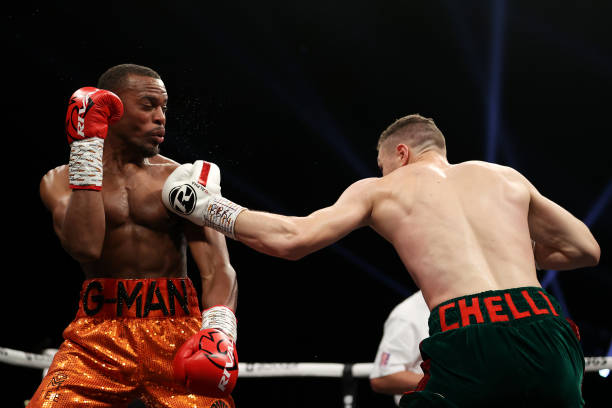 Zak Chelli has been training hard, under the guidance of dad Snr, and spoke about having sparred slick southpaws like John Ryder and Liam Williams in this latest camp – both world level operators – to help better prepare for a tough matchup against an unbeaten Lerrone Richards.
"Fighting me is all risk and no reward for him," he insisted, hinting there was a delay on Richards' side despite him quickly agreeing to the date without fight purse or opponent being disclosed.
He's been more inflammatory as fight week advances, but the objective remains the same. Toppling Richards, seizing his shine and, still only 24, looking forward to more big fights.
Lawal levelling up with young guns in sparring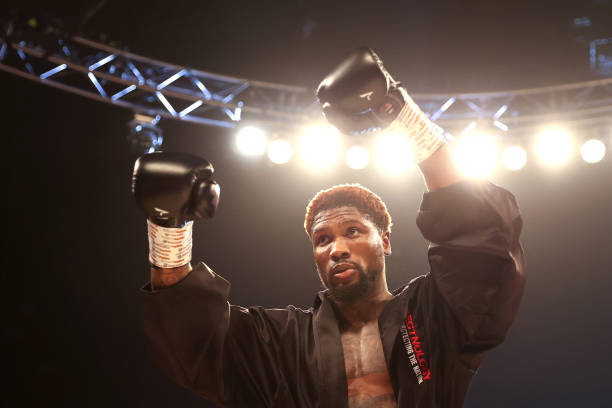 Deion Jumah it was supposed to be, David Jamieson (9-1-1, 6 KOs) it will be instead. The Scotsman, who fought just 11 days ago, lost a unanimous decision to Lawal in July 2019.
"Jamieson is a tough opponent, orthodox and comes forward, more aggressive, gotta check my gameplan but I'm ready.

Real serious fighter, commend him for that [being ready], never know when the phone call can be made. Don't think he's changed much since we fought, high guard and a proper fighting man, it's gonna be a tough night."
He can't wait for fight night, and understandably so. Considering he only had seven amateur fights, this could prove the next step on his route to testing himself at world level before long.
He also confirmed that the country's top names in a stacked cruiserweight division are all on his radar – from Lawrence Okolie, Richard Riakporhe, Chris Billam-Smith and Jack Massey.
"100%, I've sparred all of them, know what I can do, not gonna say it out here but can't wait to fight them. End of the day, gotta focus on my fight, win, then start looking forward."
Jumah sustained a career-ending injury in sparring – a detached retina in his eye for the second time – but all of Lawal's southpaw-specific training for this latest camp didn't go unrewarded.
He will have naturally had to adapt the gameplan, but sparred rounds with the likes of Harvey Dykes, highly-rated light-heavyweight prospect Karol Itauma and Isaac Okoh – who spent five months in camp alongside Anthony Joshua for the Oleksandr Usyk rematch earlier this year.
Okolie won the WBO world title two years after defending the British title, while Riakporhe and Billam-Smith are both edging closer to world title opportunities themselves. Lawal's not far off.
---
Udofia surprised by bentley's title fight showing vs. Janibek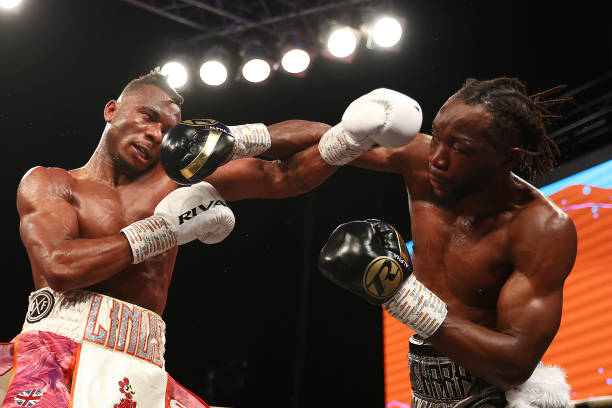 Former English middleweight champion Linus Udofia (17-1, 9 KOs) is currently a free agent and waiting for a fight, but attended in support of the aforementioned Gilley – his training partner.
He insisted his Wasserman contract ended amicably, though the two sides couldn't agree on certain terms to extend the deal. The 29-year-old wants to be active and back out in the ring sharpish, but prefaced that stance by stressing he has patience to wait for high-level fights.
That belief has been strengthened by Denzel Bentley's admirable effort against WBO world champion Janibek Alimkhanuly on November 12 – Udofia acquitted himself well but lost a split decision and his unbeaten record to Bentley six months earlier in his most recent outing.
"I knew Denzel carries a lot of power, he's incredibly awkward, honestly didn't think he'd do as well as he did.

I said if he made it past four rounds, he's done well. I like Bentley, want him to do well, selfishly it's aged well, pushing him so close and a really good fight."
Udofia has sparred with the likes of Felix Cash, Conor Benn and Bentley himself in recent months – calling it predictably tough rounds but serving as good work and great experience nonetheless.
As far as future fights are concerned, he said the British title Bentley currently holds remains on his radar but also doesn't want to jump hurdles in an overeagerness to fight tougher opponents.
In previous interviews, he revealed a fight against Hamzah Sheeraz on this Saturday's Ryder-Parker undercard was offered by Frank Warren's Queensberry promotion – albeit with relative short notice – and said both the money and limited time were factors in him declining that offer.
A possible matchup against Nathan Heaney (16-0, 6 KOs) is also a possibility which interests him in the new year, but again he pointed to terms needing to make sense before advancing further.
---
Super-flyweight talent shannon Ryan keen to stay active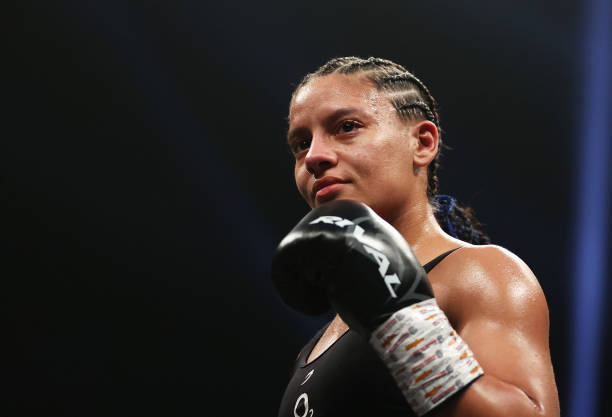 With three fights and 12 rounds under her belt, super-flyweight prospect Shannon Ryan prepares for a step-up this weekend in her first six-rounder. The 25-year-old spoke of her happiness to remain active, having ticked off four fights in eight months, and wants that to continue in 2023.
Aware competition will stiffen as she continues settling into the professional scene, a readiness to test herself across three weight divisions is handy as she confirmed cutting weight poses no issue for her. Opportunities are available at super-flyweight, flyweight and minimumweight.
Having already sparred super-bantamweight contender Nina Hughes – facing Jamie Mitchell for the WBA world title this weekend – she discussed the competition pool across women's boxing not being as deep compared with the men's game. That naturally has benefits and drawbacks.
As such, world title contention for her personally feels a possibility in the not-too-distant future – provided she continues steadily improving. First though, time to finish her first pro year in style.
Sunday's fight card, is as follows
British cruiserweight title fight: Mikael Lawal vs. David Jamieson
Super-middleweight: Lerrone Richards vs. Zak Chelli
English super-welterweight title fight: Sam Gilley vs. Sean Robinson
Super-bantamweight: Rhys Edwards vs. Alexis Boureima Kabore
Super-lightweight: Adam Azim vs. Rylan Charlton
Hassan Azim, Shannon Ryan, Michael Hennessey Jr, Shakiel Thompson, Jeamie Tshikeva, George Mitchell and Jimmy Lee all scheduled to feature against opponents TBC
Pictures via Getty — opening picture is originally captured
Quotes transcribed from interviews conducted with Rah (Rah_Hokum)