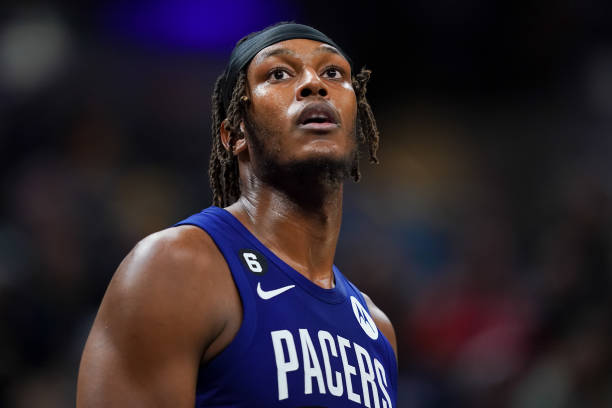 Per Marc Stein, Indiana Pacers' center Myles Turner is leaving BDA Sports after a two-year stint with the agency and mooted to join CAA Sports for representation. Players changing agents isn't always noteworthy news, but in this case for the 26-year-old on an expiring deal who always finds himself in trade speculation, this change suggests bigger dominos will soon fall.
Extension or trade? Turner's agency move raises questions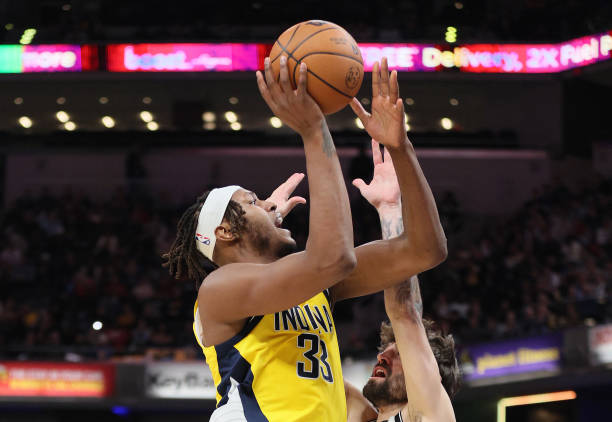 So much for the Victor Wembanyama tank race. As part of a Pacers team overachieving in the East with Tyrese Haliburton getting All-Star consideration, Turner is averaging career-highs in points (18.9), rebounds (8.4), FG% (57.3) and 3P% (46.7) through 13 regular season games.
Indiana sit fourth in the East with an 11-7 record, 3.5 games behind the conference-leading Boston Celtics (15-4). Atlanta, Philadelphia, Toronto and Brooklyn are among the strong playoff contenders below them in the standings – a surprise that can continue for Rick Carlisle's men.
However, Turner has historically been linked in trade rumours to multiple ball clubs for a few seasons now and hasn't shied away from making his opinions known in the wider NBA sphere – rather surprisingly during a podcast episode with ESPN's Adrian Wojnarowski last month.
Turner is into his final year of a four-year, $80m rookie extension and will be an unrestricted free agent next summer. As such, it's not a surprise to see him posting big individual numbers as part of a Pacers team who, like the Utah Jazz out West, have overachieved thus far.
There's plenty of season left though. He could sign the biggest contract of his seven-year pro career during the 2023 free agent period, or earlier, should he agree an extension.
For what it's worth, BDA Sports also represents Suns big man Deandre Ayton, who signed a four-year, max-salary offer sheet to join Indiana this past offseason.
Phoenix matched it and kept the man they drafted first overall in 2018, but speculation over his long-term future persists after being unhappy with how they've treated him in recent seasons.
A few other Pacers players – including the aforementioned Haliburton – are already represented by CAA, so this latest news doesn't confirm he will depart for pastures new even without a trade, but it'd be interesting to see how much they value him should extension negotiations begin.
Indiana can offer Turner a first-year salary of up to $21.6m on a veteran extension deal or could increase that number if renegotiating his existing-year salary. Both in need of size and depth in that position, the LA Lakers and Clippers are among the teams monitoring his existing situation.
Picture source: Getty Images