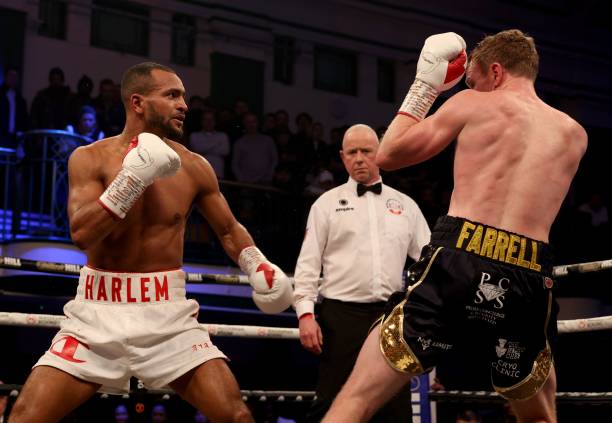 A day after the announcement that his older cousin Chris had booked a compelling domestic duel to kick off 2023, super-lightweight prospect Harlem Eubank fought through a few nervy moments – one in R4 and another in the ninth – before producing his career-best win in his first main event booking at London's York Hall against a competitive and dangerous Tom Farrell.
Harlem largely dominates in hs first headliner
99-92, 99-91, 99-91: Harlem Eubank bt. Tom Farrell via UD, stays unbeaten after battle
George Groves calls Farrell brave for absorbing so much punishment, despite being "always there or thereabouts," during a good watch in York Hall main event
Steve Bunce unsettled by 33-year-old Scouser's body language during a particularly brutal eighth round, but Eubank didn't apply enough pressure to force a stoppage
"Just what I need to keep refining, good test vs. a switch-hitter. I'm continously learning, this is where I wanna be, progressing every time," as Harlem happy with an active year
On a night where former WBO middleweight title challenger Liam Williams ended a two-fight losing skid with an emphatic second-round KO against Nizar Trimech, Harlem Eubank banked another 10 rounds' experience and didn't panic in moments of adversity either.
His reward? A character-building decision victory against a determined Tom Farrell effort, who could've easily succumbed to the 28-year-old's pressure but instead pushed him to the final bell.
Eubank was in control from the early going, but all that good work threatened to change in the fourth. Farrell caught him clean with a long right-hand and quickly followed up another, as Eubank's legs temporarily turned to jelly and he stumbled towards the ropes.
Backed up and with nowhere to manoevure, the favourite absorbed a furious flurry — lefts and rights – before tying up and recovering from a hectic moment before unleashing shots of his own.
Farrell's nose was bloodied in the fifth as Eubank's head cleared, while referee Mark Bates gave Harlem a stern warning for rabbit punching in the sixth.
Eubank's jab was piercing, his body shots troublesome and Farrell struggled to find many answers. His only port of call was to exchange up close and hope for another R4 sequence again.
Farrell was hurt by an accidental head clash in the eighth, after which Eubank punched him clean. The body language looked uncomfortable, almost as if he was retreating into his shell, but Eubank rushed his work in the wrong moments and was winging hooks with bad intentions.
Farrell staggered him with another right in the ninth, while getting the crowd on their feet to finish the tenth admirably, though there was only one winner.
Eubank's quality shone through, though the scorecards don't highlight Farrell's competitive nature against an operator more savvy and accurate throughout.
---
What's next in the new year?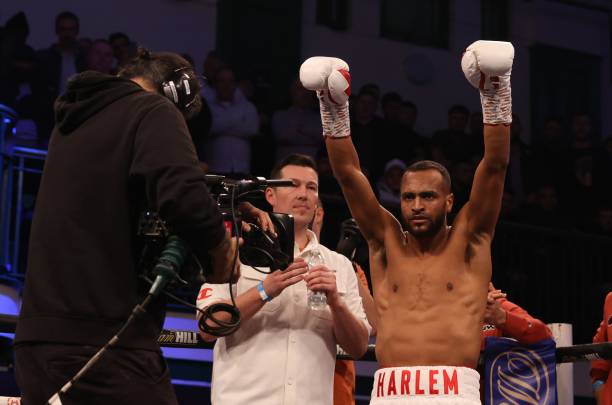 BoxRec has Eubank ranked #7 in the UK at 140lbs. The top two, world champion Josh Taylor and Jack Catterall will finally have a long-awaited rematch on Feb. 4, while only one unbeaten boxer – 25-year-old Dalton Smith (13-0, #5) – is more highly-rated than the Brighton man.
While premature right now, Ohara Davies (24-2, #3), Robbie Davies Jr (23-3, #4) and Lewis Ritson (23-2, #6) are just a trio of domestic opponents who could make for good acid tests in future.
"I wasn't buzzed, this is boxing. You gotta swim and you're gonna get hit, come back and hit harder… continue to dominate. Feels great to headline and you get excess pressure [when fighting with the Eubank name], Tom was at 120% and it's about me dealing with challenges, coming out on top."

Harlem knows the challenges will only intensify going forward
That said, Eubank's lack of amateur experience and refreshing desire for continued activity means it'd make sense for him to target titles before moving up the levels too hastily.
"He just keeps getting better. Every time he improves, an exceptional fighter getting better and better. Farrell came to win tonight, a little shaky in the fourth but he pushed through." 

Kalle Sauerland on Harlem during his post-fight ringside interview
The title has changed hands thrice post-lockdown, with former titlists Akeem Ennis Brown and Sam Maxwell both suffering their first professional defeat since becoming British champion.
After an unconvincing start, Smith was teetering dangerously close to losing his unblemished record too earlier this month against Kaisee Benjamin, but a purposeful finish as Benjamin fatigued proved decisive during the latter rounds of their competitive Manchester matchup.
Eubank will have tougher nights and face more resistance than Farrell – not known for his punch power – so once the shine of this latest milestone wears off, it's important that his team headed by trainer Adam Booth ensure this evening also doubles as an important learning opportunity.
When he watches it back for instance, as the Channel 5 ringside interview insisted, he'll privately concede being hit too much for comfort in spots. Couple that with being messier than he would've liked at times where Farrell was surviving and there to be hit, there's room for growth.
But alas, one step at a time.
Picture source: Getty Images, quotes via Channel 5 broadcast