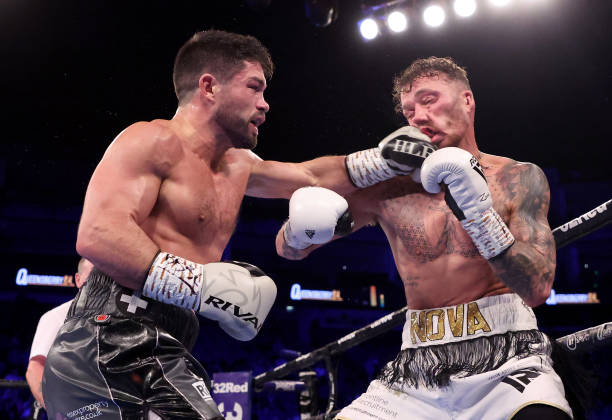 John Ryder probed, picked his punches perfectly and is the WBO interim super-middleweight world champion – mandatory challenger for one of Canelo Alvarez's undisputed titles – after Zach Parker retired before the start of R5 with a broken right-hand in their headliner. Prior, there were impressive KO wins for Hamzah Sheeraz and Dennis McCann among others.
Hand injury sees Parker retire, ryder is WBO interim champion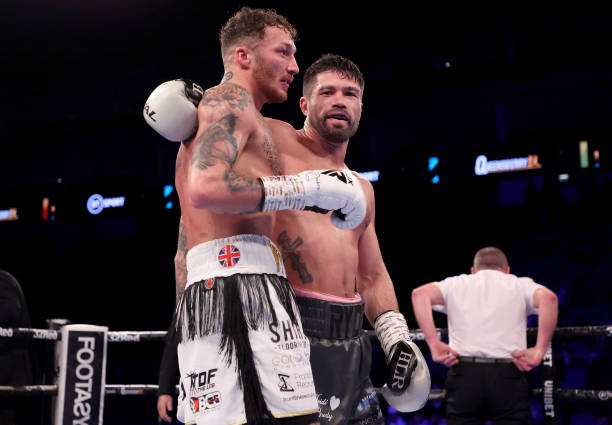 "I'm obviously gutted. It was an uppercut at the start of the [fourth] round, you could see how bad it's hurt now. I'm gutted but hope he goes on to good things, I'll obviously come back stronger," Parker on his suspected broken hand, drops to 22-1 as a pro
"I thought the tide was starting to turn and I was getting more on top. These things happen in boxing, a bad injury for him but feels like robbery of a victory for me. Just one of those things," Ryder reflects after anticlimactic ending, secures fourth straight win
WBO rules state Canelo has until May 18, 2023 to honour his mandatory title defence and Ryder, promoted by Matchroom's Eddie Hearn, calls potential matchup as a dream
As promised, Zach Parker tried to impose himself physically by leading with the jab as John Ryder did his best to counterstrike during a competitive opening round.
Parker landed a looping right hand up close which upset Ryder as he gesticulated towards referee Howard Foster, before responding well and actively pushing the pace from centre ring.
Ryder connected on the better combos and a counter left-hand sent Parker cycling away on the move, as it was probably a round apiece through six minutes.
Not for long. Ryder again led the way as R3 began, Parker feinting and bobbing but unable to stay elusive enough at distance to avoid being hit. More counters scored for the 34-year-old, whose pressure and punch selection was working well.
The fourth was messy in parts, Ryder flicking out the jab alongside sharp combos pinning Parker up against the ropes – while the 28-year-old relied on landing straight single shots, leaving his head open to more counterpunching.
Ryder appeared to knock Parker's mouthguard out and after a brief pause, proceeded to land a big shot before the bell. Following such a frantic sequence to end the round, the O2 crowd were baying for more and that's why, as they came out for the fifth, this fight ended with a whimper.
Parker retired with an injured right-hand, which they suspect is broken, and Ryder couldn't mask his initial confusion before turning to compassion for his compromised opponent. After all, both admitted prior that this main event matchup wasn't one either expected would be made.
Parker held Demetrius Andrade in his sights – perhaps too long – while Ryder was anticipating a Stateside to face Jaime Munguia (41-0, 33 KOs) this time last month. Instead, the latter continues campaigning at 160lbs against lesser opposition and he has a big prize in store.
Among the assembled media alone, there is palpable excitement around Canelo making his UK debut in 2023 – some discussing whether it'd sell out a stadium regardless of the opponent.
Ryder, who came on strong late and edged a split decision win over Daniel Jacobs in February, maintained his urgency here and it paid dividends. There was no need for a surge this time.
After recovering from hand surgery Canelo wants a stay-busy fight in May before the potential Dmitry Bivol rematch and Ryder, as a mandatory challenger, serves as a worthy adversary.
---
Sheeraz sharp and overwhelms wilson-bent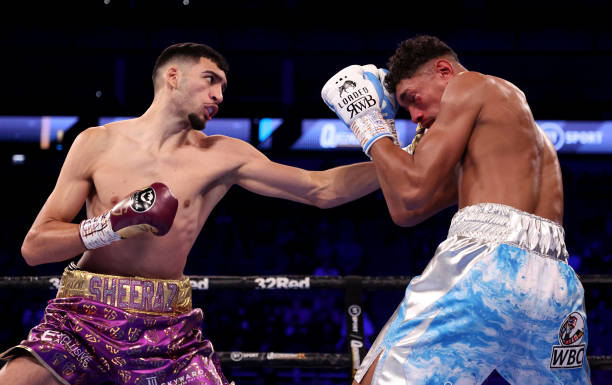 In the co-main event, WBC Silver middleweight champion Hamzah Sheeraz defended his title for the first time and wasted no time at all as the 23-year-old talent overwhelmed River Wilson-Bent.
Sheeraz stalked his prey in the first round, leaving Wilson-Bent bloodied and bruised as the challenger quickly looked like an overmatched opponent.
Then in the second, Sheeraz stepped on the accelerator and referee Victor Loughlin mercifully waved the contest off, having witnessed River absorb damage aplenty in double quick time.
His eye was quickly closing, and there was no reason for the punishment to continue any longer.
Afterwards, Wilson-Bent revealed he had sparred Liam Smith, Liam Williams and Shakkan Pitters among others in preparation for this bout. "No-one has hit me the way he did," he insisted.
He expected Sheeraz would slow down – or the 28-year-old would get more accustomed to the power in round two and start letting his hands go. It was the opposite and over quite quickly.
Given the collective confidence among onlookers that he'll be a world champion before long, it'll be interesting to see how his team match Sheeraz next, given he's improving all the time and time has flown by since that memorable matchup against Bradley Skeete last December.
Ranked #5 at 160lbs domestically, he said he'd need a few more fights before warranting a Chris Eubank Jr matchup and former world title challenger Williams – who returned yesterday – would prove a compelling challenge. Denzel Bentley, in attendance tonight, is also an option.
As perhaps the country's most exciting young talent without a world title belt, we'll wait and see.
---
McCann's methodical magic stops Ham for Commonwealth title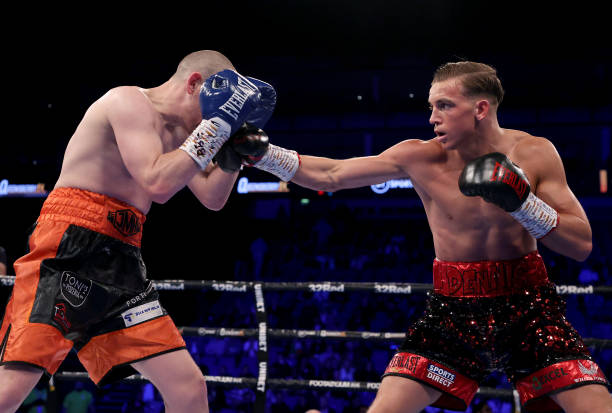 R8, R2:28 – McCann bt. Ham, wins super-bantamweight Commonwealth title via TKO
After surprising many by becoming the first to stop James Beech Jnr with an R8 TKO in mid-July, Dennis McCann (13-0, 7 KOs) faced his first twelve-rounder against Scotland's Joe Ham (17-3) in their encounter for Commonwealth gold at super-bantamweight.
It was, predictably, a cagey start. Most around me were expecting a late finish for Dennis McCann and as he assured me at the press conference last month, the 21-year-old was prepared to take his time and find openings to silence Scotland's Joe Ham in their super-bantamweight clash.
Picking his shots carefully, jabbing to the body and landing uppercuts, slowly working way to breach Ham's high guard, he banked the first three rounds without much trouble.
The right side of Ham's face was increasingly red, such was Dennis' sharp and stinging punches landing clean. Beautiful combos pressed Ham up against the ropes to start R4, despite offering some resistance with looping lefts and rights keeping the favourite defensively honest.
R5 was more of the same, a furious early flurry by McCann and Ham firing back. The sixth saw McCann continue to grow in confidence as he showcased his ringcraft, before probing Ham's high guard with combos, uppercuts and generally headhunting in the seventh.
He got his reward for more furious flurries in R8, resulting in referee Marcus McDonnell waving the contest off, concerned as Ham didn't fire back often enough for his liking in the corner.
As for what's potentially next? Well, he called his shot a week in advance:
---
Noakes' nous and fearsome power proves too much for McCord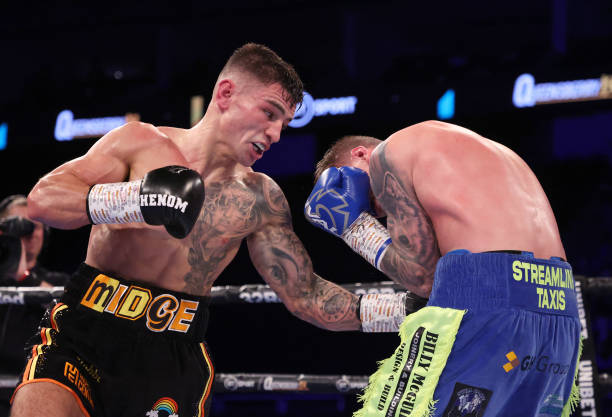 In a battle of two unbeaten lightweights, Sam Noakes (9-0, 9 KOs) put his KO streak on the line against Scotland's Calvin McCord (12-0, 2 KOs) for the WBC International Silver lightweight belt.
Within the first few seconds, you could sense he'd eventually find a way to get it.
He generated power effortlessly and stirred the fervent crowd support even further in his favour during a first round that didn't lack action.
McCord, relishing his spoiler role on enemy territory, wasn't just content absorbing an onslaught against the ropes and fired back, though it was clear who the aggressor was.
There was a lot of clinching and holding in R2, but Noakes' power was again clear during a sneaky sequence ten seconds before the bell.
The problem with fighting the way he was, in McCord's case, is that he wouldn't be winning any rounds on the judges' scorecards unless he accepted some risk and pushed the pace himself.
Noakes wouldn't let him. There was a split second where it looked as though the referee would stop, or at least temporarily halt the action as McCord looked dazed and dwindling near the ropes, but the Scotsman dug in to survive an ominous-looking third round.
Noakes scored four knockdowns with a variety of shots – from body attacks, combos and more – in a fiery fourth, before finally referee Victor Loughlan ended the contest.
---
O'Leary scores two knockdowns, seals WBC International title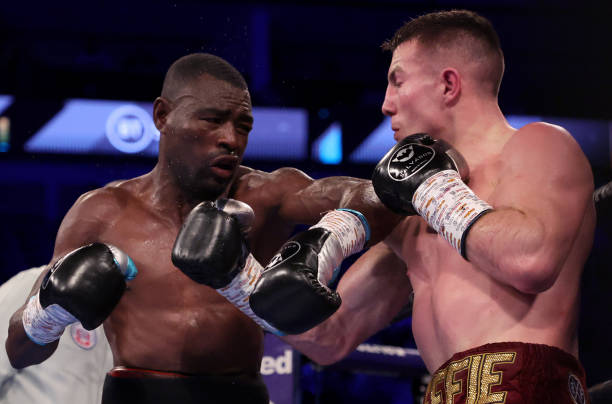 99-90, 99-89, 96-92: Pierce O'Leary bt. Emmanuel Mungandjela via unanimous decision
22-year-old Irish super-lightweight talent Pierce O'Leary was tested throughout but his fast hands and powerful combos allowed him to be largely comfortable in his first ten-rounder against Namibia's experienced Emmanuel Mungandjela for the vacant WBC International title.
It was a tentative start for the home favourite as O'Leary appeared to have briefly felt the power coming back his way before securing a flash knockdown.
Mungandjela fired back up against the ropes as both were swinging wildly, Emmanuel landing a pair of left hands to push the 22-year-old back – but a clear round for the Irish youngster.
O'Leary's counters were good, despite a tendency to overextend on his punches as Mungandjela jabbed his way into range while landing some good hooks. Standing there too long for comfort, the Namibian was punished up against the ropes as O'Leary could sense he had the upper hand.
While he did, he was winging punches but expended energy with routine misses. O'Leary wobbled him frequently without the finishing sequence he – and his boisterous fans – craved. Although now on the front foot more, Mungandjela's reactions when hit clean were unsettling.
Whenever he'd throw a good one-two combo, he would render that work insufficient by leaving himself defensively open and O'Leary continued finishing the rounds stronger of the two.
Saved by the bell after a second knockdown to finish the fifth, they exchanged haymakers in the pocket to start R6 as it became increasingly clear O'Leary would struggle to secure a stoppage.
He had the veteran pinned up against the ropes but couldn't capitalise, before being caught clean for a lethargic sequence in the clinch during a busy seventh round.
Mungandjela pushed the pace and landed a series of well-timed body shots in the eighth, one of few clear rounds for the 34-year-old. With sharper defensive skills, this would've been closer.
It wasn't and O'Leary again searched for the KO in R9, but Mungandjela gamely fired back with good counters to snap the Irishman's head back.
After enduring a shaky moment up against the ropes in R10, O'Leary was largely untroubled and finished well in the final seconds during a valuable outing, one where he sealed his first title too.
Buoyed on by a strong Irish contingent and judging by the way his trainer embraced friends and family behind the media seats afterwards, they all knew how important this win was.
---
Fletcher maintains his KO streak, finishing Krejcki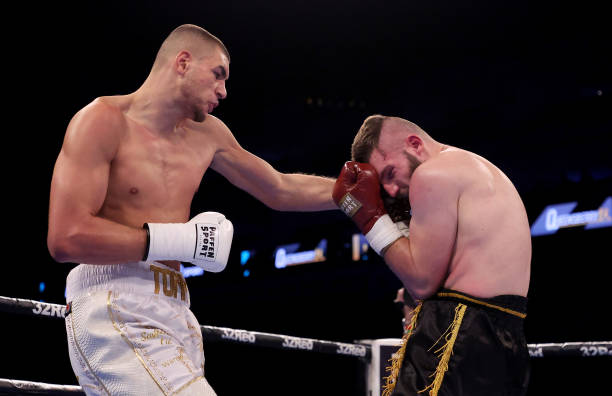 Cruiserweight prospect Tommy Fletcher improved to 3-0 and maintained his 100% KO record with a thunderous uppercut finish to blast Jiri Krejcki in R1 of their four-round contest.
Flicking out the jab early with fans in full voice, he landed body shots and straights against Krejcki but was made to move and kept honest by the 29-year-old's initial forward pressure.
Another good body shot set up a blistering KO shot – a brutal left uppercut – as Krejcki quickly needed medical attention after being caught clean with a shot he didn't see:
He was okay after receiving attention, the Czech's first stoppage defeat on his UK debut.
Beforehand in the opener, Sonny Liston Ali improved to 5-0 with a 60-54 win over Georgi Velichkov – his fifth fight in a year since turning pro on Nov. 19 last year – all coming by decision.
Picture source: Getty Images