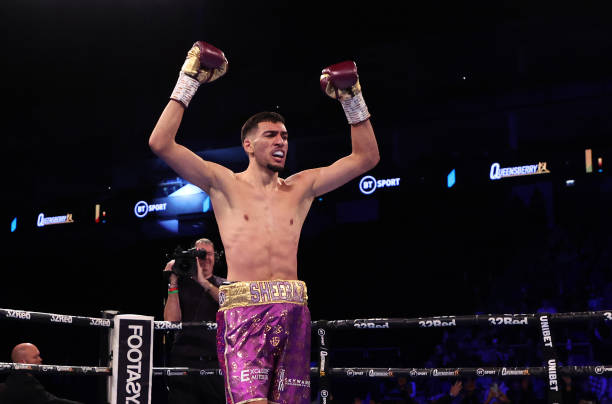 After Hamzah Sheeraz made the first defence of his WBC Silver middleweight title with an overwhelming R2 KO win over River Wilson-Bent on Saturday, calls for a domestic clash against recent world title challenger Denzel Bentley have intensified. While both have publicly revealed they're open to the idea, Sheeraz is predictably more forthcoming than the British titlist.

Bentley battling to build a big 2023
Denzel Bentley feels disrespected. Understandably so.
He dared to be great, on short-notice no less, and left Las Vegas with newfound credit aplenty as well as invaluable experience after a spirited showing against the division's boogeyman in WBO world champion Janibek Alimkhanuly – who everyone expected would blast past him.
---
ALSO READ:
Azim's avalanche rains down on helpless Charlton, as Lawal and Gilley both win big
Ryder boxes clever before Parker retires with injury, is now WBO interim 168lb champion
---
Now? The British champion at 160lbs, who defended his strap with a R4 TKO win over Marcus Morrison in September, wants big fights and to earn another title shot.
Chris Eubank Jr vs. Liam Smith on Jan. 21, he wants the winner. Liam Williams perhaps, after the Welshman's much-needed win on Friday night at York Hall. Instead though, there's a clamour for him to fight backwards – or at least laterally – before the 27-year-old's desire can be satisfied.
After Felix Cash inflicted his first career defeat with a third-round TKO back in April 2021, 2 Sharp had to rebuild: having three fights against contrasting domestic rivals before stepping up again.
If you wanted to be critical, you could poke holes in all of his three opponents. Sam Evans came with a 10-1-1 record, but before the Bentley bout, hadn't fought for three-and-a-half years.
Linus Udofia was 17-0 heading into their contest, but his best win was a majority decision nod against current champion Tyler Denny for the English title in November 2019. Even with the COVID pandemic in mind, the 29-year-old hasn't been particularly active since then, either.
Last but not least, Morrison. The aforementioned Eubank Jr coasted past him last May, before Zach Parker became the first man to stop the Mancunian with a R4 TKO six months later. One stay-busy fight – over four rounds – a month before this headliner wasn't exactly encouraging.
All that aside, Hamzah Sheeraz (17-0, 13 KOs) could prove a compelling adversary for Bentley sometime in 2023. There wouldn't be any resume criticism there, but is it worth the risk? He spoke about that, as well as reflecting on a memorable Stateside experience:
"Hamzah's doing what's asked of him, I want world championships… if we meet so be it, I'm game and ready, but to say I was watching him – that's me looking backwards – I've fought for a world title, okay I didn't win but that's the level I'm looking at, and he's not there yet.

It was a good performance the whole country saw. It was good [experience to] going out there, camp in the Mayweather gym was second to none. Everyday went smoothly, felt like it was my time, unfortunately it wasn't, we go again. I want another world title fights, big fights, being a household name."
---
Sheeraz welcomes in-house fight vs. bentley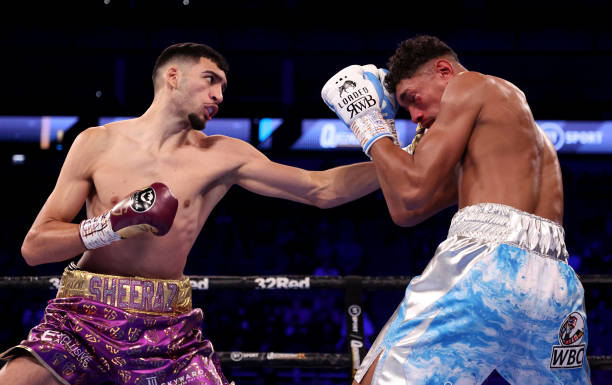 Speaking after his weekend knockout victory, the 23-year-old – who said six or seven opponents rejected offers to fight him – discussed his furious finish and spoke on the possibility of an in-house fight against Bentley, as both are under the Queensberry promotional banner.
"As soon as I hit him [River Wilson-Bent] with the first shot, saw his eye puff up and demeanour change, thought if I don't capitalise now and stick my punches, he'll come back into the fight, so got him outta there. I want all the big fights, we fear no man respectfully, whatever Frank [Warren] says, I'm not one of those who picks [their opponents].

Denzel just fought for a world title and shocked a few with his performance, his resume shot through the roof now, I'd love [that matchup] and sure he would too, let's see what 2023 brings. I'm in no rush, still young with time on my side, want to get myself in a mandatory position, where the necessary experience to be an elite fighter would have been earned."
Sheeraz, who recovered from the first knockdown of his career en route to a fifth-round TKO win over Francisco Emanuel Torres last time out, is improving all the time under trainer Ricky Funez and will believe that is a winnable one. Whether he'll get the chance though, remains to be seen.
Picture source: Getty Images
Quotes transcribed from interviews conducted with @IntBoxingNews and @Weighin_IN