Tyson Fury made the third defence of his WBC heavyweight title with a predictably one-sided tenth-round stoppage win against domestic rival Derek Chisora during their trilogy bout – eight years on from their second bout. Beforehand, there was a courageous comeback win for Daniel Dubois while Karol Itauma and Denys Berinchyk were among the victors on the undercard.
fury cruises to one-sided beatdown against chisora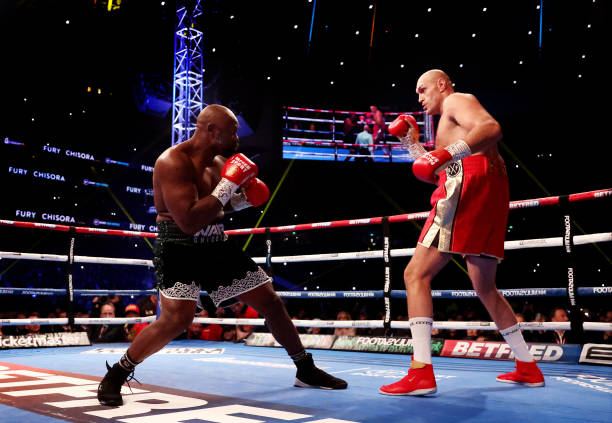 R10, 2:51 – Tyson Fury (c) bt. Derek Chisora via TKO, retains WBC heavyweight title
During ESPN, talkSPORT interviews, Tyson Fury says he needs right elbow surgery — expected to take six-to-eight weeks to fully heal – as it bothered him in training camp
Actively calls for unification bout against Oleksandr Usyk in first quarter of 2023 with Saudi Arabia repeatedly linked, before domestic duel with Joe Joyce later at Wembley
Despite calls among many critics for him to do so, Chisora refuses to retire and vows to return stronger in 2023 — doesn't want to bow out of the sport on a defeat like that
He could've finished it in the second round. Or the third, fourth, fifth. After six, you wondered whether the Derek Chisora corner would mercifully stop what was an unnecessary onslaught.
On it went until the dying embers in R10, before referee Victor Loughlin took a closer look at Chisora's crippling body parts – swollen face, damaged eyes and more – ending the beatdown.
---
Other boxing coverage to also read:
Eubank Jr vs. Smith: Given their world title ambitions, neither can afford to lose on Jan. 21
Denzel Bentley vs. Hamzah Sheeraz: Both boxers open to possible future showdown
Adam Azim's avalanche rains down on helpless Charlton, as Lawal and Gilley both win big
---
Truthfully no-one expected any different outcome. Especially when you consider Fury had twice beaten Chisora (2011, 2014) and Del Boy's final world title opportunity came unnanounced and wasn't exactly the product of beating top-level opponents – he'd lost four of his last five fights.
However, he gave Oleksandr Usyk his defiant best in October 2020 and pushed Fury's close friend Joseph Parker to new levels during their two-fight series last year, so there was no doubting he would bring his all against a familiar face. It was simply no match for Fury though.
Chisora unloaded to the body early, briefly pinning Fury up against the corner in the first. Fury's body was cherry red, though he leaned on Chisora and made him feel a 268lb, 6ft9in frame.
Fury popped a one-two combo and started letting his hands go to finish R1. Chisora landed a looping right, one of few successful moments for him during the second round.
Too slow when coming in and getting countered as a consequence, Chisora was wasting energy and missing a lot with wild swings. The champion landed two beautiful rights as Chisora did well to stay on his feet, though Fury clearly eased off after unloading another onslaught in the corner.
R3 saw more of the same, with the challenger fortunate the ref ruled a knockdown as a slip – Chisora was clearly being toyed with, and his corner let him know as much in-between rounds.
In the fourth, he was chasing the champion and planting his feet hoping to connect with some big bombs. Fury saw his attacks coming, controlling the distance with his jab and happy to use Chisora's charge as a means to sharpen his defensive skills.
Early in the fifth, Chisora was rocked up against the corner after eating another short right hook and the punishment persisted during the sixth. Chisora started R7 aggressively, landing head-and-body shots and engaging in clinch shots too.
Fury responded by teeing off once more, threatening a finish up against the corner in the final few seconds. Coasting through the evening, switching stances and continuing to break Chisora down, when would the champion intensify his attack to finish as expected?
They both landed big shots to start the eighth, much to the crowd's delight as they sensed a stoppage coming. Fury again flirted with one deep in the round, pinning him up against the corner with furious combos, but to no avail.
Commentators voiced their desire for the Chisora corner to end the bout – uncompetitive and the damage rose – but Derek is notorious for refusing to relent, even against better judgment.
That stubborn nature was typified by his weary look to start R10.
Fury was ready to resuime and Chisora, lathered with vaseline and his right eye closing, had just spat out blood and shook his head during another interval that didn't last long enough for him.
Eventually the beating was over. Better late than never.
---
Dubois defies knee injury, three R1 knockdowns to stop Lerena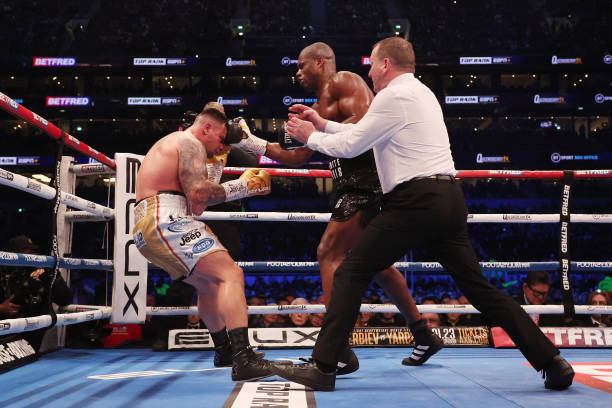 The first defence of his WBA (Regular) world heavyweight title proved an emotional rollercoaster for Daniel Dubois. Kevin Lerena was 28-1 heading into the contest, making his UK debut, and could quietly fancy his chances against someone who, like him, has experienced defeat.
He wouldn't have expected R1 to unfold the way it did, scoring a trio of startling knockdowns as Dubois was clearly compromised – his knee buckling after being caught clean the first time.
Dubois held his right knee, which continued to buckle under duress, as he survived the round and was reassured by Shane McGuigan and co in the corner.
Still uncomfortable as he moved, largely backwards, you couldn't help wonder how long this would last with the 25-year-old in such a state. In fairness, he had a better second round – a good punch combo landing flush – but Larena could bide his time and pick him apart, surely?
Maybe it'll stabilise and the adrenaline would be enough. As the third began, Dubois popped out the jab before dropping the south African with a straight right through his high guard. Just like that, DDD could see the finish in sight and wasted no time unloading furious combos of his own.
He had to manage risk with reward, getting too overexcited would leave him susceptible to counters, but the onslaught continued as the bell rang – referee Howard Foster waving it off, much to the anger of some fans, though Larena ate an uppercut too many without response.
Everyone said he did the easy thing by retiring through an eye injury against Joyce, but Dubois displayed heart aplenty to recover from a crisis moment – one that came without warning.
"It felt like it [his knee] went, strange, I've never felt that before.

We need to see. [Did it improve?] No, I was cycling on my bike, hit-and-move, when the opportunity came [to finish], I had to take it. Shane was giving me good advice: take your time, recover, stay shape."
Speaking of his trainer Shane McGuigan, he insisted they'll go for an x-ray on his knee as soon as possible.
"We'll go right now, he's done one of the ligaments in his knee, had no strength in his leg. Was standing on one leg, plenty of courage and bottle, got caught with a great shot early on, very proud of the kid the way he finished that!"
---
Undercard results – stoppage wins for barney smith and Itauma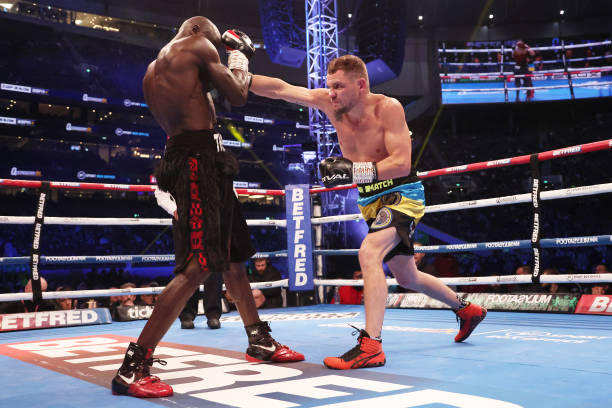 In a battle for European lightweight gold, Denys Berinchyk got off to a purposeful start with pace and punch output en route to outpointing reigning champion Yvan Mendy, who showed some resistance but didn't land often enough after starting their competitive contest second best.
Mendy was dropped rather theatrically deep in R10, and although it was quickly ruled a slip by referee John Latham – Berinchyk wrestling him to the canvas – the visual was far from a settling one for the 37-year-old Frenchman, as well as the judges watching. He just didn't do enough.
Although both had their hands raised at the conclusion of a back-and-forth twelve rounds, Berincyk was the clear victor: 117-112, 116-112 x 2 on the judges' scorecards.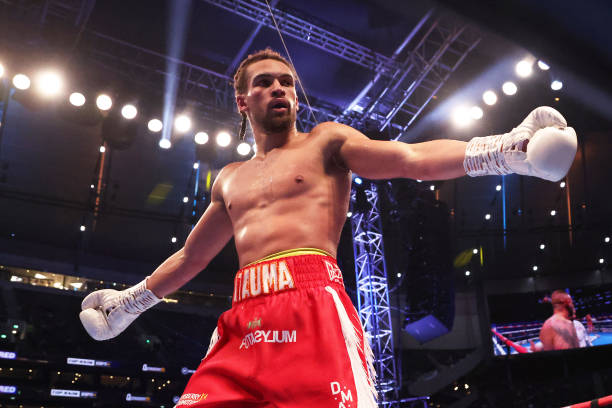 Highly-rated light-heavyweight Karol Itauma improved to 9-0 and gained some valuable rounds too, eventually earning a R8 TKO win over Vladimir Belujsky.
With world and European youth champion – Karol's younger brother Enriko – watching ringside, his big sibling began flicking out the jab, being patient but unafraid to get in close and exchange with the Slovakian – landing a series of good three-punch combos in the first few rounds.
He popped the 27-year-old's high guard with straight rights, but found himself susceptible to counter shots as the pair began throwing big haymakers as time wore on.
The 22-year-old juggled risk with reward well in the middle rounds, was more active and visibly started going for the big KO shot in rounds 5-7. A swarming seven-punch attack helped him secure a knockdown in the seventh, as a straight left floored the Irish resident.
Backed up against the ropes and under increasing duress, Belujsky did well to survive the round but the punishment would intensify.
Clubbing blows in the clinch in R8 saw Big Bad Vlad's punishment prolonged, before referee Lee Every mercifully stopped the action at 1:18 of the final round.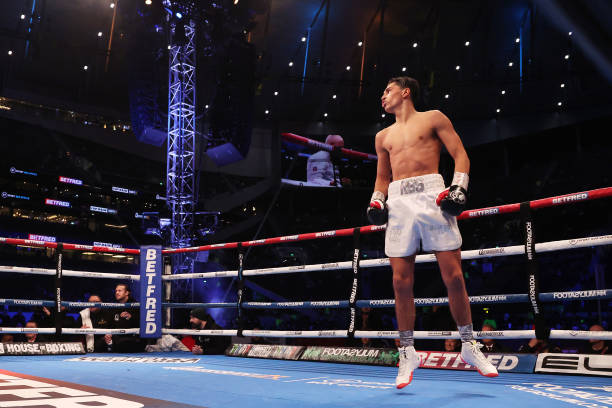 Talented teenage lightweight Royston Barney Smith secured his second first-round finish, leaving Cruz Perez agitated and in disbelief at what had just happened to him.
Dropped by a razor-sharp left hand, the 24-year-old Nicaraguan waited until referee Mark Bates counted to eight before getting back to his feet.
The official wasn't happy with the body language coming back his way, and called an end to the contest – perhaps early, but he would've needed to survive for two minutes. It felt ominous.
In the cruiserweight division, Hosea Burton improved to 28-3 with a 60-54 decision victory over Reinis Porozovs.
The 34-year-old has lost on all three occasions against better opposition – most recently a seventh-round stoppage by Dan Azeez last November – but with time of the essence in the latter stages of his ten-year professional career, he'll be eager to buck that trend in the new year.
After successive KO defeats by Luis Alberto Lopez and Nick Ball, featherweight Isaac Lowe improved to 22-2 with a UD win (60-54) vs. India's Sandeep Singh Bhatti in the card's opener.
Picture source: Getty Images