41 months after falling narrowly short in Russia, Anthony Yarde finds himself with a second chance to become a world champion at light-heavyweight in the new year. He came close against Sergey Kovalev, and now faces an even bigger task against a destructive puncher in Artur Beterbiev (18-0, 18 KOs), who has become more fearsome with age and title defences.
yarde more experienced now, as 31-year-old's trainer/manager tunde ajayi questions beterbiev's opposition quality
Artur Beterbiev (18-0, 18 KOs) vs. Anthony Yarde (23-2, 22 KOs)
January 28 at London's Wembley Arena
Live on BT Sport in UK, undercard and price TBC
"We all know Beterbiev's capabilities, what an outstanding fighter he is, but I think this is Anthony's time. That's our hunch, why we invested, delivered it for him in the UK – he showed he's a world-class light-heavy in Russia [against Kovalev]," George Warren says
"This – a second chance – rarely happens. Last time I was very eager, got chucked in the deep end… Got into this sport to fight the best, lions in the camp isn't a gimmick, lions have no choice but to hunt or they go hungry," Yarde thankful for second world title shot
WBC, IBF, WBO champion Artur Beterbiev reminisces on England return after 2012 Olympics, pushes back against Yarde's claim he is slower than many believe but also praises the challenger's 'bodybuilder' physique and says his team are watching tape
"It's gonna be a great fight, Anthony's got a great chance, we know what he did against Kovalev, should've won that fight and had more experience since then. Callum Johnson put him [Beterbiev] on the floor, I know Yarde punches harder, he can box and if we didn't think he could win we wouldn't have made the fight," Frank Warren tells me
Anthony Yarde has an unenviable task on his hands to start 2023. Having fallen short in his first world title opportunity on enemy soil, he has another chance to be crowned a light-heavyweight world champion – three-and-a-half years on from that nearly moment against Sergey Kovalev.
It feels typical of the 31-year-old's career, that this assignment is an even more difficult one than the first. Beterbiev, who logged 275 rounds and 106 bouts (96-10, 24 KOs) during a decade-long amateur career, has knocked out all of his 18 professional opponents.
---
Other boxing coverage to also read:
Fury feels 2023 will be his biggest career year, talks contrasting matchups with Usyk, Joyce
Eubank Jr vs. Smith: Given their world title ambitions, neither can afford to lose on Jan. 21
Denzel Bentley vs. Hamzah Sheeraz: Both boxers open to possible future showdown
Adam Azim's avalanche rains down on helpless Charlton, as Lawal and Gilley both win big
---
During the first press conference, he also spoke of his enthusiasm to return to the city where he competed at his second and final Olympic amateur cycle in London a decade ago.
Yarde will try to snap that spellbinding streak and reign supreme among home comforts, which he acknowledges won't matter a jot once the first bell rings.
"It's all about me, myself, career, ambition – the whole world respects Beterbiev and what he's accomplished, so do I.

When I respect you, you'll get the best version of me. Home soil doesn't really matter to me once the bell goes, that's when it gets exciting. When I hear and the new… beliefs become reality."
There's a clear difference between them: their pedigree in the sport.
Yarde took many by surprise in 2013, winning the 86kg category in the Haringey Box Cup tournament as an amateur with more stoppages along the way. 12-0 (11 KOs) before turning professional is an impressive record, but you can't compare the pair in that regard.
---
Tunde talks, Arum's praise and setting the record straight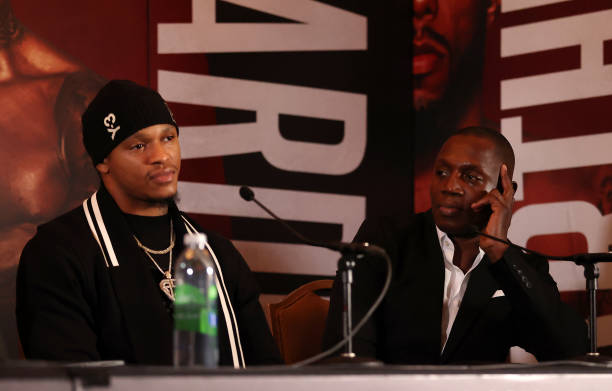 Although some critics have continued to question the decision retaining him as part of the team, Yarde's trainer and manager Tunde Ajayi certainly believes a stunning result is possible.
"The man is a beast, a monster… I believe I have one better in Anthony. A special individual – after 12 amateur fights – special. We went to Russia, fought for a world title after just four years' as a pro, came up a little short.

We're fighting for a bigger prize, no-one is beating him. Keep the same energy you have for Beterbiev, you'll see a new unified light-heavyweight world champion."
Top Rank boss Bob Arum heaped praise on the Russian-born Canadian, with this quote emphasising the sizeable job Yarde has ahead of him:
"I've never seen anyone with the power and skills like Beterbiev, he's really something special, a tremendous fighter and takes a good punch.

It will take an unbelievable performance to beat him, knocked one guy after another, the Oleksandr Gvozdyk performance really wowed me."
Beterbiev is fearsome, but has shown signs of vulnerability in previous bouts. Callum Johnson dropped him during their IBF title matchup in Oct. 2018, before later suffering a fourth-round KO.
When asked about what he's learned after being knocked down for the first time in his professional career and what, if anything, surprises him about Yarde, Artur was predictably aloof.
"I heard he [Yarde] said I'm slow [after the Joe Smith Jr win], prepare for [me to be] fast on January 28.

You never know, it's boxing. The main thing was I stood up and knocked him out [Johnson], it's a [new] experience for me. He looks like a bodybuilder."
Yarde's ringside comments about Beterbiev's speed were quickly taken out of context by boxing news sites and aggregators, as he attempted to clarify them here.
"I've seen it in the flesh, a destructive display, on TV it appears a bit quicker. What I said initially is that he's a little slower than I thought but very powerful.

I feel I'm faster, fresher in age but behind a lot in experience, so don't take anything from sight value, gotta put myself in the dungeon and the dirt, water it and grow an elegant godly tree."
He refused to make a prediction, insisting people should tune in – while Beterbiev said he might have a perfect knockout record but that they were essentially all predicated on luck that he prepares for through training. He'll try to be lucky for the 19th consecutive time next month.
Picture source: Getty Images