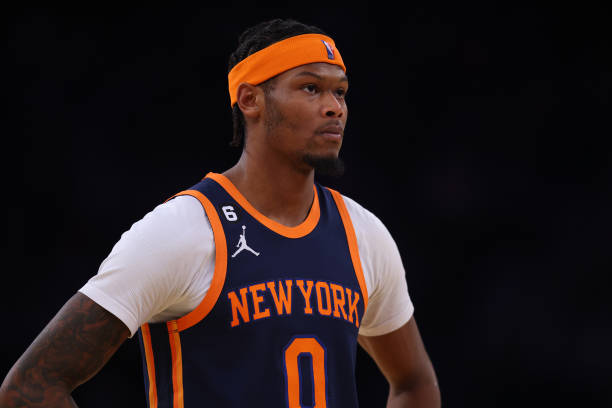 Overnight, Cam Reddish watched from the bench as his current ball club and the one who drafted him four years prior went head-to-head at the Garden. The 23-year-old addressed speculation he's asked for a trade, as reports suggest New York are shopping him for interested suitors – less than a year after acquiring him. So, what's happening to the former 10th pick?

cam reddish responds, as reports claim ny look to trade him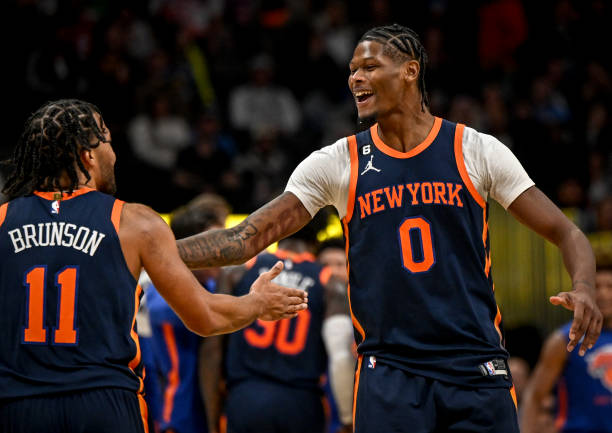 Reddish, who asked out of Atlanta last season citing a desire to have a larger role elsewhere, finds himself with an even more diminished one right now in New York
A groin injury, coupled with some lacklustre minutes and Quentin Grimes' excellent displays – on both ends – have seen the fourth-year man drop out of the rotation entirely
The 23-year-old small forward is averaging 8.4 points, 44.9 FG% and 30.4% from three-point range in 21.9 MPG so far this season for an unpredictable Knicks side
"It's the nature of the beast, I guess. I'm learning, it's my fourth year, and I'm learning a lot of the business early. It is what it is, I'll roll with what Coach says, y'all [media] seem to know more than me, I haven't requested no trade," he responds
So far this term, Tom Thibodeau has seemed a few bad defeats away from the sack in New York – such are their high expectations – and it'll be interesting to monitor how they fare over the coming weeks, especially given the noise emanating from his rotational decisions of late.
Derrick Rose and Cam Reddish have joined Evan Fournier in being removed from his rotation, though the 64-year-old head coach expects everyone will contribute – whether they play regularly or not – and said those moves were to place a stronger emphasis on defence.
"I think every player has different strengths, weaknesses and it's how the group functions together. I think you're looking at all those factors. Putting guys out there that fit what we need is the important thing.

Sometimes it's resolved – it might be injury, foul trouble, whatever… but the whole idea is to move the group forward together.

You have to make some tough decisions somewhere along the way, but everyone has to understand that they are an important part of the team.

Thibs on whether a trade could alleviate their roster logjam and the challenges teams face over the course of a season, as well as player mindset
While they have proven beneficial for the collective unit in the short-term, trade speculation is commonplace in the lead-up to Christmas especially as the percentage of NBA players that can be moved increases on December 15 when free agents signed in the offseason are also eligible.
As for Reddish…
The small forward has started eight of his 20 appearances under Tom Thibodeau's guidance in New York, but equally been inactive or DNP for five other games – all in the last 18 days.
Third-year shooting guard Quentin Grimes, who scored 23 points and hit five triples overnight, has snatched his opportunity for more minutes with both hands. He's a better all-round defender than Reddish, who has improved incrementally since his trade earlier this year.
Julius Randle led the way with 34 points, 17 rebounds and five assists against Atlanta, but the power forward's lone All-Star campaign in 2020-21 masked his shortcomings against opposition defences focusing on him as the Knicks' main danger man in a potential seven-game series.
That's why they made a big summer splash to sign surging guard Jalen Brunson from the Dallas Mavericks during the offseason, while re-signing RJ Barrett to a four-year $120m rookie-scale extension – essentially going all-in on this existing core with limited space to manoevure.
Now though, tweaks are still needed. Reportedly shopping almost everyone on their roster, including SG Immnauel Quickley as well as Reddish and Fournier, a report came out yesterday saying the team were working with his representatives to find a new opportunity for him.
A restricted free agent once this existing campaign is over, Reddish will be eager to prove himself – whether in New York or elsewhere.
Some critics have already suggested time is running out for him to showcase why he's more than just a role player in any environment after two negative experiences in quick succession.
Picture source: Getty Images, quotes via Newsday.com as hyperlinked