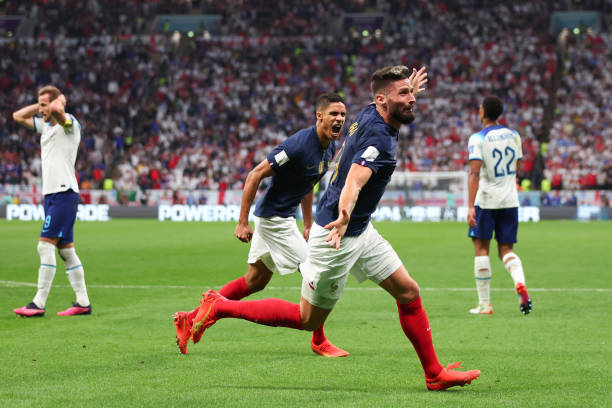 For all the talk of focusing on defending against the brilliance of Kylian Mbappe, it was France's all-time top goalscorer Olivier Giroud – who spent nine years playing in England's top-tier – delivering the final blow as Gareth Southgate's men showed spirit but ultimately crashed out of the World Cup at the quarter-final stage with a jarring 2-1 defeat by the defending champions.
Les Bleus to play portugal slayers morocco in semi-final next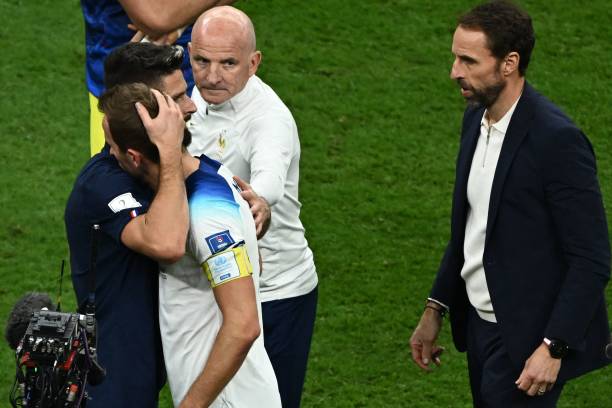 The big pre-match question was whether Gareth Southgate would overthink it. Revert to type, go ultra-defensive and play conservatively, or take the game to a less-than-full strength France side.
After all, the England head coach's contract extension has been the cause of much consternation among neutrals who believe they need someone better for such a talented group.
Aurelien Tchouameni and Dayot Upamecano were among those with shaky touches in the early going, as England imposed themselves in parts. That foreshadowed a contentious first-half.
In other areas, they were panicked defensively as crosses from wide areas – Mbappe and Dembele – showcased how quickly they could be split open by one pass or midfield mistake.
Another warning sign came as Giroud headed into Jordan Pickford's gloves from a Dembele delivery shortly afterwards, while Jordan Henderson relinquished possession cheaply.
Adrien Rabiot charged into the box, fed Mbappe to his left and watched the PSG forward's cross to the far post almost find Dembele.
Two minutes later, both were decisive in helping the world champions break the deadlock.
Upamecano bundled Bukayo Saka over – but referee Wilton Pereira Sampaio waved play on – the Bayern centre-back charged forward in possession before teeing up Mbappe.
He then combined with Dembele, who found an unmarked Antoine Griezmann. Afforded too much time and space, across the ball went to the Real Madrid midfielder and Tchouameni picked his spot in the far corner – 28 yards out – and let fly before wheeling away to celebrate.
Pickford was partially unsighted but, regardless, it was a superbly struck effort and one England were warned against earlier on. Lloris showed good reactions in producing an important stop to deny his club teammate Kane at the near post, who dummied Upamecano before going close.
Three minutes later, Upamecano was fortunate not to give away a penalty – or a free-kick just outside the box – after tangling with Kane without winning possession. The contact appeared on the edge of the box, Kane fell inside, but after VAR review nothing was given.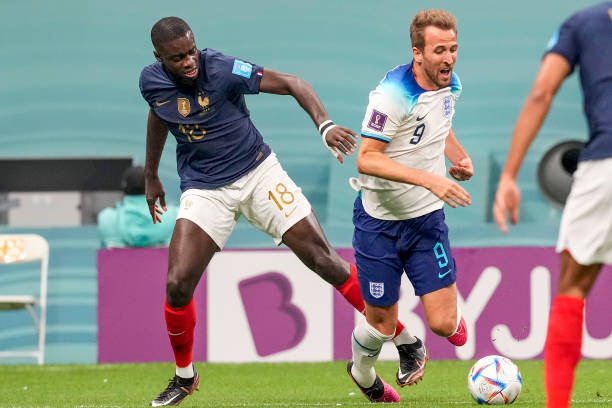 England would've felt hard done by after two officiating decisions went against them, but they couldn't afford to dwell. They didn't, still probing as France weren't defensively convincing.
Kane's deflected effort from distance forced Lloris to parry out for a corner, from which a goalmouth scramble went unrewarded.
Foden was largely a non-factor, France stifled Saka quite easily with pressure yet England's creative pressure persisted. A lot of ticky-tack fouls broke up the game, much to their frustration, while Henderson's clever pass fed Jude Bellingham in the makings of a half-chance.
Nothing came of it, though it was all about celebrating the small wins.
Griezmann was finally booked, to ironic jeers, after his third tactical foul of the half – France's seventh in 45 minutes – and the game remained finely poised at the break.
England began better after the restart and Lloris was forced into an acrobatic save to thwart Bellingham's well-struck volley on the edge of the box.
Saka, fed up with being fouled, grew in confidence and advanced beyond a number of France players before baiting Tchouameni into giving away a penalty after a one-two with Bellingham.
Kane stepped up and equalled Wayne Rooney's record with a thunderous penalty to equalise, before Pickford berated his teammates as they almost conceded straight from the restart.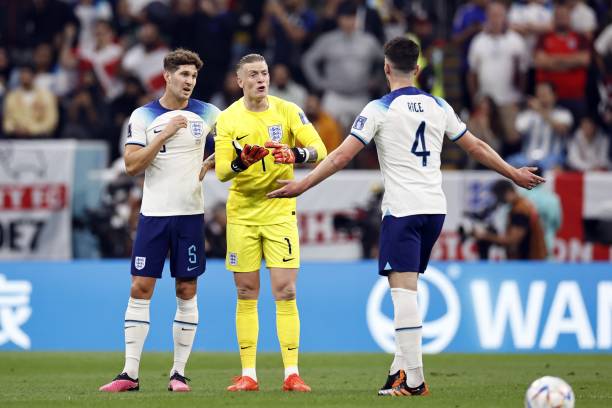 Rabiot forced him into a scare, before Mbappe left Walker in his wake during a foot race and Dembele's heavy touch presented another England let-off moments afterwards.
On the hour mark, Saka drove through midfield and into the box but his eventual effort wasn't powerful – before Kane went shoot-on-sight mode against Lloris, equal to his efforts.
Harry Maguire, for all the questions about his faltering club form, found himself just a few inches from giving England the lead but headed narrowly wide from an excellent Henderson free-kick.
It was created by Saka as Hernandez fouled him, before the Milan fullback made an important recovery challenge to steer Luke Shaw's low cross away from the Arsenal man two minutes later.
Giroud, who appeared to pull up with hamstring discomfort earlier in the second-half, popped up with a header to help Les Bleus regain their slender advantage. Another Griezmann assist.
England had another spot-kick two minutes later, after Hernandez needlessly barged into substitute Mason Mount. After a lengthy wait and VAR review, Kane blazed over the corssbar.
Mount tried his luck from distance, while fellow substitute Rashford came close with a free-kick deep in stoppage-time. England will feel they did enough to win, but instead exit the competition at the quarter-final stage as results against elite sides continue to elude them.
---
Analysis as Southgate set to consider his future in charge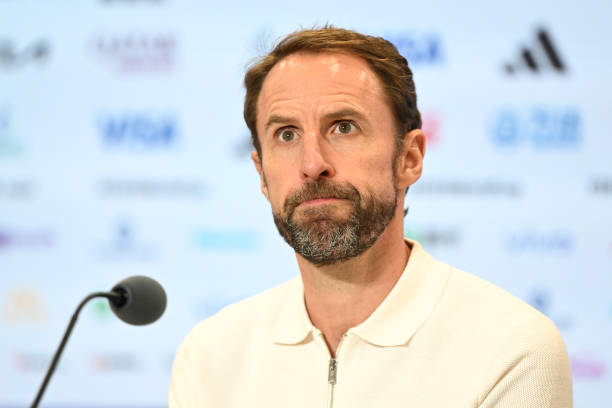 Afterwards, Southgate said he needs time to think about his future. Having fielded an unchanged side from their 3-0 last-16 win over Senegal, you can't blame Southgate for the weight of expectations in a match of such high stakes – he got them this far, after all.
"Bring on the French," Lee Dixon confidently said on ITV commentary as Senegal were put to the sword last week. Well they came, weren't at their best – gift-wrapping England two penalties – and yet still emerged unscathed. Les Bleus' wait for a first tournament clean sheet continues.
As talented as they are, this crop of players – with Bellingham the latest to showcase his indispensable value – haven't managed to deliver when it matters against elite opposition.
For that, Southgate and his coaching staff must look at themselves. His weird in-game management remains. It took him 79 minutes – immediately after Giroud's matchwinner – to make a change. He made a double sub and took off their most effective player in Saka why?
Only he can answer that. Kalvin Phillips and James Maddison had been struggling with injuries and aren't 100% fit, but both were again afterthoughts here. Jack Grealish? On in stoppage-time.
For all the talk of Walker vs. Mbappe, the City fullback was punished for the same indiscipline that has reduced Liverpool's Trent Alexander-Arnold to third-choice option at right-back.
Three big international tournaments have all ended in varying degrees of disappointment, no greater than last summer's Euro Final against Italy on home soil – one they scored first in.
They led against Croatia four years ago, yet came unstuck that night too. Here, they were behind and were made to rue missed chances in a game of fine margins, yet you always felt they'd concede again once back on level terms. They did, and serious questions remain as a result.
Picture source: Getty Images