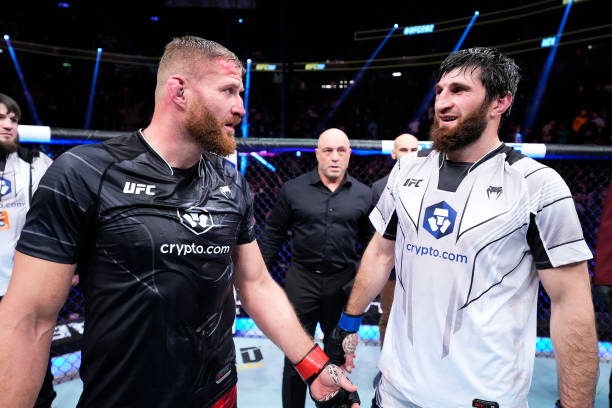 Magomed Ankalaev thought he was the new light-heavyweight champion. Jared Gordon felt he did enough to derail Paddy Pimblett's hype train in the co-main event. Yet both left empty-handed, albeit in contrasting circumstances, as the UFC's final PPV of 2022 ended with drama and anger after dubious judging scorecards soured an excellent night at the T-Mobile Arena.
Blachowicz-Ankalaev ends in draw, Teixeira-Hill booked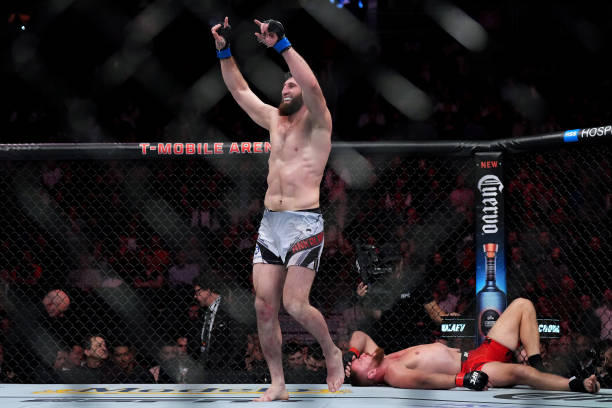 48-47 Blachowicz, 48-46 Ankalaev, 47-47 split draw: Jan Blachowicz vs. Magomed Ankalaev ends a split draw, meaning no new light-heavyweight champion is crowned
Ankalaev, through a translator, angrily says he won the belt, questions judging and is unsure whether he'll fight for the UFC again as a result after contentious decision
Jan Blachowicz admits he's unsure whether he lost or not, saying he has to watch it back again, before revealing in cageside interview he knows he did not win the fight
Former champion Glover Teixeira [1] and rising contender Jamahal Hill [7] will now meet to determine the new light-heavyweight titlist at UFC 283 on Jan. 21 in Rio de Janeiro, Brazil – president Dana White announced in the post-fight press conference
Well, talk about an anticlimactic ending. For what it's worth, Ankalaev had the better of what was a tense start, landing front kicks to the body and being the more busier of the pair.
Blachowicz responded by winning the next two rounds, largely by kickboxing at range as the crowd grew restless – blitzing forward at times – landing inside low kicks wobbling the Russian.
He chewed up Ankalaev's leg rather quickly and the 30-year-old couldn't hide the pain or shock once absorbing those shots flush, despite attempting to check some in response.
Then, he limped back to the corner and was berated by his corner, who stressed he needed not to brawl with the former champion and instead take the fight to the ground.
Easier said than done, because in the third round, Blachowicz went back to the well with a variety of kicks – body and legs – while his takedown defence was holding up under duress.
Ankalaev jabbed well in response and tried switching stances to offset the Pole's success, but it only served to enthuse him further as he whipped both legs.
He closed the distance to stop those kicks from ending his night prematurely, and eventually got a takedown to finish R3 after a warning for an accidental low blow. 29-28 in Blachowicz's favour at that stage, Magomed needed to muster up a big finish in the championship rounds.
Blachowicz – who said in the build-up that he preferred five-round fights – was clearly feeling the pace as the championship rounds' intensity persisted.
He hadn't trained for 25 minutes and Ankalaev wore on him, securing another takedown and pinning his back up against the fence to log ground control time – while safely preserving his damaged legs. Landing big shots to finish the round, it was probably 38-38 after 20 minutes.
Ankalaev blitzed the former champion to start the fifth, watching as Blachowicz had a big reaction and quickly found himself back on the canvas again defending from bottom position.
Threatening a finish up against the cage, continuing to apply suffocating pressure as Ankalaev finished strong, this had all the makings of a hard-fought championship win.
Instead, the judges had differing scorecards and the promotion saw its fifth draw in title fight history. Given the pacing among other elements, there's to be no clamour for a rematch, either.
---
Pimblett controversially gets decision nod over Gordon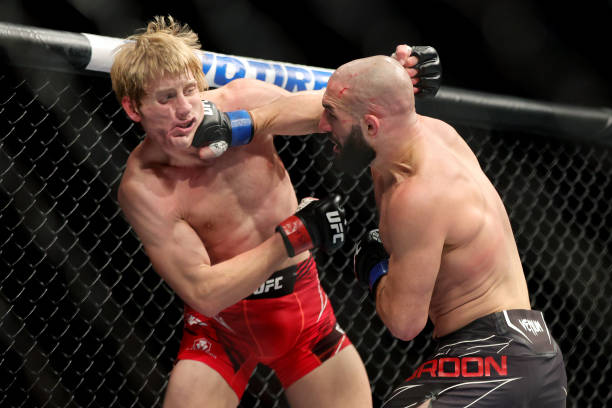 29-28, 29-28, 29-28: Paddy Pimblett bt. Jared Gordon via unanimous decision
Lightweight fan favourite Paddy Pimblett improved to 4-0 in the UFC, extending his winning streak to six, but rode his luck for sustained periods as the 27-year-old's technical weaknesses were on display for all to see against a tougher opponent in an experienced Jared Gordon.
Gordon frequently landed left hooks and sharp right hands which stung Pimblett, being punished for a well-documented tendency to keep his hands too low when they exchanged up close while the Scouser's chin was up in the air as defensive vulnerability lingered throughout.
Nonetheless, the pair exchanged haymakers in the pocket before Gordon secured a big takedown late in the round. 10-9 in his favour. R2 saw more forward pressure from Gordon, who was winding up the left hook now as success with that shot was too good to ignore.
Pimblett's wrestling against the fence saw him try to secure a choke from a disadvantageous position, such was the confidence in his squeeze, though Gordon's clinch strikes soon saw Pimblett recoil away as they later exchanged big shots.
After a stern warning for an accidental eyepoke, Pimblett finished the round strong as Gordon momentarily took a backwards step. 19-19. Gordon returned to his forward pressure to start R3, displaying persistence as he pushed for a takedown and the clock ticked by.
Pimblett fought with his back to the cage once more and this time, found himself suffocated by an underdog who could sense the tide turning in his favour, if he just maintained the intensity.
Pimblett landed some knees and elbows in the clinch as referee Herb Dean called for them to be more active. Eventually he circled away, to loud cheers, but Gordon soon got him back there.
Wearing on him and getting a takedown, he was too high to do anything as they scrambled and Pimblett took back control in the dying seconds. Too late to do much of note, that was another Gordon round. Or so everyone – besides the three judges scoring cageside – thought.
Whether he'll lean into the heel role as a result after a dubious decision remains unclear, but Pimblett vehemently denied the notion it was a close fight in the cageside interview afterwards – then doubled down in the post-fight press conference while discussing a right foot injury.
---
Morono was winning, up until he wasn't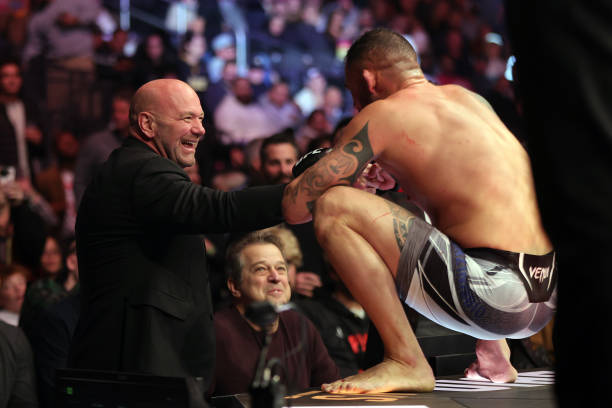 In a catchweight bout at 180lbs, Alex Morono was a short-notice replacement for Robbie Lawler and closing in on what would've been an impressive decision win over Santiago Ponzinibbio.
The 36-year-old Argentine, a mainstay in the welterweight's top-15 rankings before injury and inactivity saw him shelved for more than two years, was down on the scorecards and outworked.
Morono's boxing was slick, he scored a first-round knockdown and while commentators picked up on his leg appearing compromised midway through the second, did enough to mask it well.
After his corner stressed he was 2-0 down on the scorecards and they passionately urged him to go for a finish before the final stanza was over, this happened to shut the 32-year-old's lights out:
---
du Plessis does it again as Till's return turns to turmoil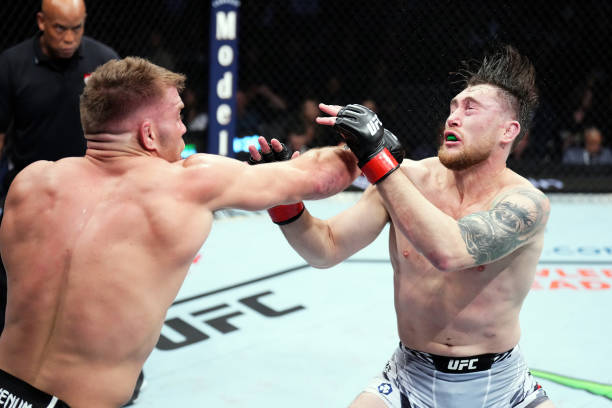 R3, 2:43 – Dricus du Plessis [14] bt. Darren Till via submission (face crank)
"Top-10 – history for South Africa. I just beat Darren Till, how awesome is that?"
Darren Till's long-awaited return – 15 months after a R3 submission defeat by Derek Brunson – eerily ended in the same fashion against a determined South African in Dricus du Plessis.
In truth, the perennial contender did well to even get this contest into a third round. His sharp decline continues with time – he's 1-5 in his last six – and afterwards claimed to have suffered a suspected torn ACL, the latest in a long line of long-term injuries hampering his development.
The lovable Scouser quickly found himself being swarmed with his head pinned up against the fence, du Plessis unloading strikes aplenty – a lot were blocked – but the pounding visual was unsettling, as referee Mark Smith stood dangerously close to stopping the fight in the first.
He kept trying to reassure the referee that he was okay, rather than intelligently defend, and got himself taken down for his troubles but survived the onslaught.
du Plessis had an adrenaline dump in the second-round, just as the Till corner expected, which allowed the former welterweight title challenger an opportunity to let his attack flow.
He landed a number of good left hands and flashy combos, forcing Dricus into a desperate – but completed – takedown after enduring a tough round himself.
Presumably even on the judges' scorecards through ten minutes, Till's corner urged him to produce more and finish with aplomb. Instead, his well-documented wrestling deficiencies reared their head as du Plessis found his second wind and took his back shortly afterwards.
If the torn ACL diagnosis is proven correct, Till probably won't fight again for a year. Considering he turns 30 in a fortnight and has been largely second best against a series of opponents in recent years, it appears more soul-searching is needed before his relevancy flames out entirely.
---
Impressive Ilia scores standout victory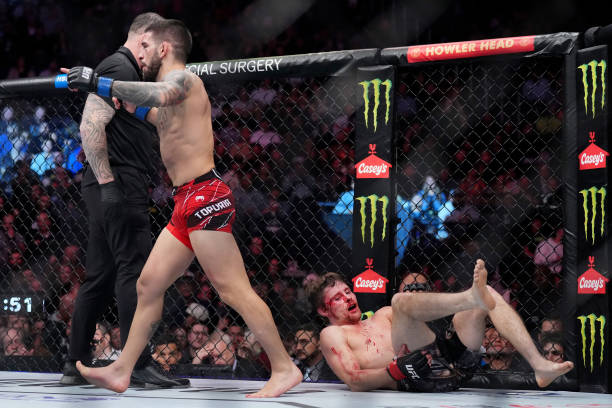 R2, 3:10 – Ilia Topuria [14] bt. Bryce Mitchell [9] via submission (arm-triangle choke)
In a tussle of two unbeaten featherweights, it was Ilia Topuria who stunned everyone into silence with a sensational second-round submission win over Bryce Mitchell.
The 25-year-old Georgian will be in the division's top-10 rankings next week, after the heavy-handed talent mixed risk and reward with mean intentions against Mitchell.
Frequently winding up haymakers and doing well to stuff a handful of Mitchell's takedowns in the first-round, he threw a series of rights which threatened to shut Thug Nasty's lights out.
Mitchell acquitted himself well but was clearly second best and as blood trickled down his face, things would only worsen in the second-round.
Just as the crowd roared, Mitchell landed a combo and commentators suggested Topuria was getting tired after expending energy aplenty, he scored a knockdown with that sharp right hand.
He went to ground – Mitchell's forte – got into side control and despite Mitchell urgently getting back to his feet, he was soon backed up against the fence and defending an onslaught.
Intricate details helped him secure an arm-triangle choke and Mitchell could no longer defend, so frantically tapped rather quickly. He boldly called for a championship fight next, before saying if that's not possible, he wants a matchup with former title challenger Brian Ortega [4] in Madrid.
"Before I walked in, I knew that I was better than him on the ground, and anywhere. Why no-one is screaming right now? Let's go," he said, coldly silencing the crowd. What a win.
---
Prelims as rosas jr makes history, rozenstruik reels off fast ko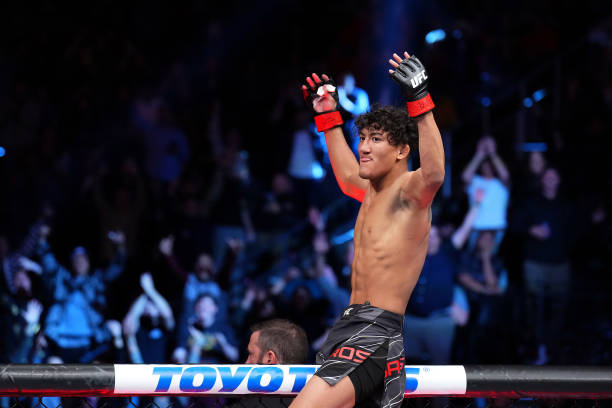 In the featured prelim at bantamweight, record-breaker Raul Rosas Jr announced himself with a first-round finish against Jay Perrin – not bad for the youngest UFC fighter in promotional history.
At 18 years and two months old, he arrived to a warm reception and the crowd roared in anticipation after watching him quickly secure two takedowns. In dominant position up against the fence, he maintained back control, flattened the Joker out and threatened two chokeholds.
Making Perrin carry his weight, the 29-year-old was overwhelmed and the tap soon followed as Rosas Jr secured a rear-naked choke and squeezed.
Meanwhile at heavyweight… Jairzinho Rozenstruik told those who would listen this week that he planned to start fast and make a statement, after heavy criticism for sluggish displays of late.
He did just that against Chris Daukaus, who immediately recoiled backwards after absorbing a left jab and subsequent knee up against the fence – on the basis of this display, his third stoppage defeat, a light-heavyweight move should be at the forefront of his mind in 2023.
After a 13-month layoff following his R2 TKO defeat by Nassourdine Imavov, highly-regarded middleweight Edmen Shahbazyan returned to the win column with a second-round stoppage against Dalcha Lungiambula and paid homage to his new coaching team afterwards.
Following a three-fight losing streak, where he dropped from the top-15 rankings at 185lbs, it's good to see the 25-year-old back with renewed confidence and he had some choice words of wisdom for a talented teenager who now finds himself in a place he knows all too well:
Chris Curtis stressed the age-old quote that timing beats speed, after squashing the beef with former training partner Joaquin Buckley – and bouncing back from a forgettable Jack Hermansson defeat – defending his #15 ranking at 185lbs with a sudden R2 stoppage victory.
Having been overwhelmed by volume and pace in the early going, the 35-year-old timed a counter beautifully – catching a Buckley high kick – before hitting him clean through the guard and dropping him. That sequence proved the beginning of the end.
---
Early prelims as billy quarantillo back to winning ways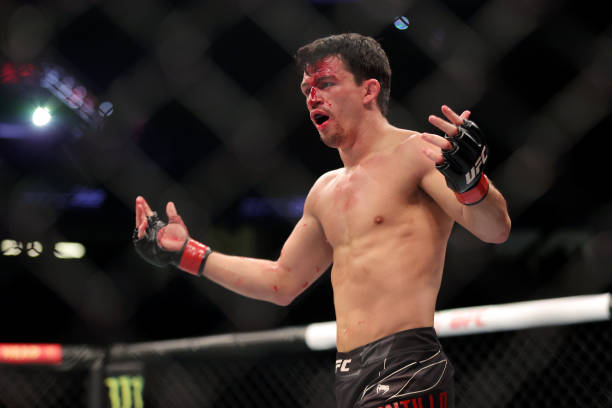 In the featherweight division, Billy Quarantillo recovered from a sluggish first-round to overwhelm Alexander Hernandez with volume and pressure before securing a R2 stoppage.
Elsewhere at 145lbs, Contender Series graduate T.J. Brown returned to winning ways with a third-round submission win (arm-triangle choke) against Erik Silva.
South African bantamweight talent Cameron Saaiman improved to 7-0 and apologised after being deducted a point for an illegal knee – to the commentary booth and later the Las Vegas crowd – after a third-round standing TKO win over Steven Koslow on his promotional debut.
Next: UFC Vegas 66 – middleweight main event between Jared Cannonier [3] and Sean Strickland [7], after Arman Tsarukyan [9] vs. Damir Ismagulov [9] in super lightweight co-main.

Picture source: Getty Images