Teofimo Lopez's light-welterweight campaign took a stumble on Saturday night, despite eventually getting his hand raised via split decision after a ten-round tussle against Spanish southpaw Sandor Martin. Many have since called for the 25-year-old, who had big plans for 2023, to split from his father Lopez Sr and secure a new coaching team after a drab display.
Lopez labours to disputed decision victory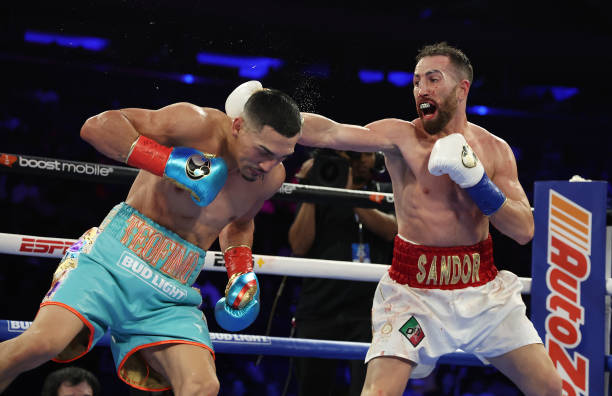 95-94 Martin, 96-93 and 97-92 Lopez: Teofimo Lopez bt. Sandor Martin via split decision
"Do I still have it?" Lopez is seen asking members of his team before the judges' scorecards are read, after flattering to deceive in disappointing SD nod over Martin
Per the CompuBox punch stats, Lopez outstruck Martin 97-77, while also recording a 31-punch edge in total power punches landed (76-45). Martin was more accurate though
"So hard to fight someone who doesn't commit – apologies but our dance partner was running the whole time. This is great, now they'll [the top guys at 140lbs] want to fight me," Lopez on his victory and the benefit of optics: how it looks to possible opponents
There was a half-hearted backflip and surfing stance, but it was almost as if someone reminded him of a need to play to the crowd. The whole thing is emotionally exhausting.
No flamboyant celebration, no devastating finish on Heisman night and instead Teofimo's stock fell after ten rounds against a slick southpaw in Sandor, who had some choice words afterwards.
"I have the art of boxing, punch and not punch me. I'm an artist, he's a showman, I'm a boxer. Now, Regis Prograis [will] kill him, 100%."
As I said during fight week, it was always going to be interesting to see whether Teofimo could build on his R7 TKO victory over Pedro Campa in mid-August. This was a step-up in quality.
Arnold Barboza Jr (27-0, 10 KOs) was ringside that night and spoke about seeing "a lot of flaws" that he'd expose, expressing his desire to fight the former unified lightweight champion next.
Instead, the 31-year-old will next face two-weight world champion Jose Pedraza (29-4-1, 14 KOs) on Feb. 3 and newly-crowned WBC champion Regis Prograis – another with an interest in the Lopez business – suggested on social media the 25-year-old avoided that prospective matchup.
The last few days have been detrimental for Lopez's stock – especially as he continues to get accustomed to a new weight division, one where his punching power hasn't yet translated from 135lbs. It's easy to forget how critics and boxing analysts were praising him just four months ago.
When reviewing his win over Campa, I wrote this:
Andre Ward described him as dangerous at 140lbs, while Tim Bradley – who promised a knockout pre-fight – called him undoubtedly special. Those words of praise are justified.
Everyone knows Teofimo Lopez is super talented, but whether he'll be calculated enough to show that consistency against world-class opposition up a weight division remains to be seen.
This was a refreshing debut display, one with highlights aplenty to immediately savour but various tougher tests await at the championship level. He doesn't need to be told that.
Underneath the showmanship, bullish bravado, nasty finishing sequence and subsequent celebration, there was vindication to the way both he and his father Sr conveyed emotion across the ESPN cameras afterwards. How dare you doubt us? Question us? Watch this.
The tune was considerably different last Saturday night.
Two-division world champion Bradley declared, ala Martin during his backstage interview minutes earlier, that Prograis would eat Lopez alive. Joe Tessitore gave him an opportunity to walk back such bold comments, but instead the former two-division champion doubled down.
"I feel bad for Martin, outboxed and embarrassed him. You're in the ring together, why not cut the ring off? He's dog food for those top guys, there's technical flaws… got some big shoes to fill if he gonna fight those guys."

Bradley on Martin not getting the decision win, Lopez accusing him of running during their fight and the landscape for Teofimo at 140lbs

"The confidence of two, three years ago isn't there anymore. The Kambosos defeat changed how he was viewed – must psychologically reset but everyone's getting better while he's trying to figure it out."

Ward on Lopez's diminishing mindset and the problem his defeat has had
---
So, how did we get here?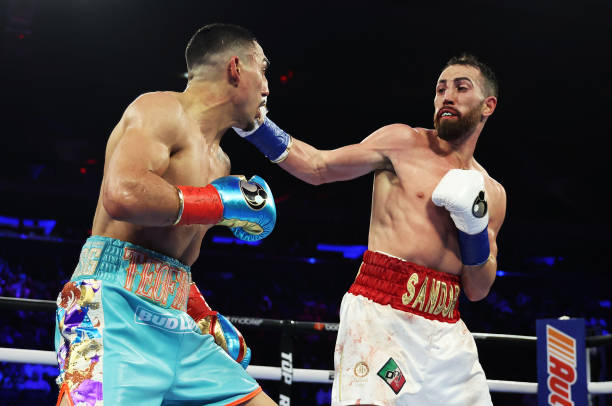 They argued about how the power balance had shifted from Teofimo Sr, and whether Lopez just needed a change of scenery – or having failed to listen to his father, was he just not coachable?
Martin, for context, took this fight on three weeks' notice. He sustained a suspected broken nose in round one from an accidental clash of heads, yet while robbery was the convenient buzzword circulating afterwards, so were mentality and heart. The Spaniard kept repeating them.
I watched it back, without sound, and narrowly scored it in Lopez's favour. That doesn't detract from a disappointing display on what was to be his big night at Madison Square Garden.
Lopez landed some good sneaky scoring shots in R1 – Martin absorbing them well and comfortably circling away – a pattern that would persist over the ten rounds.
Whenever the former lightweight champion had him in a bad spot with his back against the ropes, it felt like there was more danger for Teofimo than the man standing opposite him. How?
Well, he was guilty of overextending and got caught early in round two with a counter right-hand. The third time he's been knocked down as a pro, Lopez responded well and applied pressure but found himself punished for his impatience.
Judging by this clip, he clearly hadn't learned his lesson in the third. I've purposely slowed it down to 0.5x speed, so you can see things clearer:
Perhaps he didn't respect Martin's punch power enough to do much damage. That wasn't going to help his case with the judges, considering he had higher output with much accuracy.
He landed a good digging body shot, a three-punch combo, yet was standing in the pocket too long and his head movement left a lot to be desired.
In fairness, Martin was having big reactions at times to some of his more powerful punches – despite countering well – in what was a competitive encounter throughout.
"Gotta punch him lower, double jab, you're not shifting… that's how you're gonna get him. You're not listening to me, I want a good performance bro," stressed Sr after the fifth.
He temporarily froze Martin with a right-hand midway through R6, yet again Martin was aware and able to manoevure himself out of danger. They exchanged furiously up-close and both landed big shots to finish the round.
Although frustratingly intermittent without any real set-ups, Lopez's body work was clear. 35 of his 55 punches landed were to the body through 18 minutes, per CompuBox, yet he was again guilty of being reckless in the seventh to undo his better work.
He was dropped a second time – referee Ricky Gonzalez somehow ruled it a slip – as Martin landed a short cupping right hook and Lopez recalibrated in the corner. Some slick counters and a nice uppercut soon followed, as Lopez looked increasingly frustrated. Why wouldn't he be?
Martin jabbed him at distance in the eighth, stinging Teofimo whenever he'd venture forward and abandon his defence momentarily.
Thankfully for his sake, Lopez finished the fight more convincingly than he started. His dad pled with him to show urgency before the tenth, and after a more active ninth, Lopez landed a good series of right-hands to perhaps sway the judges on a night where the final outcome wasn't clear.
On the balance of this showing, there's much work to be done. Whether that involves his father, is a question only Lopez Jr. can honestly answer in the new year after reflecting upon a display that amplifies the doubters about his ability to hang with the top light-welterweight contenders.
Picture source: Getty Images