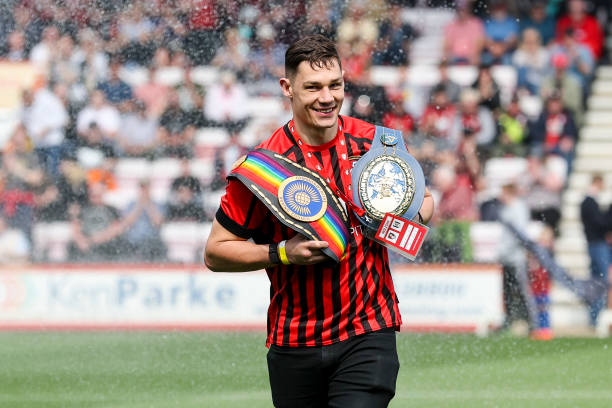 With a potential cruiserweight world title shot against IBF titlist Jai Opetaia in the offing for 2023, Chris Billam-Smith can't afford to overlook tough opposition when welcoming Kosovo's Armend Xhoxhaj to Bournemouth tonight. Elsewhere at 175lbs, Dan Azeez dares to be great as he entertains world-level opposition in Rocky Fielding and more besides happens in 2022.
will seasoned Fielding prove azeez's foil in biggest test yet?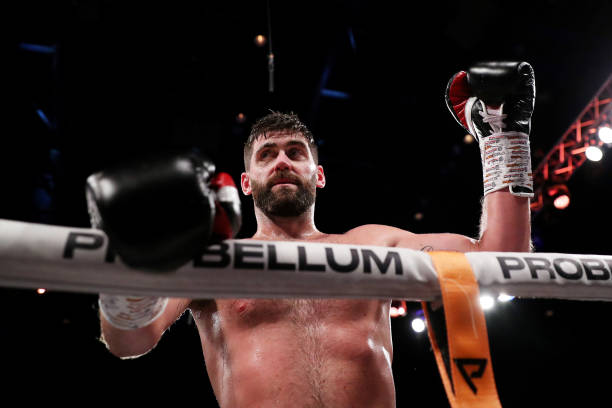 Big domestic light-heavyweight clash: Azeez (17-0, 11 KOs) vs. Fielding (30-2, 18 KOs)
"We'll see what happens. Yarde, Buatsi, Callum, they're all pushing for world titles. One more win and then let's see!" – Fielding on his campaign at light-heavyweight
Azeez aims for biggest career win against world-level opposition, a few weeks after Zach Parker fell short intending to do the same vs. Fielding's former foe John Ryder
Four years ago this week, Rocky Fielding lost his WBA (Regular) super-middleweight title rather emphatically as Canelo Álvarez scored four knockdowns before referee Ricky Gonzalez ended the onslaught deep into the third round during a painful evening for the Scouser in New York.
Having secured a TKO finish against Germany's Tyron Zeuge five months earlier, it was Fielding's first Stateside appearance and couldn't have come against a more fearsome foe. Canelo, now the undisputed king at 168lbs, has only soared since then. The same can't be said for Rocky.
Now 35 and largely inactive since, Fielding – who has since moved up to light-heavyweight – told me last week that more big fights await him before his career ends. On the topic of how long he wants to continue boxing, a timeline wasn't set. He's still putting the hard yards in, though.
"I'm still up the hills with the young lads in the gym, smoking them, getting out of bed twice a day — morning running, gym in the evening — haven't got time to be waiting for fights, want to finish with a good win and start the new year with something in place, get back up the ladder but I'm still motivated.

People are looking at me saying 'where have you been', you're this and that…', I've only lost twice in my career: one was four years ago against Canelo, another was 2015. I haven't gone anywhere! Still training, working hard and learning with my team, Saturday should show that I'm back in the mix."
Although the opposition post-Canelo hasn't been the best, Fielding has three consecutive stoppages for the first time since 2013 and enthused by recent sparring sessions – that included work with Italy's Giovanni De Carolis as well as Badou Jack, which perhaps went too well.
Jack, a two-weight world champ as WBC super-middleweight titlist before beating Nathan Cleverly to win the WBA (Regular) strap at 175lbs, hasn't fought anyone of note since 2019.
Now campaigning at cruiserweight, the 38-year-old earned a split decision win against unbeaten American Richard Rivera on the AJ-Usyk 2 undercard – though Fielding had already contacted him beforehand after their spars, was ready and willing to step in as a possible opponent.
"They [Badou Jack's team] didn't get me back after the fourth spar, we don't need you back anymore… never asked for me back in Dubai, I haven't gone anywhere… even messaged him saying I'd step up and fight him on the Usyk-Joshua 2 bill but they had other plans."
---
seeds of doubt raised as azeez insists on rematch clause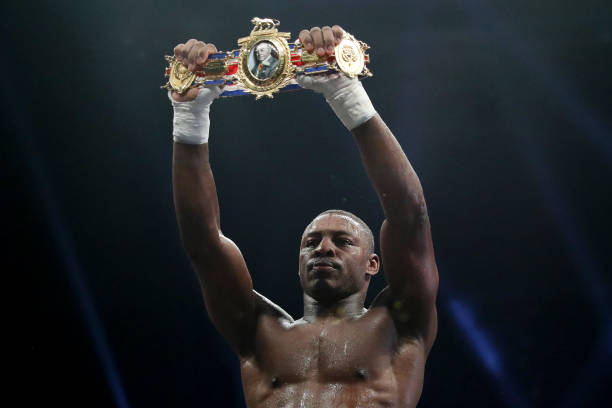 As for his opponent this weekend… Azeez wasn't in attendance at the media day, but it'll be interesting to see how he fares in the biggest step-up of his career to date.
Currently ranked #5 by the WBA for Dmitry Bivol's title, there are a number of domestic rivals ahead of him in the championship stakes – including an unbeaten Joshua Buatsi and former super-middleweight champion Callum Smith, who are both younger than the four-year pro.
That's a fact Fielding was keen to stress, as well as touching upon a contractual clause that may have indirectly given away a little about Azeez's mindset given the stakes involved here:
"Dan's boxing and looking well but he's 33, not a prospect. I just turned 35, he is what you see – comes to win and fight, lets his shots go – that's perfect for me. He has that come-forward style, it's interesting, he wants that marquee name and big domestic fights… wants to get up to the top, I do too.

Hats off for wanting it [this fight], but he wanted a rematch clause. Why does he want that if he thinks he's gonna push on?"
---
billam-smith: it's about making a statement against xhoxhaj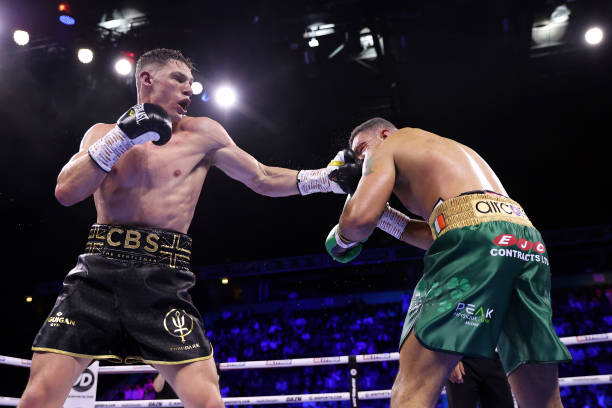 "It's a great opportunity to prove my worth in the cruiserweight division, the sport's about boxing the best and he [Jai Opetaia] is #1 at the moment," CBS on world title shot
32-year-old confirms he has been sparring with Craig Richards, Chev Clarke, Buatsi and others during training camp, feels he's getting better and improving all the time
Xhoxhaj, who has Poland's Mateusz Masternak on his resume and recently beat 15-0 Roman Fress for the WBO Inter-Continental belt, will be spoiling to create an upset
"Armend is a fast, big power-puncher, has a good right hand and an awkward herky-jerky style," Billam-Smith's trainer Shane McGuigan warns
Since suffering his first career loss, a split decision against the still-unbeaten Richard Riakporhe in July 2019, Chris Billam-Smith has continued to improve under head coach Shane McGuigan.
Stoppage wins against Craig Glover and Nathan Thorley, the latter boasting a 14-0 record heading into that contest, stood him in good stead as progression continued nicely.
After tonight, he will have fought three times in consecutive years and as unified super-welterweight champion Natasha Jonas said last month, an active fighter is a happy one.
That activity, coupled with wins over Tommy McCarthy and most recently Isaac Chamberlain, has seen him in talks to fight for a world title next year. IBF champion Jai Opetaia, perhaps.
Opetaia, who dethroned Mairis Briedis in early July, was seen watching his fight against Chamberlain a few weeks later from a sold-out crowd at the Bournemouth International Centre.
Naturally, the 32-year-old longs for more of the same again:
"It was an amazing atmosphere last time around, the dream is to fight at the Stadium. Look good and we can get a world champion… why not early May or June at Dean Court? The club are onboard and it all comes down to December 17 and a good display, then pushing towards a world title fight."
Having had a better camp with more time to prepare for Xhoxhaj, he reinforced a desire to keep improving – one step closer to becoming the finished article, which every boxer searches for.
"It's very important not to take my eye off the ball, I'm very focused on performing to the best of my ability and doing a very good job. It's about making a statement, can't just look to take shots and land them, I must look classy throughout.

The progression through opponents and camps is good, I'm enjoying it and the challenges that come my way. Shane has been pivotal, I've been the least experienced in the gym so very grateful to them for that, lapped up that opportunity and very rarely had a long period out.. just keep improving."
---
plenty to prove: an interesting heavyweight showdown
In one of the evening's two eight-round contests, Steve Robinson (5-1, 3 KOs) looks to seize the unbeaten streak of Nick Campbell (5-0, 5 KOs) in a battle between two over-30 heavyweights eager to make up for lost time as professionals. Robinson, 32, stressed exactly that:
"I appreciate him taking this fight, we both know where we need to get to, don't have age [time] to get through the gears… both going for that win to progress to that [higher] level. In each other's way, shows our character that we've both accepted this fight – too many want to be bubble-wrapped and molly-coddled, we're meeting early in our careers."
After being stunned on points (58-56) by Shane Gill for his first career defeat back in February, Robinson used a driving analogy to illustrate the fact he's not going to dwell on things he can't change – so it's all about moving on and ensuring he has his hand raised this time around.
As for Campbell, he dismissed the importance of his unblemished record and pointed to a 10-5 amateur record as proof he's experienced defeat before.
"We're both taking a big risk here. Both can punch, I've trained like an absolute demon the last 20 weeks, prepared myself the best I can, so I'm gonna look good, prove doubters wrong and put on a good performance."
Both said it wouldn't go the distance – a pair of 6ft 7in heavyweights itching to prove their quality – but Glasgow-born Campbell has added motivation: a potential spot on the Taylor-Catterall 2 fight card in the first quarter of 2023, should he emerge unscathed. We'll have to wait and see.
Elsewhere on the agenda, and tonight's Bournemouth card…
Riding the wave of three consecutive TKO finishes, 21-year-old skilful southpaw talent Caroline Dubois finishes the year with her fifth fight against Argentina's Sofia Rodriguez
After his stock rose despite R9 TKO defeat by rising welterweight star Vergil Ortiz Jr in early August, Michael McKinson looks to return to winning ways vs. Roberto Arriaza
Shane McGuigan confirms they're willing to do Dubois-Lerena 2 if there's a mutual desire once Dubois gets all-clear after knee injury, possible ligament damage
Another step-up awaits unbeaten lightweight Cori Gibbs (17-0, 3 KOs) when he faces 41-year-old Jimmy First (13-0, 4 KOs) in the third eight-round matchup of his pro career
McGuigan names Sam Maxwell, Lucas Ballingall and Ray Moylette as potential acid tests to come for light-welterweight prospect Adam Azim before kicking on any further
Cruiserweight prospect Viddal Riley, originally slated to face Belgium's Amine Boucetta (7-5) on this card, was forced to withdraw on Friday after suffering a viral infection
The 25-year-old has spoken recently about a desire to fight for English, then British titles in 2023 but after finish vs. Ross McGuigan in Manchester, his year ends on a low
---
Full fight card, is as follows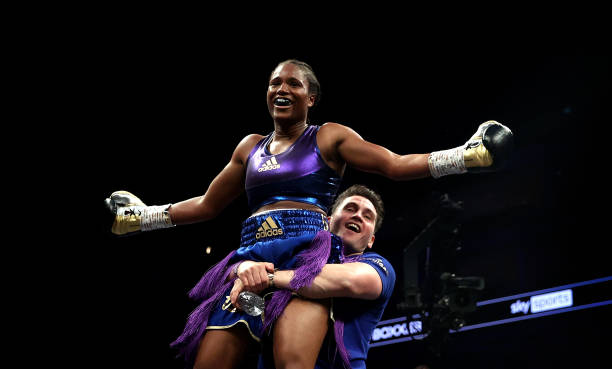 First fight from 5pm, undercard at 7pm, main expected around 10pm BST
British, Commonwealth light-heavyweight titles: Dan Azeez (17-0) vs. Rocky Fielding (30-2)
Cruiserweight: Chris Billam-Smith (16-1) vs. Armend Xhoxhaj (14-2)
Heavyweight: Nick Campbell (5-0) vs. Steve Robinson (5-1)
Lightweight: Cori Gibbs (17-0) vs. Jimmy First (13-0)
Welterweight: Michael McKinson (22-1) vs. Roberto Arriaza (19-4)
Lightweight: Caroline Dubois (4-0) vs. Sofia Rodriguez (5-7)
Super-welterweight: Lee Cutler (11-1) vs. Joel Julio (39-13)
Lightweight: Mace Ruegg (7-0 vs. Jahfieus Faure (1-9-1)
Super-welterweight: Harvey Lambert* vs. Sebastian Wojtan (1-6)
*25-year-old Lambert is making his professional debut, after posting a 13-8 amateur record.
Picture source: Getty Images, quotes from BOXXER virtual press conference