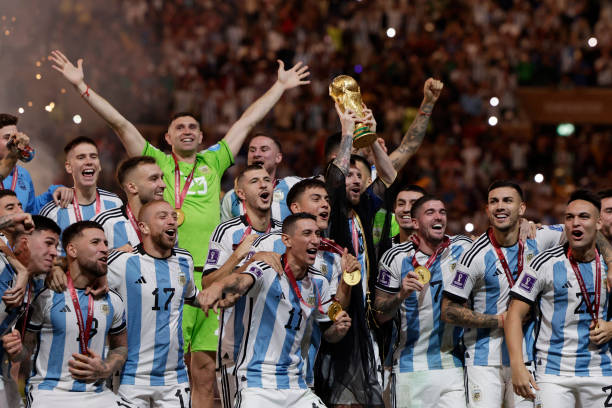 Argentina found themselves just 10 minutes from glory. Kylian Mbappe scored twice in 97 seconds to equalise. Lionel Messi made it 3-2 in extra-time, yet his club teammate completed his hat-trick from the spot during a frantic finish. Into a penalty shootout they went and Sevilla fullback Gonzalo Montiel had the final say: sending Hugo Lloris the wrong way, finishing a remarkable World Cup Final with a dramatic win over the defending champions last night.
martinez holds his nerve as Messi gets long-awaited wc triumph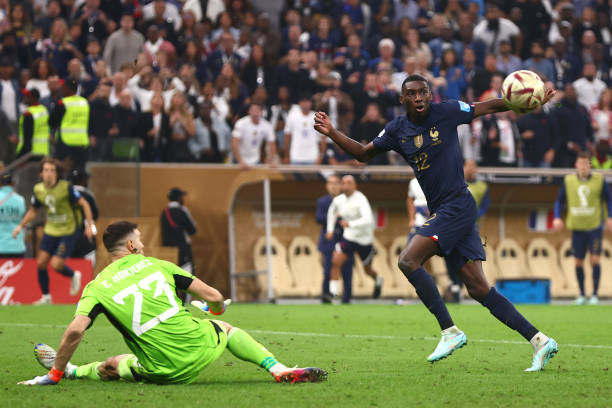 As time passes and people reflect, this will be remembered as Lionel Messi's World Cup, emphatically erasing the hurt from eight years ago against Germany in Rio de Janeiro.
You can't win it without a quality shot-stopper in tow, so this is as much one for Golden Glove winner and pantomime villain Emiliano Martinez to savour too.
"I cannot believe that we have suffered so much in a perfect game. Unbelievable, but this team responds to everything. I am proud of the work they did, it's a historic moment for our country," Argentina head coach Lionel Scaloni says post-match
PSG forward Lionel Messi scores brace as La Albiceleste clinch third world title, first since the late Diego Maradona won the World Cup almost single-handledly in 1986
35-year-old confirms he won't retire from international duty, while club teammate Kylian Mbappe becomes only second player in history – after England's Sir Geoff Hurst in 1966 – to score a men's World Cup hat-trick and wins Golden Boot in losing effort
France manager Didier Deschamps discusses illness impacting his players and their tiredness, remains tight-lipped on whether he'd stay on for EURO 2024 campaign
Just like their quarter-final shootout win against the Netherlands, it was the Aston Villa goalkeeper who stood tall when required and made important saves when called upon.
After keeping a clean sheet against Croatia in Tuesday's semi-final, you could excuse the 30-year-old for being quietly confident of notching another one as the clock ticked by and the 80th minute neared. 2-0 up, after all. France were flat, dishevelled, lacking purpose and production.
Argentina had a well-deserved cushion to protect and despite that quarter-final collapse courtesy of inspired sub Wout Weghorst, I wrote at half-time how it was difficult to envisage Les Bleus overturning such a deficit without conceding again. Both things ultimately proved true.
More on that later.
---
Argentina assertive as France flounder from the blocks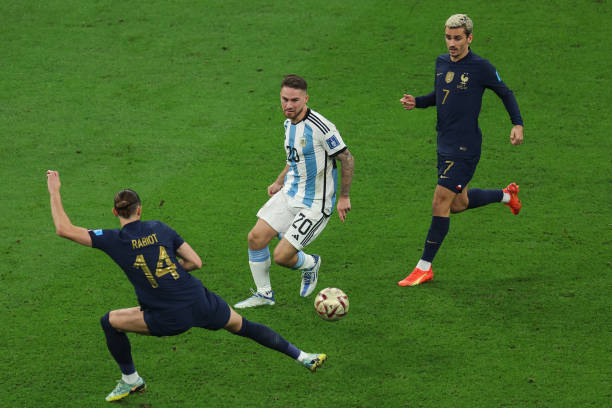 First, you have to appreciate the sheer contrast in their respective starts.
Eyebrows were raised as Deschamps recalled Dayot Upamecano and Adrien Rabiot after both missed their semi-final win through illness, while Scaloni granted Juventus' Angel di Maria a first start since the group stage – this being billed as perhaps his final international appearance.
Brighton's Alexis Mac Allister tested Lloris from 20 yards early on, after Theo Hernandez and Antoine Griezmann's poor touches helped Argentina sustain pressure in the final third.
There was no escaping the fact this had been a better, sharper start for the south Americans – but you could argue similar for Poland and Morocco in earlier knockout rounds against France. Both nations were watching this showpiece event as spectators though, rather than playing in it.
Right on cue then, di Maria wriggled his way into the box far too easily before cutting the ball back for Rodrigo de Paul. The Atletico Madrid midfielder struck goalwards on the edge of the area, but a timely Raphael Varane block saw the ball trickle out for a corner. Alarm bells.
Argentina's waves of attack were temporarily halted as Lloris was winded and needed medical attention – replays showed Upamecano pushed his goalkeeper's club teammate Cristian Romero into him as panic arose from the aforementioned setpiece.
Real Madrid's Aurelien Tchouameni cut out a di Maria cutback for Lionel Messi as the pressure persisted after that period of brief respite, though Lionel Scaloni's men needed to switch play quicker if they were to truly take advantage of a slow and disjointed France defence in transition.
A rare Kylian Mbappe cameo in the Argentina half was killed by a heavy Rabiot return pass as they attempted to exchange passes near the area, before a nasty bobble saw di Maria blaze an effort over the bar after de Paul picked Hernandez's pocket and Argentina advanced once more.
Hernandez, much better flying forward than he is defensively, won an inswinging free-kick after charging beyond de Paul. Griezmann's subsequent delivery was lofted into the area for Olivier Giroud, who illegally leaped above di Maria to head over the bar – it wouldn't have counted.
20 minutes and still goalless, not for long. Argentina's patient build-up play continued, di Maria jinking past Ousmane Dembele – not for the first time – and went to ground inside the area.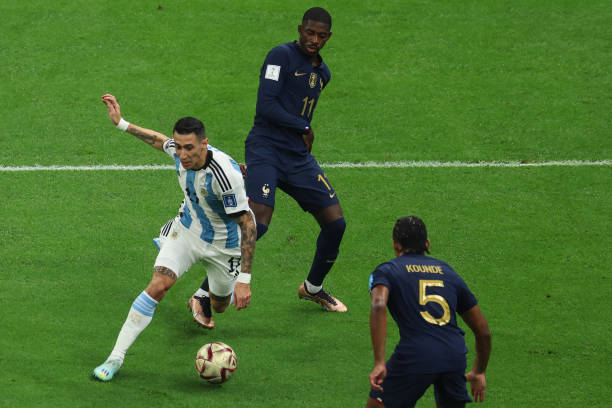 Referee Szymon Marciniak didn't hesitate in pointing to the spot, despite minimal contact, and Messi sent Lloris the wrong way after 23 minutes for his sixth goal of the tournament. Setback.
Giroud's defensive header cleared the danger from a dangerous Messi corner, moments after the PSG man returned to the turf following a collision with Hernandez in an aerial challenge.
It typified an assertive start to the game for Argentina, who were aggressive and purposeful in equal measure. Two minutes later, things went from bad to worse for the defending champions.
Mbappe bypassed Romero down the flank but Benfica's Enzo Fernandez – later awarded the World Cup's best young player accolade – swept up the danger before Upamecano's clearance under pressure only fed Nehuel Molina as France players were caught out of position.
Seven touches and five passes later, they were 2-0 down.
Messi's clever two-touch pass around the corner for Alvarez was instantly threaded through to an overlapping Mac Allister, who swept a low ball across the box for di Maria.
In space and with dark blue shirts frantically scrambling across, the 34-year-old lifted his one-touch effort over an onrushing Lloris to double Argentina's advantage.
Overcome with emotions after scoring one of the biggest goals in his 16-year professional career to date, a two-goal deficit in a World Cup final had not been overturned since 1954.
Although things could change quite quickly, there was no such suspicion that stat would be erased after the first 40 minutes. France still hadn't laid a punch on Argentina's backline yet.
---
Then came the first throw of Deschamps' dice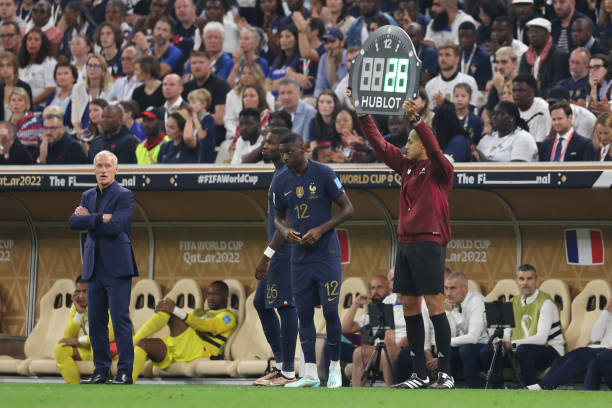 So with a need for urgency, it's no wonder Didier Deschamps opted for a double change in the minutes before half-time: an isolated Giroud and dismal Dembele off, Marcus Thuram and Randal Kolo Muani – both influential in their semi-final win over Morocco – replacing them.
Mbappe quiet on the flank, he was now being deployed in the middle. As his father Lillian was pictured watching on from the stands, Marcus' appearance meant the Thurams became the first father-and-son duo to play in a World Cup final – dad doing so back in 1998 and 2006.
Varane made a key defensive intervention in stoppage-time, while Kolo Muani's presence was immediately felt as the Frankfurt forward provided the impetus his teammates lacked.
There was talk of the well-documented virus impacting France as the second-half began, perhaps in part to try and explain their lethargic showing. Lloris was twice called into action in the first five minutes after said restart, first from Fernandez's through ball and later de Paul.
di Maria got a hero's reception from the fervent Argentina supporters after being replaced by Sevila's Marcos Acuna just after the hour mark, while Deschamps decided on a double change himself: Kingsley Coman and Eduardo Camavinga replacing Griezmann and Hernandez.
Kolo Muani persisted with his determined efforts to unsettle the Argentine backline as France enjoyed a better spell in possession – Mbappe firing wide after twisting and turning into the box.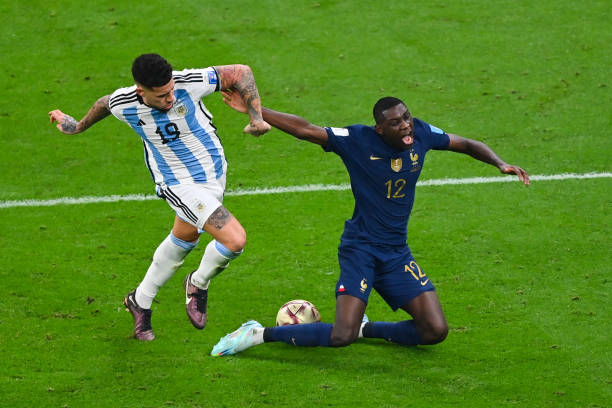 It was the 24-year-old who forced France back into proceedings, winning a spot-kick after Benfica centre-back Nicolas Otamendi – on his 100th international cap no less – couldn't resist tugging on the marauding attacker as he charged towards the area, hauling him to ground.
Mbappe fired low and hard beyond Martinez's best efforts, and suddenly the game was on a knife edge again. Without warning, they were soon level once more.
Coman dispossessed an unsuspecting Messi near the halfway line, Rabiot's lofted pass fed Mbappe – who raced away after exchanging a one-two with Thuram and volleyed past Martinez.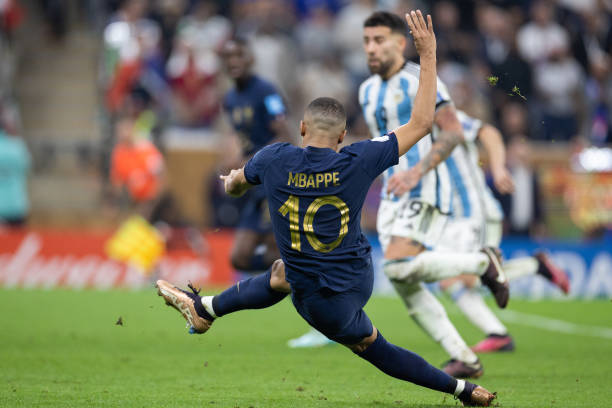 97 seconds had past between the penalty and his venomous volley, yet roles had remarkably reversed and Argentina were suddenly rocking against the ropes themselves.
Mbappe's cross narrowly evaded Kolo Muani as Nicolas Tagliafico did his best to hold firm, before Fernandez had a heart-in-mouth moment in the box as Thuram initiated contact on him.
The referee was wise to the attempt, booking the Gladbach forward for simulation, and the threat of extra-time lingered large. France could've stolen it in stoppage-time. Mbappe's marauding runs continued, while Coman and Rabiot caused chaos in the Argentina area.
Into a scrappy half-hour's worth of extra-time they went, with both making changes searching for one last burst worthy of sporting immortality.
---
argentina back ahead despite upamecano's goal-saving blocks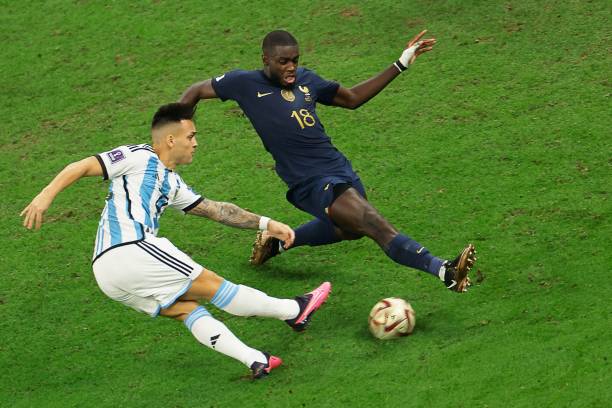 Lautaro Martinez and Leandro Paredes replaced de Paul and Alvarez, before Upamecano made two goal-saving blocks in quick succession – first from Messi and later Martinez – as this encounter went from largely one-sided to back-and-forth rather quickly.
There was initial confusion over whether the goal would be allowed or not, but Argentina's intricate play provided their third in the 108th minute.
Gonzalo Montiel's chipped over-the-top ball forward was delicately controlled by Martinez, with an advancing Messi and Fernandez exchanging passes on the edge of the area.
The latter's final ball across for the Inter forward was fired powerfully, cannoned back into play off Lloris at his near post before Messi duly scooped the ball over the line from close-range.
Having struggled with an earlier knock, and being a fitness doubt before the tournament had started, it was no surprise Varane could no longer continue as the Manchester United centre-back stayed down after making a tackle on the byline.
Ibrahima Konate replaced him and immediately played peacemaker as Paredes was booked for carelessly clattering into Camavinga, before Montiel was penalised for handling Mbappe's goalbound shot – one that didn't spark mass penalty appeals.
Nonetheless, Mbappe sent Martinez the wrong way this time around to equalise once more. 3-3 and as penalties lurked, Kolo Muani twice could've stolen it at the death.
The first instance, he could only manage the faintest of touches while stretching, leaping in the air to latch onto Mbappe's delivery in the area, as more alterations came in stoppage-time with an eye on who'd be best suited in the event of a shootout.
Martinez's outstanding leg save denied Kolo Muani, who should've tried curling it around – or producing a deftly dink – over the Villa goalkeeper, rather than hitting with power at the target.
That's easy to say in hindsight though. Down the other end, Lautaro lacked composure and headed wide as Argentina countered in numbers. Penalties were needed, after all that.
---
Then the shootout…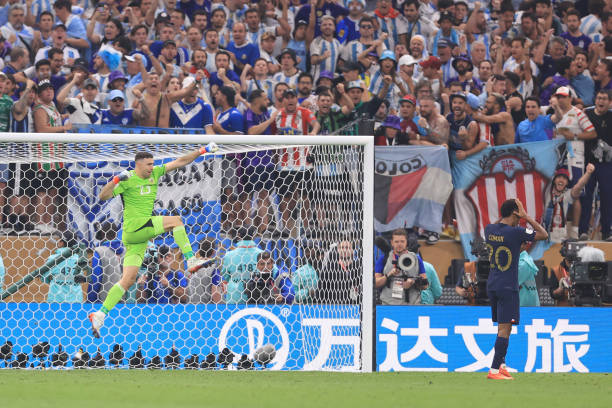 It wasn't surprising to see Mbappe and Messi go first for their respective nations, converting contrasting penalties. Mbappe got the better of Martinez again, while Messi stroked it past Lloris.
Martinez guessed right and denied Coman in France's second penalty, before putting Tchouameni off with dark arts as the 22-year-old dragged his effort wide on the third.
Paulo Dybala – fresh off the substitutes' bench – went down the middle and made no mistake, while Lloris reacted angrily after getting a hand to Paredes' effort but couldn't stop that.
Despite Kolo Muani blasting one in for France's fourth, the two previous misses meant Montiel was presented with an opportunity to score the World Cup-winning penalty. He sent Lloris the wrong way, wheeled away to celebrate after ensuring Argentina won 4-2 on penalties.
---
The thrill and the agony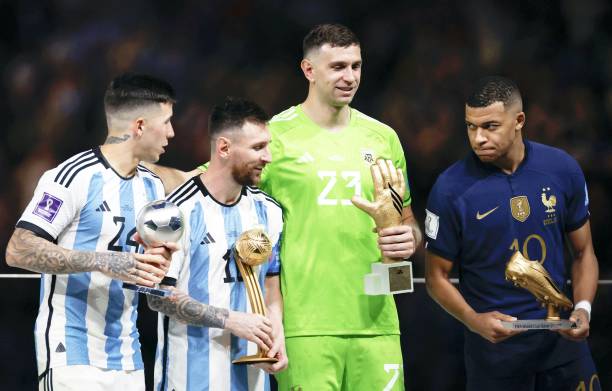 Although his true impact was questioned when he didn't score, Mbappe inspired France throughout and won the Golden Boot (8), adding to his ever-increasing personal records. He said in press he would've traded it all for collective success, and watching him you believed it.
There will be other tournaments.
Kylian turns 24 tomorrow after all, so while this will hurt for a while and they'll all be wondering what might've happened had they executed the little things better, or started quicker, it's futile.
Argentina are deserved world champions, yet it's easily dismissed that Les Bleus were without several key players. They still possess a fearsome core to flourish for the next decade and more.
Messi made more history too. He's got a tendency for conjuring up magic in legacy-defining moments, and this was like no other to cement his status as the greatest player of all-time.
First player to be awarded the Golden Ball twice since its introduction in 1982, he won the honour in 2014 but that accolade was merely an afterthought on a bitter night at the Maracana.
Involved in 21 goals for Argentina at World Cups – 13 goals and eight assists – it's the most by any player for any nation. Now on 793 career goals, the 35-year-old forward also became the first in history to score in every round during the same men's World Cup tournament.
It feels fitting that, having suffered so much eight years ago and in the years since at international level, there was another rollercoaster of emotions for Messi to endure on an evening where the legendary attacker again entered rarefied air. The triumph was sweeter.
The clamour from many to overexaggerate in real-time, announcing this the best World Cup final of all-time, among other things, was predictable. Messi winning this way, certainly was not.
Picture source: Getty Images