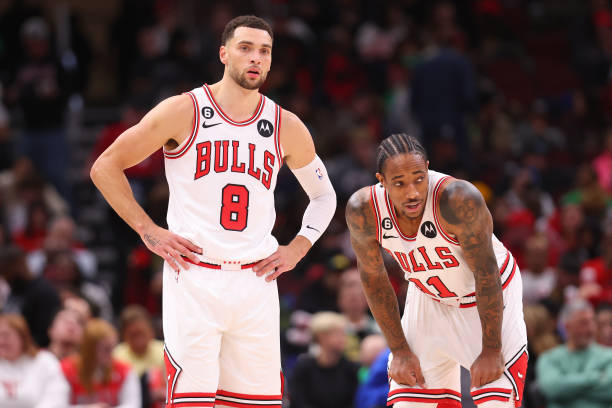 More than a third of the way through the NBA regular season, title contenders and tanking teams have largely been identified. As for the cluster of teams flickering in the middle, the race to February's All-Star break will decide where their future lies. I spoke to NBA expert Jack Brown for another Q&A, featuring Chicago's issues, best Victor Wembanyama landing spots and more.

At the time of writing, Milwaukee (22-8) and Memphis (19-10) lead their respective conferences while the defending champion Golden State Warriors – without injured superstar Stephen Curry (shoulder) – are trailing by 13 at half-time against the unpredictable New York Knicks. Hmmm…
I'm watching Kyle Lowry proudly sporting his Messi 10 shirt from the bench after Argentina's World Cup triumph last weekend, while a heavily-criticised Zach LaVine leads all scorers but his team are losing away against a short-handed Miami Heat side (thankfully, they later won).
More on him later. Anyway, it's just a regular midweek – one where I skipped my gym session to write this piece ahead of time – and as always, there's some compelling basketball to watch across the league whether you support a specific team or root for individual players.
I always find it funny that, in a 30-team league where there's only one champion every twelve months, the pressure and drama almost can't help itself engulf a regular season where every team is two or three bad defeats from a mini-crisis.
It's trade season, you know what that means, and it'll be interesting to see what happens over the next two months or so as 2023 promises plenty and will punish others.
Remember how I prefaced Jack's mannerisms last time? More of the same here – I won't tell you how long it took for the busy man to get back to me. He had some interesting answers though.
All player stats mentioned in this piece are correct to December 21st, unless stated otherwise. As this is a Q&A, Mosope (MO) and Jack (JB) are denoted in the conversation throughout.
---
teething problems after bold offseason acquisitions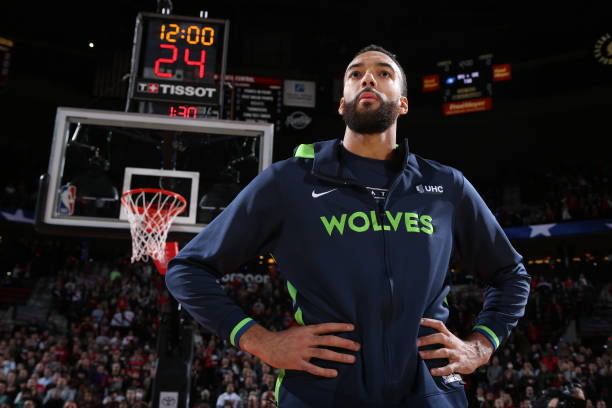 Mosope: After all the dirt thrown his way, I wanted Rudy to do well after that Minnesota move but already people are calling it the worst trade of all-time – not all of it has to do with him.
Considering he led the league in several (positive…) categories last year, am I wrong in thinking it was just the wrong team who traded for him, especially as KAT hasn't improved since 2019?
For added context, Karl-Anthony Towns (calf) has been sidelined since Nov. 29, and remains sidelined for several weeks. Gobert missed their last three games with an ankle complaint, where they've enjoyed their second three-game winning streak of the regular season.
Jack: An element of Gobert's awkward fit thus far, is him nullifying his own teammates' driving lanes to the basket. The spacing has really suffered – if he was on a team running a 4-out offense, he could be of some use to scoop up some boards.
It's a really bad fit given what they gave up for him and that lack of spacing emphasises the fact he has no low post skills or touches, rather than hide it. You can never write off a team or trade in December though. It's just important to help hide deficiencies and emphasise teammates' skills, which isn't happening. They're tripping over one another.
MO: Keeping with that theme… Atlanta. Was that Eastern Conference Finals run (in the 2020-21 season) the worst thing that could've happened to their core and subsequently, ownership?
Those exit interviews last season were quite bold, talking about winning a championship and you can only really overachieve once before the pressure and expectations intensifies…
JB: For me, going to a Conference Finals and being two games away from the Finals is never a bad thing. The Los Angeles Clippers couldn't make a WCF for over 50 years, but I actually find a lot of similarities between the Hawks and Luka Doncic's Dallas Mavericks.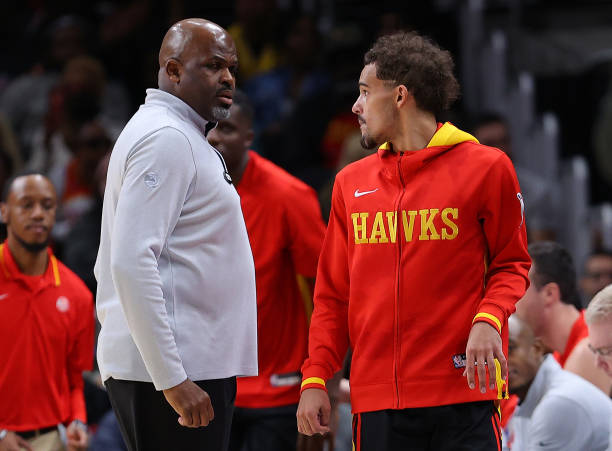 Making the Conference Finals made them believe they can do that regularly – because Trae Young's so good, they're not scrambling around to make the roster contenders, so he's a victim of his own success in that way. They think like Luka, Trae can win without a true supporting cast.
READ: Given historical trends, Jason Kidd's concerns about Doncic's usage rate are natural
They did add Dejounte Murray, an All-Star level guard in his own right. They're now sitting with a 16-15 record, only three games behind an in-form Brooklyn in fourth – I like the mentality they have, those championship aspirations. It's the only way to keep a superstar in a small market.
MO: What do you think about that DNP story leaking about Young and Nate McMillan?
JB: I don't think it's as much of a big deal as perhaps some are making it out to be. He was injured and didn't feel comfortable playing if he couldn't start. The communication might have been a little scarce but it's nothing you can't move on from.
MO: Is it a good thing that most struggling teams have building blocks for the future like Cade Cunningham (Pistons), LaMelo Ball (Hornets), Jalen Green (Rockets), Shai-Gilgeous Alexander (OKC) or are you surprised more of them don't publicly agitate to leave?
It's not as though the more seasoned players with some pedigree don't flirt with the idea, ala Sabonis/Beal/Lillard and others in recent years where their teams have underperformed.
JB: I do think it's a good thing, offers parity in the league. These bad teams having young All-Stars means you can't take them lightly, as things can take time to develop and build.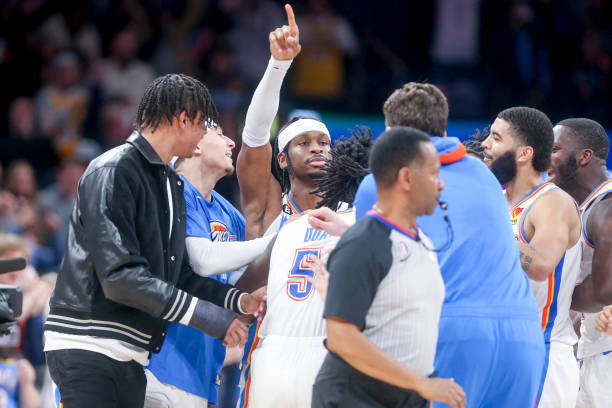 Golden State weren't built overnight, SGA and OKC are really building something – in part to do with committing to the long haul with the franchise. Theoretically, you want every team to have a franchise player. That can potentially eliminate tanking, or reduce the clamour to do so.
MO: Yeah, every team should have at least one player to be excited about – tanking or not – problem is there's always someone (potentially) better and younger in the shop window, whether through the draft or a disgruntled star somewhere else that team might be interested in.
The most recent one for me is Indiana signing Deandre Ayton to that max offer sheet over the summer. You think that would (or still could) have been a good move?
JB: I do, maybe for a different reason than people might say. It'd be good for Ayton's career to play for a team where he's valued more and is further up the list of offensive options. I'd like to see him in a bigger role – Haliburton-Ayton as a combo appeals more (and is better than) Turner.
MO: OK after saying that, where should Turner – under new agent representation go then?
JB: I'll give you two teams that should trade for him: Dallas with Doncic offering a pick-and-pop threat as opposed to always being surrounded with players who roll. Portland should try and upgrade from Jusuf Nurkic, adding rim protection behind a good defender like Jerami Grant.
---
jae crowder situation, what should chicago do with lavine?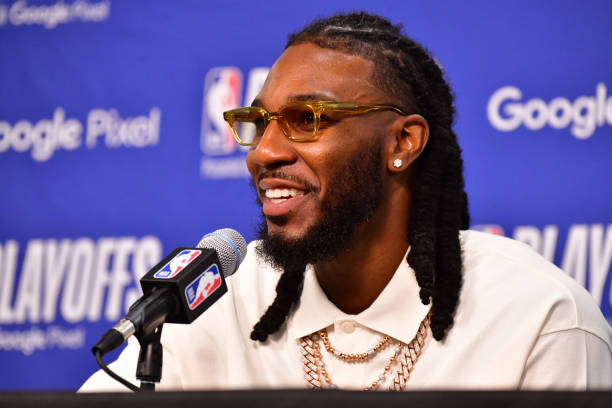 MO: When teams declare they're going to trade a player, naturally their value decreases.
What do you think about the Jae Crowder situation in Phoenix, and a trend of veterans – for a while now – have been more headstrong when it comes to things like this? He didn't want to leave Miami, but they were reluctant to pay his asking price and now it's happening again.
JB: This situation is very strange to me. I don't want to assume from reports but read a source saying he was upset that Cam Johnson was starting over him, which is a factor in his decision. Cam's injury means both their power forwards are out.
If I was Jae and wanted out, I'd want to play and show teams why they should trade for me. I'm okay with players wanting what's right for them, but he's on a contender.
You would like to think he'd want to play… there has to be ulterior motives we don't yet know about, as there aren't many better teams than Phoenix let alone actually being traded to one.
Once you're a proven veteran, you have a certain reputation that never goes away. They occasionally use this to force their way onto championship teams who'll immediately trust them because of their aforementioned rep.
MO: All things considered, should Chicago blow it up and start by trading LaVine? Which team would best suit him in that scenario? Think it's been made pretty clear in recent months they can't win big with him as their no. 1 option, as good as he's proven to be as a scorer…
JB: Yeah, I think the Bulls should blow it up but see this season out first. I'd like to see them with a healthy Lonzo Ball again and maybe after an active trade window.
Two weeks later, he amended his answer after this report emerged to say…
When a team is struggling the way they are, it's almost inevitable. For me, if there wasn't any confrontations or arguments when losing the way they are, it'd be even worse. LaVine has been playing terrible defence and is one of the main reasons for their struggles, so I expect this team to have blown up by the end of the trade deadline.
LaVine is still reeling from injuries and lacks rhythm, but do you need both him and DeMar? I'd pair DeRozan with a strong guard and/or power forward, big man – sorry Nikola Vucevic.
Miami to sit alongside Jimmy Butler and Bam Adebayo? It's a super long shot though and the contracts are probably not feasible. The Lakers could part with some picks and players to get him, having previously been linked with Demar. He'd be deadly next to Nikola Jokic in Denver – if he can play alongside someone who gets him easy shots, that's the key.
MO: I don't think Miami have the pieces to pull it off, Chicago would want a big return from Denver… maybe like Michael Porter Jr and someone else… would you do that?
JB: With MPJ, his health issues are really frustrating and LaVine isn't the healthiest but could offer them someone who can score consistently, is dynamic and athletic. Like I said, if he was getting easier shooting looks, he'd be a near 50/40/90 player. So yeah, I'd trade him for LaVine.
---
Wemby mania: Best landing spots for victor Wembanyama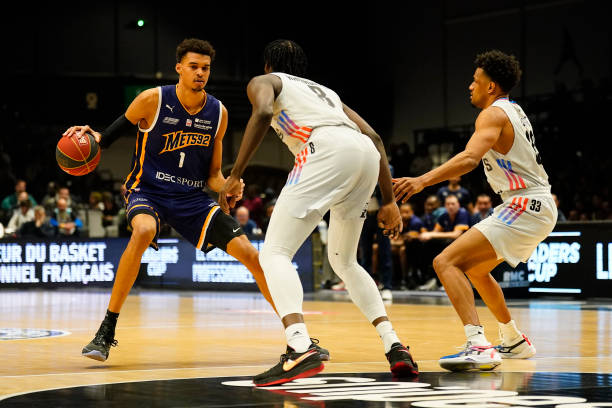 MO: Houston Rockets, San Antonio Spurs, Detroit Pistons and Orlando Magic. Which of those four would best suit Wemby and why is it Detroit? Talk to me about the other three, too.
JB: If I'm looking at where Wemby could do some damage, the Orlando Magic immediately stood out to me. Imagining Banchero and Wemby together is something Magic fans should be dreaming about. Banchero is a legitimate franchise player, Wemby is a potential MVP-level player – let alone mentioning the plethora of length they can put out on the court.
Cade-Wemby also sounds like a playoff team, so there are some exciting possibilities. Pair the youngster with a high-IQ guad and I think you have a championship team within five years.
With how high Wemby's potential is, he could easily fit on any available team. Houston are really athletic, bouncy and he could fit well with Jalen Green's attributes. Just believe the team lack a PG, which could make his life harder in those first few years.
As for San Antonio, they're historically good at developing young players… but he'd already be the franchise's best player by a huge margin. With all three others, he'd be paired with – at the very least – a potential All-Star. Spurs don't have a cornerstone yet, unless he goes there.
MO: Are the Knicks going to regret that RJ Barrett contract extension? Same thing in Golden State with Jordan Poole?
JB: The Knicks will regret a lot of things, but I don't think that new contract is one of them. Actually, I'd like to see RJ take the reins now. Julius Randle's presence there kinda detracts from both of them, they're a little similar and that's not a good thing. I'd have RJ and Jalen Brunson lead the team, move on from Randle.
Poole was also very worthy of the big extension, an explosive scorer who still has plenty to improve upon. He's been playing on a terrible bench this year until the recent adjustment Steve Kerr made to the rotations, and Jordan will help them win playoff games like he did last season.
MO: Yeah, they're going to have to subtract before RJ can do that – we've all seen him play and know his limitations, so who really wants a Randle trade move though?
JB: A team like Miami, who are casually floating through the season and could do with a refresh. A skilled 4 who can playmake and score. Charlotte too, a team with nice players but looking to shed some contracts and rebuild, imagine a LaMelo-Randle pairing.
MO: What should Indiana and Utah do now, is it as simple as tanking or being semi-competitive?
JB: Utah should go all-in. With all the picks and good young players they have, there isn't a reason to tank. Use this opportunity for player development while making it a marketable environment.
Indiana have even less reason to tank, an All-Star point guard in Tyrese Haliburton who has Buddy Hield and Myles Turner as teammates… and a ROTY candidate in Benedict Mathurin.
There's no reason why they couldn't push a team in the first-round. They have a championship-winning head coach, playoff experience would bode well for them. It's important to make a franchise a place players want to be, which you do by being competitive and wanting to win.
---
how can the clippers, 76ers maximise their potential?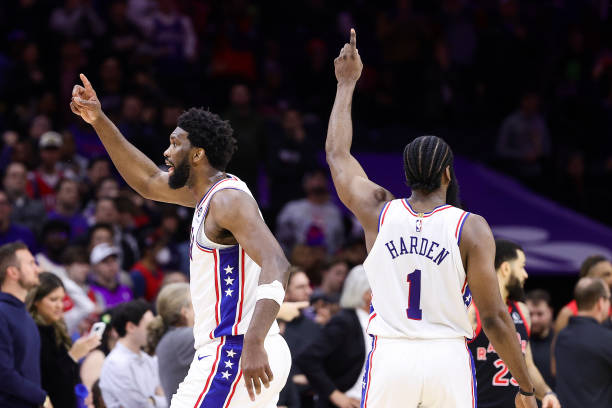 MO: The question marks of health and consistency remain for the Clippers and 76ers, but is it as simple as just sorting that?
JB: For the Clippers, health and consistency go hand-in-hand. They can't be consistent given the large portion of games both Paul George and Kawhi Leonard have missed.
It's a constant changing of line-ups and minutes… if they can stay healthy, it'll come. That's a huge if though. I think they might trim some depth in exchange for stronger firepower as a result.
As for the 76ers, they need a bench upgrade. They could do with more versatility and second-unit scoring, a sixth-man spark would do wonders. I expect them to start making a push now James Harden is back, though Doc Rivers has done well to keep the ship somewhat afloat in the absence of their three best players. It's all about maximising how well they can play together.
Using each other to score, making plays for teammates. Improvement can come from within, it's easy to forget they haven't played together too long so theoretically their comfort will grow with time. They need to play through Joel Embiid, rather than Harden. I'd like to see them target a player like Gary Trent Jr, who can explode for them off the bench.
Of course they can stagger minutes, have Embiid or Harden always on the court but it would be a great luxury to have. A lot of championship teams have that, like Poole last year, potentially Malcom Brogdon this year in Boston.
MO: Is it fair to say anywhere from the fourth seed down is an unknown in the East?
JB: I would say this is the most parity this league has had in terms of seeding unpredictability for a while. It truly changes on a game-by-game, nightly basis.
I'd say Philadelphia in fifth are a comfortable postseason team but everyone else will fight all season long exchanging seeds. Health and trades will probably separate teams from one another, but keep an eye on Miami to make a late push up the standings.
MO: As good as they are when fully healthy, Milwaukee and Golden State both need to make a trade right?
JB: Golden State are almost guaranteed to make trades, they need to bolster their bench unit – could do with some wing shooting and a defensive player to fill the void left by Gary Payton II departing for Portland in the offseason. Milwaukee should do the same, a better backup point guard and another center will improve their versatility.
MO: Best trade targets before February and why is John Collins always linked but never dealt?
JB: Okay, here you go…
---
Best trade targets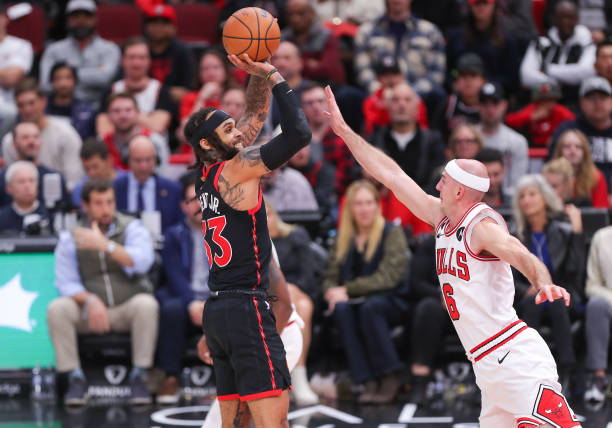 Terry Rozier: A microwave scorer, I'm sure a few teams would be interested in a player capable of scoring from the PG position.
Harrison Barnes: Given Keegan Murray's potential, Barnes' role in Sacramento is diminished. Fox-Sabonis' two-man game makes him expendable.
Gary Trent Jr: Scottie Barnes' rise in Toronto could see GTJ viewed as a trade asset, given Fred VanVleet and Pascal Siakam are heading into contract years in 2024. Will they offer him enough to keep the core together?
Mike Conley: He doesn't really belong on this young team. It's very possible they throw all the chips in on Collin Sexton. Conley's vet experience makes him a good backup PG on a contender.
Eric Gordon: So overdue to move on from what is a young, rebuilding team. He's been there too long wasting the latter stages of his career on a lottery team, could offer shooting in short stints on better teams, whether just in the regular season or in playoff basketball
Alex Caruso: Depends on whether Chicago continue to struggle, but it's very possible Caruso could be moved – an attractive asset for some championship contenders.
Marcus Morris: Clippers have more agile and versatile wings, I could see him being moved before the deadline… a guy you throw the ball to, and get out of the way.
As for Collins, it's probably the fact they haven't found a suitable offer that satisfies their expectations. Asking for too much in return, so it always falls through.
MO: What do you think of Collins as a player and how close is he to reaching his ceiling?
JB: He's an uber athletic 4 with range but his improvement has slowed. I wouldn't say he's much better than two years ago, not close to his ceiling. It can be hard with a ball-dominant player like Trae to show what you can do. On the other hand, without Trae putting passes on a pedestal for him, you don't see consistent play. His value as a result, isn't as high as one might think.
MO: I ask that to say, if you were the Hawks GM, would you finally pull the trigger in hopes of a better return and feel good about it?
JB: Yeah, his development has plateaued. With Trae and Murray you have to maximise your roster. Who to trade him for? I'm not sure, a 3-and-D wing perhaps. Like Ayton, I think it would do Collins good for his own individual progression.
MO: Okay fair enough, and to finish… All-Star picks! The voting opened earlier this week, so hit me with ten names across both conferences. I'll go first and this, of course, is in no order.
West: LeBron, Zion, Jokic, Davis, Grant, Morant, Gilgeous-Alexander, Doncic, Lillard and Curry
East: Mitchell, Haliburton, Young, Brown, Embiid, Giannis, Tatum, KD, Markkanen and Siakam
JB: Ok, here's mine with a caveat involved – if PG and Kawhi play enough games between now and the All-Star break, I'll put them in over Steph if he's not back, though he should be.
West: LeBron, Jokic, Zion, AD, Morant, SGA, Doncic, Lillard, Curry, Booker
East: Mitchell, Haliburton, Trae, Embiid, Giannis, Tatum, KD, Kyrie, Brown, Harden
All pictures via Getty
---
As always, thanks to Jack (@CFCJack2712) for his time with this piece! If you're reading this far down, kudos to you. Not quite 4,000 words like the last one, but ahead of the seasonal holidays I made myself a personal promise that I'd up the NBA content and this goes some way to doing so.
I'm always looking to do more Q&A-type featured pieces with other experts too. If you liked this and want to contribute in future, don't hesitate to contact me – email or on Twitter.
Jack will be back jinxing teams and players again after the All-Star break. Until then, stay tuned for more coverage from me as the season continues – including a five-game slate tomorrow…