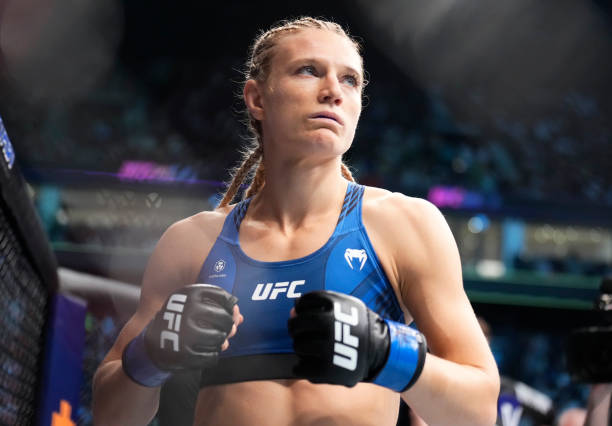 She toppled long-standing number one contender Katlyn Chookagian to earn top spot at 125lbs at UFC 280 in October. Now in a division ruled by dominant champion Valentina Shevchenko, France's Manon Fiorot – who underwent successful knee surgery – has this week spoken about a return timeline and a readiness to welcome former two-time strawweight champion Rose Namajunas to the weight class, should speculation about her future prove true.
with title in mind, Fiorot eyes a main event matchup upon return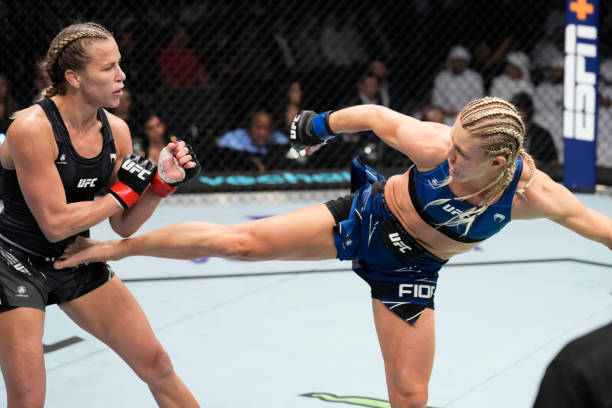 Fiorot earned a unanimous decision win (29-28 x 3) against former women's flyweight title challenger Chookagian at UFC 280 on October 22
The 32-year-old (10-1 MMA, 5-0 UFC) is still rehabbing her injured knee, but expects a return to full training by April and wants July or August five-round fight date
"I don't care about my next opponent… I want a main event fight to keep some eyes on me, get some experience before fighting for the belt," she reaffirms in interview
For the first time since 2014 – the year before she signed with UFC – Valentina Shevchenko only fought once in a calendar year.
She earned a split decision victory over Taila Santos at UFC 275 in mid-June, though questions over her display and a potential blueprint at future success against the 34-year-old intensified after the Brazilian's encouraging showing over five rounds that night in Singapore.
It was her seventh title defence since beating the recently-retired Joanna Jedrzejczyk for the vacant 125lb strap four years ago this month and, all things considered, challenges are predictably becoming more taxing as there's more film for contenders to study and dissect.
Jennifer Maia supposedly provided a chink in Valentina's armour, only for the champion to respond with successive stoppage wins over Jessica Andrade and Lauren Murphy in 2021.
So, given the fluctuation atop the flyweight division, it's unsurprising to see she hasn't been as active as she would've liked. That's where Katlyn Chookagian's latest conqueror Manon Fiorot comes into the picture. For context, she's already bested five of the division's current top-eight.
Shevchenko has defended her title against all three women who've previously beaten Blonde Fighter in the promotion. Fiorot, who was signed at the start of 2021 and is 5-0 with two finishes, has gradually seen an uptick in competition but not yet wavered against tough opposition.
Shevchenko recently namechecked Fiorot and Alexa Grasso (#5) as the two most likely options for her next matchup, while reports emerged this week confirming that Santos was booked to face rising American contender Erin Blanchfield (#10) for a Feb. 18 Fight Night card.
That fight announcement confirms there will be no immediate rematch for the 29-year-old Brazilian, while Fiorot's recovery timeline means they'll likely do Shevchenko-Grasso in the meantime after her impressive decision win over Viviane Araujo elsewhere in October.
---
Waiting not an option, but Shevchenko in sights for 2023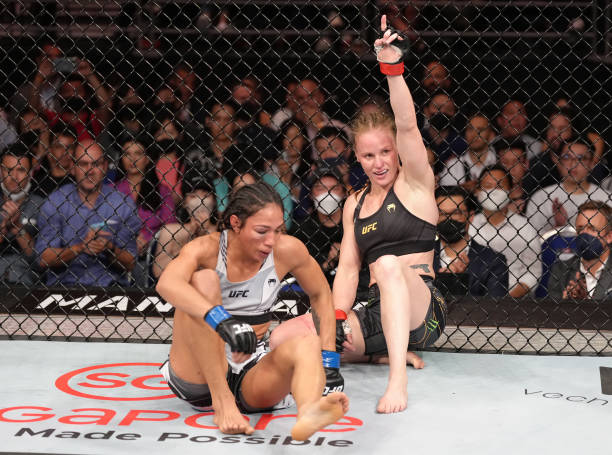 Nonetheless, Fiorot feels she'll get a title shot later next year. Through an interpretor, she said:
"I see the interview [with Shevchenko] and for me, it's normal. I'm the No. 1 contender, so we need to talk about me [regarding] the belt. I don't know what's happened, if she knows [when discussing who's next], I'm injured.

I'm coming back in the summer. We have to see this fight in 2023, but for now if she takes another fight, I will fight someone else in July or August and then at the end of the year, we will see."
As outlined above, Fiorot doesn't mind who she fights next – so long as it's a five-round main event matchup. That way, she'd be sufficiently prepared and bank some invaluable experience that would stand her in good stead for a Shevchenko showdown, should things go as planned.
Santos and Murphy weren't given that luxury before their title opportunities, though Fiorot's stock now is higher than both were at the time.
Perhaps keen to capitalise on that, she revealed an eagerness to face former two-time UFC strawweight champion Rose Namajunas, should Thug Rose decide to move up to 125lbs.
That's a rumour that has surfaced among some circles in recent weeks, and Fiorot publicly revealed she'd be more than happy to compete in a main event title eliminator. She said:
"Waiting on Valentina is not an option for me, because I really want to fight in August. In my mind, my mindset, I say to everyone I will beat Valentina – so I can beat anybody in the division. I don't care who I fight in August.

I don't know agianst who, but heard two or three weeks ago that Rose [Namajunas] wants to move up to the flyweight division. I'm the No. 1 contender, so if she comes, she has to fight me. Then after, we can see."
Namajunas, ranked #2 at 115lbs and #5 on the women's pound-for-pound list, hasn't featured since losing her title in a forgettable fight against now-former titlist Carla Esparza in May.
It's been announced that she'll face Canadian submission specialist Gillian Robertson in a Dec. 30 grappling match, while Zhang Weili spoke about an openness to complete a trilogy with Rose – provided she gets back to winning ways first. We'll have to wait and see what she decides.
Picture source: Getty Images, quotes via mmajunkie