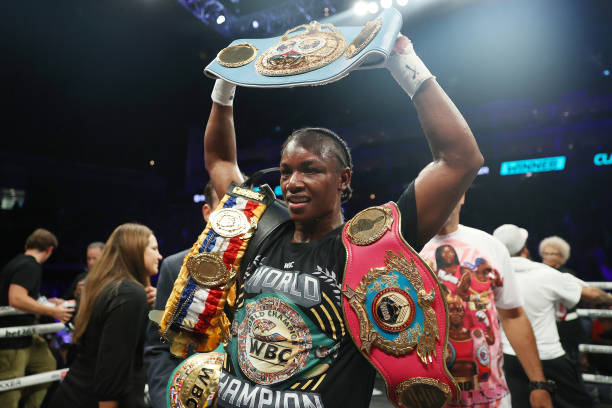 Today marks 75 days since Claressa Shields became undisputed world middleweight champion for a second time on a historic night for women's boxing, avenging her defeat as an amateur against Savannah Marshall – 10 years after their meeting when the pair were youngsters. Elsewhere, Alycia Baumgardner ruined Mikaela Mayer's night, so what's next for the quartet?

shields bests marshall in battle of two 12-0 champion boxers
96-94, 97-93, 97-93: Claressa Shields bt. Savannah Marshall via UD
"I've been working hard for a long time, no-one has given me that credit. Couldn't see out my right eye R6-10 because she hits hard, but I got the job done," Shields afterwards
CONTINUED: "Not just a special moment for me, it's for women's boxing – been so many years but here we are, in-front of 20,000. I think that's fight of the year, unbelievable."
Marshall calls her the GWOAT post-fight, after Shields acknowledges her team and Savannah as "hardest fight, tough competitor with endurance – now we're 1-1"
The fight itself
For all the talk about a lack of knockout power or a flawed opponent resume, Claressa Shields showed she's a level above Savannah Marshall in their much-anticipated rematch.
It's why team Marshall has insisted experience will work in her favour before a rematch – more on that later – but it's important to understand how this one got away from the home favourite.
Shields' counters and furiously fast combos helped create a perfect start for the American, who landed body shots and looping hooks in response to Marshall utilising her range advantage.
Through three rounds, Shields was unmistakably ahead and stayed composed when it would've been easy to panic when pinned in the corner. Making Marshall miss, evading those attacks and landing stinging right-hands, her speed proved decisive.
You could sense the Marshall corner were banking on Shields not managing to maintain such a high-octane tempo through 20 minutes, but in R4 she was penetrating Savannah's high guard and outworking her.
Marshall, to her credit, remained competitive as the fight wore on but wasn't doing enough to win rounds outright. 10-second bursts were being outdone by bruising counters and hooks whenever they traded in the pocket, evidenced by a big left hook late in the round.
Shields' precision and counters were working well, so Marshall's attempts to rough things up in R6 unsettled the two-time Olympic champion. R7 was another tougher round to score, but one for Savannah who started better despite tiring late – allowing Shields a chance to fire back.
R8 was competitive, Shields finishing it the stronger of the pair.
She was missing more and looked a little weary in R9 though, as a Marshall combination pushed her against the ropes to maintain pressure.
Peter Fury's passionate speech in the corner, urging Marshall to "go and win the belts for us," was well-intentioned but her urgency was too late to swing a heavy deficit.
Even with the crowd fully behind her, she made a mistake exchanging in the pocket with Shields – big body shots, right hands and more to finish a frenetic fight contested at a breathless pace.
---
Mayer-Baumgardner: Right result? 
97-93 Mayer, 96-95, 96-95 Baumgardner: Alycia Baumgardner bt. Mikaela Mayer via split decision, retains IBO and WBC, wins IBF and WBO world super-featherweight titles
It's important, if you intend on rewatching this matchup, do so without sound. I was out at the time and wasn't listening to commentary – besides tidbits between rounds – and felt Alycia won.
Had you only been watching sparingly, you'd have been tricked into thinking Mayer was a clear winner like Sky repeatedly stressed. That's the boon and bust when you're discussing the impact of two-minute rounds.
Through three rounds, I had Baumgardner up 30-27. Mayer looked alarmingly tentative to start, perhaps worried by the power whizzing back at her, and wasn't landing enough against an active puncher who connected on the cleaner shots and more often too.
R4 was the first clear round for Mayer. Her jab was flowing better, she unloaded quicker when they were exchanging up close, and it was more competitive.
There were a series of right-hands that landed clean on Baumgardner in the fifth and Mayer's confidence was clearly growing as her forward approach increased.
Mayer loaded up the body shots in R6, but Baumgardner started R7 furiously to impose herself again. She landed the bigger punches with the crowd stirring, sensing a firefight in centre ring.
Baumgardner jabbed her way into range in R8, with a nice four-punch combo and an uppercut eliciting the biggest response as Mayer was guilty of not doing enough or being defensively responsible.
R9 was a tale of two halves: Mayer better at the start, Baumgardner finishing stronger. R10 was a more clear-cut round for the underdog, who in a fight of close margins, was the deserved victor.
---
okay, What's next for all four women?
During the post-fight interview ringside, the possibility of a rematch was floated – Marshall has since exercised that clause in the contract – but the caveat of Shields' PFL contract remains.
The 27-year-old has repeatedly stated her desire to pursue a PFL title next year before deciding what might await her afterwards. Before this matchup was postponed after Queen Elizabeth II's death on Sept. 8, Bleacher Report did an interview with her when she said the following:
"Boxing is my first love, I don't think I'll ever be able to put that down until its time, but I'll say I know in order to be a PFL champion and an MMA champion, you have to dedicate some time. 

I'm willing to dedicate the year 2023 to that and then after, I don't know if I'll be doing MMA anymore. The day that another girl says that she can beat me, and I say, 'OK' and 'I agree,' that's the day I'll hang it up. I'm motivated by challenges, storytelling, just by pushing myself. 

After fighting and beating Marshall, I'll be going back to the PFL MMA, doing the season. I believe I can be champion, just have to have the time to put in the work and prepare. Proper preparation prevents poor performance."
That was something she doubled down on, having watched with interest cageside as Larissa Pacheco stunned former-unbeaten champion and her friend Kayla Harrison in last month's PFL World Championship main event. Per DAZN, the two-time Olympic gold medallist said:
"I feel my boxing legacy is really cemented – it already was – but now it's really cemented. I want to be boxing and PFL world champion at the same time.

MMA seems harder [than boxing], I just want to keep making history and prove everybody wrong who doubted me. I've been doing MMA for a year-and-a-half but only been able to train for maybe six-to-nine months.

I'm trying to get a schedule for where I'm training it year-round." 
Pacheco, who lost twice previously against Harrison across seven months in 2019, welcomed the possibility of an encounter with Shields when asked during her post-fight press conference.
Before she can get there, Claressa must address some glaring weaknesses in her MMA game – including wild tendencies as shown against Abigail Montes last October. That should be helped by consistent training and rewatching film after what was a generous split decision defeat.
Where would that leave Marshall?
Talk of a rematch at St. James' Park is premature, especially given her promoter Ben Shalom confirmed he wants Savannah to have one or two more fights before running it back again.
"We'll take it at the right time for her. She'll fight in March-April and we'll look at it. It's still the biggest fight in women's boxing.

She's not had as many rounds as Claressa because of her knockout power, I think that does make a difference sometimes.

For me, she needs more rounds – I would like a couple of fights before Claressa, just to get those rounds and experience… but she feels she saw and knew enough to go into the rematch much better prepared."
The predicament is being able to find someone who can match and give her sufficient problems to mimick that of Claressa. Moving up to super-middleweight, at least temporarily, for a matchup against Shields' compatriot and former foe Franchon Crews Dezurn could be an option.
The 35-year-old is the undisputed champion in that division, or failing that, Germany's 32-year-old Christina Hammer (28-1). Both remain active and have only lost to her.
---
Baumgardner-Mayer: no immediate rematch, but options aplenty
Mayer still feels sore after the split decision defeat and, unlike Marshall, doesn't have the luxury of exercising a rematch clause. The 32-year-old expects the public will pressure Baumgardner into agreeing terms to a second fight later down the line, but has a whole host of options.
Former world lightweight champion Delfine Persoon (47-3), who twice came close but fell short against Katie Taylor in 2019 and 2020, has since gone down to super-featherweight.
Although Mayer suggested the Belgian's team are saving her for a title fight with Baumgardner next, that fight can be made later down the line. Christina Linardatou, who earned a split decision nod against Baumgardner back in July 2018, is another option that interests her.
The 34-year-old Greek ended a whopping 29-month layoff with a decision win in her native Greece against overmatched opponent Aleksandra Vujovic back in mid-July, so it's unclear whether her team would willingly agree to her stepping back up to world level that quickly.
"I don't want any little fights, I only want to challenge myself against the best. Our next best thought [after Persoon] was let's go for the girl that beat Baumgardner. She's only lost to Persoon and Taylor, so I feel good challenging myself against someone like her – she's tough – we're waiting on that.

There are other big fights for me, this next fight probably going to take at 135lbs, but I'm going to stay close to 130lbs so I'm available for that [Baumgardner] rematch if she does decide to give it to me.

But until then, I'm going to go where the opportunity is. Natasha Jonas will be a great fight down the line, but not yet. I know I can go up to those divisions, but there's still work to be done lower."
The aforementioned Jonas is a future option, but one she doesn't want to accept too early – stressing once she moves up in weight, she won't come back down.
Given the bad blood between the pair, it wasn't surprising to see that – unlike Shields – Baumgardner was bullish and sharply dismissive when asked about a rematch afterwards.
Q: When those scorecards were read out, did you think you had done enough?

"I did. I landed the cleaner, harder shots – cut her above the forehand, was the harder puncher. I dig deep."

Q: Chase undisputed or entertain a rematch in a very close fight?

"That girl ain't getting no rematch, I'm going after Choi like I said. Undisputed, that's what I claimed, that's what I'm gonna do."

Baumgardner's comments to Sky in a brief post-fight ringside interview
Hyun Mi Choi made the tenth defence of her WBA world super-featherweight title four days later in Seoul, with a decision win over Canada's Vanessa Bradford.
Bradford, who lost to both Mayer (2018) and Baumgardner (2021), did enough to earn two 96-94 scorecards – so Alycia will believe she can outpoint Choi and similarly inflict her first career loss.
If that matchup comes to fruition, Alycia could well be undisputed champion already. Choi has an undisclosed injury, one that will keep her sidelined past the March 31 deadline – with Germany's Ramona Graeff and Persoon the WBA's current highest-ranked contenders.
Baumgardner, signed to DAZN, will reportedly return to her network on February 4 in a co-main event slot headlined by Amanda Serrano vs. Erika Cruz for undisputed titles at featherweight.
---
what about natasha jonas and chantelle cameron? more besides
In the post-fight press conference after their Manchester showdown last month, when asked about Jonas' chances in a possible matchup against Shields, Dicaire was honest.
"Claressa is bigger but when you believe in a fighter, the sky is the limit. Female boxing needs fights like that – if you wanna do that, go, but she's big!"
Given the options available to her early next year, Natasha kept cards close to her chest.
"I'm not a big super-welterweight and can do the weights below but we'll see.

There's always options, had to perform tonight and did that, there's a lot of names. I'm a bit frightened to mention her [Shields] because she'll get offended but… she vacated the belts, can get down [and fight], Jessica McCaskill, there's everybody. We'll go away and discuss."
On McCaskill, Chantelle Cameron immediately expressed her desire in a rematch at the American's natural weight – 147lbs – after seizing undisputed status at light-welterweight with an accomplished, composed decision win over her on the Bivol-Zurdo undercard last month.
She said she'd grant Kali Reis the first title defence once the 37-year-old was available, after graciously vacating two versions of the world title so the world title so they could fight for all four belts. That, and the never-ending Katie Taylor sweepstakes, stands us in good stead for 2023.
Taylor vs. Amanda Serrano is on the shortlist for Fight of the Year – regardless of gender – and Shields-Marshall only added to the shine women's boxing is rightly being rewarded with.
The fact that Baumgardner-Mikaela Mayer title unification at 130lbs was the card's co-main event, rather than a headline show in itself, just adds further to the showcase. More eyes were drawn to a sport where growth is inevitable, so long as the train continues rolling forward.
I was there and personally covered the night Natasha Jonas unified three titles at light-middleweight less than a month afterwards. Just listen to this reception as she walked out:
When you give fans what they want, big bouts without the politics that cloud and often kill megafights from their male counterparts, people will watch. Storylines build. Intrigue intensifies.
"It's been such a big difference between four years ago versus now.

We just sold out a venue of 20,000 people when people say women's boxing don't got fans. They say no viewership, wrong again – here we are over two million views in the UK, six million globally [for Shields-Marshall]. This is what women's boxing is now. This never would have happened four years ago."

Shields on the increased reach of women's boxing recently, via ESPN
---
rewind back to The card's other results
Lightweight: Caroline Dubois bt. Milena Koleva via R5 TKO
Featherweight: Karriss Artingstall bt. Marina Sakharov via 60-54 UD
Featherweight: Ebonie Jones bt. Jasmina Nad via 58-56
Featherweight: Sarah Liegmann bt. Bec Connolly via 59-55
Super-welterweight: April Hunter bt. Erica Juana Gabriela Alvarez 60-54
Super-flyweight: Ginny Fuchs bt. Gemma Ruegg 60-54
Welterweight: Lauren Price bt. Timea Belik via R4 TKO
Bantamweight: Shannon Ryan bt. Buchra El Quaissi 40-36
Super-welterweight: Georgia O'Connor bt. Joyce Van Ee 40-36
The only two victors who've featured since this card concluded, I've covered.
Shannon Ryan at super-flyweight and lightweight prospect Caroline Dubois, who BOXXER are tipping to have a breakout 2023 campaign as world-level opponents are being readied.
Among the other notable names… Artingstall won a bronze medal at the Tokyo Olympics last summer, while her agemate Lauren Price caused a bidding war from rival broadcasters for her services when she turned professional this year after seizing middleweight gold.
Picture source: Getty Images, all quotes hyperlinked