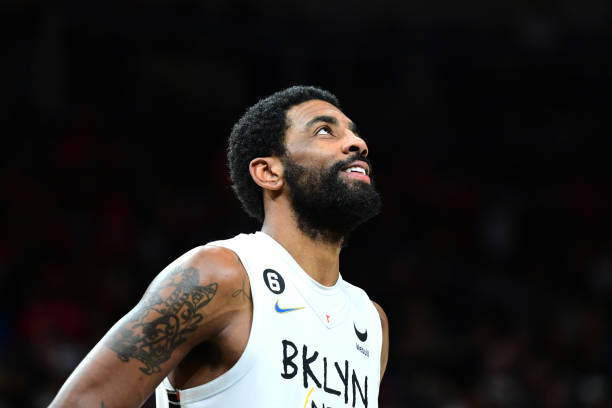 Kyrie Irving recorded a 15-point fourth quarter, as the surging Brooklyn Nets produced a big defensive second-half to snatch a gritty away win over an Atlanta side without star guard Trae Young. However, they had a heart-in-mouth moment at the buzzer after his backcourt partner Dejounte Murray's contested three attempt could've sealed an impressive comeback win.
Murray leads in trae's absence, should he have had a late foul?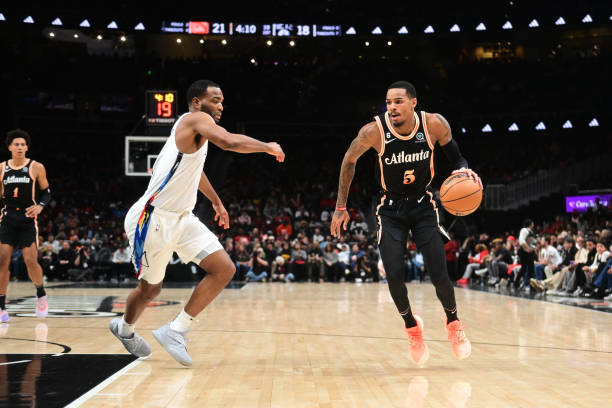 Talk about a close call.
Dejounte Murray had three chances to give Atlanta a late lead, but it wasn't to be. After missing a driving layup, he only converted one of two free throws that would've levelled the score at 108-apiece, before hoisting a 27-foot jumper – contested by a pair of Nets – as time expired.
This narrow victory means Jacque Vaughn's Brooklyn have won 10 straight, and 14 of their last 15 regular season games. They currently sit third – two games behind Eastern Conference leaders Boston, and play second-bottom Charlotte Hornets to start 2023
Kyrie Irving and Kevin Durant combine for 54 points and 16 assists against shorthanded Hawks, who had six players into double-digit scoring but fall short in crunch time
"This team play harder and faster without their leader [Trae Young], it was a fun game, glad we understood what we needed to do to get the win. It's good to get some stability after the last few up-and-down years we've had," Durant says in post-game interview
In hindsight, perhaps they shouldn't have been in a position to win anyway. They were down as much as 13 down the stretch with little over eight minutes remaining.
After an even start to the game, Atlanta led by seven at half-time. Their lead was cut down to just one on a few occasions, most notably after Irving assisted Ben Simmons on an alley-oop layup midway through the third. The three-time All-Star finished with 10 points and five rebounds.
Anyway nip-and-tuck the two sides went, exchanging baskets before a Yuta Watanabe layup and Durant free throws gave the Nets a three-point advantage heading into the final quarter. Irving assisted T.J. Warren, before scoring eight straight points himself as the scoreboard read 93-82.
That was before third-year big man Onyeka Okongwu, Murray and Bogdan Bogdanovic made big plays to energise the crowd, keeping the game close for a determined but depleted Hawks team.
John Collins was involved, while Aaron Holiday's three-pointer with 1:48 left ensured the teams were once again tied at 104. Kevin Durant made a pair of pullup jumpers on successive possessions, sandwiched between a Collins two, and Murray had the game in his hands.
Durant's bad pass to Irving saw Dejounte sneak up on his blindside, steal the ball and subsequently earn a loose ball foul without warning. It was from there that the 26-year-old shooting guard missed one of the two free throws that would've again tied the contest.
On the next possession, Durant fumed at his teammates' lack of awareness as he advanced the ball and was met by an Atlanta defensive trap, forcing an impromptu timeout. Irving could've iced the game, but instead missed on a tough pullup three over Holiday with nine seconds left.
Collins scrambled to collect the rebound, and most expected head coach Nate McMillan to call a timeout. That way, they could run a constructed play and get a better look to score.
Instead, he let them play and Murray tried his luck from distance. Fans looked in disbelief that he wasn't awarded a foul, as the buzzer sounded and Brooklyn breathed a sigh of relief. Replays showed he probably should have, as Durant's left hand hit him in the act of shooting.
---
What's next?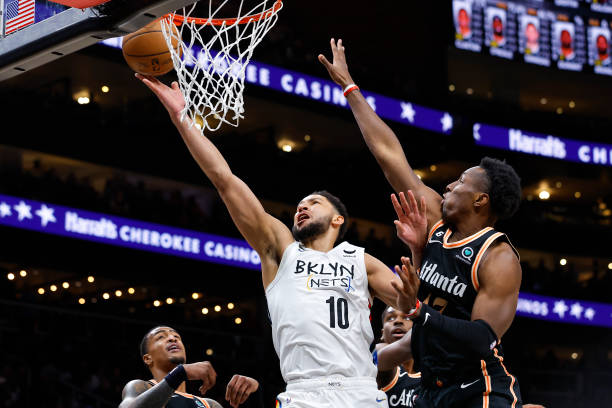 With this victory, Brooklyn are now tied for their fourth-longest winning streak in franchise history – and they'll be bullish in believing it can continue a while longer. They have Charlotte, San Antonio, Chicago, New Orleans and Miami to start the new year, all of whom are beatable.
As for their hosts in Atlanta, calls for McMillan to be sacked are only going to intensify after defeats like these. Sure, they were without their star player but like Durant said afterwards, that frees others up to play without additional pressure and you witnessed that on this occasion.
"I saw fight from our guys tonight, you can live with that. I thought from start-to-finish, we stepped up and played. We didn't think about the guys that were out – those playing came out and played to win."
Three starters: Young, leading rebounder Clint Capela (calf) and fourth-year small forward De'Andre Hunter (ankle) were all sidelined but are listed as day-to-day, so should return shortly.
Now 17-18 on the season, they've lost multiple close games already this term in the last five minutes and that's no coincidence. There's a trend and their head coach's reactiveness – especially in situations where you'd expect him to take charge – only hurts their capabilities.
It'll only increase if they continue to underachieve, especially with the narrative that Trae is unsettled and not exactly the only one either. It'll be interesting to see how the situation unfolds, but next up is a home game against the unpredictable Los Angeles Lakers on New Year's Eve.
Picture source: Getty Images