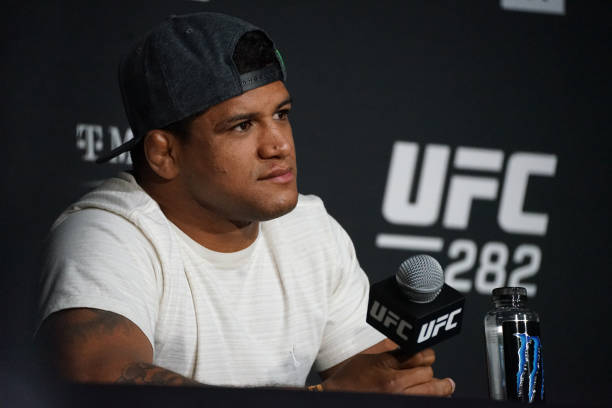 After falling narrowly short in a Fight of the Year contender clash against rising star Khamzat Chimaev last April, perennial welterweight contender Gilbert Burns hasn't been as active as he would have liked – but the experienced Brazilian knows he needs a series of impressive finishes if he wants to earn another title shot and realise his dream of becoming world champion.

Durinho knows he needs a statement showing
When this fight was announced, you could excuse some confusion over why Burns would've agreed terms: in terms of ranking, it doesn't exactly make sense for Burns to fight so far down.
#5 vs. #12, but after an attempt at enticing Jorge Masvidal into a matchup last year fell through, there's no time to wait. The 36-year-old will return to action on home soil, as the promotion returns to his native Brazil for the first time since March 2020, in Rio de Janeiro's Jeunesse Arena.
Burns, who many felt did enough to get the nod over unbeaten contender Chimaev last April, lost a unanimous decision – 29-28 across all three scorecards, in a rollercoaster ride that exceeded expectations. He knows those types of encounters don't benefit him in the long run.
Making an appearance on Michael Bisping's podcast, he said:
"I'm at a point right now where a win is not enough, I need to get a finish and to have that type of finish, the training camp is different. I'm putting a lot of work to make sure Jan. 21, I come ready to finish this guy.

Not just a win, not a bullshit decision, not let's see what the judges are gonna see. No, fuck that. No more.

I never like it, but after the last one even more now. I don't want to depend on the judges – they've been messing up a lot of guys, so I have 15 minutes to finish this guy and don't let them make a decision for me.

I'm taking him super seriously, especially, I want a finish in Brazil. Don't want to just take the guy and hold him down or whatever. I do respect that guy so much, but see I can finish him and that's what I'm working towards."
Notorious for his work ethic and not one to shirk a gruelling training camp, he showed MMAjunkie's Danny Segura a tiring strength-and-condition session before the Chimaev clash.
Burns (20-5) has as many knockout victories as he does decision wins in his 11-year professional career, and next month will mark two years since he fell short against now-former welterweight champion Kamaru Usman. He has eight career submission wins, but none since April 2019.
While Usman, fitness permitting, is expected to feature in an immediate title rematch against Leon Edwards – prompting a trilogy bout in mid-March – Burns is aware that opportunities atop the 170lb division remain regardless of where the gold lies in a year or 18 months' time.
"My goal is to become a champion. I want it more than ever now, because I know my time is closing. I'm 36, don't have 10 more years. So I want to get a couple of finishes, another title shot and win the title.

Perfect would be three finishes and earning that title shot. I don't want to beg, don't want to ask, or a favour. I want to earn that. A devastating finish against Magny will get me a step closer to that."
Picture source: Getty Images