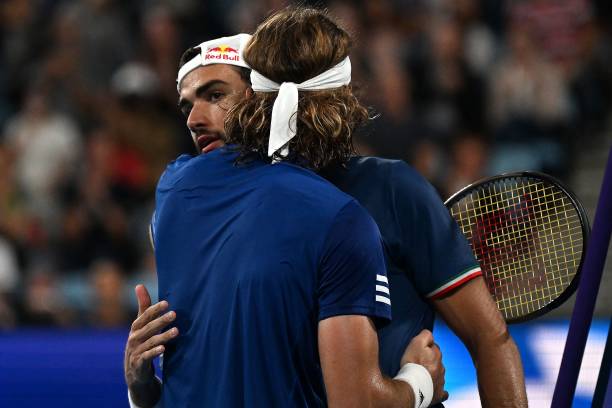 USA vs. Italy awaits in the United Cup final after both nations took care of business. Coco Gauff faces Spanish qualifier Rebeka Masarova in tomorrow's finale, while Tallon Griekspoor became a first-time ATP tour-level titlist with a recovery win over Benjamin Bonzi. Elsewhere, Sebastian Korda's steady tennis helped him book a final berth, but not before witnessing an emotional outburst – while Novak Djokovic bested Daniil Medvedev despite weathering an injury scare.
United Cup semis promised plenty… did they deliver?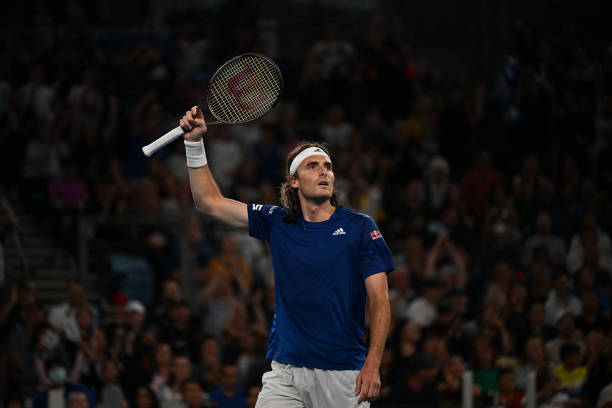 Beforehand…. team USA completed a 5-0 sweep at Poland's expense
Taylor Fritz bt. Hubert Hurkacz 7-6 (7-5), 7-6 (7-5)
Madison Keys bt. Magda Linette 6-4, 6-2
Pegula/Fritz bt. Rosolska/Kubot 6-7, 6-4, 10-6
Tsitsipas bt. Berrettini 3-6, 7-6, 7-5
He said it best in an emotive post-match interview. Stefanos Tsitsipas hung in there and rallied back from a set down to overcome an inspired Matteo Berrettini effort. As expected, he needed to absorb some dicey moments when others might've dropped their heads and submitted.
The crowd were firmly behind his second set comeback, one punctuated by playing an excellent tiebreak. To say the Italian was punished for two errors would be technically correct but equally disingenuous: Tsitsipas' booming backhands and court coverage forced him into them.
From there, he still had work to do and saved a break point midway through the decider before riding momentum en route to a big finish. Ultimately, it had no bearing on their United Cup fate – he wasn't to know at the time – and said:
"I needed them [the fans] to uplift me, a great atmosphere, we won this together! Struggled to return some balls earlier, waited for my chances, he [Berrettini] consistently hits bombs so you have to accept a few, move on, concentrate on your serve. I played a very good game to break, with a lot of intensity and my concentration peaked there.

Watching Maria Sakkari [against Trevisan] yesterday almost gave me a heart attack. It made me understand how they – my team, family, friends, acquaintances – feel watching me getting to experience thrillers, dramatic matches, unfortunate for us [Sakkari lost in three sets] but I enjoyed it, proud of the way she fought, dealing with condition changes."
Recovering from a 2-0 deficit in a best-of-five format is, at best, a hopeful task. Greece were burned by their inability to field someone on a similar level to Sakkari, as the next highest-ranked teammate is outside the world's top 150.
Lucia Bronzetti, by contrast, rose three places to a new career-high world no. 51 after dismissing Greece's #3-ranked player Valentini Grammatikopoulou.
The tournament has, for the most part, proven a refreshing success.
Match scheduling and permutations like a pointless final rubber hurt the overall product, as the Greeks wheeled Grammatikopoulou back out there in mixed doubles alongside Petros Tsitsipas, making his first appearance. They lost 6-3, 4-6, 10-5 – 4-1 the semifinal tie ultimately finished.
---
ADELAIDE, ATP250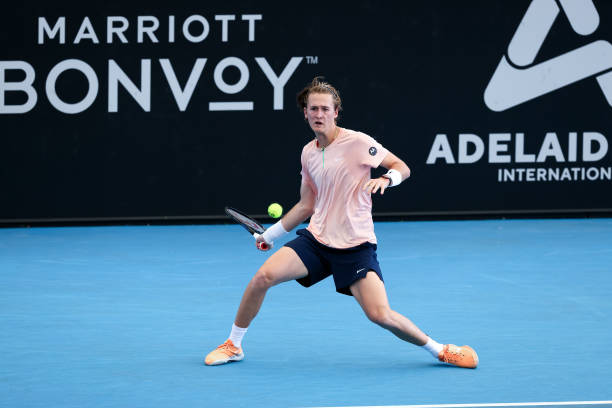 Sebastian Korda is into his fifth ATP tour-level final, and third in four months after holding firm to clinch a back-and-forth first set against Japan's Yoshihito Nishioka, before enduring the 27-year-old's outburst and a medical timeout before he eventually returned complaining of a hip injury.
7-6 (7-5), 1-0 ret was the final score, as the American continued his steady progress while avoiding an ardous battle in the meantime. Nishioka, who saved a set point down 6-5, was visibly exhausted between points as their gruelling rally exchanges were beginning to take a toll.
Korda's backhand flowed effortlessly and, constantly pulling him from one corner to the other made for tiring work. He responded well, though not always accurate. A pair of straightforward misses – one agonisingly long and another into the net – gave Korda three more set points.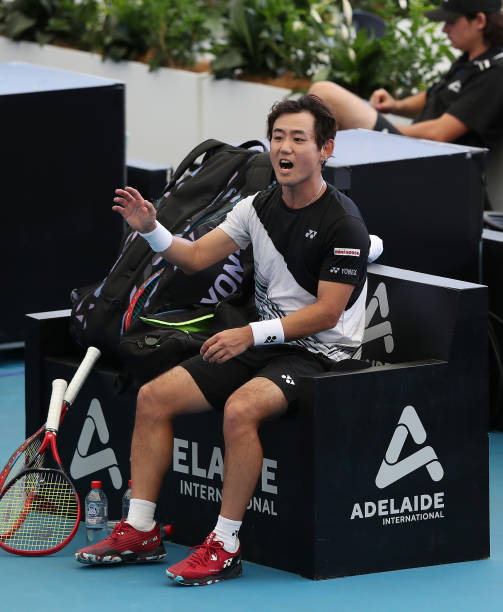 Despite saving two, a line call getting overturned hindered Nishioka's rhythm as it allowed the American a look at another first serve. He went on to lose the set and expressed his dismay throughout the changeover, berating the umpire.
"If I don't get it now, I'll retire," he warned the official after being broken to start set two – suddenly complaining of right hip pain and demanding to immediate see a physio.
In a similar situation to yesterday with Jannik Sinner, Korda patiently bided his time at the back of the court waiting for the sudden pause to end. Two points after the restart, Nishioka retired.
Despite that episode, Korda was even-keeled afterwards: "I hope he gets better with the Aussie Open coming up, was a tough set so I'm very happy to pull through. Another final, very happy, i'm pumped for it and ready to go."
He reeled off nine aces, won 91% of his first serve points and will need to maintain those numbers in tomorrow's finale.
A first-time meeting with Novak Djokovic awaits him now, after the 21-time Major champion worked his way through an injury scare during a hard-earned win over Daniil Medvedev: 6-3, 6-4.
The 35-year-old, not at top gear – but didn't need to be – against an unpredictable Denis Shapovalov, started purposefully against the Russian, aware how difficult a task this could be.
An untimely double-fault – going big with a second serve – saw Medvedev gift-wrap Djokovic a 3-1 first set lead. He almost broke straight back, though the Serb produced an important service hold after a gruelling rally exchange.
Keeping with this theme, two big points on the Djokovic serve saw the 2021 US Open champion earn a proper look this time: an actual break point, rather than just a flicker.
Djokovic shut the door on him, but not without some difficulty – he visibly grimaced on a handful of occasions between points, stretching as though he'd tweaked a thigh or hamstring muscle to retrieve a ball mid-rally.
A fantastic forehand winner, big first serve and deft lob during a pulsating rally – three straight points – saw him evade danger to earn an important hold, up 5-2.
He then went off-court for a medical timeout, presumably to his groin or hip area, as the Adelaide crowd were suddenly hushed for a while. Just as it was starting to bubble up nicely, was this match in danger of another early ending?
Not quite. The injury still lingered but Djokovic's point construction remained clear, as he was rewarded for forward forays to the net – not always the case – and another big first serve helped present him with two set points.
An ace on the first helped him seal a 6-3 set, after Medvedev raced through his service game to ask the all-important question.
Yet after a nip-and-tuck start to set two, it was deja vu for the 26-year-old. He went big on another second serve, down break point, and despite challenging the line call, it seemed as though he knew it was out too.
Djokovic had a break in hand, led 4-3 and was being rewarded for mixing up his tactics: shortening the points and going big with a flurry of crosscourt forehands, before showing a willingness to match the Russian during some longer rallies.
He too had to face adversity, in the very next game, and handled it well.
A 200km/h second serve saved one break point, before a 199km/h ace, 170km/h serve out wide and 197km/h first serve helped him go 5-3 up.
Surely this wasn't the sort of serving a compromised player would be able to produce, under such pressure, Medvedev mused. He mockingly imitated Djokovic by clutching his thigh and faked a limp after a few points. As expected, social media caught on quickly.
He again produced a quick service hold to reduce the deficit, putting pressure back on the Serb to serve for the match at 5-4.
Just as momentum looked to be moving into Medvedev's direction, Djokovic fended off more expert shot-making before unleashing a 205km/h first serve to give him two match points.
It was over seconds afterwards.
"Thankfully it [the injury] was nothing too serious, if it was I wouldn't continue. Tried with a medical timeout, some anti-inflammatories, they settled in after a few games. I just tried to keep the momentum going, don't allow him to break my serve. That was the key – eventually I'd get a chance – the longer it went, the more my hamstring was warm and it bothered me less.

It's never easy with Daniil, you have to change the pace, mix up the serve, return position, rallies, make him uncomfortable. It's a cat-and-mouse game everytime. He's one of the world's best servers, definitely in courts like these.

It's tough to play him but [he had] two doubles on break points. I knew he might go for more in those moments, it worked but sometimes risk pays off, sometimes it doesn't. There's no rules, it's up to the moment – how you feel."
---
ADELAIDE, WTA500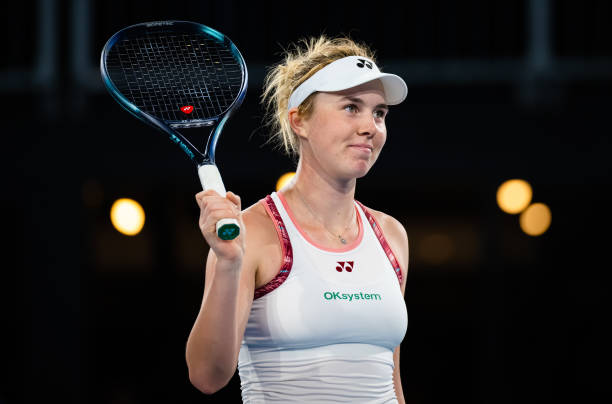 Despite some iffy serving, three-time Grand Slam semifinalist Aryna Sabalenka made quick work of Irina-Camila Begu en route to her 19th WTA career final – fourth in nine months – winning 6-3, 6-2 against the Romanian.
The tournament's second seed will look to do what six players, including two in the world's top 10 and a two-time Australian Open champion, haven't managed since last Friday.
That's extinguishing the soaring rise of Czech teenager Linda Noskova, who has risen almost 50 ranking spots to a career-high world no. 56 and outplayed skilled operators with far more experience by contrast.
Today wasn't a vintage performance by any stretch, but that's to be expected after a tiresome three-hour tussle against Victoria Azarenka in the quarter-final.
She survived a second set comedown to eventually overwhelm Ons Jabeur: 6-3, 1-6, 6-3 – though the world no. 2 was clearly compromised by a lower back injury and received a medical timeout before the end of set one.
The 28-year-old Tunisian, twice a Grand Slam finalist in 2022, appeared to be wrestling with the possibility of withdrawing to avoid the risk of further aggravation, as she wasn't playing particularly well. Nor was Noskova, though.
A double-fault and error-prone start gifted the teen an early break of serve, as Ons' demonstrative demeanour – like during periods vs. Marta Kostyuk – was apparent. Jabeur produced some defiantly brilliant shots upon occasion, but also some damning ones too.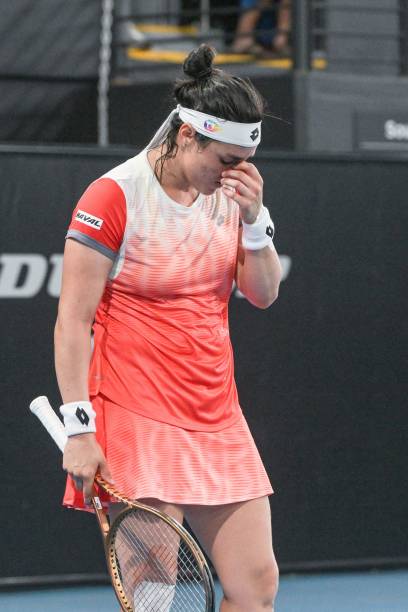 A nonchalant forehand flick winner up-the-line presented her with two break points at 4-2, but instead of seize the opening, three unforced errors and a Noskova forehand winner saw the door close quite quickly.
Then she had the trainer on at the changeover, gesticulating that she was unable to push off properly – though continued spraying errors after the courtside treatment.
Moving gingerly, she saved three set points on serve but Noskova was aware of her injury and made a conscious effort to move her from one corner to the other.
It was a stop-start affair, but one Jabeur grinded her way back into. Without warning to start set two, a few sloppy Noskova shots gave Ons an early break and she easily consolidated it.
Noskova missed a straightforward volley at the net having set the point well, typifying a lackadaisical set so far – though she saved break point with a superb slice shot which bamboozled the world no. 2.
Jabeur's forehand was starting to fire, intermittently, as she broke again and ultimately levelled the match at a set apiece. Back-and-forth they went to start set three, though one was playing through the pain barrier and the other looked jaded.
Noskova broke the Jabeur serve and soon enough, the African record-breaker had to save match points. She did the first, before Noskova fired a forehand up-the-line winner on the second.
"Definitely a tough match, neither of us played 100% so I'm glad I won that last point, really glad to play like this. Going for it everytime, either it's in or out."
---
PUNE, ATP250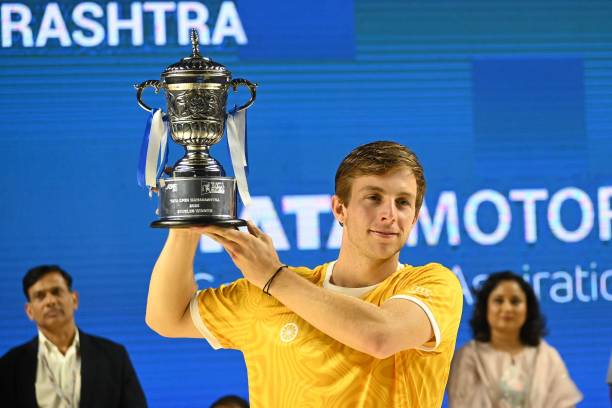 It was a real slog – perhaps payback for his quarterfinal walkover – but 26-year-old Dutchman Tallon Griekspoor won his first ATP title with a recovery win against France's Benjamin Bonzi: 4-6, 7-5, 6-3 in India earlier today.
On an afternoon packed with big serving (28 aces between them), both had high first serve percentages and the first two sets were fairly tight – settled by one break of serve.
Bonzi saved three break points, including two at 4-3, but Griekspoor had to save an immediate break back point to avoid a tiebreak deciding whether they'd go into a third.
They eventually did, and he took charge with an early break – fending off two break points to hold at 4-2 – before watching a forehand go long on match point, a day he'll never forget.
---
AUCKLAND OPEN, WTA250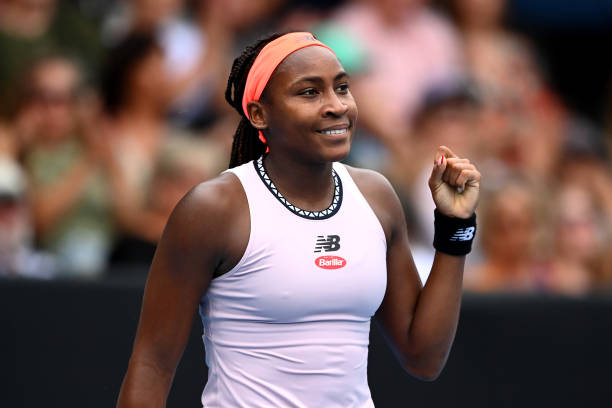 Coco Gauff saved two break points in her opening service game, en route to her fourth WTA career final with a 6-0, 6-2 victory over Danka Kovinic. The tournament's seventh seed, who rises to world no. 53 after her semi-final run this week, has little time for recovery.
She's scheduled to play in the Hobart tournament next week – with qualifying already underway – and will surely be rewatching this match for areas to improve upon, after mixing some good ball-striking with poor execution against Gauff.
set one: both had 12 unforced errors, Gauff five more winners, won 13 more total points (30-17).
The American teenager still had a lot to do but was effective with her net approach shots and held her own with forehands during their rally exchanges, but a smash into the net saw her handed a double break within 20 minutes.
Regardless of what you think about whether she's a genuine Grand Slam contender, the 18-year-old rarely relinquishes such a commanding advantage.
Kovinic used the drop shot well to start set two, but a wild forehand miss gave Gauff another early lead and despite breaking straight back for her first game of the match, the Montenegrin only managed to win one more.
Gauff will play Spanish standout Rebeka Masarova in tomorrow's final, after the 23-year-old was a 6-3, 6-3 winner during a semi-final battle between two players who've had longer weeks than everyone else as qualifiers exceeding expectations aplenty.
"It feels amazing, I'm high on emotions right now. I like to think I can do more than I think I'm capable of doing, just took it a match at a time.

Felt great in qualifying, beating one player randomly doesn't mean anything, it means you have the [ability] level but have to do it continuously and that gave me confidence. I'm tired but one more match to go and yeah, super happy we could finally play outside again, so much more fun than indoors."
Nine aces, 75% first serve percentage, 16 winners and just 10 unforced errors en route to her first WTA final. Not bad at all.
Picture source: Getty Images