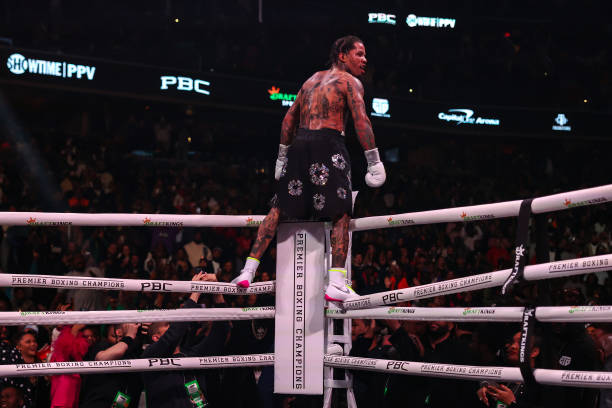 "I was a little surprised but when I caught him, I knew he was hurt bad and didn't want to show it because he's a fighter," Gervonta Davis declared post-fight. The 28-year-old improved to 28-0 (26 KOs) after a R9 TKO over WBA super-featherweight champion Hector Luis Garcia, inflicting the Dominican's first professional defeat. However some hurdles remain, including an ongoing jury trial starting next month, before the Ryan Garcia megafight can be confirmed for April.
Tank starts 2023 with credible victory on his resume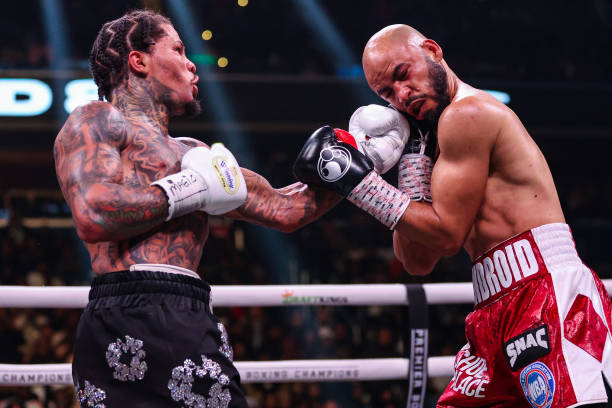 R9, 0:13: Gervonta Davis bt. Hector Luis Garcia via TKO (corner stoppage)
Davis refuses to rest on his laurels, says there are still areas for improvement post-fight: "I've got stuff to work on, everything, my cup is never full and I'm always willing to learn. I tried to beat him mentally, trick him because he's talented, had to bait him in."
on matchup against unbeaten lightweight Ryan Garcia, a catchweight (136lb) bout slated for mid-April: "I'm ready, he's been training and talking… let's see who's really about that. Of course, on my end I'm ready and will be in the gym after a week off." 
Garcia confirms he didn't know where he was after absorbing shots to the head near the final bell in round eight: "My head still hurts, vision is back now but I couldn't see. Was going well up until that point, picking my spots and doing good before then."
After a Baltimore judge denied a plea deal that would've seen him avoid jail time, a trial date for a hit-and-run incident – back in Nov. 2020 – has since been moved to February 16
After a tense first three rounds, Davis' power was on full display in rounds four through six as he began upping the intensity and landing more significant shots against a gamely Hector Garcia.
Garcia's defence isn't exactly watertight – but neither is that of the box office attraction – so there was a bit of to-and-fro between them during this period.
That lulled the 31-year-old into a false sense of security about how long he could afford to fight up close, appearing to welcome Davis unloading lefts and rights in the seventh.
There was a bizarre pause for crowd trouble outside the ring midway through round eight, and that made for an anticlimactic finish shortly afterwards.
Garcia looked concussed as referee Albert Earl Brown ushered him to his corner after that round had concluded, having come very close to receiving a standing eight count – absorbing too much damage standing in the pocket, taking a backwards step for the first time in a long while.
That was the direct result of Davis' patented left hand landing flush one too many times. He had a glazed look on his face, intended to walk to the wrong corner and told his team he couldn't see out of his right eye. In a bloodthirsty and merciless sport, they were right to stop it at that stage.
---
What about Jaron Ennis, how did he do?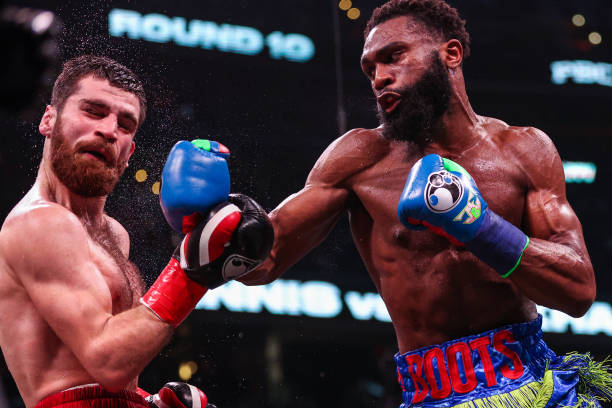 120-108, 120-108, 120-108: Jaron Ennis bt. Karen Chukhadzhian via unanimous decision
First time the 25-year-old has gone a full 12 rounds in his professional career, crowd booes after underwhelming decision display
This result means Ennis has now won the IBF interim welterweight championship and reaffirms afterwards he's willing to wait "until the time is right" for Errol Spence Jr shot
"I just need to throw a bit more, glad I went twelve [rounds], he ran a lot but took a lot [of punishment]. Shoutout to him for coming, not a lot of people wanted to," he says
On a PPV main card severely lacking knockouts, the crowd got understandably restless.
They expected Jaron Ennis to blow away unheralded Karen Chukhadzhian, but instead the Ukrainian was slippery and often on the move, growing in confidence and landing his own attacks upon occasion too – left hooks, straight shots and counterpunching from the back foot.
Ennis – a knockout artist – only had a pair of decision wins in his pro career (29-0, 27 KOs) and was made to look ordinary at times, as the 25-year-old got to grips with Chukhadzhian's tactics.
By the tenth round, he was frustrated himself. Guilty of overextending on some of his power punches and absorbing too much resistance for comfort, Ennis ripped body shots in the 10th.
You could see sections of the crowd getting excited, rising to their feet, but the 26-year-old shut the door by walking through the damage and circling away.
It rather typified how this fight went, Ennis' effectiveness nullified by a careful Chukhadzhian – silencing critics quick to dismiss his chances of going many rounds, let alone go the distance.
He started the final round ripping right-hands and although output wasn't as accurate nor active compared to Boots, it was a noteworthy effort given the circumstances.
Shoutout to him for coming, not a lot of people wanted to. I want Spence, Bud, Ortiz-Stanionis winner, most definitely. All the top guys, let's get it.
More analysis to follow soon…
Picture source: Getty Images