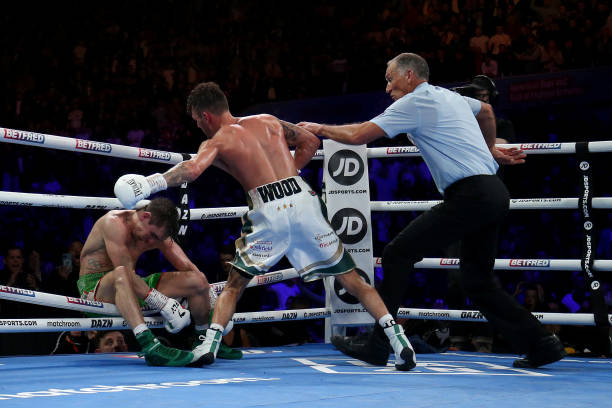 We're already into the second week of 2023, but there's one end-of-year award that feels fitting to reflect upon now as recent news prepares both main event fighters for big opportunities in the first-half of 2023 – one as soon as next month. This one had an electric atmosphere, knockdowns and a 12-round contest ending with a dramatic knockout finish last March.
Wood rallies to overwhelm Conlan in frantic battle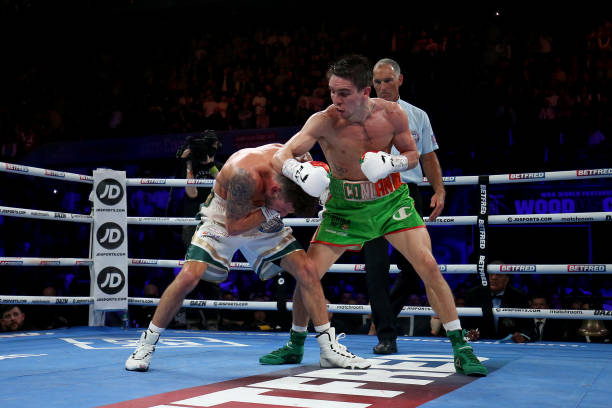 R12, 1:25: Leigh Wood bt. Michael Conlan, retains WBA world featherweight title
There was a bit of rough-housing, plenty of feints and baiting by Conlan but Wood was guilty of overextending a bit with his power-punching attempts early on.
A looping left hand landed clean with 17 seconds left in the round and that was precisely the shot which dropped him as the bell rung to finish the first.
Having set traps by landing body attacks beforehand, Wood didn't see it coming and ambled back to his corner after beating referee Steve Gray's count.
Conlan loaded up with punches aplenty in the clinch early on to start the second, and just as the commentators questioned how Wood would respond after being flattened, he was rocked and wobbled backwards once more.
The left hand proved a lethal weapon for Conlan, while former super-middleweight world champion Carl Froch – a personal friend of Wood – voiced his doubts over whether he'd actually shaken off the cobwebs, despite a few fleeting moments of encouragement.
"Has he woke up, is he back in it? I doubt it, he needs to stay in safety mode, survival first and hear that bell," the 45-year-old stressed on commentary while Darren Barker said he needed to stop keeping his chin in the air.
Mike Costello highlighted Conlan's clinical work, before adding the potential caveat of a cut developing above his left eye should the fight go long. All three knew, as well as the raucous 10,000 inside a sold-out Nottingham Arena, a real fight was starting to brew.
Conlan's body attacks continued, but Wood was gradually starting to have some pockets of success when finding openings to keep the Irishman up against the corner.
That was particularly apparent in R4, where he landed a good combo (2:30) and got the crowd on their feet. Conlan responded by counterpunching sufficiently, showcasing his stiff jab once they were back at centre ring, but the champion started showing some resistance:
Before the start of R5, Conlan's head trainer Adam Booth audibly stressed the importance of him not showing the judges ringside any sort of negative body language – even if comfortable boxing off the back foot – so he nodded along and began the fifth furiously.
As the CompuBox numbers show, it was one of his most aggressive rounds in terms of power punches landed and thrown (15/38, 39.5%). Only bettered by R2 and R11, the 31-year-old tried keeping Wood in deep waters, drowning him while he lacked much conviction.
Through six rounds, Conlan had almost landed three times as much body punches (45-16) and that didn't deter the titlist from engaging up close, nor exchanging power punches in what was becoming an increasingly physical tug-of-war between them.
Wood was guilty of almost wrestling him against the ropes in the final half-minute of R7, before they finished the round like this.
Wood started fast in R8 and pinned Conlan against the ropes briefly, having success with blitzing attacks, as the referee warned them both for leading with their head upon occasion.
You could understand, given an accidental headbutt was how Conlan had a cut in the first place, but Wood was starting to catch the challenger with lefts and rights.
"This is now a four-round fight. He only had success because you allowed him to," Conlan's corner stressed. Perhaps they were right, but at this stage stage Wood was closing up the deficit on the scorecards – absorbing damage along the way – but applying pressure.
Conlan showed disguise and precision, ducking low but connecting on Wood's chin with lefts and rights, while Wood was willing to fire back up close. Keeping him pinned back up against the ropes, not smothering his work and surging as rounds ended was paramount.
He did exactly that in the final minute or so, probably stealing the round to boot. As R11 began, a graphic showed Conlan had landed 11% more of his punches, and thrown almost 50 less in total than Wood, but his lateral movement – or lack thereof – dented his case to finish on top.
Keeping him at distance, even while clearly fatiguing given their frenetic pace, was important. He dug down with uppercuts and clean shots, but Wood fired back just as hard. That proved the turning point, just as some might've thought Wood's chances had dwindled into disappearance.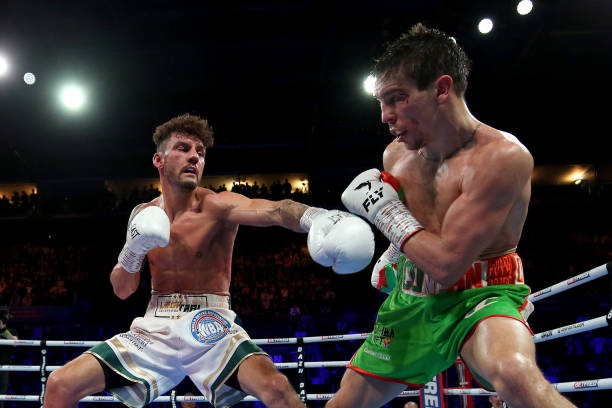 It wasn't a clear shot as both threw punches at the same time, but Conlan was next to fall to the canvas – despite both he and his team vehemently stressing it was a slip – a knockdown it was correctly ruled as replays quickly proved, and Wood knew he had to empty the tank in the finale.
Conlan looked jaded, Wood found his second wind and the Irishman's punches thrown weren't tactically astute or accurate, they were flailing and met by the air.
Wood landed a combo in the centre of the ring, pinned Conlan back against the ropes once more and he fell out of the squared circle, defenceless and motionless.
Paramedics attended to Michael, who led on all scorecards at the time of the stoppage, as Wood pleaded with fans to temper their celebrations until they knew he was okay. Thankfully he was – after being taken to hospital – another sobering moment for a ruthless sport universally loved.
Nights like this electric one in Nottingham are precisely the reason why.
---
What's next for both?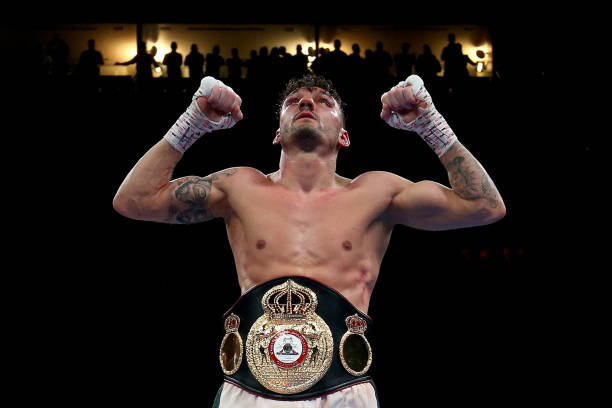 Earlier this week, it was announced that Leigh Wood's title defence against Mauricio Lara has been officially rescheduled for February 18 – after the 34-year-old withdrew from their initial September date with a torn biceps injury sustained in training camp.
Lara didn't dwell on the news and stayed busy in the meantime, scoring a third-round stoppage over journeyman Jose Sanmartin the following month back in his Mexico City hometown.
Leo Santa Cruz, who hadn't defended his WBA title since 2019, relinquished the belt in December, meaning Wood will fight as a full-fledged champion for the first time.
"Lara has made things personal between us with the disrespect he showed me regarding my injury and country. I'm going to show him what I'm all about," Wood said, per ESPN.
24-year-old Lara, who stunned previously-unbeaten Josh Warrington with a R9 TKO victory back in Feb. 2021, is bullish about his chances when he ventures to enemy territory once more.
"I have been waiting for this opportunity two years and I am not going to waste it. The WBA 126-pound world title goes to Mexico, that I promised to my daughter, family, team and my whole country. Your time has come Leigh Wood, no 'injury' can save you now from this."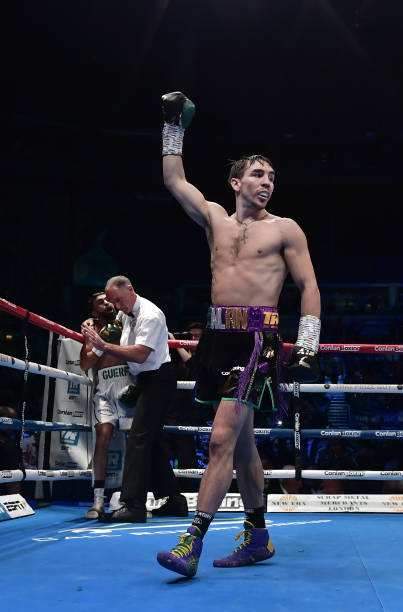 As for Conlan, he has been adamant about becoming a world champion in future and rematch talk will only intensify if he continues on the winning path.
The 31-year-old has remained active since that defeat, returning with a contrasting pair of wins: a one-sided UD win over Miguel Marriaga in early August, before blasting Karim Guerfi into submission with a R1 TKO win last month.
His promoter, Bob Arum, told talkSPORT last month their plan is to match him with Warrington's latest conqueror and new IBF champion Luis Alberto Lopez – who he beat (UD12) on the same night as Conlan's stoppage win over Guerfi. The pair are Top Rank stablemates.
Reports in Ireland from Conlan's team suggest his next world title shot could take place either in May or June, after previously being mooted for St. Patrick's Day weekend on March 18.
Picture source: Getty Images